If you are looking for a job as a software tester, the first step is to create a resume that will showcase your skills and experience. A well-written resume will help you stand out from the competition and land you an interview. This guide provides you with tips and tricks to create an effective resume as well as resume writing examples to help you get started. Writing your resume doesn't have to be a daunting task. By following this guide, you can create an outstanding tester resume that will put you one step closer to obtaining a job in the software testing industry.
If you didn't find what you were looking for, be sure to check out our complete library of resume examples.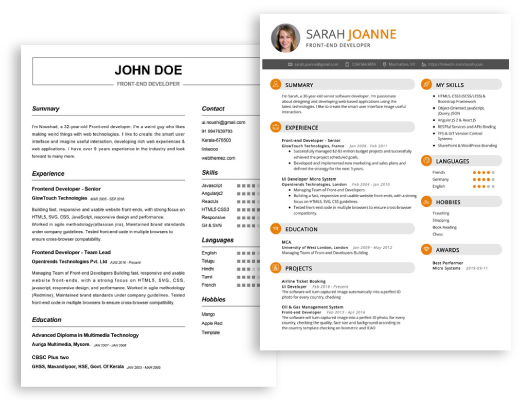 Start building your dream career today!
Create your professional resume in just 5 minutes with our easy-to-use resume builder!
Tester Resume Examples
John Doe
Tester
123 Main Street | Anytown, USA 99999 | Phone: (123) 456-7890 | Email: john.doe@email.com
I am an experienced software tester with a keen eye for quality assurance and a commitment to developing innovative solutions within given timelines. I have extensive knowledge of best practices in manual testing, and I am experienced in a range of automated testing tools. I am highly organized, detail- oriented, and able to develop effective test plans in order to ensure the quality of all software applications.
Core Skills:
Software testing
Automated testing tools
Quality assurance
Bug and defect tracking
Quality assurance best practices
Test planning and design
System integration testing
Cross- browser compatibility testing
Manual and automated test execution
Professional Experience:
Software Tester, ABC Company, 2020 – Present
Developed end- to- end test plans for web- based applications
Executed manual and automated tests to ensure quality of software applications
Identified and documented software bugs and defects
Performed system integration testing and cross- browser compatibility testing
Utilized automated testing tools to ensure quality of software applications
Education:
Bachelor of Science in Computer Science, XYZ University, 2020
Tester Resume with No Experience
Recent college graduate with a passion for software development and testing. Seeking an entry- level position in software testing with no experience in order to gain hands- on experience in the field and gain valuable skills.
Skills:
Proficient in HTML, CSS and JavaScript
Knowledgeable in software development and testing techniques
Deep understanding of software development and testing concepts
Ability to troubleshoot and debug software defects
Excellent problem solving and analytical skills
Strong communication, interpersonal and teamwork skills
Responsibilities:
Develop and execute test plans, scripts and procedures
Analyze and document test results
Identify software defects and document them
Perform manual and automated testing of software applications
Report defects and provide feedback to the development team for resolution
Provide recommendations for improvement to existing software applications
Tester Resume with 2 Years of Experience
Experienced Quality Assurance Tester with two years of hands- on experience in software testing and development. Adept in creating high- quality and efficient test plans and scripts using a variety of test tools. Skilled in utilizing diverse testing techniques to ensure reliable and error- free software applications. Proactive communicator and collaborator, capable of working well within teams and independently.
Core Skills:
Experienced in functional, regression, and integration testing
Proficient in utilizing diverse test tools and techniques
Adept at creating test plans and scripts
Skilled in analyzing and debugging software applications
Knowledgeable in software development processes
Excellent communication and interpersonal skills
Responsibilities:
Developed and executed test plans and scripts for multiple software projects
Performed functional, regression, and unit tests to ensure application performance
Analyzed and debugged software applications to identify errors and bugs
Wrote automated scripts using test tool suites to reduce manual testing efforts
Developed test reports to summarize test results and report to stakeholders
Coordinated with developers and software engineers to work on software projects
Tester Resume with 5 Years of Experience
A highly motivated and experienced Tester with 5 years of experience in software testing, bug tracking, and automated testing. Possess strong problem- solving and communication skills and have the ability to work in a fast- paced environment. Experienced in working with different teams to create test plans, execute tests, and ensure that software meets the required standards.
Core Skills:
Knowledge of software testing techniques
Experience with manual, automated, and performance testing
Understanding of bug tracking systems
Ability to analyze and troubleshoot software
Strong communication and problem- solving skills
Excellent organizational and time- management skills
Responsibilities:
Developing and executing software test plans
Identifying, logging, and tracking software defects
Analyzing and troubleshooting software
Working with different teams to ensure software meets standards
Testing for functionality, usability, compatibility, and performance
Writing test reports and providing feedback to developers
Reviewing requirements and design documents
Tester Resume with 7 Years of Experience
I am an experienced and certified software tester with seven years of experience. I have worked on a range of projects in various industries, gaining a wide range of experience across a variety of software testing tools, methodologies, and processes. I am adept at developing test plans and implementing strategies for improved testing accuracy and efficiency. In addition, I am proficient in writing and executing scripts, along with troubleshooting and analyzing discrepancies. I am also knowledgeable in the areas of automation testing, regression testing and customer acceptance testing.
Core Skills:
Software testing
Test planning / execution
Test automation
Defect tracking / reporting
Regression and UAT testing
Troubleshooting
Script writing
Responsibilities:
Developing test plans and test strategies
Writing test scripts to automate tests
Analyzing results, identifying defects, and reporting discrepancies
Maintaining system documentation and bug reports
Performing regression, integration, and system testing
Working closely with developers, designers, and other stakeholders
Ensuring customer acceptance testing goals are met
Investigating and resolving technical issues.
Tester Resume with 10 Years of Experience
I am a ten year experienced software tester with an extensive background in software development and testing. I have extensive experience in creating detailed test plans, developing test cases and executing test scripts. I have a passion for problem solving and using my strong communication, organizational and technical skills to ensure software applications are functioning correctly. I am an organized and detail- oriented team player who is dedicated to providing quality results in a timely manner.
Core Skills:
Comprehensive knowledge of software testing concepts and methodologies
Proven ability to develop test plans, test cases and test scripts
Proficient in software development and software engineering tools
Excellent problem- solving and communication skills
Strong organizational and multitasking abilities
High attention to detail
Ability to work both independently and collaboratively in a team environment
Responsibilities:
Developing and executing test plans, test cases and test scripts
Preparing and maintaining detailed test documentation
Identifying, logging and resolving software defects
Debugging application code and providing feedback to developers
Performing system analyses and providing technical support and troubleshooting
Collaborating with the software development teams to ensure timely delivery of quality products
Ensuring all products meet customer requirements and expectations
Tester Resume with 15 Years of Experience
15 years of experience working in the testing and quality assurance industry, with a background in both manual and automation testing. Possesses extensive knowledge of the software development process and quality assurance best practices. Skilled in using test management tools and executing various types of testing such as functional, integration, positive and negative, regression, compatibility and usability testing. Experienced in designing and implementing test plans, test scripts, and bug reports. Excellent communication and problem- solving skills, with the ability to work independently or within a team environment.
Core Skills:
Software Testing Methodologies
Software Quality Assurance
Automation Testing
Manual Testing
Regression Testing
Bug/Defect Tracking
Test Script Creation
Web Application Testing
Database Testing
Test Plan Design
Responsibilities:
Performing manual and automated system tests and scripts
Executing regression, functional, compatibility and performance tests
Troubleshooting and analyzing software issues
Designing, developing and implementing test plans, test scripts and bug reports
Collaborating with development and business teams to identify testing requirements
Ensuring the quality and accuracy of software solutions
Utilizing various test management and automation tools
Creating and documenting detailed test cases and test plans
In addition to this, be sure to check out our resume templates, resume formats, cover letter examples, job description, and career advice pages for more helpful tips and advice.
What should be included in a Tester resume?
When writing a tester resume, it is important to include certain elements that will help you stand out as a quality tester. Your resume should include the following components:
Experience: List any previous testing experience, including any formal training, hands-on experience with software, and any certifications you may have.
Projects: Include a list of notable projects you've completed in your testing career. Mention the types of projects, the technologies used, and any unique challenges you faced.
Tools: Make sure to list any testing tools you are familiar with, such as JUnit, Selenium, or JMeter.
Technical Skills: Indicate any technical skills you possess that could be helpful in a testing role, such as programming languages, operating systems, or databases.
Soft Skills: Include any soft skills that may be beneficial in a testing role, such as strong communication, problem-solving abilities, and teamwork.
Education: List your formal education, including any degrees or certifications you may have.
By including these elements in your tester resume, you will demonstrate your qualifications and help the employer understand how you can be an asset to their team.
What is a good summary for a Tester resume?
A tester resume should include a summary of your qualifications and experience in software testing. It should include a brief overview of the types of test cases you have developed, the systems you have tested, and the tools and techniques you used. Additionally, you should include any certifications, awards, or trainings related to software testing. A good tester resume should also reflect your enthusiasm and interest in the field, as well as your ability to collaborate and work well with others. Additionally, demonstrate your problem-solving ability and any successes you have had in the past. Finally, it should also have a few well-crafted sentences that concisely and clearly explain why you are the ideal candidate for the position.
What is a good objective for a Tester resume?
A tester's resume should be well organized and concise, and should contain a clear objective that immediately tells potential employers what qualifications and experience you possess.
A good objective for a tester resume should emphasize the following skills:
Excellent analytical and problem solving skills
Ability to work independently and collaboratively
Strong knowledge of testing principles and practices
Proficiency in the use of testing tools and techniques
Ability to develop and execute effective test plans
Knowledge of automated and manual testing processes
Experience in writing detailed documentation for test cases
Excellent communication and interpersonal skills
Ability to multitask and prioritize tasks
It is also important to highlight any certifications or specialized training you have in software testing, as these can help you stand out from the rest of the applicants. Your objective should be succinct, yet also showcase your expertise and qualifications for the job.
By writing a well-crafted objective, you can make sure that potential employers take notice of your resume, and know right away that you have the qualifications they are looking for.
How do you list Tester skills on a resume?
Having strong testing skills is essential for those aspiring to become successful software testers. When writing a resume, it's important to highlight your tester skills in order to demonstrate your value to potential employers. Here are some tips to help you list your tester skills on your resume.
Include a section dedicated to your tester skills. You can create a section titled "Tester Skills" or "Software Testing Skills" and list your skill set in this section.
Ensure that your skills are relevant to the position you are applying for. If you are applying for a manual tester role, highlight the manual testing skills on your resume.
Be specific about the technologies and processes you are familiar with. Include the versions of the software, processes, and any other relevant information. This will give the employer a clear picture of your skills.
Highlight certifications, if any, such as ISTQB or ISTAR.
Mention any awards or recognition you have received for your work.
List any publications or blogs you have written related to your testing skills.
By following these tips, you can effectively highlight your tester skills on your resume and make yourself stand out from the crowd.
What skills should I put on my resume for Tester?
Having a comprehensive resume is essential for getting the job you want, especially when it comes to the field of software testing.
When creating or updating your resume for a software tester position, you should focus on the skills that are particularly relevant to job responsibilities. Here are some of the skills employers look for when they hire testers:
Attention to Detail: Software testers need to be highly detail-oriented in order to identify even the smallest errors and bugs.
Analytical Thinking: Software testers need to be able to analyze problems and identify the root cause of an issue.
Knowledge of Testing Tools: Software testers need to be familiar with a variety of testing tools such as Selenium, Jmeter, and Cucumber.
Knowledge of Programming Languages: Software testers need to be knowledgeable in programming languages such as Java, Python, and C++ in order to understand the code and the logic behind the software.
Communication: Software testers need to be able to effectively communicate their findings and recommendations to the development team.
Problem Solving: Software testers need to be creative problem solvers in order to find solutions to difficult issues.
These are just some of the skills that employers are looking for when they hire software testers. By including these skills in your resume, you will be more likely to get your foot in the door. Good luck!
Key takeaways for an Tester resume
As a tester, your resume is your first impression to potential employers. It's essential that it stands out and highlights your unique skills and experience. Here are some key takeaways for creating an effective tester resume:
Make sure your resume is tailored to the specific job you're applying for. You should highlight the skills and experience that make you the ideal candidate.
Keep your resume concise and to the point. Include only the most relevant information and don't exceed two pages.
Include tangible accomplishments from your previous positions. Show employers the results of your work rather than the duties you performed.
Make sure your resume is free of typos and grammar errors. Every detail counts, so double-check your work for mistakes.
Include a resume summary at the top of your document. This is a brief overview of your career that explains why you're a great fit for the position.
Include relevant keywords that are related to the job you're applying for. This will help you get past automated screening systems and get noticed by recruiters.
With these tips, you can create an effective tester resume that will stand out from the competition. Good luck!
Let us help you build
your Resume!
Make your resume more organized and attractive with our Resume Builder