Writing a resume as a test engineer can be tricky. Good resume writing requires a combination of technical knowledge, strong communication skills, and an understanding of the job market. As a test engineer, you must have a well-written resume that reflects your qualifications and experience in the field. This blog post will provide a guide to help you craft an effective resume that will help you stand out from the competition. We will provide tips on what information to include, how to structure your resume, and examples of what a successful test engineer resume looks like. With the right guidance, you can create a resume that highlights your skills and experiences in the best way possible.
If you didn't find what you were looking for, be sure to check out our complete library of resume examples.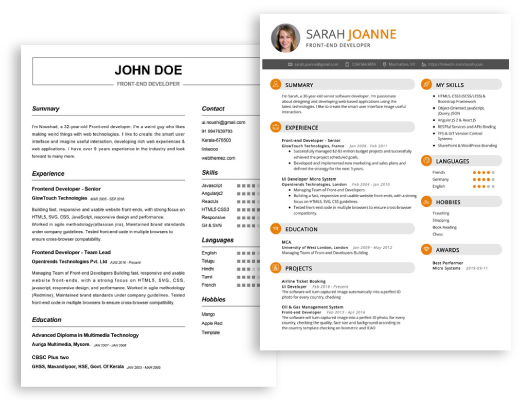 Start building your dream career today!
Create your professional resume in just 5 minutes with our easy-to-use resume builder!
Test Engineer Resume Examples
John Doe
Test Engineer
123 Main Street | Anytown, USA 99999 | Phone: (123) 456-7890 | Email: john.doe@email.com
As a highly experienced and detail- oriented Test Engineer with a solid background in software engineering and quality assurance, I have a proven track record of ensuring the highest quality software products. From developing test plans to debugging code and designing automated test cases, I have the technical expertise to ensure that all products meet the necessary standards and customer expectations. My core skill set includes knowledge of programming languages, scripting, software development lifecycle, and system automation. My professional experience includes working for top companies in the software industry, such as ABC Corporation and XYZ Corporation, to develop and deploy software solutions. With a degree in Computer Science and Software Engineering, I have the knowledge and tools to help any software application achieve its intended purpose.
Core Skills:
Automated Testing
System Automation
Programming Languages
Scripting
Software Development Lifecycle
Quality Assurance
Debugging
Professional Experience:
ABC Corporation – Test Engineer (June 2018 – Present)
Developed automated tests and test scripts
Executed test plans and monitored the performance of the product
Debugged code and identified software issues
Implemented software solutions and ensured they met customer expectations
Collaborated with developers and other team members to ensure quality
Monitored system performance and created detailed reports
XYZ Corporation – Test Engineer (December 2015 – May 2018)
Developed test plans and strategies to ensure product quality
Designed automated tests and test scripts
Executed tests and identified software issues
Created detailed reports on system performance
Worked with developers to debug code and improve the product
Education:
Bachelor of Science in Computer Science & Software Engineering, ABC University, May 2015
Test Engineer Resume with No Experience
Dedicated and hard- working Test Engineer with strong technical skills, including knowledge of software testing tools and methods. Able to develop automated tests within software development lifecycle and ensure a high quality of applications. Passionate about exploring new technologies to deliver reliable and high- performing software solutions.
Skills
Experience with Test Automation Tools
Experience in test case design and execution
Experience in software development processes
In- depth knowledge of software testing methods
Strong understanding of software development lifecycle
Proficient in bug tracking and reporting tools
Ability to troubleshoot and debug software issues
Excellent problem- solving, analytical and communication skills
Responsibilities
Develop automated test scripts and test cases to ensure quality software solutions.
Execute and analyze software tests and detect software defects.
Track, document and manage defects within software development lifecycle.
Document and report software issues to the development team.
Assist in troubleshooting and debugging software issues.
Maintain and enhance automated testing tools.
Plan and coordinate software testing activities.
Test Engineer Resume with 2 Years of Experience
An experienced Test Engineer with two years of experience in software development and testing, with a passion for providing high- quality results. Proven ability to develop and maintain effective test plans and documentation to ensure product quality and reliability. Experienced in developing automated tests for web and mobile applications, and familiar with a variety of software testing tools and techniques. Excellent communication and problem- solving skills, with a strong aptitude for learning and applying new technologies.
Core Skills:
Software Testing & Development
Automated Testing
Test Plans & Documentation
Web & Mobile Application Testing
Problem- solving & Communication
Software Testing Tools & Techniques
Project Management
Responsibilities:
Developing and executing test plans and scripts to ensure software quality and reliability
Designing and implementing automated tests for web and mobile applications
Performing manual and automated testing to uncover software defects
Analyzing test results and reporting findings to the development team
Creating detailed test documentation for use by the development team
Working closely with developers to identify and resolve software issues
Developing and maintaining quality standards for software development and testing
Test Engineer Resume with 5 Years of Experience
Experienced Test Engineer with 5 years of experience in testing software and applications. Proven record in identifying and resolving software defects and bug fixes. Skilled in developing and executing test plans, writing detailed and comprehensive test cases, and managing bug- tracking processes to ensure smooth and efficient software operations. Collaborative team member with strong communication and problem- solving skills.
Core Skills:
Software Testing
Defect Tracking
Test Plan Development
Bug Fixing
System Integration
End- to- End Testing
Agile Methodology
Quality Assurance
Responsibilities:
Developed and executed test plans for various software and applications.
Identified and corrected software defects and implemented bug fixes.
Assisted with system integration testing to ensure accuracy and compatibility.
Carried out end- to- end testing to ensure software functionality.
Utilized Agile methodology to create and manage test cases.
Implemented quality assurance protocols during testing.
Monitored and tracked software defects in bug- tracking system.
Test Engineer Resume with 7 Years of Experience
A highly motivated and organized professional test engineer with 7 years of experience in software testing and quality assurance. Experienced in a wide range of software testing techniques and methods, including manual testing, automation testing, API testing, and system testing. Skilled in designing test cases, executing test plans and developing automated tests. Possess excellent communication and problem- solving abilities as well as a well- developed ability to work independently or collaboratively as part of a team.
Core Skills:
Proficient in manual and automation testing
Experienced in API, system, and integration testing
Knowledge of software development processes
Strong understanding of QA software methodology
Expertise in SQL and scripting languages
Ability to track and prioritize bug reports
Highly organized and detail- oriented
Responsibilities:
Developed and executed test plans, test cases, and test scripts.
Conducted manual and automated tests to identify software issues and bugs.
Verified application functionality according to requirements and standards.
Identified, documented and tracked software issues and bugs.
Optimized existing test plans and test cases to improve efficiency.
Generated test reports summarizing test outcomes and software issues.
Developed and maintained automated test scripts using scripting language.
Performed installation, configuration, and integration testing.
Participated in code reviews, defect triage and sprint planning sessions.
Collaborated with developers and other stakeholders to resolve issues.
Test Engineer Resume with 10 Years of Experience
Experienced Test Engineer with 10 years of hands- on experience in developing automated test plans and performing quality assurance analysis. Expert in a variety of development platforms, have created comprehensive tests for web, mobile, and cloud- based applications. Skilled in monitoring and evaluating test results and providing reports for decision making. Highly adept at utilizing strong problem- solving skills to troubleshoot and resolve issues.
Core Skills:
Test Planning & Execution
Automated Testing
Defect & Bug Tracking
Performance & Load Testing
Cross- Platform Compatibility
Regression & Integration Testing
Software Quality Assurance
Data Analysis & Reports
Responsibilities:
Developed automated test plans and scripts to test web, mobile, and cloud- based applications.
Performed comprehensive tests of applications to identify and troubleshoot system issues.
Reviewed existing test plans and adapted them to meet current requirements.
Designed test cases and ran experiments to evaluate system and product performance.
Analyzed test results and generated reports to inform decision making.
Conducted cross- platform compatibility tests to ensure applications met standards across multiple platforms.
Monitored bug tracking systems to ensure reported defects were addressed in a timely manner.
Collaborated with other test engineers and developers to define and document test plans, requirements, and results.
Test Engineer Resume with 15 Years of Experience
I am a Test Engineer with over 15 years of experience in analyzing, testing, and validating software solutions. I have extensive experience in developing test strategies, designing test cases, and executing tests to ensure successful product delivery. I am proficient in various automated testing frameworks including Selenium WebDriver and JUnit, along with a strong background in manual testing. I have excellent communication and problem- solving skills, and I am highly organized and detail- oriented.
Core Skills:
Hands- on experience in manual and automated testing
Expertise in software test engineering
Experience in the development of test strategies and plans
Proficient in Selenium WebDriver and JUnit testing frameworks
Ability to create test cases and execute tests to verify product quality
Exceptional problem- solving skills
Excellent communication and organizational skills
Responsibilities:
Develop and execute test cases, scripts, and procedures to ensure product quality
Analyze requirements, identify test scenarios and develop test plans
Utilize automated testing frameworks for test automation
Debug errors and record test results
Document test results and track defects
Monitor and report software performance
Collaborate with developers and other stakeholders to resolve issues and ensure product quality
In addition to this, be sure to check out our resume templates, resume formats, cover letter examples, job description, and career advice pages for more helpful tips and advice.
What should be included in a Test Engineer resume?
A test engineer is an integral part of any development team. In order to stand out from the competition, it is essential that your resume reflects all of your skills and experience in the field. When writing a resume for a test engineer position, it is important to include the following information:
Contact Information: Your full name, address, email, and phone number should be the first thing listed on your resume.
Professional Summary: A short summary of your experience and qualifications as a test engineer should be included. Be sure to highlight any unique abilities you bring to the table.
Education: List out any relevant educational degrees or certifications that you possess.
Technical Skills: Detail any technical skills that you have, including your proficiencies with software, programming languages, and operating systems.
Professional Experience: Include a comprehensive list of current and past employers, along with a description of the duties that you performed.
Relevant Projects: When applicable, list any specific projects that you have worked on in the past and describe their outcomes.
Strengths: Highlight any unique abilities that you possess that would make you an asset to any employer.
Awards and Honors: If you have received any awards or honors, be sure to include them on your resume.
By including all of this information, you can make sure that your resume stands out from the competition and helps you land the job that you are looking for.
What is a good summary for a Test Engineer resume?
A good summary for a Test Engineer resume should highlight an individual's technical knowledge, problem-solving skills, and experience in software and hardware testing. It should also showcase their strong attention to detail and ability to work in a team environment. The summary should include the individual's ability to plan and execute effective tests, analyze test data, and develop innovative solutions to problems. Additionally, it should highlight their ability to use their technical understanding to make informed decisions and provide feedback on system performance. Finally, the summary should demonstrate their understanding of industry best practices and their commitment to creating high quality products.
What is a good objective for a Test Engineer resume?
Writing a resume that stands out in an engineering field can be a challenge. As a Test Engineer, it's important to showcase your technical skills and experience in order to make a positive impression. Your objective statement is the first opportunity to demonstrate your qualifications and make a great introduction to the rest of your resume.
When writing an objective for a Test Engineer resume, it's important to be as specific as possible and explain how you can bring value to the position. Here are some tips to help you craft an effective objective statement:
Highlight your previous experience: Include any experience related to testing, such as working with software development teams, coding, or debugging.
Demonstrate your technical skills: Describe your technical skills in detail, such as your knowledge of automation tools and scripting languages.
Showcase your problem-solving abilities: Describe how you've used your experience and skills to troubleshoot and resolve issues.
Emphasize your communication skills: Test Engineers need strong communication skills to work effectively with other engineers and stakeholders.
Quantify your successes: Include metrics that demonstrate the value you've brought to previous positions.
A good objective for a Test Engineer resume should demonstrate your technical expertise and problem-solving abilities, as well as your ability to work well with others. By emphasizing your qualifications and accomplishments, you can make a great first impression and set yourself up for success in your job search.
How do you list Test Engineer skills on a resume?
When writing a resume for a Test Engineer position, it is important to list the right skills to convince recruiters that you are qualified for the job. To highlight your skills and make you stand out from the competition, consider the following tips for listing them on your resume:
Include a summary of qualifications: Your summary of qualifications should be a brief statement that outlines your experience and the key skills that make you a valuable asset as a Test Engineer.
Detail your experience: List the relevant companies, roles, and responsibilities you've had as a Test Engineer. This section should serve as proof of your technical expertise and the experience you bring to the job.
Highlight technical skills: As a Test Engineer, your technical skills will be very important in performing your job duties. List any programming languages, software, and hardware you are familiar with as well as any certifications you have.
List problem-solving skills: As a Test Engineer, you must be able to troubleshoot and solve complex problems. Be sure to list any problem-solving skills that you have that show your ability to think critically.
Showcase your communication skills: Effective communication is a must for any Test Engineer. List any public speaking, written communication, and interpersonal skills that you have to demonstrate your ability to collaborate with other team members.
By following these tips, your resume should accurately reflect the skills you have as a Test Engineer and help you land a job in the field.
What skills should I put on my resume for Test Engineer?
Test Engineers develop, evaluate, and maintain quality software systems. A strong resume for Test Engineer needs to demonstrate the candidate's technical skills and ability to identify and solve problems. Below are some of the skills you should consider including on your resume if you are applying for a Test Engineer position:
Automated testing: Experience with automated testing tools such as Selenium, Cucumber, and JUnit to create and execute test cases.
Debugging: Ability to debug applications and isolate issues to help identify potential solutions.
Programming: Proficiency in coding languages such as Java, C#, and Python to create efficient and effective test scripts.
Database management: Knowledge of database software such as Oracle, Microsoft SQL Server, and MySQL to manage data.
Quality assurance: Understanding of quality assurance principles and processes to ensure software meets requirements.
Test planning: Ability to create and execute test plans to ensure software meets functional and performance requirements.
Technical documentation: Proficiency in writing technical documentation, including test plans, bug reports, and user manuals.
Communication: Excellent verbal and written communication skills to effectively collaborate with teams across the organization.
Key takeaways for an Test Engineer resume
When you're applying for a job as a test engineer, your resume should include certain key takeaways that will make you stand out to potential employers. In this blog post, we'll discuss the key takeaways for a test engineer resume, and how to use them to your advantage.
First and foremost, your resume should highlight your technical and engineering knowledge. Be sure to include any engineering certifications and relevant coursework, as well as your experience developing and testing software. Also, include any technical proficiency in languages and tools that are applicable to the job.
Second, if you have experience in the industry, be sure to include that as well. Many employers value experience over education, so if you've worked in the field, it can give you an edge over other applicants.
Third, you should also include any additional skills and qualifications that you have. This could include any specializations in certain software development platforms, or even experience with automation tools. These skills can help to set you apart and make you more attractive to potential employers.
Finally, don't forget to include your contact information. This should include your name, email address, and phone number. Be sure to list your location as well, so employers can easily contact you if needed.
Following these key takeaways for a test engineer resume will help you to make the most of your application. Good luck!
Let us help you build
your Resume!
Make your resume more organized and attractive with our Resume Builder