Writing a resume as an engineering technologist is a difficult task as it requires a combination of technical and people skills. This article is a guide for any aspiring engineering technologist to create a unique and effective resume. It will provide you with the necessary tips and tricks to write a resume that will stand out to potential employers. Furthermore, it will include examples of resumes from successful engineering technologists to give you an idea of what a strong resume looks like. By following these examples and guidelines, you can create a resume that will make sure you are given the opportunity to prove your worth and land the job you desire.
If you didn't find what you were looking for, be sure to check out our complete library of resume examples.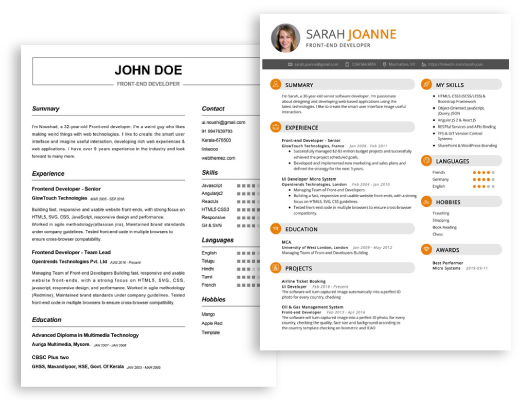 Start building your dream career today!
Create your professional resume in just 5 minutes with our easy-to-use resume builder!
Engineering Technologist Resume Examples
John Doe
Engineering Technologist
123 Main Street | Anytown, USA 99999 | Phone: (123) 456-7890 | Email: john.doe@email.com
I am a highly motivated engineering technologist with over 5 years of experience in the field. With a strong background in engineering, I have excellent problem solving and critical thinking abilities that have enabled me to come up with creative solutions for a variety of issues. I am an adept team player who can effectively collaborate with other engineers and technicians to complete projects within tight deadlines. I am also able to communicate technical information to non- technical people in a comprehensive way. I am confident that I can bring a great deal of value to any engineering team.
Core Skills:
Advanced knowledge of engineering principles and best practices
Proficient in project management and execution
Ability to develop solutions to complex technical problems
Excellent teamwork and communication skills
Strong analytical skills
Proficient in CAD software
Professional Experience:
Engineering Technologist, ABC Engineering, 2017- Present
Responsible for developing and executing engineering projects according to best practices
Analyzed and solved complex engineering problems
Conducted research to understand the impacts of various engineering solutions
Utilized CAD software to develop plans and designs
Collaborated with other engineers and technicians to complete projects within tight deadlines
Education:
Bachelor of Science in Engineering Technology, ABC University, 2013- 2017
Associate of Science in Engineering Technology, XYZ College, 2011- 2013
Engineering Technologist Resume with No Experience
Dedicated and motivated engineering technologist with no experience looking for an opportunity to develop skills and knowledge in a professional engineering environment. With a keen eye for detail and technical aptitude, I am eager to apply my problem- solving and critical thinking skills to a team of engineers.
Skills
Proficient with Microsoft Office Suite, particularly Excel and PowerPoint
Strong analytical and problem- solving skills
Excellent organizational and time management skills
Ability to work both independently and collaboratively
Excellent written and verbal communication skills
Responsibilities
Assist the engineering team with research and development projects
Design and implement solutions to technical problems
Conduct tests and experiments to determine the effectiveness of solutions
Develop reports and presentations on the results of tests and experiments
Perform data analysis and provide recommendations based on findings
Engineering Technologist Resume with 2 Years of Experience
Highly trained and experienced Engineering Technologist, with two years of experience in the field. Possesses extensive knowledge of research and development test methods, manufacturing processes and product designs. Skilled in making technical design decisions, conducting research and analysis, interpreting engineering drawings and instructions, and developing and maintaining records. Experienced in providing technical assistance to engineering, design, and development personnel.
Core Skills:
Research and Development Test Methods
Manufacturing Processes and Product Designs
Technical Design Decisions
Conducting Research and Analysis
Interpreting engineering drawings and instructions
Developing and Maintaining Records
Providing Technical Assistance
Responsibilities:
Conducted research and development tests on a variety of products, including electronic, mechanical and software components.
Developed and maintained records concerning engineering and design projects.
Interpreted engineering drawings and instructions for use in the design and development of new products.
Assisted in the layout and design of manufacturing processes, including the selection and specification of machines, tools and related equipment.
Developed and tested prototypes for new and existing products, and provided feedback to engineering and design personnel.
Participated in meetings with engineering and design personnel to discuss technical design decisions and issues.
Provided technical assistance to engineering, design and development personnel.
Engineering Technologist Resume with 5 Years of Experience
A highly motivated Engineering Technologist with 5 years of experience in a wide variety of engineering areas. Experienced in working with clients to develop engineering solutions that maximize results while minimizing costs. Possesses a strong background in product development, engineering design, and project management with proven ability to lead successful projects from concept through product launch. Possesses excellent written and oral communication skills, able to effectively interact with colleagues, customers, and vendors.
Core Skills:
Project Management
Engineering Design
Product Development
Process Improvement
Troubleshooting
Quality Assurance
Product Testing
CAD/CAM Systems
Responsibilities:
Developed engineering solutions from concept to product launch
Worked with management and vendors to ensure cost- effective solutions for product requirements
Collaborated with customers to understand product requirements and develop solutions
Conducted testing and inspections of products to ensure quality assurance
Established and maintained quality assurance guidelines for products
Developed and implemented process improvement methods to increase efficiency
Developed CAD/CAM systems to automate design processes and streamline product development
Engineering Technologist Resume with 7 Years of Experience
Dedicated and highly experienced Engineering Technologist with over 7 years of experience in the field. Skilled in designing, developing, and testing complex engineering systems. Adept at using CAD software and possess keen eye for detail. Adept at managing project teams, coordinating with stakeholders, and ensuring deadlines are met. Possesses excellent communication and problem solving skills.
Core Skills:
CAD Software
Project Management
System Design & Development
Client Relationship Management
Problem Solving
Testing & Debugging
Process Improvement
Responsibilities:
Developed engineering systems to meet customer requirements
Utilized CAD software to generate designs and documentation
Managed projects from concept to completion according to specified timelines
Collaborated with stakeholders to ensure projects were completed on time and on budget
Conducted tests to ensure products met performance and quality standards
Maintained accurate records and documentation of all engineering activities
Advised and provided guidance to team members on engineering processes and procedures
Implemented process improvements to enhance efficiency and reduce costs
Engineering Technologist Resume with 10 Years of Experience
I am an experienced Engineering Technologist with 10 years of expertise in testing, troubleshooting and maintaining technical engineering systems. With my technical background, I am adept in reading complex engineering blueprints, assembling, configuring and maintaining engineering systems, and troubleshooting and repairing equipment. I possess strong problem- solving skills, as well as the ability to work collaboratively within a team to ensure successful outcomes. My organizational and communication skills are excellent, and I am able to respond quickly to changing requirements.
Core Skills:
Computer Engineering & Technology
Troubleshooting & Debugging
Technical Equipment Analysis
Automation & Robotics
Power Electronics
Virtualization & Networking
Software Design & Development
Technical Documentation
Team Collaboration
Responsibilities:
Developing, testing, and troubleshooting electrical and electronic systems
Designing and implementing process control systems
Configuring and maintaining engineering systems in accordance with technical requirements
Reading and interpreting engineering blueprints and schematics
Identifying reliability and safety issues of equipment and systems
Developing and executing test plans and procedures
Assisting engineers in the design and development of electrical/electronic systems
Performing maintenance, programming and repairs on engineering systems
Engineering Technologist Resume with 15 Years of Experience
I am an experienced Engineering Technologist with 15 years' experience in a variety of industries. I excel in creating innovative solutions to engineering problems and have a strong technical knowledge of engineering principles, processes and protocols. My experience ranges from working in manufacturing and development to software engineering and project management. My strong problem- solving skills, critical thinking and ability to find solutions to complex problems make me an ideal candidate for a range of engineering roles.
Core Skills:
Strong technical knowledge
Project management
Innovative problem- solving
Software engineering
Manufacturing engineering
Leadership and management
Critical thinking
Data analysis
Systems engineering
Communication and teamwork
Responsibilities:
Leading and managing engineering projects
Identifying and resolving challenging engineering issues
Developing and maintaining efficient manufacturing processes
Designing and developing software solutions for engineering problems
Analyzing and interpreting data to identify trends and develop solutions
Troubleshooting and debugging software, hardware and systems
Testing and evaluating engineering systems and processes
Working together with teams of engineers, technicians and other professionals to ensure successful project completion
In addition to this, be sure to check out our resume templates, resume formats, cover letter examples, job description, and career advice pages for more helpful tips and advice.
What should be included in a Engineering Technologist resume?
A well-crafted resume for an engineering technologist should include the following:
Professional summary: A short paragraph outlining your core skills, qualifications, and experience in the field.
Education: Relevant academic qualifications, including degree, post-graduation courses, certifications, and specializations.
Experience: All professional experience relevant to the role of engineering technologist, including internships and volunteer positions.
Technical Skills: A list of any specialized technical skills relevant to the position, such as CAD software proficiency, programming languages, or electrical engineering knowledge.
Soft Skills: A list of any personal qualities that make you a great fit for the role, such as problem-solving, communication, or leadership capabilities.
Awards & Achievements: Any awards or accolades you have received that demonstrate your skills and achievements.
Interests & Activities: Any extracurricular activities or hobbies that demonstrate your commitment to the profession, or your ability to work as part of a team.
What is a good summary for a Engineering Technologist resume?
A good summary for an Engineering Technologist resume should reflect the candidate's expertise in the field, their experience, and their qualifications. It should also highlight the individual's technical knowledge, communication and problem-solving skills, and any other relevant abilities that make them a strong applicant. The summary should be concise, yet detailed enough to give a clear picture of the candidate's background and qualifications. In addition, it should emphasize the candidate's passion for the work and the ways in which their skills and experience can benefit the organization. Finally, the summary should include a few of the candidate's most notable accomplishments to provide further evidence of their worth as an applicant.
What is a good objective for a Engineering Technologist resume?
An objective statement is a great way to make a strong first impression on a potential employer. As an Engineering Technologist, it is important to highlight your technical abilities and relevant work experience in order to stand out. Here are some examples of good objectives for an Engineering Technologist resume:
To leverage my 5+ years of engineering and design experience to develop innovative solutions in a fast-paced environment.
To contribute my experience in project and process management to improve efficiency and productivity.
To use my technical expertise and problem-solving skills to help advance the goals of a forward-thinking company.
To bring my knowledge of CAD/CAM software, 3D printing, and other engineering tools to a forward-thinking organization.
To apply my experience in robotics, manufacturing processes, and automation to create innovative solutions.
To utilize my knowledge in electrical engineering, materials science, and systems engineering to create cutting-edge products.
How do you list Engineering Technologist skills on a resume?
An Engineering Technologist is a professional who can bridge the gap between engineering principles and their practical application. As such, they have a wide range of skills and experience that employers in many industries find valuable. When creating a resume, including a section on Engineering Technologist skills is a great way to demonstrate the breadth of your knowledge and the value you can bring to a position.
Here are some examples of Engineering Technologist skills to consider including on your resume:
Technical Knowledge: Understanding of applied engineering principles and techniques, including CAD design, drafting and design tools, structural design and testing, and safety protocols.
Project Management: Ability to manage and monitor projects from inception to completion, including managing budgets, timelines, and resources.
Problem Solving: Proven ability to diagnose and troubleshoot complex technical problems quickly and efficiently.
Research and Analysis: Ability to carry out research and analysis to identify and develop appropriate solutions to technical problems.
Communication: Excellent verbal and written communication skills, as well as the ability to present technical information to non-technical audiences.
Leadership: Ability to provide leadership and direction to other members of a technical team.
By including a section on Engineering Technologist skills on your resume, you can showcase your technical expertise to employers and demonstrate your suitability for the position.
What skills should I put on my resume for Engineering Technologist?
When you're looking for a job as an Engineering Technologist, your resume is one of the best tools to help you stand out from the crowd. To make sure you get noticed, it's important to include the skills that employers are looking for. Here are the key skills employers want to see on your resume for an Engineering Technologist role:
Problem Solving: Engineering Technologists must demonstrate the ability to identify and analyze problems and develop solutions.
Technical Knowledge: Employers want to see that you have a thorough understanding of the latest engineering and technology principles and techniques.
Teamwork: Engineering Technologists must have the ability to collaborate with others and work as part of a team in order to successfully complete projects.
Organizational Skills: Employers want to see that you can plan, organize and coordinate projects to completion.
Communication Skills: Engineering Technologists need to be able to clearly and effectively communicate technical information to colleagues and clients.
Time Management: Engineering Technologists must be able to manage their time effectively to ensure projects are completed on time.
Attention to Detail: Employers look for Technologists who can identify and address small details and quickly spot errors or inconsistencies.
By including these essential skills on your resume, you can make sure your resume stands out and show employers that you have the right knowledge and abilities to be a successful Engineering Technologist.
Key takeaways for an Engineering Technologist resume
When crafting an engineering technologist resume, there are certain points that should be remembered in order to make it stand out from the competition. Here are some key takeaways for creating an engineering technologist resume:
Focus on the technical skills and expertise you have in the relevant fields, such as electrical engineering, mechanical engineering, or software engineering. Showcase your knowledge of engineering principles, technologies, and methodologies.
Include detailed descriptions of any relevant hands-on engineering experience and projects. Highlight any successes or achievements obtained during these projects.
Mention any special certifications, awards, or recognition you have received in your field.
Demonstrate your problem-solving abilities and analytical skills through your description of projects and work done.
Demonstrate your communication and collaboration skills, as well as your ability to work in teams.
Showcase your ability to work with and manage different types of engineering tools and software.
Showcase any additional skills related to engineering, such as design and fabrication, or troubleshooting and maintenance.
List any educational qualifications and professional memberships related to engineering.
By following these key takeaways, engineering technologists can create a resume that will stand out in a crowded field. By emphasizing the right skills and experiences, engineering technologists can demonstrate their technical expertise and value to potential employers.
Let us help you build
your Resume!
Make your resume more organized and attractive with our Resume Builder