Having a well-crafted and up-to-date resume is vital for any storage engineer looking to impress potential employers and land their dream job. But writing a storage engineer resume can be a challenge. To help make the process easier, this guide will provide tips on how to write a great storage engineer resume, as well as provide examples of resumes from successful storage engineers. By following these tips and taking the time to create an effective resume, any storage engineer can make sure their skills, qualifications, and experience stand out to potential employers.
If you didn't find what you were looking for, be sure to check out our complete library of resume examples.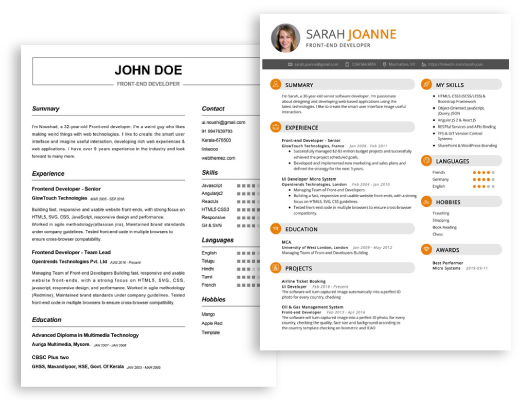 Start building your dream career today!
Create your professional resume in just 5 minutes with our easy-to-use resume builder!
Storage Engineer Resume Examples
John Doe
Storage Engineer
123 Main Street | Anytown, USA 99999 | Phone: (123) 456-7890 | Email: john.doe@email.com
Dynamic and results- driven Storage Engineer with 6+ years of experience in the IT industry. Adept at managing, engineering and maintaining a variety of storage systems and networks. Knowledgeable in multiple storage technologies such as SAN and NAS. Possesses a proven track record in identifying and resolving storage- related issues. Committed to providing cost- effective and innovative solutions to improve system efficiency.
Core Skills:
Storage architecture
SAN/NAS/DAS technologies
Storage backup and recovery
Storage performance optimization
Server/network virtualization
Storage capacity planning
Scripting/programming
Data migration
Problem solving
System documentation
Network troubleshooting
Professional Experience:
Storage Engineer
XYZ Company, Anytown, USA
August 2014 – Present
Design and implement storage solutions that meet customer needs and align with SLAs
Configure, maintain and troubleshoot SAN/NAS/DAS storage systems
Perform data migrations to new storage tiers or systems
Implement storage optimization projects to improve system reliability and performance
Develop and implement storage policies, procedures and best practices
Provide technical guidance and support for storage- related issues
Create system documentation including architecture diagrams, network diagrams and flowcharts
Education:
Bachelor of Science in Information Technology
Anytown University, Anytown, USA
2010 – 2014
Storage Engineer Resume with No Experience
Recent college graduate with excellent analytical and technical expertise and a commitment to providing high- quality storage engineering services Knowledgeable in network architecture and server hardware, with a keen eye for detail and proven problem- solving skillsEnthusiastic, highly organized, and determined to make an impact on an organization's storage engineering capabilities
Skills
Networking Experience: Experience with setting up networks and troubleshooting networking issues
Hardware Knowledge: Skilled in operating and understanding server hardware and components
System Administration: Proficient in administering Windows, Linux, and UNIX systems
Virtualization Technology: Experienced in creating and maintaining virtual machines
Scripting: Knowledge of scripting languages such as PowerShell, Bash, and Python
Responsibilities
Design and implement storage solutions to meet business requirements
Monitor and analyze storage performance and capacity utilization
Manage storage systems, including storage fabric and disks
Configure and maintain storage replication and backup solutions
Troubleshoot storage- related technical problems and provide resolution
Develop and maintain documentation related to storage engineering processes and procedures
Storage Engineer Resume with 2 Years of Experience
A Storage Engineer with 2 years of experience in designing, planning, and executing storage infrastructures to ensure maximum storage capacity and availability. Proven success in diagnosing complex storage problems and configuring SAN components to meet organizational requirements. Demonstrated ability to effectively monitor, test, and troubleshoot storage systems. Skilled in developing storage policies and procedures and ensuring compliance with service level agreements.
Core Skills:
SAN Storage Design and Administration
Storage Area Network Configuration
Storage Troubleshooting and Maintenance
Storage System Performance Monitoring
Scripting and Automation
Storage Capacity Management
Server Virtualization
Responsibilities:
Developed, implemented, and managed storage policies and procedures according to company standards, best practices, and service level agreements.
Monitored and maintained the performance, health, and availability of storage systems.
Performed storage system upgrades and maintenance on a periodic basis.
Troubleshot storage system problems and provided technical support to other teams.
Designed, configured, and tested new storage systems to ensure maximum performance, reliability, and scalability.
Implemented and configured server virtualization technologies.
Performed scripting and automation tasks to streamline storage operations.
Managed storage capacity and allocated resources to meet changing user needs.
Storage Engineer Resume with 5 Years of Experience
A Storage Engineer with 5 years of experience in IT storage engineering and support. Possess excellent knowledge in storage architecture, SAN, NAS, replication, and backup. Comfortable in designing, configuring, and managing storage environments, including multi- vendor experiences. Pro- active in troubleshooting, resolving storage issues, and maintaining high performance. Excellent in communication, problem- solving, and collaboration skills.
Core Skills:
Advanced knowledge of storage technology, including SAN, NAS, replication, and backup
Ability to design, configure, and manage storage environments
Experienced in multi- vendor storage platforms, including EMC, NetApp, and IBM
Understanding of OSI model, TCP/IP, and other network protocols
Proficient in deploying and managing virtualized storage systems
Highly skilled in troubleshooting, root cause analysis, and resolving storage issues
Hands- on experience in storage performance tuning and ongoing system improvement
Responsibilities:
Assisted in designing and implementing storage solutions
Monitored and maintained storage systems performance
Developed storage contingency and performance plans
Configured and integrated existing storage systems with new applications
Automated and optimized storage capacity planning
Spearheaded storage system upgrades and enhancements
Analyzed and resolved operational issues related to storage systems
Implemented data protection, business continuity, and disaster recovery plans
Ensured storage compliance with security standards and industry best practices
Storage Engineer Resume with 7 Years of Experience
I am a Storage Engineer with 7 years of experience in designing, implementing and maintaining enterprise storage systems, including SAN, NAS and object storage solutions. I have a proven ability to apply my technical expertise to create and maintain cost- effective storage systems and strategies. I am highly knowledgeable in industry- standard storage technologies, including backup, replication, and cloud storage. I am an excellent problem solver, able to troubleshoot difficult storage issues quickly and effectively.
Core Skills:
SAN, NAS and Object Storage Solutions
Experience with Enterprise Storage Systems
Knowledge of Industry- Standard Storage Technologies
Backup, Replication and Cloud Storage
Excellent Problem Solver
Troubleshooting Storage Issues
Responsibilities:
Design, develop and maintain storage systems and strategies to meet customer and company requirements
Monitor and review performance of storage systems to ensure optimal working order
Troubleshoot and resolve storage related issues quickly and efficiently
Develop and implement strategies for backup, disaster recovery and business continuity
Research and recommend new technologies and solutions to improve storage performance
Manage and track all storage related requests, incidents and problems
Create and maintain technical documentation of storage systems and processes
Storage Engineer Resume with 10 Years of Experience
Highly- skilled Storage Engineer with more than 10 years of experience in designing and implementing storage systems, developing strategies for data storage and retrieval, and providing technical support. Adept in storage technologies, including storage virtualization, storage area networks, network- attached storage and disk arrays. Possesses strong analytical and problem- solving skills, as well as excellent customer service, communication and organizational abilities.
Core Skills:
Storage architecture
Storage virtualization
Storage area networks
Network- attached storage
backup & restore
Capacity planning
Troubleshooting & problem- solving
Data security
Scripting
Responsibilities:
Designed and implemented storage systems for multiple companies.
Developed strategies for data storage and retrieval.
Ensured data security, integrity and reliability.
Analyzed and monitored storage systems performance.
Established storage configurations and policies.
Resolved storage systems issues and optimized performance.
Managed data migration and backup processes.
Prepared and maintained documentation of storage systems.
Developed and tested data recovery plans.
Performed regular system checks and identified potential issues.
Developed scripts to automate storage system processes.
Trained users on storage systems usage and best practices.
Storage Engineer Resume with 15 Years of Experience
A highly motivated and detail- oriented Storage Engineer with 15 years of experience in the IT industry. Possess strong technical skills and expansive knowledge of storage management. Experienced in providing outstanding support to clients in both the private and public sector. Able to plan, implement and administer complex storage system architectures. Committed to staying up to date on developing technologies and industry best practices.
Core Skills:
Data Storage Architectures
Storage Management
Troubleshooting
Network Infrastructure
Client Support
Backup & Recovery
System Security
Capacity Planning
Disaster Recovery
SAN & NAS Systems
Responsibilities:
Design and implement storage solutions for clients in both public and private sectors.
Monitor storage system performance and troubleshoot problems as needed.
Implement storage system security protocols and ensure compliance with company policies.
Provide technical support and guidance for clients.
Perform capacity planning for storage systems and upgrade hardware when necessary.
Develop and maintain disaster recovery plans.
Create backup and recovery processes for storage systems.
Monitor and analyze storage system performance metrics.
Train and mentor junior team members.
In addition to this, be sure to check out our resume templates, resume formats, cover letter examples, job description, and career advice pages for more helpful tips and advice.
What should be included in a Storage Engineer resume?
Writing a resume for a Storage Engineer position can be intimidating. Storage Engineers are responsible for managing and maintaining storage systems, so any resume for this role needs to include key skills, technologies, and experience.
When creating your resume, make sure to include the following:
Relevant certifications: Storage Engineers must have a comprehensive understanding of storage technology. List any relevant certifications that demonstrate your knowledge of storage systems and design.
Technical experience: Storage Engineers need to have a strong background in technology. List any specific storage technologies you have experience with, including storage software, hardware, and protocols.
Understanding of industry trends: Storage Engineers must be able to keep up with the latest industry trends and advancements. Mention any conferences or training sessions you have attended that demonstrate your knowledge in this area.
Communication and problem-solving skills: Storage Engineers need to be able to communicate effectively and provide solutions to technical problems. Include any training or experience that demonstrates these skills.
Teamwork: Storage Engineers often work with other IT professionals on projects. Showcase any team projects you have worked on to demonstrate your ability to collaborate.
By following these tips, you can create an effective storage engineer resume that will help you stand out from the competition. Make sure to highlight your experience and skills to create a resume that will get you noticed.
What is a good summary for a Storage Engineer resume?
A storage engineer resume summary should include a brief overview of your experience and skills, such as engineering, IT, and storage systems. It should also highlight any certifications or training you have completed, as well as any special projects you have managed. Your summary should focus on the technical aspects of the job, but also include any soft skills or experiences that make you a unique and valuable asset to the company. Finally, a good summary should indicate your enthusiasm for the role and commitment to excellence.
What is a good objective for a Storage Engineer resume?
Storage Engineers are responsible for designing, installing, monitoring, and maintaining storage systems for organizations. They ensure that data is stored securely and that access to that data is provided to authorized personnel. When it comes to crafting a strong resume for a Storage Engineer position, it's important to have a strong objective statement that will catch the attention of potential employers. Here's a brief guide to writing a resume objective for a Storage Engineer.
Utilize 10+ years of experience in designing, installing, and maintaining large-scale storage systems to ensure optimal performance and security
Leverage expertise in multiple storage platforms, including NetApp, EMC, and Hitachi, to ensure data security and access for clients
Develop comprehensive strategies for backup and archival solutions to ensure that data is secure and recoverable in the event of a disaster
Utilize experience in scripting languages, such as PowerShell and Bash, to automate and streamline storage management tasks
Utilize best practices for storage performance, capacity planning, storage optimization, and storage-related troubleshooting tasks
Utilize excellent communication and interpersonal skills with internal teams and external stakeholders to ensure effective collaboration and successful completion of projects
How do you list Storage Engineer skills on a resume?
Storage Engineer skills are essential for the design, development, and maintenance of storage systems. Having these skills on a resume will help demonstrate the candidate's qualifications for this role and show employers their technical expertise in this field.
When listing Storage Engineer skills on a resume, it is important to include both practical and technical skills. Here are some skills that could help demonstrate a job applicant's qualifications for the role:
Knowledge of storage systems, including SAN, NAS, and DAS
Proficiency in server virtualization, clustering, and mirroring
Understanding of RAID configurations, replication, and backup/restore processes
Familiarity with storage protocols such as Fibre Channel, iSCSI, and InfiniBand
Ability to configure and manage file systems and storage disk arrays
Excellent troubleshooting and problem solving skills
Ability to work with vendors and review product documentation
Experience with storage management software and storage virtualization
Working knowledge of storage automation and scripting
Ability to create and maintain storage system documentation
Strong organization, communication, and collaboration skills
By including these skills on a resume, job applicants can show employers that they have the necessary qualifications for a Storage Engineer role.
What skills should I put on my resume for Storage Engineer?
When creating a resume for a Storage Engineer position, there are certain skills and qualifications that employers will be looking for.
Knowledge of storage concepts: Storage Engineers must have a good understanding of storage concepts such as storage systems, performance tuning, storage management and data protection.
Experience with storage protocols: It is important to have a good understanding of storage protocols such as iSCSI, Fibre Channel, NFS, and CIFS.
Knowledge of replication technologies: Storage Engineers must be familiar with replication technologies such as SAN replication, replication over IP networks, and NAS replication.
Knowledge of storage architectures: Storage Engineers must be familiar with storage architectures such as direct attached storage, network attached storage, and storage area networks.
Troubleshooting skills: Storage Engineers must have strong troubleshooting skills to diagnose and resolve storage related issues.
Analytical skills: Storage Engineers must have the ability to analyze data, identify trends, and develop solutions.
Communication skills: Storage Engineers must be able to communicate effectively with both technical and non-technical audiences.
By including these skills on your resume, you can demonstrate to potential employers that you have the qualifications and experience necessary to be successful in a Storage Engineer role.
Key takeaways for an Storage Engineer resume
If you're considering a career as a Storage Engineer, then you already know that the role requires a great deal of technical know-how and a commitment to staying up to date with the latest trends in storage technology. Writing your resume for a Storage Engineer role can be a challenging task, but it's important to make sure that you're highlighting the most relevant skills and experiences that will set you apart from the competition. Here are some key takeaways to help you create a resume that will get you noticed:
Focus on Your Technical Skills: A great Storage Engineer resume will demonstrate your technical proficiency in areas such as storage architectures, SAN configuration, storage systems, and storage virtualization. Make sure to include any certifications you may have in these areas.
Highlight Your Problem-Solving Skills: A key part of being successful in the role of a Storage Engineer is the ability to identify and solve storage-related problems. Be sure to showcase any experiences you have had that demonstrate your problem-solving skills.
Showcase Your Teamwork Skills: A Storage Engineer must be able to work closely with other members of the IT team, so be sure to highlight any experiences you have had in a team environment.
Demonstrate Your Ability to Adapt: Technology is constantly changing and evolving, so it's important to show that you are able to adapt and stay up to date with the latest innovations in storage technology.
By following these key takeaways, you will be well on your way to creating a professional and effective Storage Engineer resume that will get you noticed by potential employers. Good luck!
Let us help you build
your Resume!
Make your resume more organized and attractive with our Resume Builder