Writing a resume can be a daunting task, especially when applying for a job as a Solutions Engineer. As a Solutions Engineer, you must possess a unique combination of technical knowledge, customer service skills, and problem-solving abilities. In order to be successful in your job search, your resume must effectively communicate your qualifications and experience. This guide will provide you with helpful information on how to write the perfect Solutions Engineer resume, including resume writing tips, examples, and strategies for ensuring your resume stands out from the crowd.
If you didn't find what you were looking for, be sure to check out our complete library of resume examples.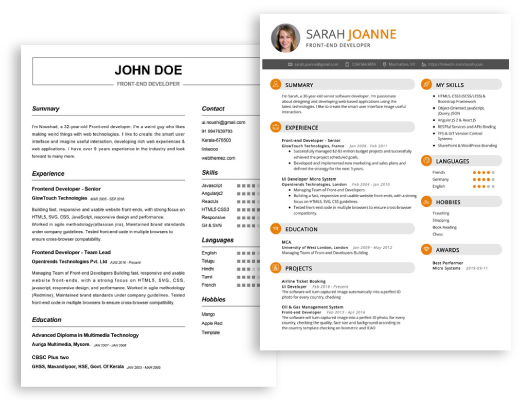 Start building your dream career today!
Create your professional resume in just 5 minutes with our easy-to-use resume builder!
Solutions Engineer Resume Examples
John Doe
Solutions Engineer
123 Main Street | Anytown, USA 99999 | Phone: (123) 456-7890 | Email: john.doe@email.com
Highly motivated Solutions Engineer with a decade of experience in designing, developing, and implementing innovative solutions for customers. Demonstrated expertise in cloud- based technologies, network architectures, system integrations, and automation. Proven ability to troubleshoot technical issues, identify system weaknesses and vulnerabilities, and build and maintain strong customer relationships. Professional and organized team player with a passion for providing outstanding customer service and support.
Core Skills:
Cloud Computing
Network Architecture
System Integration
Automation
Troubleshooting
Technical Support
Customer Service
Documentation
Network Security
Project Management
Professional Experience:
Solutions Engineer, ABC Solutions Company – June 2015 to Present
Collaborate with customers to design, develop, and implement innovative solutions to meet their business requirements.
Conduct technical training, provide onsite support, and build strong customer relationships.
Configure and deploy virtual networks, develop automation scripts, and perform system administration tasks.
Monitor and troubleshoot network and system performance issues, identify system weaknesses and vulnerabilities, and develop action plans to address issues.
Prepare and maintain technical documentation.
Technical Support Engineer, XYZ Solutions Company – April 2014 to May 2015
Responded to customer inquiries and provided technical support in a timely and professional manner.
Configured and deployed virtual servers, implemented system and software upgrades, and performed system administration tasks.
Developed automation scripts to automate system maintenance tasks and improved system efficiency.
Monitored and managed system performance and identified system issues and vulnerabilities.
Developed and maintained system security protocols to protect customer data from external threats.
Education:
Bachelor of Science in Computer Science, XYZ University – 2010 to 2014
Associate of Science in Network
Solutions Engineer Resume with No Experience
Recent engineering graduate with experience in developing software and hardware solutions. Possesses strong analytical and problem- solving skills with a focus on finding creative and efficient solutions. Highly organized and motivated, adept at working with limited resources to achieve excellent results.
Skills
Proficient in Python, C++, Java, MATLAB and Solidworks
Extensive knowledge of circuit design
Excellent communication and organizational skills
Strong analytical and problem- solving abilities
Knowledge of electrical and mechanical engineering principles
Ability to work independently and in a team environment
Responsibilities
Develop, test and optimize software and hardware solutions
Design and develop circuit boards and other electrical components
Provide technical assistance to team members
Perform research and development of new products and technologies
Document processes and procedures to ensure accuracy and efficiency
Maintain a safe and efficient workspace
Solutions Engineer Resume with 2 Years of Experience
A highly- motivated, resourceful and results- driven Solutions Engineer with 2 years of experience developing and maintaining innovative technical solutions. Possesses a strong understanding of system design and architecture, as well as a track record of developing successful solutions tailored to customer needs. Adept at accurately assessing customer requirements, quickly diagnosing and resolving technical issues, and building and maintaining customer relationships.
Core Skills:
Customer Relationship Management
Solution Design & Architecture
Problem Troubleshooting & Diagnostics
Software Development & Testing
Technical Documentation & Reporting
Network Architecture & Security
System Performance & Optimization
Responsibilities:
Developed innovative solutions tailored to customer requirements, ensuring reliability, scalability, and performance.
Accurately diagnosed and resolved technical problems, responding quickly to customer inquiries and requests.
Built and maintained strong customer relationships through excellent customer service.
Prepared technical documentation and reports, providing customers with timely updates on projects.
Maintained and optimized system performance through network architecture and security measures.
Designed system architecture and software solutions, ensuring full compatibility with the customer's existing environment.
Conducted software testing and debugging to ensure optimal performance of solutions.
Solutions Engineer Resume with 5 Years of Experience
A Solutions Engineer with 5 years of experience in the IT industry. Proven track record of successfully designing, deploying, and managing IT solutions for clients. Skilled at understanding customer requirements and developing innovative solutions to maximize customer satisfaction. Experienced in troubleshooting complex problems and taking ownership of customer issues to ensure their timely resolution.
Core Skills:
Technical Architecture Design
IT Solutions Management
IT Infrastructure Design
Network Administration
Customer Relationship Management
Requirements Analysis
Systems Troubleshooting
Project Management
Network Security Administration
Responsibilities:
Developed technical architectures to meet customer's specific IT requirements.
Managed IT solutions implementation and deployment, ensuring customer satisfaction.
Designed and implemented IT infrastructures, ensuring high availability, performance and scalability.
Administered network resources to ensure optimal use of resources.
Analyzed customer requirements and developed innovative solutions to meet customer needs.
Troubleshot complex problems and identified root causes.
Managed projects to ensure timely delivery of solutions.
Administered network security, ensuring protection of customer data.
Solutions Engineer Resume with 7 Years of Experience
A highly motivated Solutions Engineer with seven years of experience in the technology field. Experienced in developing and managing software solutions, as well as troubleshooting any issues that may arise. Adept at identifying customer needs, developing strategies to meet those needs, and providing excellent customer service. Possesses excellent problem- solving skills, and is always looking for ways to leverage existing technologies to their fullest potential.
Core Skills:
Software Development
Tech Troubleshooting
Customer Service
Strategic Planning
Problem- solving
Communication
Project Management
Responsibilities:
Develop software solutions to meet customer needs
Manage and troubleshoot technical issues
Identify customer needs and develop strategies to meet them
Provide excellent customer service
Analyze existing technologies to identify areas of improvement
Collaborate with internal teams to streamline software solutions
Create technical documentation and user guides
Assist with implementation of software solutions
Solutions Engineer Resume with 10 Years of Experience
I am a Solutions Engineer with over 10 years of experience in the software engineering field. I have a successful track record of working on complex projects and delivering quality software solutions. I specialize in developing custom software solutions, troubleshooting and debugging existing software applications and developing comprehensive software architectures. My expertise lies in designing and developing software systems with a focus on scalability, performance and security. Additionally, I am an expert in software development lifecycle, software engineering processes and software project management.
Core Skills:
Software Development
Software Architecture
Software Lifecycle Management
Software Troubleshooting and Debugging
Software Project Management
Software Security
Software Design
Responsibilities:
Designing, coding and testing software applications
Developing efficient software architectures
Integrating software components into existing systems
Debugging software applications and resolving issues
Managing software projects and teams
Monitoring and maintaining software systems
Ensuring software security and performance
Designing and implementing software solutions
Creating user documentation and training materials
Solutions Engineer Resume with 15 Years of Experience
Seasoned Solutions Engineer with 15 years of experience in software engineering, system architecture, and cloud computing. A proven track record of devising and deploying innovative solutions to complex problems. Skilled in effective communication and collaboration with stakeholders, vendors, and team members. Adept in providing technical guidance and leadership to a wide range of internal and external groups. Committed to delivering quality solutions while maintaining compliance with industry regulations.
Core Skills:
Software Engineering
System Architecture
Cloud Computing
Technical Leadership
Vendor Relations
Project Management
Client Communication
Problem Solving
Data Analysis
SDLC Processes
Responsibilities:
Develop innovative solutions to resolve customer issues and optimize existing systems
Collaborate with stakeholders and vendors to ensure project objectives are met
Deliver quality solutions that adhere to industry regulations and standards
Implement new software and systems to upgrade the reliability and performance of applications
Develop technical documentation such as user guides, installation guides, system diagrams, and process workflows
Analyze customer requirements to create system design specifications
Provide technical guidance and project updates to team members and stakeholders
Manage vendors to ensure timely delivery of software and hardware components
Identify and troubleshoot technical issues with software, hardware, and networks
Assist in the development of system architecture specifications and system security requirements.
In addition to this, be sure to check out our resume templates, resume formats, cover letter examples, job description, and career advice pages for more helpful tips and advice.
What should be included in a Solutions Engineer resume?
When drafting a resume for a Solutions Engineer position, it is important to consider what should be included to make it stand out and attract the right attention. Here are the key components to include in this type of resume:
Education: Be sure to list your educational background, including any relevant degrees, certifications, and courses that you have taken in the field of technology.
Technical Skills: Solutions Engineers need a wide range of technical skills, so be sure to provide a comprehensive list. This should include programming languages, software development, hardware engineering, networking, and more.
Work Experience: If you have any prior work experience related to Solutions Engineering, include it here. Be sure to provide a detailed description of the technologies you worked with, the problems you solved, and any successes you achieved.
Problem Solving Ability: Solutions Engineers must be able to think quickly on their feet and come up with creative solutions. Showcase this ability by providing examples of how you were able to solve difficult problems in the past.
Soft Skills: Solutions Engineers need to be able to work with a variety of people, so include any soft skills you have that will help you in this role. This could include communication, conflict resolution, and customer service.
By including these components in your resume, you will be able to showcase your qualifications and experience and make yourself an attractive candidate for Solutions Engineering positions.
What is a good summary for a Solutions Engineer resume?
A Solutions Engineer is a professional who designs and implements information technology solutions for businesses. They are responsible for researching, designing, developing, and testing software solutions to meet the needs of the clients.
A great Solutions Engineer resume should provide an overview of your qualifications, technical skills, and accomplishments. It should include your educational background, professional experience, and any certifications or specializations you may have. Additionally, your summary should highlight any projects you've completed and any successes you've achieved.
Your summary should also demonstrate your problem-solving abilities, communication skills, and your proven track record in developing and deploying software solutions. Be sure to mention any technologies you are proficient in and the software development methods you've used.
When writing your summary, be sure to keep it concise yet comprehensive. It should provide a snapshot of your experience and skills in a few sentences. Keep the tone professional and be sure to use keywords that are relevant to the job. Writing a good summary for a Solutions Engineer resume is essential for standing out from the competition.
What is a good objective for a Solutions Engineer resume?
A good objective for a Solutions Engineer resume should emphasize the candidate's experience, knowledge, and technical skills. It should also showcase what makes the candidate a top-notch Solutions Engineer. Here are a few things to consider when crafting a Solutions Engineer resume objective:
Showcase technical expertise: A Solutions Engineer is responsible for designing and implementing technical solutions, so it's important to demonstrate your knowledge and technical background.
Highlight relevant experience: Include any relevant experience you've had in the engineering field, such as designing and developing solutions, working with various technologies, and troubleshooting.
Demonstrate your problem-solving skills: Solutions Engineers must be able to think logically and quickly to come up with technical solutions. Showcase your problem-solving abilities and have a clear understanding of how to troubleshoot complex scenarios.
Showcase your communication abilities: A Solutions Engineer needs to be able to communicate with other team members, clients, and stakeholders, so demonstrating your communication and interpersonal skills is important.
Objective Example:
Results-driven Solutions Engineer with 5 years of experience designing and developing technical solutions for various industries. Skilled in troubleshooting and problem-solving, with excellent communication and interpersonal skills. Seeking to leverage technical expertise and experience to join ABC company as a Solutions Engineer.
How do you list Solutions Engineer skills on a resume?
When writing your resume, it's important to consider the specific qualifications and skills employers are looking for when hiring for a Solutions Engineer position.
Including the correct skills and qualifications on your resume can help demonstrate your competency and give you an edge over other applicants. Below are some key skills to consider adding to your resume when listing Solutions Engineer skills:
Technical Expertise: Solutions Engineers must possess deep technical knowledge and be able to apply it to solve complex problems. Be sure to highlight your experience with any coding languages, databases, and software development tools you've used.
Troubleshooting: Solutions Engineers should be able to quickly identify and diagnose issues in order to provide efficient solutions. Showcase your troubleshooting skills by highlighting past projects where you successfully located and fixed problems.
Communication: Solutions Engineers need to be able to effectively communicate with both technical and non-technical stakeholders. Showcase your communication skills by highlighting times where you successfully communicated with stakeholders to build consensus and implement solutions.
Problem-Solving: Solutions Engineers need to be able to think creatively and identify solutions to complex problems. Highlight any past projects where you successfully identified and implemented solutions to difficult problems.
By highlighting these Solutions Engineer skills on your resume, you can demonstrate to employers that you have the necessary qualifications for the job. Showcasing your technical expertise, troubleshooting skills, communication skills, and problem-solving skills can help you stand out from other applicants and land the job.
What skills should I put on my resume for Solutions Engineer?
If you're looking to launch or advance your career in Solutions Engineering, it's important to showcase your skills on your resume. The ability to understand complex technical problems and design solutions from a holistic point of view are important traits for a Solutions Engineer. Here are some skills that you should include on your resume to demonstrate your qualifications for a Solutions Engineer role:
Strong Analytical and Problem-Solving Skills: Solutions Engineers must be able to analyze and break down complex problems and then devise suitable solutions. They must have a deep understanding of the products they are tasked with developing solutions for.
Excellent Communication Skills: Solutions Engineers must be able to explain complex technical concepts to customers, stakeholders, and other team members. They must also have the ability to listen to customer needs and understand the requirements of a project.
Technical Knowledge and Experience: Solutions Engineers must have a solid knowledge of systems engineering, software engineering, database design, cloud computing, and other technical concepts. They must also have a good understanding of the latest trends in technology and a familiarity with a number of programming languages.
Project Management: Solutions Engineers must be able to manage multiple projects at the same time and ensure that deadlines are met. They must be able to work in a team environment and collaborate with other teams to ensure successful completion of a project.
Attention to Detail: Solutions Engineers must be detail-oriented and have an eye for detail when designing solutions. They must be able to devise solutions that are robust and reliable.
By showcasing these skills on your resume, you can effectively demonstrate to potential employers that you are qualified for a Solutions Engineer role.
Key takeaways for an Solutions Engineer resume
A Solutions Engineer resume should reflect the candidate's experience and skills in providing IT solutions to businesses. It should demonstrate the candidate's proficiency in customer service, problem solving, and project management. Here are some key takeaways to consider when creating your Solutions Engineer resume:
1.Highlight your experience and skills in IT solutions: Your resume should focus on the experience and skills that you have as a Solutions Engineer. Make sure to include specific technologies and processes that you have worked with.
2.Mention customer service and problem-solving abilities: A Solutions Engineer is often the one clients come to for assistance. Make sure to include your customer service and problem-solving abilities on your resume.
3.Showcase your project management skills: Solutions Engineers need to be able to manage projects effectively. Include any certifications and any experience you have in project management on your resume.
4.Use industry-specific language and keywords: Solutions Engineers need to be knowledgeable in their field and familiar with the latest technologies. Be sure to include industry-specific language and keywords on your resume to show off your expertise.
5.Proofread your resume: This may seem obvious, but make sure to thoroughly proofread your resume before submitting it. Any mistakes could be costly and reflect poorly on you as a potential candidate.
Let us help you build
your Resume!
Make your resume more organized and attractive with our Resume Builder