Writing a resume for a senior engineer position can be a daunting task. After all, a senior engineer role requires a certain level of skill and experience that needs to be reflected in the resume. Crafting an effective resume for a senior engineer position requires a combination of technical knowledge and soft skills, such as communication, problem solving, and team leadership. In this guide, we will provide tips and examples to help you create an effective and compelling senior engineer resume that will stand out from the competition.
If you didn't find what you were looking for, be sure to check out our complete library of resume examples.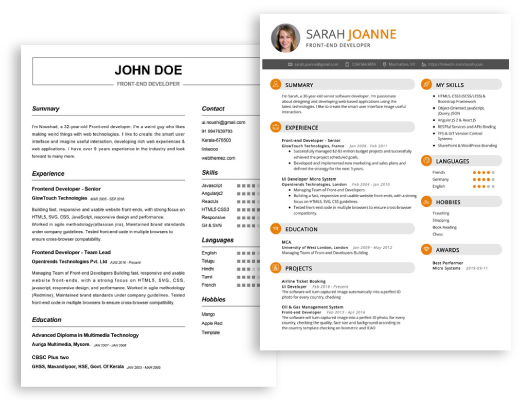 Start building your dream career today!
Create your professional resume in just 5 minutes with our easy-to-use resume builder!
Senior Engineer Resume Examples
John Doe
Senior Engineer
123 Main Street | Anytown, USA 99999 | Phone: (123) 456-7890 | Email: john.doe@email.com
Highly experienced and reliable Senior Engineer with 10 years of experience in providing engineering support to companies in various industries. Possessing expertise in product design, engineering processes, and quality assurance measures. Adept at leading teams, managing projects, and developing innovative solutions to complex engineering problems. Experienced in using CAD software and other engineering tools to create designs and ensure the safety and efficacy of products.
Core Skills:
Product design and development
Engineering process and quality assurance
Project management and leadership
CAD and other engineering software
Technical problem- solving
Team collaboration
Professional Experience:
Lead Engineer, XYZ Corp. – 2019- Present
Led a team of 5 engineers in the delivery of engineering projects
Designed and developed products according to specifications
Created designs using CAD software and other engineering tools
Managed engineering processes and implemented quality assurance measures
Worked with stakeholders to ensure project objectives were met
Engineer, ABC Company – 2012- 2019
Provided engineering support for various products and projects
Designed and tested prototypes for new products
Performed quality assurance tests on finished products
Assisted with the development of engineering processes
Mentored junior engineers
Education:
B.Sc. in Engineering, University of Technology – 2010- 2012
Senior Engineer Resume with No Experience
A highly motivated and experienced Senior Engineer with over 10 years of experience in engineering, project management and customer relations.
Strong technical skills and a strong understanding of engineering fundamentals.
Excellent problem solving and critical thinking skills.
Excellent communication and interpersonal skills.
Able to work independently and as part of a team.
Skills
Experienced in project management, engineering, customer relations and problem solving.
Proficient in Microsoft Office Suite: Excel, Word, PowerPoint, and Outlook.
Proficient in AutoCAD, SolidWorks, and other CAD software.
Proficient in MATLAB and other data analysis software.
Knowledge of 3D printing and rapid prototyping.
Responsibilities
Creating detailed designs, schematics and drawings for a wide range of engineering projects.
Developing and testing prototypes.
Performing troubleshooting and problem solving.
Analyzing and designing systems.
Developing and implementing strategies to improve engineering processes and procedures.
Managing and coordinating projects from inception to completion.
Monitoring and controlling project costs and schedules.
Liaising with external suppliers and customers.
Ensuring compliance with relevant safety, quality, and regulations.
Senior Engineer Resume with 2 Years of Experience
A highly motivated Senior Engineer with 2 years of experience in developing and deploying technical solutions, managing customer relationships, and leading cross- functional teams. Expertise in networking, software development, hardware engineering, and customer service. Proven track record of meeting tight deadlines and customer expectations, while ensuring quality and accuracy.
Core Skills:
Networking
Software Development
Hardware Engineering
Customer Service
Project Management
Team Leadership
Troubleshooting
Quality Management
Responsibilities:
Designed and implemented hardware and software solutions to meet customer requirements
Developed and tested programs and scripts in accordance with customer and company requirements
Analyzed customer needs and managed customer expectations
Developed customer- centric solutions to solve challenging technical problems
Lead cross- functional teams to develop and deploy solutions
Supervised and managed IT projects from conception to completion
Monitored system performance and took corrective measures when necessary
Maintained technical documentation and user manuals
Developed and maintained effective relationships with customers, vendors, and team members
Senior Engineer Resume with 5 Years of Experience
Highly experienced Senior Engineer with over 5 years of professional experience in electrical engineering, process improvement and project management. A well- rounded professional with a special combination of technical, organizational and communication skills. Proactive problem solver and innovator with a proven track record of success in process improvement and highly effective project management.
Core Skills:
Electrical Engineering
Process Improvement
Project Management
Risk Management
Troubleshooting
Technical Writing
Total Quality Management
Circuit Design
System Design
Automation
PLC Programming
Data Analysis
Networking
Responsibilities:
Managed and monitored circuit design, system design, automation and PLC programming for electrical engineering projects.
Developed and improved processes for cost savings, operational efficiency, and customer service.
Established standard operating procedures for troubleshooting and total quality management.
Collaborated with internal teams to ensure smooth project execution and completion.
Drafted technical documents and reports for ongoing and completed projects.
Managed and monitored risk management processes to reduce the potential of project failure.
Analyzed and monitored data to identify potential process improvements.
Developed and maintained networking systems to improve system performance.
Senior Engineer Resume with 7 Years of Experience
As a certified Senior Engineer, I have a solid 7+ years of experience in successfully planning, designing, and executing engineering projects. I specialize in mechanical engineering and have a proven track record of delivering successful outcomes on time and in budget. I also possess strong interpersonal and communication skills as well as the ability to manage multiple projects simultaneously.
Core Skills:
Strong mechanical engineering skills
Extensive project management skills
Ability to work with diverse teams
In- depth knowledge of industry standards
Solid organizational and problem- solving skills
Excellent communication and interpersonal skills
Proficient in CAD software
Responsibilities:
Develop and manage engineering projects from concept to completion
Design, test, and construct mechanical systems
Provide technical guidance to junior engineers
Perform quality assurance and troubleshooting activities
Create and maintain engineering project documentation
Analyze customer requirements and develop engineering solutions
Develop and implement industry standards and procedures
Maintain and enforce safety regulations and standards
Senior Engineer Resume with 10 Years of Experience
Senior Software Engineer with 10 years of experience in designing, developing, testing, and deploying software applications. Experienced in coding in a variety of languages, such as C#, Java, and SQL. Adept at working with frameworks such as .NET and Angular. Proven track record of developing software applications that meet customer requirements and industry standards. Possess excellent problem- solving and troubleshooting skills.
Core Skills:
C#
Java
SQL
.NET
Angular
Software Development
Agile Methodologies
Problem- solving
Troubleshooting
Testing
Responsibilities:
Develop applications according to customer requirements and industry standards
Analyze customer requirements and develop technical specifications
Create and implement software designs
Write and maintain code in various programming languages
Manage and troubleshoot software applications
Identify and resolve application defects
Monitor application performance
Develop and execute unit, system, and integration tests
Create documentation for software applications
Collaborate with other team members on product design and development
Senior Engineer Resume with 15 Years of Experience
Highly experienced Senior Engineer with 15 years of experience in various engineering roles, including software engineering, system engineering, and network engineering. Adept in creating and maintaining software systems, systems architecture, troubleshooting and resolving problems, as well as working with cross- functional teams to ensure successful projects. Possesses a Bachelor's degree in Engineering and extensive knowledge in software languages, database management, and system engineering.
Core Skills:
Software engineering
System engineering
Network engineering
Software languages
Database management
Troubleshooting and problem- solving
Cross- functional team management
Project Management
Responsibilities:
Analyze and develop software systems and systems architecture to maintain and improve performance and reliability
Develop software applications and programs, as well as troubleshoot and resolve issues
Design, implement, and maintain network systems, including LAN, WAN, and VPN
Manage the integration of software and hardware components for successful automation
Participate in cross- functional teams to ensure successful projects
Assist in the evaluation and engineering of new software and hardware systems
Create and maintain system and database documentation
Provide technical support and maintenance for existing software and hardware systems
In addition to this, be sure to check out our resume templates, resume formats, cover letter examples, job description, and career advice pages for more helpful tips and advice.
What should be included in a Senior Engineer resume?
A Senior Engineer resume should be comprehensive, highlighting all of the knowledge, experience, and skills you have obtained over your engineering career. When drafting your resume, be sure to include the following:
Education: List your highest degree first. Include the name of the school, the degree, and the dates you attended.
Professional Experience: List all of the companies you've worked for as a Senior Engineer and provide a brief description of each job. Include the years you worked and any notable accomplishments.
Technical Skills: Document your proficiency in engineering principles, software and coding languages, and any other technical skills you possess.
Certifications and Licenses: If you have any certifications or licenses related to engineering or other relevant fields, be sure to include those too.
Projects: If you have any engineering projects that you have worked on, list them in a separate section. Include the name of the project, the scope of work, and any awards or recognition you received.
Soft Skills: Don't forget to include any soft skills you have. Include things like communication, leadership, problem-solving, and organization.
By including all of these elements in your resume, you will be well on your way to landing a great engineering job!
What is a good summary for a Senior Engineer resume?
A good summary for a Senior Engineer resume should detail an individual's engineering experience, technical skills, and qualifications. It should also include a brief description of any special projects or accomplishments. The summary should be concise and highlight the key skills and qualifications necessary for the position. It should also demonstrate an individual's commitment to the engineering profession and the company they are applying for. Lastly, the summary should showcase the Senior Engineer's ability to be a leader and mentor in their current or past roles.
What is a good objective for a Senior Engineer resume?
If you're a senior engineer looking to make a career move, it's important to craft a resume that stands out. One of the most important parts of your resume is the objective statement. It's the first thing that potential employers will see, so it's important to make sure it's strong and effective. Here are some tips on creating a good objective statement for a senior engineer resume:
Highlight your experience: Make sure to emphasize your experience as a senior engineer. Include your years of experience, any certifications or specializations you have, and any awards or honors you've received in the field.
Showcase your skills: Make sure to list your technical skills, such as software programming and system design. Also include other soft skills, such as project management, problem solving, and communication.
Demonstrate your commitment: Show employers that you're a dedicated and hardworking engineer by mentioning your commitment to excellence, innovation, and accuracy.
Be specific: Make sure to be as specific as possible in your objective statement. Don't just say that you're looking for a senior engineering position; instead, say what type of job you're interested in and what you can bring to the position.
Use keywords: Employers often use keywords to find the right candidates, so make sure to include relevant industry keywords in your objective statement.
By following these tips, you can create an effective and compelling objective statement for your senior engineer resume. By highlighting your experience, skills, and commitment, you'll be sure to make a positive impression on potential employers.
How do you list Senior Engineer skills on a resume?
When applying for a position as a senior engineer, it is important to include relevant skills on your resume. Here are some examples of skills to include in your resume:
Technical Knowledge: Include knowledge of engineering principles, processes and techniques. Demonstrate a comprehensive understanding of engineering systems and processes.
Problem Solving: Showcase your ability to evaluate complex problems and find practical solutions.
Project Management: Display your ability to plan, organize and complete projects on time and on budget.
Team Leadership: Show your capacity for leading a team to achieve objectives and work collaboratively.
Communication: Demonstrate your skills in communicating complex technical information in a clear and concise way.
Quality Assurance: Exhibit your understanding of quality assurance processes, systems and tools.
Design Skills: Highlight your expertise in designing, developing and implementing new products, processes or services.
Analytical Thinking: Demonstrate your ability to analyze data, identify patterns and draw conclusions.
Interpersonal Skills: Display your capacity for working with people in a collaborative, productive and professional manner.
By including these skills on your resume, you can show potential employers that you possess the relevant qualifications to excel as a senior engineer.
What skills should I put on my resume for Senior Engineer?
When writing a resume for a senior engineer position, it's important to showcase the technical abilities and knowledge you have that make you a strong candidate. While you should tailor your resume to the specific job description, here are some key skills that employers look for in a senior engineer:
Technical Expertise: A senior engineer should have deep knowledge of their field of expertise and be able to quickly learn and understand new systems. Demonstrate your technical know-how through previous projects or technical certifications.
Design Experience: Senior engineers should have experience designing systems from the ground up. Showcase your ability to conceptualize, design, and develop solutions to complex problems.
Leadership Skills: Employers also look for senior engineers with strong leadership abilities such as project management, team collaboration, and problem-solving. Show that you can lead and mentor others, assign tasks, and ensure project timelines are met.
Communication Skills: As a senior engineer, you need to be able to effectively communicate with other members of the team, as well as non-technical stakeholders. Showcase your ability to explain complex topics in simple terms and your interpersonal skills.
Troubleshooting: Senior engineers need to be able to diagnose and troubleshoot issues quickly and efficiently. Show employers your ability to identify problems and develop solutions in a timely manner.
By highlighting your technical knowledge, design experience, leadership skills, communication skills, and troubleshooting abilities, you can create a resume that will help you stand out to employers and get the senior engineering job you are looking for.
Key takeaways for an Senior Engineer resume
Having an up-to-date and comprehensive resume is essential for ambitious senior engineers seeking career progression, higher salaries, or new job opportunities. When crafting an effective resume for a senior engineer, there are several key takeaways to keep in mind.
Firstly, ensure that your resume is highly targeted. Highlight your professional achievements and experience in a way that effectively communicates how you could be a valuable asset to a potential employer. Use the job advertisement to identify the skills and qualifications sought and tailor your resume to match or exceed the criteria.
It is also important that your resume displays your technical aptitude. Include your technical proficiencies, recent achievements, and specializations. Highlight any challenges you have faced and overcome, and any unique technical challenges you have solved.
Emphasize any formal training and certifications you have completed and also include details of any professional organizations you are members of.
Your resume should also include a brief summary of your most recent role. Focus on the job and project goals, your responsibilities and accomplishments, and any technical challenges you faced.
Finally, make sure to include any additional skills or activities that could be beneficial to the employer. This could include foreign language fluency, knowledge of software packages, or other core competencies.
By following these key takeaways, senior engineers can create a resume that stands out from the competition and increases the chances of successful job applications.
Let us help you build
your Resume!
Make your resume more organized and attractive with our Resume Builder