When it comes to writing a resume for an RF Test Engineer, it is important to consider the specialized skills, experiences, and education required to be successful in the role. A well-crafted resume that emphasizes these specific areas can help you stand out from the competition and land the job you want. This guide will provide tips on how to create an effective RF Test Engineer resume that highlights your qualifications and helps you get an interview. We will also provide you with examples of top-notch resumes that you can use as inspiration for your own. By the end of this guide, you should have a better understanding of how to write a resume for an RF Test Engineer position.
If you didn't find what you were looking for, be sure to check out our complete library of resume examples.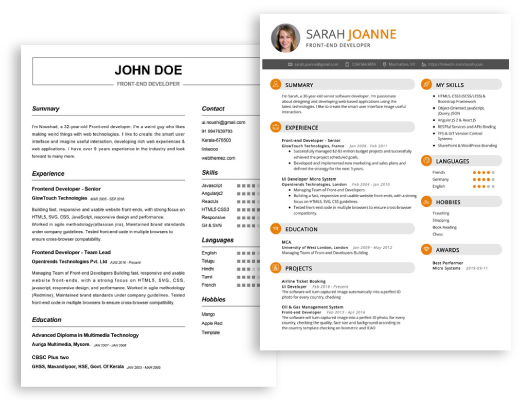 Start building your dream career today!
Create your professional resume in just 5 minutes with our easy-to-use resume builder!
Rf Test Engineer Resume Examples
John Doe
Rf Test Engineer
123 Main Street | Anytown, USA 99999 | Phone: (123) 456-7890 | Email: john.doe@email.com
I am an experienced RF Test Engineer with more than 10 years of experience working in the engineering industry. I have a comprehensive knowledge of RF technologies, principles, and test procedures. My expertise in troubleshooting design and test problems has enabled me to identify cause and provide solutions quickly, leading to successful completion of projects. I am proficient in various engineering tools, such as MATLAB, LabVIEW, and other RF test equipment, and I have managed and operated test laboratories. I am looking for a role where I can utilize my skills to help the company succeed.
Core Skills:
RF Testing
Troubleshooting
Design & Analysis
LabVIEW & MATLAB
Test Equipment Operation & Maintenance
Quality Assurance
Electronics Troubleshooting
Data Acquisition
Test Automation
Professional Experience:
RF Test Engineer, XYZ Corporation, 2010 – Present
Managed and operated test laboratories and test equipment
Performed end to end testing of radio frequency systems and components
Developed innovative methods to troubleshoot design and test problems
Analyzed test data and created reports to present findings
Developed automated test scripts to improve test efficiency
Performed quality assurance activities to ensure product quality
Provided technical support when needed
Education:
Bachelor of Science in Electrical Engineering, ABC University, 2005
Certified RF Test Engineer, XYZ Institute, 2009
Rf Test Engineer Resume with No Experience
Recent graduate with a Bachelor's Degree in Electrical Engineering, looking for an RF Test Engineer position to gain experience and develop skills in the field. Possess strong analytical and problem- solving skills with a passion for learning and understanding RF engineering.
Skills
Proficiency in ANSYS, CST Studio, MATLAB, and LabVIEW
Knowledge of the fundamentals of electromagnetics and antenna design
Proficient in troubleshooting and debugging of RF circuits
Excellent written and verbal communication skills
Strong analytical and problem- solving skills
Ability to work in a fast- paced environment and prioritize tasks
Responsibilities
Designing and developing automated test systems and test strategies
Testing of RF circuits and components to ensure functionality
Analyzing and interpreting test results to identify and evaluate performance
Documenting test results, procedures, and reports
Providing technical support for the development, maintenance, and troubleshooting of RF systems
Conducting research to develop new RF test methods and techniques
Rf Test Engineer Resume with 2 Years of Experience
A highly capable and dedicated professional with over 2 years of experience as an RF Test Engineer. Possess extensive knowledge of various RF technologies and radio frequency testing, and excellent problem- solving, communication and multitasking abilities. Demonstrated ability to handle complex projects with tight deadlines with minimal supervision. Seeking a RF Test Engineer position in a challenging and fast- paced environment.
Core Skills:
Radio Frequency testing
RF technologies
Troubleshooting
Project management
Problem solving
Teamwork
Communication
Multitasking
Responsibilities:
Conducted performance and functional testing of RF Transmission systems.
Carried out analysis on RF measurements in order to accurately evaluate results.
Performed tests on components and systems to ensure they meet planned specification.
Designed, developed and implemented test scripts, tools and processes.
Developed complete test plans and carried out radio frequency tests.
Ensured radio frequency test systems are maintained and updated.
Resolved customer complaints with regards to radio frequency testing.
Prepared technical documents and test reports for management.
Troubleshot customer issues and provided technical support.
Assisted in the development of RF test processes and procedures.
Rf Test Engineer Resume with 5 Years of Experience
A highly experienced RF Test Engineer with 5 years of experience in designing, testing and troubleshooting RF systems. Proficient in designing, developing and maintaining test systems to ensure that all components meet the specified requirements. Skilled in utilizing automated test equipment and software to perform tests, interpret results, and develop test plans. Excellent in problem solving and debugging complex RF systems.
Core Skills:
RF Test Engineering
System Troubleshooting
Test System Design
Test Automation
Problem- Solving
Debugging
Data Analysis
Test Equipment Utilization
Team Collaboration
Responsibilities:
Designed and developed test systems to ensure components met the specifications
Assessed and evaluated performance of RF components
Ensured proper calibration and maintenance of test equipment
Monitored system performance and provided feedback to ensure optimal functioning
Operated automated test equipment and software to test RF components
Implemented and conducted tests to ensure components met all performance requirements
Programmed and debugged complex test suites and systems
Manipulated data and analyzed test results to assess system performance
Collaborated with team members to troubleshoot and resolve system issues
Rf Test Engineer Resume with 7 Years of Experience
A highly experienced and organized RF Test Engineer with 7 years of experience in designing, configuring, and executing test plans for a range of RF testing projects. Demonstrated expertise in troubleshooting and debugging products, analyzing defects and providing creative solutions to technical problems. Proven ability to meet deadlines, work independently, and manage complex tasks with minimal oversight. Possess an in- depth knowledge of various communication systems and network protocols.
Core Skills:
RF Testing
Troubleshooting and Debugging
Product Analysis
Networking and Communications
Test Plans Design and Execution
Deadline Management
Problem- Solving
Responsibilities:
Develop detailed test plans and execute tests for radio frequency (RF) systems
Perform troubleshooting and debugging of products to determine and fix defects
Analyze product performance data and generate technical reports
Develop and implement RF test methods and procedures
Perform various tests on RF systems including calibration, noise and distortion analysis
Monitor and maintain communication system performance standards
Provide technical support to customers and other personnel
Maintain records of test results and provide recommendations for improvements
Rf Test Engineer Resume with 10 Years of Experience
Highly experienced RF Test Engineer with 10 years of experience in measuring, analyzing and testing radio frequency (RF) circuits and signals. Proven track record of completing projects accurately and on time. Excellent problem- solving skills and the ability to handle multiple projects simultaneously. Effective communicator with the ability to develop close working relationships with colleagues, clients and vendors.
Core Skills:
Test engineering
Analyzing RF circuits
Testing RF signals
Troubleshooting
Designing test plans
Data analysis
Calibration
Problem solving
Responsibilities:
Develop test plans and strategies for RF products.
Analyze and troubleshoot RF circuits to ensure performance and quality standards.
Calibrate and perform tests on RF signals, circuits and systems.
Collect, evaluate and interpret data to improve RF test process.
Document and report test results to stakeholders and managers.
Ensure compliance with regulatory standards and safety regulations.
Develop new methods and processes to improve RF test system.
Rf Test Engineer Resume with 15 Years of Experience
A successful Rf Test Engineer with over 15 years of experience creating, deploying, and maintaining high- level RF test solutions. Experienced in RF engineering principles, leading RF testing activities, and developing RF test strategies to ensure high levels of accuracy and reliability. Experienced in overseeing RF test implementation and troubleshooting to ensure optimal performance. Possesses excellent problem solving and communication skills, and is committed to providing the best products and services to customers.
Core Skills:
RF Test Systems Design and Implementation
Antenna Measurements and Modeling
Spectrum Analysis and Emissions Testing
Wireless Systems Integration and Troubleshooting
Test Automation Scripting and Data Acquisition
RF Propagation Modeling and Network Design
Protocol Analysis and Performance Testing
Responsibilities:
Developed test plans and strategies to ensure accuracy and reliability during RF testing.
Created high- level RF test systems to ensure efficient and effective testing.
Responsible for the design, integration, and maintenance of RF test solutions.
Oversaw RF testing activities and troubleshooting to ensure optimal performance.
Developed RF propagation models and designed wireless networks.
Performed protocol analysis and performance testing on wireless networks.
Implemented test automation scripting and data acquisition tools.
Analyzed spectrum emissions and performed antenna measurements.
Developed custom scripts to automate data analysis and reporting.
In addition to this, be sure to check out our resume templates, resume formats, cover letter examples, job description, and career advice pages for more helpful tips and advice.
What should be included in a Rf Test Engineer resume?
Writing a definitive resume for RF Test Engineering can be tricky, as the job involves a variety of skills and knowledge.
In order to set yourself apart from other applicants, it is important to include certain elements in your resume that highlight your qualifications and experience in this field.
Here are some key elements to include on your RF Test Engineer resume:
Education: Include any degrees or certifications relevant to RF test engineering, such as a Bachelor's Degree in Electrical Engineering.
Technical Skills: Include any technical skills related to RF test engineering you possess, such as experience with lab equipment, wireless communication systems, and signal analysis software.
Employment History: Include any relevant work experience, such as previous positions as a RF Test Engineer, RF Technician, or RF Engineer.
Accomplishments: Include any awards or recognition you have received for your work related to RF test engineering.
Special Projects: Include any special projects you have worked on related to RF test engineering, such as prototyping, debugging, or troubleshooting.
Soft Skills: Include any interpersonal skills you have developed in the field, such as problem-solving and communication.
Professional Membership: Include any professional organizations you are a member of that are related to RF test engineering.
Industry Knowledge: Include any knowledge you have of the industry, including current trends and technologies.
By taking the time to properly showcase your skills, knowledge, and experience as an RF Test Engineer, you will be able to secure the position you are looking for.
What is a good summary for a Rf Test Engineer resume?
A Rf Test Engineer resume should provide a summary of the candidate's professional experience, technical skills, and educational background that are relevant to the position. The resume should showcase a candidate's knowledge of RF testing and design, as well as their experience in developing and implementing test plans for RF products. The candidate should also demonstrate their ability to troubleshoot and resolve technical issues, as well as their ability to work independently and as a member of a team. Additionally, the resume should highlight the candidate's communication and interpersonal skills, their leadership qualities, and their attention to detail. By providing a comprehensive overview of the candidate's qualifications and experience, a Rf Test Engineer resume will enable employers to quickly determine if the candidate is the right fit for the position.
What is a good objective for a Rf Test Engineer resume?
A good objective for a RF Test Engineer resume should be short, concise and clearly state what you are offering the employer and why you are the right fit for the job. It should also demonstrate both your qualifications and experience. Here are some examples of good objectives for a RF Test Engineer resume:
Experienced RF Test Engineer with 5 years of experience in design, development and integration of RF systems. Seeking to leverage expertise in RF testing to deliver reliable, cost-effective solutions for a reputable engineering firm.
Results-oriented RF Test Engineer with a proven track record of successful projects in the field of RF engineering. Aiming to use strong problem-solving and analytical skills to make a positive impact on a dynamic engineering team.
Highly motivated RF Test Engineer with 5 years of hands-on experience in the design and implementation of radio-frequency related projects. Looking to leverage advanced technical knowledge to develop cutting-edge RF test solutions for a leading engineering company.
Detail-oriented RF Test Engineer with a proven track record of successful projects. Seeking a position with a reputable engineering company to use my expertise in RF testing and troubleshooting to improve product quality and reduce costs.
How do you list Rf Test Engineer skills on a resume?
When applying for a position as an RF Test Engineer, it is important to highlight your skills and experience on your resume. This article will help you determine which RF Test Engineer skills to include and how to list them effectively.
Detailed knowledge of RF systems, including their components and capabilities
Ability to troubleshoot and diagnose RF systems and components
Proficient in a variety of tools and software used to configure, test, and debug RF systems
Familiarity with radio frequency spectrum, modulation techniques, and antenna design
Solid understanding of telecommunication principles and protocols
Proficient in creating RF test plans and procedures
Ability to analyze and interpret test results to identify issues and develop solutions
Ability to work collaboratively with a team of engineers and technicians
Ability to communicate complex technical concepts in a clear and concise manner
Excellent problem-solving and organizational skills
Ability to follow established safety protocols and regulations
What skills should I put on my resume for Rf Test Engineer?
A resume for a RF Test Engineer should emphasize skills related to the development, installation, and maintenance of wireless communications systems. When writing your resume for this position, be sure to include the following skills:
Knowledge of radiofrequency engineering: You should have a working knowledge of electromagnetic wave principles, antenna design, and wireless communication systems.
Testing and verification experience: You should be able to demonstrate experience in the testing and verification of RF products and systems. You should also be familiar with common test equipment and procedures.
Troubleshooting: You should have the ability to identify and resolve complex problems related to RF systems.
Communication: You should possess excellent communication skills, both written and verbal. You should be able to effectively communicate with both technical and non-technical personnel.
Documentation: You should have the ability to create detailed and accurate documentation for RF systems.
Teamwork: You should be able to effectively collaborate with other engineers, technicians, and management.
By highlighting these skills on your resume, you can set yourself apart from other applicants and demonstrate your qualifications for the role of RF Test Engineer.
Key takeaways for an Rf Test Engineer resume
If you are a RF (Radio Frequency) test engineer, your resume should show that you have the knowledge and experience to develop, test, and troubleshoot radio frequency products. Here are some key takeaways to help you write the perfect RF test engineer resume:
Highlight your technical expertise. Show that you have the necessary technical knowledge to develop, test, and troubleshoot RF products. Demonstrate your knowledge of RF engineering principles, signal analysis, and RF testing protocols.
Showcase your experience. List any professional experience you have in the industry, such as developing, testing, and troubleshooting RF products in a lab setting or on the field. Also, mention any certifications or licenses you hold related to RF engineering.
Demonstrate your problem-solving skills. As a RF test engineer, you need to have the necessary skills to solve complex problems. Show that you have the analytical and problem-solving skills necessary to diagnose and repair RF products.
List detail-oriented tasks. Mention any detail-oriented tasks you have performed, such as creating and documenting test plans, conducting tests, and analyzing results.
Show your teamwork capabilities. Highlight any team experiences you have, such as working with cross-functional teams to troubleshoot complex issues.
By showing your technical knowledge, experience, problem-solving skills, and team capabilities, you can create a strong RF test engineer resume. With these key takeaways in mind, you can create a resume that stands out from the competition.
Let us help you build
your Resume!
Make your resume more organized and attractive with our Resume Builder