Writing a resume as an RF Optimization Engineer can be daunting. You need to show potential employers that you have the skills and knowledge required to excel in the role. You also need to make sure that your resume stands out from the competition, as the RF Optimization Engineer job market is highly competitive. Fortunately, this guide provides tips and examples to help you create a winning resume for an RF Optimization Engineer. We'll discuss the most important elements of a good resume, including the experience and qualifications needed, as well as the best formatting practices. With this guide, you can be sure that your resume will be of the highest quality and get you noticed by potential employers.
If you didn't find what you were looking for, be sure to check out our complete library of resume examples.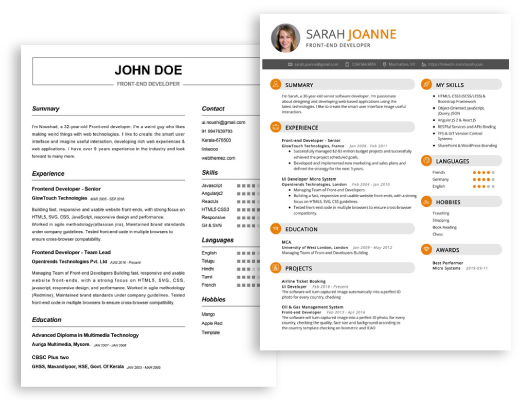 Start building your dream career today!
Create your professional resume in just 5 minutes with our easy-to-use resume builder!
Rf Optimization Engineer Resume Examples
John Doe
Rf Optimization Engineer
123 Main Street | Anytown, USA 99999 | Phone: (123) 456-7890 | Email: john.doe@email.com
A highly experienced and results oriented Rf Optimization Engineer with a successful track record in designing and delivering wireless telecommunications network infrastructure. Specializing in drive test and network optimization, I possess an excellent analytical mindset and a strong technical background in the deployment of 3G, 4G, and 5G networks. Possessing excellent communication skills, I am proficient in troubleshooting, engineering, and RF optimization to ensure maximum network performance and customer satisfaction.
Core Skills:
Radio Frequency (RF) optimization
Drive test analysis
Network optimization
Quality of Service (QoS)
Network Performance Monitoring
Wireless telecommunications
Network troubleshooting
Network engineering
3G/4G/5G deployments
Professional Experience:
Lead RF Optimization Engineer, Company Name, 2018- Present
Conducted drive test analysis to identify areas of poor coverage and weak signal strength in the network.
Performed network optimization to improve the overall performance and coverage of the network.
Installed and configured network equipment and monitored performance to ensure optimal network performance.
Developed strategies and processes to improve the overall quality of service (QoS) of the network.
Provided technical support to customers and network teams to troubleshoot network problems.
Education:
Bachelor of Science in Electrical Engineering, ABC University, 2018
Rf Optimization Engineer Resume with No Experience
Recent graduate with a degree in Electrical Engineering and a passion for RF Optimization Engineering. Highly motivated with an eagerness to learn and grow in the field. Possess strong communication and problem- solving skills while bringing enthusiasm and ambition to each task.
Skills
RF Optimization Engineering
Electrical Engineering
Communication
Problem- Solving
Teamwork
Analysis and Troubleshooting
Responsibilities
Develop and implement RF optimization processes to ensure optimal signal performance
Analyze and troubleshoot system issues to identify underlying causes
Identify and recommend changes to improve system performance
Conduct research to stay current with technological developments
Evaluate system performance and establish performance metrics
Create and maintain documentation and design specifications for RF optimization projects
Rf Optimization Engineer Resume with 2 Years of Experience
My name is [Name], and I'm an experienced Radio Frequency (RF) Optimization Engineer with two years of experience in optimizing radio frequency systems to ensure efficient services. I have a degree in electrical engineering from [University], and have experience with RF networks and systems, LTE networks, and various types of RF optimization. I am comfortable working with a variety of technologies, and have experience analyzing and troubleshooting RF systems.
Core Skills:
RF networks and systems
LTE networks
RF optimization
Troubleshooting
Analyzing and interpreting data
Computer modeling
Network installation
Cellular technologies
Wireless technologies
Signal propagation
Responsibilities:
Evaluated existing services and identified areas of improvement in the network
Developed models and simulations to optimize the network performance
Analyzed data to identify key performance indicators
Performed tests of the system to identify potential issues
Troubleshot RF and cellular issues
Coordinated with external vendors to ensure proper installation of equipment
Monitored the system performance and identified potential upgrades or changes
Developed standards and policies for the system
Trained team members on the proper use of the system and equipment
Rf Optimization Engineer Resume with 5 Years of Experience
I am an experienced Rf Optimization Engineer with 5 years of experience working in the telecom industry. I specialize in optimizing the performance of radio frequency networks through the use of tools such as spectrum analyzers, signal generators, and network analyzers. I am adept at designing, testing, and implementing network optimization projects, as well as troubleshooting any issues that arise during implementation. My background also includes working with voice and data networks to identify and document system performance issues and recommend solutions.
Core Skills:
RF Optimization
Network Design & Testing
Network Troubleshooting
Spectrum Analyzers & Signal Generators
Voice & Data Network Performance
Problem Solving & Analytical Thinking
Documentation & Reports
Responsibilities:
Design and implement radio frequency network optimization projects
Execute network optimization projects according to customer requirements
Troubleshoot any issues that arise during implementation
Use spectrum analyzers, signal generators, and network analyzers to identify and document system performance issues
Analyze data and recommend solutions for system performance issues
Prepare technical reports for project status and deliverables
Monitor network performance and ensure that service levels are maintained
Rf Optimization Engineer Resume with 7 Years of Experience
I am a highly experienced RF Optimization Engineer with seven years of experience. I am knowledgeable in engineering principles and practices, and have a vast set of skills in the design, development, implementation, and maintenance of RF telecommunications systems. I have a proven track record of leading successful projects and teams, as well as overseeing the performance of the network, evaluating system and network performance, and making recommendations for improvement. I also have a strong understanding of the relevant industry- specific technologies, practices, and procedures.
Core Skills:
Wireless Network Design & Implementation
Radio Frequency Optimization
Network Performance Monitoring & Analysis
Project Planning & Management
Technical Requirements Analysis & Documentation
Telecommunications Network Troubleshooting
System & Network Performance Improvement
Responsibilities:
Developing end- to- end RF optimization strategies for mobile networks.
Establishing and maintaining RF optimization objectives, policies and procedures.
Analyzing RF optimization results and making recommendations for improvement in system and network performance.
Designing and implementing RF optimization techniques.
Identifying and analyzing areas of improvement in network performance.
Developing and implementing test plans for RF optimization.
Performing network performance monitoring and analysis.
Troubleshooting network issues related to RF optimization.
Managing team members and delegating tasks as needed.
Rf Optimization Engineer Resume with 10 Years of Experience
A highly experienced RF Optimization Engineer with 10+ years of experience in radio frequency engineering. Expertise in RF principles, including RF optimization, radio system planning, network design, optimization techniques and network performance analysis. Proven ability to manage large- scale operations while meeting clients' technical and financial objectives. Proven record of delivering successful optimization projects, quickly and cost effectively.
Core Skills:
Radio Frequency Optimization
Network Design
Radio System Planning
Network Performance Analysis
Project Management
Technical Troubleshooting
RF Optimization Tools
Microsoft Office Suite
Data Analysis
Responsibilities:
Developed and implemented RF optimization strategies to improve network quality and performance.
Performed network design and radio system planning to ensure optimal coverage and capacity in the network.
Conducted drive tests to identify coverage issues and evaluate the effectiveness of the optimization process.
Evaluated existing network infrastructure to identify areas for improvement and drive optimization.
Developed advanced optimization techniques to improve network performance.
Analyzed and evaluated network performance data to identify problem areas.
Monitored network performance to ensure high levels of quality and reliability.
Developed technical documentation and reports to support optimization activities.
Assisted with the troubleshooting and resolution of technical issues.
Trained and mentored junior engineers on optimization techniques.
Rf Optimization Engineer Resume with 15 Years of Experience
Highly qualified and motivated RF Optimization Engineer with 15 years of experience in the telecommunications industry. With a strong background in designing, developing, and implementing effective radio network solutions in various network architectures, I have played a key role in optimizing RF performance for a wide variety of customers and networks. I am skilled in setting up and configuring radio planning algorithms, analyzing performance metrics and KPIs, and providing technical expertise and guidance to the teams. My experience in capacity planning, dimensioning and auditing of networks has enabled me to successfully deliver high levels of customer satisfaction.
Core Skills:
Radio frequency design and optimization
Network planning algorithms
Capacity and dimensioning planning
Performance metric and KPI analysis
Troubleshooting and problem solving
Technical capacity management
Network auditing and monitoring
Responsibilities:
Design and optimize RF network layouts and architectures to ensure optimal performance
Set up and configure radio planning algorithms and parameters
Analyze and interpret performance metrics and KPIs to identify areas for improvement
Monitor and assess radio network capacity to ensure optimal performance
Troubleshoot and resolve network issues to maintain efficient operations
Dimension and size networks to meet customer requirements
Audit and monitor radio networks to ensure compliance with industry standards
Provide technical guidance and support to the teams working on RF networks
In addition to this, be sure to check out our resume templates, resume formats, cover letter examples, job description, and career advice pages for more helpful tips and advice.
What should be included in a Rf Optimization Engineer resume?
A Radio Frequency (RF) Optimization Engineer creates designs and executes plans to optimize the performance of wireless systems. To be successful in this role, one must possess a wide range of skills and experience, as well as general knowledge of the industry, trends, and technology. To make sure your resume stands out, here are some essential items to include:
Solid understanding of RF physics, radio propagation theory and network optimization.
Extensive experience developing and optimizing algorithms for various radio communication systems.
Strong knowledge of antenna design, radio frequency interference and signal processing.
Familiarity with RF planning tools and software, such as Atoll and Airmagnet.
Proficiency in using signal propagation and signal strength simulation tools, such as Planet and MATLAB.
Ability to read and interpret engineering blueprints and schematics.
Excellent written and verbal communication skills for presenting data to clients and team members.
Strong problem-solving and analytical skills.
Research and development experience in the wireless communications industry.
Knowledge and experience in the implementation of new wireless technologies, such as LTE, WiMAX, and Wi-Fi.
What is a good summary for a Rf Optimization Engineer resume?
A Rf Optimization Engineer is responsible for analyzing, designing, and implementing wireless network services. The primary responsibility is to identify areas of improvement and develop solutions to optimize the performance of the network. The ideal resume for a Rf Optimization Engineer should showcase the candidate's expertise in network engineering, wireless network services, and the ability to develop innovative solutions for optimization. The resume should list the successful projects and initiatives the candidate has implemented and detail their ability to troubleshoot and resolve technical issues. Additionally, the resume should demonstrate the candidate's knowledge of the industry and the latest trends and technologies. Overall, the objective of the resume should be to highlight the candidate's technical and analytical skills as well as their ability to work as part of a team to ensure optimal network performance.
What is a good objective for a Rf Optimization Engineer resume?
A Resume Objective for a RF Optimization Engineer should focus on strong technical and communication skills, as well as any industry-specific experience. It should explain why the candidate is the best fit for the job.
An effective Resume Objective should include:-
Demonstrated technical proficiency in RF optimization engineering
Proven ability to troubleshoot and resolve complex RF optimization issues
Skilled in utilizing diagnostic software and engineering tools
Experience in developing and implementing RF optimization strategies
Knowledge of mobile technology standards and best practices
Ability to effectively communicate with wireless carriers, vendors, and customers
Familiarity with industry-specific regulations and standards
How do you list Rf Optimization Engineer skills on a resume?
Rf Optimization Engineers are responsible for optimizing radio frequency systems. When crafting your resume, you should make sure to list your skills as an Rf Optimization Engineer in a way that highlights your qualifications and experiences. Here are some tips on how to list Rf Optimization Engineer skills on your resume:
Include a comprehensive list of your technical skills that are related to Rf Optimization Engineering, including your knowledge of radio access network technologies, network design and optimization, and wireless networks.
List the software and tools that you are familiar with and those that you have expertise in. This can include software tools such as CommScope, LITMUS, and Developer Studio.
Describe your experiences with Rf Optimization Engineering processes, such as optimization planning, network analytics, and performance testing.
Mention any certifications related to your field, such as Certified Wireless Network Engineer or Certified Wireless Analyst.
Highlight any relevant projects that you have been involved in, such as developing new Rf Optimization techniques or improving existing processes.
List any leadership roles that you have held, such as leading a team or managing a project.
Showcase any awards or recognitions that you have received, such as a merit award for outstanding performance.
Demonstrate your ability to work independently as well as in a team setting.
By showcasing your skills and experiences as an Rf Optimization Engineer, you can make yourself a more competitive job candidate. Use these tips to give yourself an advantage when creating your resume.
What skills should I put on my resume for Rf Optimization Engineer?
As an RF Optimization Engineer, your job is to plan, design, and optimize cellular networks. To get the job you need to have a resume that showcases your skills and experience.
In order to make your resume stand out and increase your chances of getting an interview for an RF Optimization Engineer position, here are some of the skills that you should include:
Knowledge of radio engineering principles: You should have a strong understanding of the principles of radio engineering, such as GSM, LTE, 5G, propagation theory, radio resource management, and optimization techniques.
Technical background: You should be able to demonstrate a strong technical background with a degree in engineering or a related field.
Analytical skills: You should have the skills to analyze complex networks and systems, and make recommendations to optimize them. You should also be able to interpret and analyze data quickly and accurately.
Interpersonal skills: You should have excellent communication and interpersonal skills to effectively interact with customers, vendors, and other stakeholders.
Adaptability: You should be able to adapt quickly to new technologies and processes, allowing you to stay ahead of the curve.
Problem-solving skills: You should be able to identify and troubleshoot problems quickly and accurately, as well as devise and implement solutions.
Project management skills: You should have the organizational and management skills to plan, manage, and deliver projects successfully.
By highlighting these skills in your resume, you will show potential employers that you have the qualifications and experience necessary to succeed as an RF Optimization Engineer.
Key takeaways for an Rf Optimization Engineer resume
If you're an RF Optimization Engineer, you undoubtedly want to showcase your qualifications and experience in a way that stands out to employers. The key takeaways for an RF Optimization Engineer resume are to clearly and concisely express your skills, highlight relevant experience, and quantify your accomplishments.
Clearly and concisely express your skills: An RF Optimization Engineer should highlight their technical skills, such as knowledge of wireless network design, network optimization, and RF link budgets. It's also helpful to mention any software or programming languages you're familiar with so that employers know that you can hit the ground running when it comes to the job.
Highlight relevant experience: For example, if you've been working as an RF Optimization Engineer for the past few years, make sure to mention that in your resume. Additionally, consider listing any special projects you've completed and the results they achieved.
Quantify your accomplishments: Whenever possible, quantify your accomplishments to give employers a better idea of your capabilities. For example, if you've improved network performance or reduced interference, mention the percentage of improvement or reduction achieved.
By following these key takeaways, you can craft a resume that will help you stand out to employers and get you the RF Optimization Engineer job you've been seeking.
Let us help you build
your Resume!
Make your resume more organized and attractive with our Resume Builder