Having an impressive resume is an essential part of applying for a job as a professional engineer. A strong resume can help you stand out from the competition and increase your chances of getting an interview. Writing a great resume takes time and effort, but it doesn't have to be difficult. This guide will provide you with tips and tricks to creating an effective professional engineer resume, along with examples to help inspire your own. With the right preparation, you can use your resume to showcase your skills and experience to potential employers.
If you didn't find what you were looking for, be sure to check out our complete library of resume examples.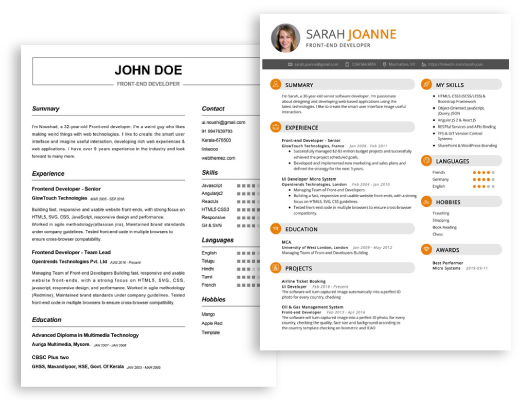 Start building your dream career today!
Create your professional resume in just 5 minutes with our easy-to-use resume builder!
Professional Engineer Resume Examples
John Doe
Professional Engineer
123 Main Street | Anytown, USA 99999 | Phone: (123) 456-7890 | Email: john.doe@email.com
As a professional engineer with 8+ years of experience in design, testing and troubleshooting of mechanical, electrical and plumbing systems, I am well- versed in a wide range of engineering principles, standards and best practices. I have a solid record of accomplishment of successful project completion, from concept to completion, and have excellent technical, organizational, and problem- solving skills. I am a highly detail- oriented and team- oriented professional who is dedicated to delivering quality results on time and on budget.
Core Skills:
Mechanical design
Electrical design
Plumbing design
Testing and troubleshooting
Project management
Problem solving
MS Office Suite
Professional Experience:
Senior Engineer: ABC Corporation, New York, NY (2018- Present)
Develop and execute engineering projects from concept to completion
Test and troubleshoot mechanical, electrical and plumbing systems
Lead and mentor junior engineering staff
Oversee project budgets and ensure projects stay on time and on budget
Engineer: XYZ Corporation, Boston, MA (2013- 2018)
Designed and tested mechanical, electrical and plumbing systems for various projects
Developed engineering project plans, cost estimates and timetables
Documented engineering activities and results
Assisted in the development of project budgets and timetables
Education:
Bachelor of Science in Mechanical Engineering – University of Massachusetts, Amherst, MA
Professional Engineer Resume with No Experience
Recent college graduate with a Bachelor of Science in Engineering, seeking to utilize my expertise in problem solving and technical knowledge in a Professional Engineer position. Possess strong communication and organizational skills, as well as a strong understanding of engineering principles and regulations.
Skills
Strong problem solving and technical capabilities
Excellent written and verbal communication skills
Knowledge of engineering principles and regulations
Proficient in Microsoft Office Suite
Ability to work independently and in a team setting
Ability to work under pressure and manage tight deadlines
Responsibilities
Troubleshoot and resolve complex engineering problems
Develop innovative solutions to engineering issues
Analyze and develop engineering designs
Collaborate with other engineers and professionals to ensure proper design and execution of projects
Identify potential areas for improvement in engineering designs
Follow safety regulations and standards for engineering projects
Professional Engineer Resume with 2 Years of Experience
A motivated and dedicated Professional Engineer with two years of experience in the engineering industry. Highly skilled in project management, technical problem- solving, process design, and systems analysis. Expertise in developing and executing business plans and processes to ensure successful delivery of projects. Possess strong communication and interpersonal skills with the ability to effectively collaborate with cross- functional teams.
Core Skills:
Project Management
Technical Problem- solving
Process Design
Systems Analysis
Business Planning
Cross- functional Team Collaboration
Communication
Interpersonal Skills
Responsibilities:
Develop and execute business plans and processes
Design, implement and maintain engineering systems
Analyze technical problems and develop effective solutions
Monitor and ensure successful project delivery
Manage and coordinate activities of cross- functional engineering teams
Liaise with external stakeholders and partners
Ensure compliance with safety and quality standards
Provide technical support and guidance to colleagues and subordinates
Professional Engineer Resume with 5 Years of Experience
Motivated Professional Engineer with 5+ years of experience in the engineering field. Proven success in the development, design and implementation of systems that have improved the efficiency and reliability of processes. Experienced in establishing and maintaining relationships with clients and leading a team of engineers from conception to completion of projects. Achieved successful outcomes at each stage of the engineering project life cycle.
Core Skills:
Comprehensive knowledge of engineering principles and concepts
Strong analytical and problem- solving skills
Proficient in the use of software tools such as AutoCAD and SolidWorks
Excellent communication and interpersonal skills
Ability to manage projects and coordinate the efforts of a team
Thorough understanding of safety regulations and industry standards
Responsibilities:
Develop and design engineering projects, systems, and components.
Perform research and analysis to determine the most effective solutions.
Prepare cost estimates, specifications, and drawings for engineering projects.
Evaluate materials, systems, and processes for cost, performance, and reliability.
Develop and implement engineering processes and procedures.
Ensure compliance with applicable codes, standards, and regulations.
Manage projects and coordinate the efforts of a team of engineers.
Provide technical support to clients and colleagues.
Maintain accurate and organized records of engineering projects.
Professional Engineer Resume with 7 Years of Experience
A Professional Engineer with seven years of experience in mechanical engineering, specializing in the design and development of consumer products, medical devices, and industrial machinery. Proven success in design optimization, cost reduction, prototyping, and production management. Skilled in product development, problem solving, CAD/CAM/CAE software, and manufacturing engineering. Experienced in working with diverse interdisciplinary teams to complete projects on time and within budget.
Core Skills:
Mechanical Engineering
Design Optimization
Cost Reduction
Prototyping
Production Management
Product Development
Problem Solving
CAD/CAM/CAE Software
Manufacturing Engineering
Project Management
Responsibilities:
Developed mechanical engineering plans from concept design to production for consumer product and industrial machinery
Optimized existing designs to improve performance and reduce costs
Performed 3D CAD modeling and prototype fabrication of mechanical components
Collaborated with interdisciplinary teams to meet project deadlines
Researched and identified potential materials and components for product design
Analyzed and tested prototypes to ensure mechanical function and durability
Designed and implemented production planning and process control procedures
Monitored and evaluated production processes to ensure performance and safety standards
Professional Engineer Resume with 10 Years of Experience
Highly experienced Professional Engineer with 10 years of industry experience in developing and troubleshooting system designs and processes. Comprehensive background in project management, designing and validating systems for clients, and overseeing projects from conception to completion. Adept at working in collaboration with teams to generate and implement cost- effective solutions.
Core Skills:
Strategic Planning
Technical Documentation
Process Development
Risk Analysis
Troubleshooting
Project Management
Communication
Quality Assurance
Responsibilities:
Developed complex system designs and troubleshot existing designs to maximize efficiency
Managed projects from inception to completion, overseeing teams of engineers and technicians
Prepared technical documents to support engineering projects and initiatives
Conducted risk analysis to identify and resolve potential issues
Implemented quality assurance protocols to verify accuracy of designs
Collaborated with cross- functional teams to generate cost- effective solutions
Communicated effectively with clients to ensure expectations are met
Professional Engineer Resume with 15 Years of Experience
A Professional Engineer with 15 years of experience in the engineering industry, I specialize in developing and implementing innovative solutions to difficult problems. My skill set includes a range of analytical, design and development techniques, as well as an understanding of how to best utilize available resources. I am a self- motivated, organized professional with excellent communication skills and the ability to work independently or as part of a team.
Core Skills:
Analytical and Problem Solving Skills
Design and Development
Project Management
Computer Modeling & Simulation
Strong Understanding of Materials
Organizational & Communication Skills
Responsibilities:
Developing and implementing innovative solutions to engineering projects.
Designing and testing components, products, and systems.
Analyzing and resolving technical issues associated with design and development.
Working with engineering teams to create detailed designs and plans.
Utilizing computer modeling and simulation to analyze projects.
Evaluating and determining the best use of available resources.
Participating in the design process, including prototyping and testing.
Preparing reports and presentations for clients.
Maintaining up- to- date records of plans and progress.
In addition to this, be sure to check out our resume templates, resume formats, cover letter examples, job description, and career advice pages for more helpful tips and advice.
What should be included in a Professional Engineer resume?
A professional engineer resume should include details that would be beneficial to a potential employer. This includes the following:
Education: Include educational credentials, such as degrees and certifications, to showcase your technical skills and qualifications.
Work experience: List any professional engineering experience, such as internships or work-study programs. Demonstrate your skills and expertise in the field, such as problem solving or project management.
Skills: Highlight any specialties, such as software or hardware engineering, or any specialty courses or certifications you've taken.
Projects: Provide a detail-oriented list of any relevant engineering projects you've worked on, including any specific results or accomplishments.
Technical proficiency: Demonstrate any technical skills or proficiency in software or hardware systems you possess.
Awards and honors: Showcase any awards or honors you've received in your professional engineering career.
Professional memberships: If you're a member of any professional engineering organizations, be sure to include that information.
By including the above details in your professional engineer resume, you can demonstrate your qualifications and set yourself apart from other job candidates.
What is a good summary for a Professional Engineer resume?
A professional engineer resume should be a summary of your qualifications, experience, and certifications. It should provide a comprehensive overview of your skills and abilities as a professional engineer. It should include a clear description of your experience, including details of the projects you have worked on and the results you have achieved. It should also include a list of any professional certifications you have earned, as well as any relevant qualifications or memberships. The summary should be concise and to the point, highlighting your unique qualifications and accomplishments. The goal is to make it easy for a potential employer to quickly assess whether or not you are a suitable candidate for the position.
What is a good objective for a Professional Engineer resume?
A professional engineer resume should have an objective that accurately reflects the experience, qualifications and ambition of the individual seeking the job. A good objective should be concise and clearly explain why the engineer is the best candidate for the job. Here are some points to consider when writing an objective for a professional engineer resume:
Highlight skills and experience relevant to the job: A good objective should showcase the engineer's qualifications and experience that are relevant to the position they are seeking.
Make it memorable and persuasive: An effective objective is one that makes an impression on the hiring manager and encourages them to read on. The engineer should emphasize the skills and experience that make them the ideal fit for the job.
Mention specific goals: An objective should state the engineer's specific goals for the job. This will show the hiring manager that the engineer is ambitious and motivated to succeed.
Focus on the company: A good objective should emphasize how the engineer can contribute to the success of the company or organization.
By following these tips, an engineer can craft an effective, memorable objective that will help them stand out as a strong candidate for the job.
How do you list Professional Engineer skills on a resume?
When writing a resume, it's important to know how to highlight the skills and qualifications you possess that make you the best candidate for a professional engineering position. An effective way to showcase your capabilities is to list professional engineer skills on your resume. Here are some tips on how to list professional engineer skills on your resume.
Showcase your technical engineering skills: Showcasing your technical engineering skills is key to demonstrating your qualifications for a professional engineering position. Be sure to list any relevant engineering skills such as CAD, programming languages, and design software, as well as any specialized areas such as robotics, automation, or systems engineering.
Highlight your problem-solving and analytical skills: Employers want to hire engineers who can analyze data and solve complex problems. Make sure to highlight your problem-solving and analytical skills, such as mathematical modeling, data analysis, and project management.
Demonstrate your communication skills: Professional engineers need to be able to effectively communicate with colleagues, management, and customers. Make sure to list any communication skills you possess, such as public speaking, presentations, and written communication.
Showcase your interpersonal skills: Professional engineers need to be able to work well with others, which requires strong interpersonal skills. Be sure to list any interpersonal skills such as teamwork, leadership, and conflict resolution.
By showcasing your technical engineering skills, problem-solving and analytical skills, communication skills, and interpersonal skills, you'll have a comprehensive list of professional engineer skills on your resume that will make you an attractive candidate for any professional engineering position.
What skills should I put on my resume for Professional Engineer?
When you are looking for a job as a Professional Engineer, you want to make sure your resume is as impressive as possible. Here are some essential skills to include on your resume to make sure you stand out:
Technical Proficiency: Professional Engineers must have a strong technical background and be able to understand complex engineering concepts and theories. You should include any relevant technical skills or certifications that demonstrate you have the necessary knowledge and experience to succeed in the position.
Project Management: Professional Engineers need to be able to manage projects from start to finish, ensuring they are completed on time and within budget. Include any project management certifications or experience you have that showcase your ability to handle multiple tasks simultaneously.
Communication: Professional Engineers must possess excellent communication skills in order to be able to work with other engineers and non-engineering professionals. Make sure to show how you excel in both written and verbal communication and how you can effectively explain technical concepts to people from all backgrounds.
Problem-Solving: Professional Engineers must be creative problem-solvers in order to find the most effective solutions to engineering challenges. List any problem-solving skills you have that can help you tackle any engineering issues that you may encounter.
Leadership: Professional Engineers need to be able to direct projects and teams, so be sure to include any leadership experience you have. Showcase how you can manage personnel and how you motivate people to work together towards a shared goal.
By having a comprehensive resume that includes all of these skills, you can be sure that you will stand out from the competition when applying for Professional Engineer positions.
Key takeaways for an Professional Engineer resume
If you are a Professional Engineer looking to create a resume to get yourself noticed, there are a few key takeaways you should keep in mind. Crafting the perfect resume can be a difficult process, but these tips can help make the job simpler.
The first takeaway for a Professional Engineer resume is to make sure it is up to date. Your resume should include any recent certifications, training, or experience that could help you stand out in the job market. Additionally, include any research or internships you have completed or are currently enrolled in.
The second takeaway is to make sure you include a section discussing your technical skills. As a Professional Engineer, most employers will be looking for a candidate with a deep understanding of their field. List any specific programs, software, or coding languages you are familiar with. You should also include any qualifications and certifications you have obtained.
The third takeaway is to include a section on your accomplishments. This section will help employers to understand how you have used your skillset in the past. Be sure to include any awards or recognition you have received, as well as projects you have completed.
Finally, be sure to keep your resume concise and to the point. Employers receive hundreds of resumes, so make sure yours stands out by keeping it brief and focusing on what makes you a great candidate.
By following these tips, you should have no problem crafting the perfect Professional Engineer resume. Good luck!
Let us help you build
your Resume!
Make your resume more organized and attractive with our Resume Builder