An effective resume can be the difference between landing a job or being overlooked for the role. As a planning engineer, your resume should showcase your ability to plan, organize, and manage projects from inception to completion. To help you craft a resume that will stand out from the competition, this guide will provide tips on how to write an effective planning engineer resume, as well as several resume examples. You will learn the best practices for writing a resume summary, skills section, work experience section, and education section that will get you noticed. With the right approach, your resume will be the ticket to an amazing job.
If you didn't find what you were looking for, be sure to check out our complete library of resume examples.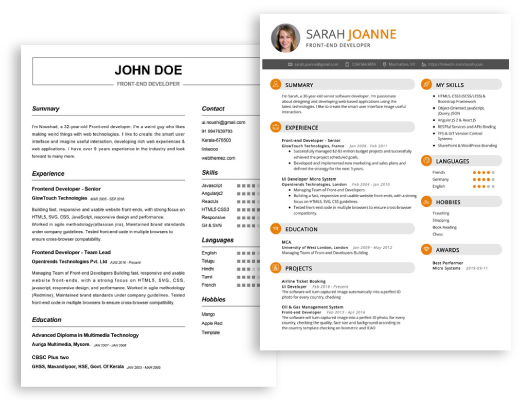 Start building your dream career today!
Create your professional resume in just 5 minutes with our easy-to-use resume builder!
Planning Engineer Resume Examples
John Doe
Planning Engineer
123 Main Street | Anytown, USA 99999 | Phone: (123) 456-7890 | Email: john.doe@email.com
I am a planning engineer with a passion for driving projects forward and achieving successful outcomes. I have extensive experience in generating project plans, overseeing construction work, and preparing technical drawings. I am highly organized and motivated, and I possess strong communication and problem solving skills. I thrive in a fast- paced environment and I am confident in my ability to deliver results on time and within budget.
Core Skills:
Project Planning
Technical Drawings
Construction Oversight
Problem Solving
Communication
Budget Management
Professional Experience:
Planning Engineer, Acme Inc. (2018- 2020)
Developed comprehensive project plans with budget, timeline and objectives
Monitored construction progress and oversaw quality assurance
Generated technical drawings and project maps
Diagnosed problems, identified solutions and tracked progress
Junior Planning Engineer, Alpha Corp. (2015- 2018)
Developed project plans and helped identify cost savings
Assisted in overseeing construction projects
Generated technical drawings and project maps
Ensured projects were delivered on time and within budget
Education:
Bachelor of Engineering, University of Engineering (2013- 2015)
Planning Engineer Resume with No Experience
A results- oriented Planning Engineer with a deep knowledge of project management, engineering and construction methods, and a keen eye for detail. Able to develop strategies, coordinate tasks, and improve efficiency with the goal of driving project completion. Experienced in collaborating with stakeholders, including contractors, engineers, and owners.
Skills
Project Management
Engineering and Construction Methods
Resource Management
Problem- Solving
Interpersonal Communication
Microsoft Office Suite
AutoCAD/Revit
Budget Analysis
Scheduling
Risk Management
Responsibilities
Develop, implement, and maintain a project schedule
Monitor and report on project progress
Prepare and present progress reports to stakeholders
Managing the flow of information between stakeholders
Estimate project timelines and resource requirements
Analyze budget, cost, and timelines
Identify and resolve project- related issues
Develop and implement risk management plans
Provide technical support to design teams
Planning Engineer Resume with 2 Years of Experience
A highly motivated and organized professional with two years of experience in planning engineering, I possess an excellent technical background and strong communication skills, enabling me to evaluate processes and modify them for greater efficiency. Expert in planning projects, creating work schedules and forecasting resources and materials, my creative problem- solving abilities have enabled me to be successful in achieving business objectives.
Core Skills:
Excellent analytical skills and problem- solving abilities
Ability to use advanced planning software and other planning tools
Comprehensive knowledge of planning principles and techniques
Great organizational and time management skills
Ability to work well with teams and coordinate activities
Demonstrated experience in developing strategies
Strong communication skills and ability to bring different stakeholders together
Responsibilities:
Developed and maintained project plans, schedules and budgets to ensure successful completion of projects
Analyzed resources and materials needed to complete projects and forecasted any shortages
Ensured that all resources and materials used were in compliance with organizational standards
Created and maintained work schedules to ensure timely completion of assigned tasks
Coordinated activities with stakeholders and other departments to ensure successful completion
Developed strategies and plans to improve processes and ensure maximum efficiency
Generated reports on project progress and identified any risks or issues that needed to be addressed
Planning Engineer Resume with 5 Years of Experience
Recent engineering graduate with 5 years of experience as a Planning Engineer. Proven record of using strong leadership and problem solving skills to optimize production and increase efficiency. Skilled at developing comprehensive and realistic short- term and long- term plans. Adept at synthesizing data, analyzing trends and recommending operational changes. Background in teaching and mentoring engineering teams and providing guidance for best practices.
Core Skills:
Strong communication and organizational skills
Analytical thinking and problem solving abilities
Proficient in MS Office and AutoCAD
Ability to develop comprehensive plans
Technical knowledge of various production and engineering processes
Ability to interpret and analyze data
Proficient in project management and scheduling
Advanced understanding of engineering principles
Responsibilities:
Developed plans and strategies to optimize production and increase efficiencies
Created technical drawings and documents to support engineering projects
Worked with other engineers to establish scheduling and project plans
Conducted research and analysis on current trends and technologies in order to identify new opportunities
Performed regular auditing and monitoring of production process to ensure compliance with quality standards
Provided guidance and technical advice to engineering teams to ensure best practices
Researched and developed innovative solutions to address production challenges and needed improvements
Generated reports and presented findings to key stakeholders
Provided training and mentorship to junior engineers and other engineering staff
Planning Engineer Resume with 7 Years of Experience
A highly organized and analytical Planning Engineer with over 7 years of experience and a proven track record of success in project and process planning. Possesses strong technical and problem- solving skills and a keen attention to detail. Experienced in developing effective plans and schedules, monitoring and tracking resources, and analyzing project data. Adept at working with stakeholders at all levels of an organization to achieve successful project outcomes.
Core Skills:
Project Management
Process Planning
Resource Management
Analysis of Data
Stakeholder Management
Compliance with Regulations
Cost Estimation
Risk Analysis
Responsibilities:
Developed comprehensive plans and schedules for projects based on data analysis and stakeholder input.
Managed the allocation of resources across multiple projects and processes.
Monitored progress, identified any issues or delays, and took proactive steps to ensure successful project outcomes.
Performed cost estimation and risk analysis to identify potential problems and mitigate any risks.
Ensured compliance with all applicable regulations, policies, procedures, and guidelines.
Provided advice and guidance to senior management on project planning and scheduling.
Prepared accurate and timely reports for senior management and stakeholders.
Planning Engineer Resume with 10 Years of Experience
I am a Planning Engineer with 10 years of experience in the construction and engineering industry. I specialize in analyzing data, formulating plans and using my strong organizational skills to facilitate efficient operations. My experience in project planning, scheduling, monitoring and control ensures that projects are completed on- time and on- budget. I also have experience in cost estimation, resource management, risk assessment and managing teams. I have excellent problem- solving abilities and have a proven track record of successful project completion.
Core Skills:
Project Planning and Scheduling
Cost Estimation
Resource Management
Risk Assessment
Leadership and Team Management
Data Analysis
Problem Solving
Responsibilities:
Develop project schedules, budgets and resource plans
Monitor and analyze project performance to ensure on- time and on- budget completion
Estimate costs accurately to ensure proper budgeting
Manage team members and ensure tasks are completed efficiently
Identify and analyze potential risks to the project
Develop strategies to mitigate risks and ensure successful project completion
Analyze data to ensure accuracy and integrity
Planning Engineer Resume with 15 Years of Experience
Highly experienced Planning Engineer with 15 years of professional experience in the construction and engineering industry. Skilled in managing project schedules, establishing baseline plans, and monitoring progress to ensure completion of projects within set deadlines. Possesses an extensive knowledge of construction drawings, 3D models and materials. Demonstrated ability to work effectively with project stakeholders and team members to ensure successful project outcomes.
Core Skills:
Project scheduling
Establishing Baseline Plans
Progress Monitoring
Construction Drawings
3D Models
Material Management
Problem Solving
Project Oversight
Team Collaboration
Stakeholder Management
Responsibilities:
Developed project plans and schedules, utilizing Primavera software and MS Project
Established baseline plans and tracked progress using cost control, earned- value, and statistical analysis techniques
Monitored the project and identified any scheduling conflicts or delays
Analyzed project construction drawings to ensure accuracy and efficiency
Developed 3D models to facilitate the visualization of construction activities
Managed materials to ensure that there is an adequate supply of resources for each project
Resolved any project- related issues in a timely manner
Ensured that all project requirements were met within the timeframe
Collaborated with project stakeholders and team members to ensure successful outcomes
Monitored project progress and provided regular reports to the management team
In addition to this, be sure to check out our resume templates, resume formats, cover letter examples, job description, and career advice pages for more helpful tips and advice.
What should be included in a Planning Engineer resume?
A planning engineer plays a vital role in the complex planning and execution of construction projects. As such, the resume of a planning engineer should include the experience, skills and education required to be successful in the position.
Experience:
Include a list of all planning engineering roles you have had in the past, including details about the tasks completed and the results achieved.
Highlight any projects you have worked on that are related to planning engineering, such as cost estimating, scheduling and resource allocation.
Skills:
List the specific skills required for planning engineering, such as engineering knowledge, understanding of construction methods, and an aptitude for mathematics and problem solving.
Detail the software programs you are knowledgeable in related to planning engineering, such as project management software and production control software.
Education:
Include the relevant degree and certifications required to be a planning engineer, such as a degree in civil engineering or construction management.
Detail any continuing education courses or professional development workshops related to planning engineering.
By including this information in your resume, employers will be able to quickly assess your qualifications and determine if you are the right person for the job.
What is a good summary for a Planning Engineer resume?
A planning engineer resume should include a concise summary providing an overview of the expertise and skills a candidate can bring to the job. The summary should include details of the candidate's experience in engineering planning and project management. The summary should also detail any special qualifications the candidate may possess that could be beneficial to the company. Additionally, the summary should include any additional skills or experience that could be useful, such as knowledge of software packages, budgeting, cost control, project scheduling, and risk management. By providing a comprehensive summary of the candidate's background and experience, employers can quickly gauge the potential value a planning engineer can bring to the organization.
What is a good objective for a Planning Engineer resume?
A planning engineer is a professional who uses engineering and analytical skills to develop, modify and maintain plans for projects. In order to land a job in planning engineering, it is important to create a resume that showcases your skills and experiences. An effective objective statement for a planning engineer resume should summarize the candidate's qualifications and provide insight into the type of job they are seeking.
Below are some examples of objectives for a planning engineer resume:
To secure a position in planning engineering where I can leverage my knowledge of engineering principles, project management, and analytical skills to contribute to project success.
Seeking a position as a planning engineer where I can utilize my experience in engineering design and analysis to help produce successful projects.
To apply my strong engineering background and technical skills to assist in the planning and implementation of projects with an emphasis on high quality results.
Looking for a planning engineer opportunity that allows me to use my experience in project management, engineering analysis, and problem-solving to produce efficient and effective results.
To gain a position as a planning engineer where my expertise in engineering plans and designs can be used to ensure successful completion of projects.
How do you list Planning Engineer skills on a resume?
Planning Engineer skills are essential for any project, especially large-scale engineering projects. When you list these skills on your resume, you'll demonstrate to potential employers the value you can bring to their project. Here are some necessary skills to list on your resume as a Planning Engineer:
Estimating: Using software to analyze plans, calculate project costs, and identify potential risks.
Scheduling: Creating and managing project schedules that provide an effective timeline for completion.
Cost Control: Identifying potential cost overruns, and helping to put measures in place to prevent them.
Risk Management: Identifying and addressing potential risks that could impact the project timeline or budget.
Quality Control: Ensuring all construction and design meet the required standards.
Budgeting: Working with the project team to create and manage an effective budget.
Negotiation: Working with suppliers and subcontractors to negotiate contracts and fees for the project.
Documentation: Creating and maintaining accurate project and financial records.
Communication: Keeping the project team and stakeholders informed and up to date on progress.
By listing these skills on your resume, you'll demonstrate your value as a Planning Engineer and show potential employers that you are a skilled team player.
What skills should I put on my resume for Planning Engineer?
Writing a resume to apply for a position as a Planning Engineer can be a daunting task. It's important to showcase your skills, qualities, and experience in a way that stands out from the competition and is relevant to the job you're applying for. Here are some key skills to include on your Planning Engineer resume:
Ability to interpret engineering plans and drawings: As a Planning Engineer, you'll need to be able to interpret engineering plans and drawings to understand the scope of a project and plan out how it should be completed.
Familiarity with industry regulations: Planning Engineers must be familiar with local, state, and federal regulations related to their field. It's important to highlight any experience you may have working with these regulations on your resume.
Knowledge of project management software: As a Planning Engineer, you'll need to be able to use and manage project management software to keep track of a project's progress. List any experience you have with this type of software and any certifications you may have.
Strong communication skills: Planning Engineers need to be able to communicate effectively with clients and colleagues. Make sure to emphasize your ability to communicate clearly and concisely on your resume.
Analytical skills: Planning Engineers must be able to analyze data and make informed decisions. Showcase any experience you have in problem-solving and data analysis on your resume.
Attention to detail: Planning Engineers must be able to pay close attention to detail to ensure that all steps are taken in the proper order. Make sure to highlight your ability to pay attention to detail on your resume.
By including the above skills on your resume, you'll be able to demonstrate that you're the ideal candidate for the Planning Engineer position. Good luck in your job search!
Key takeaways for an Planning Engineer resume
The resume of a Planning Engineer is a vital document that can help you stand out from the competition when you're applying for jobs. To make sure that your resume is as effective as possible, there are a few key takeaways that you should keep in mind when crafting your document.
Highlight Your Skills – When you're creating a resume for a Planning Engineer position, you should make sure to highlight your skills. Whether you have experience working in a similar role or you have a specialized qualification, it's important to make sure that this is clear on your resume. This way, employers can easily see that you possess the necessary skills and qualifications to do the job.
Include Relevant Projects – When you're creating a Planning Engineer resume, it's important to include any relevant projects that you've worked on in the past. This will not only demonstrate your skills, but also show employers that you have a proven track record of successfully completing projects.
Demonstrate Your Problem-Solving Abilities – As a Planning Engineer, you must be able to solve problems quickly and efficiently. Make sure to showcase your problem-solving abilities in your resume by including any examples of how you successfully solved problems in the past.
Offer Specific Results – Results are key when it comes to a Planning Engineer resume, so make sure to include specific results from any relevant projects you've worked on. This will help demonstrate to employers that you can achieve tangible results.
By following these key takeaways, you can ensure that your Planning Engineer resume is as effective as possible. By highlighting your skills, providing relevant projects, showcasing your problem-solving abilities, and offering specific results, you can make sure that your resume stands out from the competition.
Let us help you build
your Resume!
Make your resume more organized and attractive with our Resume Builder