If you are an experienced Packaging Engineer, you know that your resume is an important part of your job search and needs to be written in an effective and professional manner. Writing a great resume can be intimidating and overwhelming, but it doesn't have to be. In this guide, you will find tips, tricks, and examples on how to write an effective Packaging Engineer resume that will help you stand out from the competition and snag your next job.
If you didn't find what you were looking for, be sure to check out our complete library of resume examples.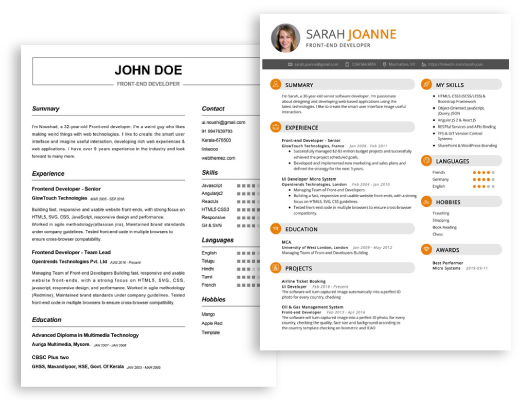 Start building your dream career today!
Create your professional resume in just 5 minutes with our easy-to-use resume builder!
Packaging Engineer Resume Examples
John Doe
Packaging Engineer
123 Main Street | Anytown, USA 99999 | Phone: (123) 456-7890 | Email: john.doe@email.com
A highly motivated and detail- oriented Packaging Engineer with 6+ years of experience in the food and beverage packaging industry. Proven ability to design and develop complex packaging systems with a focus on cost savings and environmental responsibility. Proficient in problem- solving, team- building, and project management. Capable of working unsupervised in a fast- paced environment and meeting tight deadlines.
Core Skills:
Packaging systems design
Cost savings analysis
Environmental compliance
Project management
Problem- solving
Team- building
Quality assurance
Stakeholder management
Professional Experience:
Freeman Corporation, Chicago, IL
Packaging Engineer, 2017- Present
Develop packaging systems and materials for existing products, create prototypes, and conduct quality assurance and cost analysis. Lead projects related to packaging system improvement, recommending changes to reduce waste and increase cost savings and environmental compliance.
Fields Beverage Company, Chicago, IL
Packaging Engineer, 2015- 2017
Sourced and developed material, evaluated quality of packaging systems, and monitored production line operations and safety. Conducted research and created reports to advise on cost savings or environmental compliance issues.
Education:
Master of Science in Packaging Engineering, University of Illinois, Urbana, IL
Bachelor of Science in Packaging Engineering, University of Illinois, Urbana, IL
Packaging Engineer Resume with No Experience
Recent engineering graduate with a passion for packaging engineering and design eager to apply educational theory and technical knowledge in a professional environment. Adept at using software packages such as Autodesk, SolidWorks and Microsoft Office.
Skills
Excellent problem- solving and analytical skills
Proficient in a variety of software packages including Autodesk, SolidWorks and Microsoft Office
Ability to use 3D printing, laser cutting and computer- aided design tools
Good organizational and time management skills
Strong communication and interpersonal skills
Responsibilities
Develop and implement packaging solutions
Research and analyze current industry trends and standards
Design and create 3D models using Autodesk and SolidWorks
Construct and test prototypes
Develop cost- effective solutions
Collaborate with design and engineering teams
Create and maintain accurate packaging records and documents
Packaging Engineer Resume with 2 Years of Experience
Motivated and detail- oriented Packaging Engineer with two years of experience in the field. Experienced in overseeing the development and implementation of new packaging materials, managing the design and creation of packaging designs and systems, and sourcing and overseeing the production of packaging components. Highly knowledgeable in cost and quality control and regulatory compliance. Expert in the latest technologies, trends and packaging solutions in the industry.
Core Skills:
Deep knowledge of packaging engineering design principles
Strong project management and organizational skills
Exceptional problem- solving abilities
Excellent communication and interpersonal skills
Proficient in AutoCAD and other 3D modeling programs
Familiarity with industry standards and regulatory laws
Responsibilities:
Develop packaging materials, designs and systems for products
Monitor the progress of packaging designs and production materials
Source and oversee the production of packaging components and materials
Ensure that all packaging materials meet the required standards and regulations
Ensure packaging materials comply with appropriate regulations and laws
Manage risk assessments and cost control for packaging materials
Maintain up- to- date knowledge of the latest technologies and trends in packaging engineering
Resolve any packaging engineering issues and provide solutions
Collaborate with other departments to ensure optimal packaging requirements
Packaging Engineer Resume with 5 Years of Experience
Dedicated and experienced Packaging Engineer with 5 years of professional experience in the pharmaceuticals industry. Possess a comprehensive understanding of packaging processes, design, and materials. Innovative in the development of new packaging solutions that meet customer needs. Skilled in problem solving and utilizing advanced software to develop high- quality packaging solutions.
Core Skills:
Packaging Design
Materials Selection
Regulatory Compliance
Vendor Relations
Problem Solving
Computer- Aided Design (CAD)
Cost Control
Responsibilities:
Developed innovative packaging solutions for over 30 pharmaceutical projects.
Evaluated packaging design, materials selection, and production processes for conformance to customer requirements.
Assisted in the development of customer specifications for packaging materials, components and design.
Performed cost analysis of packaging materials and components on new projects.
Maintained a thorough understanding of all regulatory requirements related to packaging.
Managed relationships with vendors to ensure timely delivery of packaging materials.
Utilized advanced CAD software to develop packaging designs.
Provided technical support to customer service representatives and other departments.
Prepared and maintained records on packaging materials and processes.
Packaging Engineer Resume with 7 Years of Experience
Packaging Engineer with 7 years of wide- ranging experience in designing, developing and implementing innovative and effective packaging solutions for a variety of industries. Adept at working closely with stakeholders and suppliers to ensure that the packaging materials meet the needs of the product and the customer. Proven track record of successfully leading teams to develop optimized packaging solutions that enhance the customer's experience and reduce the product's environmental impact.
Core Skills:
Strong technical and engineering skills
Excellent communication and problem- solving abilities
Ability to manage multiple projects simultaneously
Knowledge of packaging and printing technologies
Familiarity with regulatory and safety standards
Ability to collaborate with a variety of stakeholders
Proficiency in CAD software
Responsibilities:
Design and develop packaging solutions to meet product and customer requirements
Create prototypes and test new packaging designs
Analyze and recommend changes to existing packaging
Evaluate supplier's packaging capabilities to ensure they meet customer requirements
Oversee the production and printing of packaging materials
Ensure that packaging meets all regulatory and safety standards
Collaborate with stakeholders to ensure customer satisfaction
Analyze product data and metrics to identify opportunities for improvement
Implement cost- effective packaging strategies to reduce environmental impact
Packaging Engineer Resume with 10 Years of Experience
Results- driven Packaging Engineer with 10 years of experience in the engineering field. Skilled in developing, designing, and testing new products and packaging solutions to optimize safety, efficiency, and cost. Experienced in project management, leadership, cost analysis, and problem- solving. Proven ability to identify areas of improvement, develop new packaging solutions, and solve complex issues.
Core Skills:
Project Management
Packaging Design & Development
Cost Analysis
Risk Analysis & Assessment
Problem Solving
Leadership
Quality Assurance
Responsibilities:
Developed new and innovative packaging solutions to optimize safety, efficiency, and cost.
Analyzed packaging materials and components for cost effectiveness and quality assurance.
Ensured compliance with relevant safety and environmental regulations.
Developed and implemented new processes and procedures for packaging operations.
Performed thorough risk assessment and analysis on new packaging solutions.
Coordinated with other departments and teams to ensure the efficient and successful production of packaging products.
Managed packaging projects from start to finish, including tracking progress and ensuring deadlines are met.
Streamlined packaging processes to reduce costs and improve efficiency.
Packaging Engineer Resume with 15 Years of Experience
I am an experienced packaging engineer with 15 years of experience developing, designing, and implementing packaging solutions in a wide range of industrial sectors. My extensive knowledge of quality control, materials management, and distribution processes has enabled me to create innovative and cost effective packaging solutions to meet the needs of my customers. My broad understanding of the entire supply chain process and the ability to work both independently and as part of a team gives me the confidence to take on any challenge.
Core Skills:
In- depth knowledge of industry standards and procedures
Ability to create cost- effective packaging solutions
Strong problem solving skills
Proficiency with packaging design software
Excellent project management and organizational skills
Knowledge of recycling and environmental regulations
Ability to work with internal and external stakeholders
Responsibilities:
Designing and developing packaging concepts and materials to meet customer needs
Collaborating with vendors to obtain the best materials and pricing
Developing and testing prototypes of packaging concepts
Maintaining records of laboratory tests and results
Ensuring compliance with industry standards and regulations
Developing strategies to reduce costs and improve efficiency
Managing the production process to ensure quality control
Collaborating with distribution centers to ensure timely delivery of products
Evaluating new packaging materials and technologies
Creating and maintaining clear, concise documentation of policies and procedures
In addition to this, be sure to check out our resume templates, resume formats, cover letter examples, job description, and career advice pages for more helpful tips and advice.
What should be included in a Packaging Engineer resume?
A Packaging Engineer resume should be tailored to highlight the skills and experience necessary to succeed in the role. Crafting an effective resume requires a comprehensive understanding of the industry, the processes involved, and the skills needed. Here are some key pieces of information that should be included on a Packaging Engineer resume:
Demonstrated knowledge of packaging design, development and engineering processes
Ability to create detailed drawings and work with CAD/CAM software
Experience in materials selection, cost analysis, and product lifecycle
Excellent written and verbal communication skills
Ability to work in a team environment
Demonstrated problem-solving and troubleshooting skills
Aptitude for developing innovative solutions to complex challenges
Knowledge of food safety regulations and Quality Assurance requirements
Expertise in quality control methodologies and techniques
Proficiency in preparing and interpreting technical documents
Knowledge of packaging machinery and equipment
What is a good summary for a Packaging Engineer resume?
A Packaging Engineer resume should provide a concise summary of your qualifications and experience in the field. It should highlight your knowledge of materials, processes, and equipment used in packaging engineering as well as any certifications or awards you have earned in the field. Additionally, it should showcase your skills in problem-solving, project management, and communication. It should also detail any relevant experience, such as working with design software or supervising operations in a warehouse or manufacturing environment. Finally, it should provide examples of the successful projects you have completed and how they helped improve the efficiency or profitability of an organization.
What is a good objective for a Packaging Engineer resume?
Writing a resume is an important part of applying for any kind of job, and a Packaging Engineer is no different. Packaging Engineers are professionals who are responsible for designing, evaluating and improving packaging systems for a variety of products. So, what is a good objective for a Packaging Engineer resume? Here are some tips for crafting an effective objective statement:
Highlight experience: Start by including details about your relevant engineering experience. Include any qualifications or certifications you may have, as well as any specializations or expertise you have in the field.
Show your enthusiasm: Employers want to hire people who are passionate and motivated to take on the challenges of a Packaging Engineer role. Make sure your objective statement expresses your enthusiasm and excitement for the job.
Demonstrate your skills: Provide examples of the technical and analytical skills you possess that make you a great fit for the position. This could include your knowledge of products, materials, and packaging systems, as well as your ability to problem-solve and develop innovative solutions.
Show your commitment: Finally, emphasize your commitment to the industry and your willingness to put in the time and effort to succeed. Demonstrating that you care about the job and its success will make you stand out from other candidates.
By following these tips, you can create an effective objective statement for your Packaging Engineer resume that will help you stand out to potential employers and get the job of your dreams. Good luck!
How do you list Packaging Engineer skills on a resume?
When creating a resume, it's important to include skills related to the position you are seeking. If you're a Packaging Engineer, it's essential to emphasize your technical knowledge, experience, and expertise to demonstrate your value.
When crafting your resume, include a list of skills in a clear and concise way. Here is a helpful list of skills you may want to consider including:
Knowledge of packaging regulations and standards
Understanding of mechanical and electrical principles
Familiarity with manufacturing processes and machinery
Ability to read and interpret drawings
Proficiency in CAD and 3D design software
Understanding of quality assurance methods and practices
Knowledge of materials and testing methods
Demonstrated experience in project management
Excellent verbal and written communication skills
Strong analytical and problem-solving skills
Ability to work both independently and as part of a team
By including the right skills and qualifications on your resume, you can show potential employers that you have what it takes to be a great Packaging Engineer.
What skills should I put on my resume for Packaging Engineer?
When creating a resume for a Packaging Engineer position, it is important to emphasize the skills that are essential for this type of role. At a minimum, employers will expect you to have experience in package design and development, along with an understanding of the principles of engineering. Here are some of the most important skills to include on your resume:
Knowledge of Packaging Design and Development: Demonstrate your understanding of the principles of package design and development, including problem-solving, testing, and quality assurance.
Experience in Material Selection: Demonstrate your experience in selecting the right materials for packaging, including plastic, paper, cardboard, and foam.
Proficiency in Packaging Machinery: Highlight your experience in the operation and maintenance of packaging machinery.
Knowledge of Supply Chain Management: Showcase your understanding of the supply chain process, including inventory management, logistics, and customer relations.
Knowledge of Regulatory Standards: Demonstrate your familiarity with state and federal regulations for packaging, as well as international standards, as applicable.
Expertise in CAD: Showcase your knowledge of computer-aided design software, including SolidWorks and AutoCAD, which are commonly used in the packaging industry.
By including these skills on your resume, you can show potential employers that you have the knowledge and experience necessary for a successful career as a Packaging Engineer.
Key takeaways for an Packaging Engineer resume
When creating your resume as a packaging engineer, it's important to make sure your resume stands out and highlights the skills, qualifications, and knowledge you possess that make you the best fit for the job. Here are some key takeaways for creating an effective packaging engineer resume:
Highlight Skills: Showcase your core skills, such as product design and development, prototyping, and testing, and demonstrate how they can be applied to the position.
Clearly Demonstrate Qualifications: Show potential employers how your qualifications meet the job requirements and how you can contribute to the company.
Showcase Understanding of Regulations: As packaging engineer, it's important to demonstrate that you have a working knowledge of all relevant packaging regulations.
Detail Accomplishments: Make sure to include a list of accomplishments to provide employers with a comprehensive overview of the value you can bring to the position.
Provide References: Include references from past employers or colleagues who can attest to your experience, skillset, and achievements.
Use a Professional Format: Make sure your resume is well organized and includes a professional layout.
By following these key takeaways when creating your resume, you'll be well on your way to snagging your dream job as a packaging engineer.
Let us help you build
your Resume!
Make your resume more organized and attractive with our Resume Builder