If you're looking for a job as a Mwd Field Engineer, you need a strong and compelling resume that stands out from the competition. Writing a resume for this type of position can be a daunting task, especially if you're unfamiliar with the industry or have never written a resume before. To help you craft a winning Mwd Field Engineer resume, this guide provides an overview of what you should include and offers resume examples to get you started. Get ready to create a resume that will wow potential employers and land you interviews.
If you didn't find what you were looking for, be sure to check out our complete library of resume examples.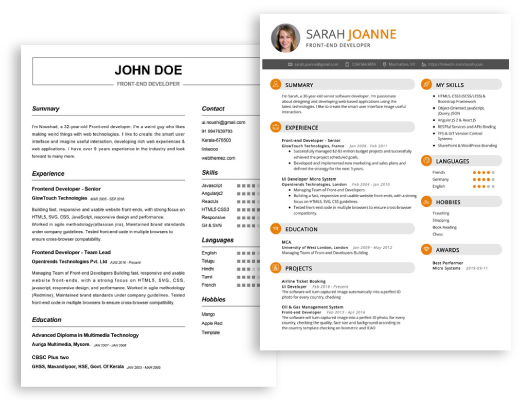 Start building your dream career today!
Create your professional resume in just 5 minutes with our easy-to-use resume builder!
Mwd Field Engineer Resume Examples
John Doe
Mwd Field Engineer
123 Main Street | Anytown, USA 99999 | Phone: (123) 456-7890 | Email: john.doe@email.com
I am a highly motivated and dedicated field engineer with over 7 years of experience in the industry. I have a well- rounded skill set in electrical engineering, systems programming, and operations management. I have an excellent track record of completing projects on time and on budget and have successfully implemented innovative solutions to complex engineering problems. I am an excellent communicator, able to effectively collaborate with colleagues, clients, and suppliers. I am also well versed in safety regulations and quality control techniques.
Core Skills:
Electrical Engineering
Systems Programming
Operations Management
Project Planning and Execution
Quality Control
Technical Writing
Troubleshooting
Safety Regulations
Professional Experience:
Field Engineer at Universal Engineering, 2013- present
Designed, tested, and implemented electrical control systems for a variety of industrial processes
Developed software for data collection and analysis
Installed, maintained, and troubleshot electrical components and systems
Reported electrical and mechanical problems to maintenance staff
Coordinated with other engineers, suppliers, and clients
Education:
Bachelor of Science in Electrical Engineering, University of California, Los Angeles, 2012
Mwd Field Engineer Resume with No Experience
Recent engineering graduate looking to break into the engineering field as a MWD Field Engineer, who has a strong passion for learning and problem solving. Possessing excellent communication and team working skills, a focus on safety and a drive to succeed.
Skills
Excellent communication and team working skills
Ability to manage multiple tasks
Good problem solving and decision making abilities
Ability to work under pressure
Ability to think fast and act quickly
Proficient in MS Office Suite and other related software programs
A good understanding of mechanical, electrical and hydraulic systems
Responsibilities
Analyzing, planning and executing wireline operations
Ensuring that the drilling equipment is in excellent operating condition
Troubleshooting and resolving any technical issues
Providing support to the drilling operation and performing maintenance on the equipment
Inspecting and testing the equipment to ensure that it is functioning properly
Monitoring and recording the data from the drilling operations
Ensuring that safety standards are adhered to while working on the rig
Mwd Field Engineer Resume with 2 Years of Experience
A highly motivated and experienced Field Engineer with 2 years of experience, who is looking to secure a challenging role within a progressive organization. Skilled in troubleshooting and resolving complex technical issues. An efficient problem solver with excellent communication, customer service and organizational skills. Possess strong analytical and computational abilities with a strong commitment to providing the highest level of customer service.
Core Skills:
Network and systems administration
Network engineering and design
Database management
Software development
Technical customer service
Troubleshooting and problem- solving
Documentation and training
System security
Responsibilities:
Install, configure, test, and maintain operating systems, application software and system management tools
Monitor and maintain network and system security
Analyze, identify and resolve network, systems, application and hardware performance and reliability issues
Provide troubleshooting and technical support for system users
Develop and implement system security measures
Perform system backups and system recovery
Monitor system performance, diagnose and troubleshoot problems, and provide solutions to ensure system availability
Provide technical support, guidance and training to system users
Write and maintain technical and operational documentation
Mwd Field Engineer Resume with 5 Years of Experience
A dedicated and enthusiastic Field Engineer with 5 years of experience in the engineering space. Highly successful in overseeing projects, conducting measurements and collecting data, with a passion for problem solving and getting results. Possesses strong technical, communication and organizational skills and has a proven track record of consistently meeting performance goals.
Core Skills:
Strong technical skills
Excellent communication and organizational skills
Project management
Problem solving
Data collection
Measurement taking
Responsibilities:
Managed and monitored project progress, budgets and timelines
Conducted measurements, collected data and analyzed results
Developed solutions to engineering problems and ensured they are carried out effectively
Oversaw installation and maintenance of engineering equipment
Ensured compliance with safety regulations, environmental standards, and engineering specifications
Provided technical support and guidance to engineering teams
Provided training and supervision for personnel in engineering roles
Produced detailed reports on engineering projects
Mwd Field Engineer Resume with 7 Years of Experience
I am a highly skilled and experienced Field Engineer with over 7 years of professional experience in planning, designing, constructing, and testing various types of complex networks and communication systems. I have a strong technical background and expertise in troubleshooting, problem solving, and installing, maintaining, and repairing various network systems and devices. I have a proven track record of successful deployments, installations, and implementations. I am familiar with the latest technologies in the industry and I have the ability to work in any environment, to manage a variety of tasks, and to lead a team of engineers.
Core Skills:
Expertise in planning, designing, configuring, constructing, and testing complex network systems
Proficient in network maintenance, troubleshooting, and repair of various network systems and devices
Experienced in implementations, installations, and deployments
Strong leadership skills with the ability to manage teams of engineers
Excellent communication and interpersonal skills
In- depth knowledge of the latest technologies in the industry
Responsibilities:
Design, configure, construct, and test complex network systems
Troubleshoot and resolve network problems, analyze system logs, and identify potential issues
Install, maintain, and repair various network systems and devices
Deploy, install, and implement necessary changes to the system
Provide technical support to clients
Lead and manage a team of engineers
Assist in the development and implementation of new products and services
Mwd Field Engineer Resume with 10 Years of Experience
A highly experienced and motivated Mwd Field Engineer with 10+ years of experience in the oil and gas industry. Experienced in using advanced measurement while drilling (MWD) technologies to optimize drilling operations. Skilled in utilizing well logging software, 3D seismic data, and other advanced technologies to ensure safe and efficient drilling operations. Proven ability to detect and troubleshoot wellbore instability issues. Experienced in planning and executing technical operations, managing costs, and developing powerful workflows.
Core Skills:
Advanced MWD technologies
Well logging software
3D seismic data
Troubleshooting wellbore instability issues
Drilling engineering
Cost management
Workflow development
Risk management
Communication skills
Responsibilities:
Assessed and monitored MWD systems, as well as other well logging equipment
Set up and operated MWD tools for drilling operations
Developed and maintained wellsite technical plans
Provided technical support and assistance for drilling operations
Performed well logging and analysis of drilling data
Performed analysis to identify drilling issues and recommended solutions
Conducted tests and inspections to ensure the quality of equipment and parts
Provided training and guidance to junior personnel
Maintained detailed records and reports of drilling operations
Implemented safety protocols to ensure wellsite safety
Mwd Field Engineer Resume with 15 Years of Experience
Experienced MWD Field Engineer with 15+ years in the oil and gas industry. Possesses in- depth knowledge of drilling, logging, and well completion procedures. Proven leadership capabilities, as well as excellent problem solving and decision- making skills. Specializes in troubleshooting and preventive maintenance of surface and downhole equipment. Possesses a valid driver's license and a TWIC card.
Core Skills:
Well completion and logging
Drilling operations
Preventive maintenance
Troubleshooting
Problem solving
Decision making
Leadership
Responsibilities:
Operate, maintain, and repair downhole and surface MWD equipment
Analyze data, interpret results, and make recommendations
Monitor and adjust drilling parameters as necessary
Prepare daily reports on operations and well status
Manage inventory and order necessary supplies
Develop and implement preventive maintenance schedule
Act as a liaison between operations team and vendors
Train and mentor junior engineers
In addition to this, be sure to check out our resume templates, resume formats, cover letter examples, job description, and career advice pages for more helpful tips and advice.
What should be included in a Mwd Field Engineer resume?
A MWD Field Engineer is responsible for the operation of MWD systems used in well logging operations. As such, an impressive resume should include the following:
Technical skills: Include any specialized technical skills that you have, such as experience with specific MWD systems, familiarity with certain software programs, and any certifications that you hold.
Education: Include educational qualifications such as a bachelor's degree in engineering or a related field, as well as any relevant certifications.
Experience: List any relevant experience that you have in MWD field engineering. Include details such as the types of systems you have worked with and the projects you have completed.
Field experience: Mention any field experience that you have, such as working under harsh conditions, in remote locations, or with harsh environments.
Proficiency: Demonstrate any proficiency that you have with certain tools, software, or other specialized equipment.
Safety: Demonstrate your knowledge and adherence to safety protocols.
Communication: Showcase your communication skills, such as your ability to clearly explain technical concepts and coordinate with other team members.
Overall, an impressive MWD Field Engineer resume should focus on your technical abilities and your ability to work in a team. Be sure to focus on the experience and skills that are relevant to the job and to showcase any special qualifications that you have.
What is a good summary for a Mwd Field Engineer resume?
A good summary for a MWD Field Engineer resume should showcase a candidate's technical skills, expertise, and qualifications in the MWD field. The summary should mention any relevant certifications, programming and software abilities, and experience in the oil and gas industry. It should also include any experience the candidate has in operating and maintaining MWD equipment, as well as the ability to work in a team and manage projects. Finally, the summary should also highlight any safety certifications and any other relevant qualifications that the candidate may have. An effective summary should be concise yet comprehensive, and should effectively convey a candidate's value and worth to potential employers.
What is a good objective for a Mwd Field Engineer resume?
A Mwd Field Engineer is a specialist who works with downhole tools and services in the oil and gas industry. To stand out as a Mwd Field Engineer, it is important to have a resume that demonstrates your experience and qualifications. A good objective for a Mwd Field Engineer resume should highlight your experience, certifications, and knowledge of the industry.
Demonstrate your knowledge and experience in the Mwd Field engineering industry
Highlight any certifications you have that are related to Mwd engineering
Showcase your ability to troubleshoot and solve complex problems quickly and efficiently
Show that you understand the safety protocols and environmental regulations in the oil and gas industry
Showcase your problem-solving skills and ability to work well in a team environment
Demonstrate your ability to operate and maintain Mwd tools and equipment correctly and safely
Demonstrate your knowledge of computer software and hardware used in the industry
Prove your commitment to quality and safety standards in the workplace
Demonstrate your ability to work independently and take initiative
How do you list Mwd Field Engineer skills on a resume?
When writing your resume for a Mwd Field Engineer position, it is important to clearly list your skills and qualifications in a way that will showcase your suitability for the job. To ensure that your qualifications stand out, you should include the following skills in your resume:
Proficient in the use of various MWD tools, such as directional drilling, EM logging, and gamma ray logging
Expertise in downhole operations, including the installation and maintenance of MWD tools
The ability to interpret MWD data and communicate it to relevant stakeholders
Knowledge of the mechanical and electrical principles of MWD tools
Ability to research and analyze field data to make informed decisions
Solid understanding of safety practices and procedures in the field
Competent in the use of computer systems and software packages, such as Microsoft Excel
Skilled in problem-solving, troubleshooting, and providing solutions
Excellent verbal and written communication skills
Excellent organizational and time-management skills
Including these skills and qualifications on your resume will make it easier for prospective employers to identify your suitability for the job. Make sure to also include any relevant certifications or trainings that you have completed that demonstrate your expertise in the MWD field.
What skills should I put on my resume for Mwd Field Engineer?
A Mid-Level Field Engineer resume needs to demonstrate strong technical abilities, an eye for detail, and problem-solving capabilities. Here are some of the essential skills that employers may look for in your resume:
Knowledge of Networking: A Mid-Level Field Engineer should have the ability to diagnose, configure, and maintain network systems. This includes knowledge of IP addressing, routers, switches, firewalls, and network protocols.
Project Management: This position requires the ability to develop and implement strategies and processes to ensure successful project completion. This includes risk assessment, resource planning, cost-benefit analysis, and project documentation.
Communication: A crucial part of any Field Engineer role is being able to communicate effectively with other stakeholders. This includes both verbal and written communication, as well as the ability to relay technical information in a clear and understandable manner.
Troubleshooting: As a Mid-Level Field Engineer, you should have the ability to detect, diagnose, and resolve technical issues in a timely and efficient manner. This includes the ability to identify system performance issues, hardware compatibility issues, and troubleshoot hardware and software components.
Customer Service: As a Field Engineer, you should possess excellent customer service skills, including the ability to build relationships, as well as listen, empathize, and respond appropriately to customer inquiries.
Documentation: Being able to accurately document customer interactions and technical information is an important skill for any Field Engineer. This includes the ability to document customer requirements, evaluate customer feedback, as well as create and update technical documentation.
Including these skills in your resume will demonstrate to employers that you are capable of performing the duties of a Mid-Level Field Engineer.
Key takeaways for an Mwd Field Engineer resume
As a MWD Field Engineer, your resume should reflect the specific skills and qualifications that employers look for when hiring for this position. To ensure that your resume stands out, you should make sure to highlight all of your relevant experience, qualifications, and certifications. Here are some key takeaways for creating an effective MWD Field Engineer resume:
Include Technical Skills: For a MWD Field Engineer resume, it's important to highlight your technical skills in the fields of mud logging, directional drilling, and wellbore surveying. Be sure to list any certifications or qualifications you have in these areas, such as Mud Logging Professional (MLP) certification.
Highlight Problem-Solving Skills: As a MWD Field Engineer, you need to be able to think on your feet and troubleshoot any issues that arise. Make sure to emphasize your problem-solving skills and experience in your resume.
Showcase Strategic Thinking: MWD Field Engineers are often responsible for developing strategies to get the best results out of a project. Be sure to demonstrate your strategic thinking and include examples of how you've successfully implemented strategies in the past.
Demonstrate Your Leadership Ability: MWD Field Engineers are often in charge of leading the field crew, so be sure to showcase your leadership ability in your resume. Include examples of any team projects you've successfully managed and highlight any leadership roles you've held in the past.
By following these key takeaways, you can create an effective MWD Field Engineer resume that will help you stand out from the competition. Make sure to highlight your technical skills, problem-solving abilities, strategic thinking, and leadership abilities to demonstrate why you're the best candidate for the job.
Let us help you build
your Resume!
Make your resume more organized and attractive with our Resume Builder