Engineering Manager roles require a unique set of skills and experiences, and it is essential that your resume reflects these skills and experiences effectively in order to stand out from the competition. Writing a successful resume for an engineering manager role requires an understanding of the role and the qualifications that employers are looking for. This engineering manager resume writing guide provides you with examples and tips to help you create an effective resume that will help you get noticed by hiring managers.
If you didn't find what you were looking for, be sure to check out our complete library of resume examples.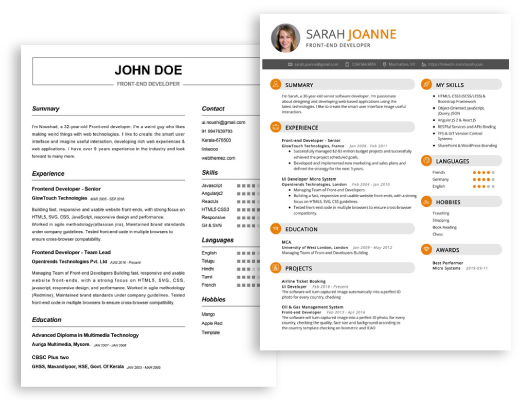 Start building your dream career today!
Create your professional resume in just 5 minutes with our easy-to-use resume builder!
Engineering Manager Resume Examples
John Doe
Engineering Manager
123 Main Street | Anytown, USA 99999 | Phone: (123) 456-7890 | Email: john.doe@email.com
Results- driven Engineering Manager with 10 years of experience leading diverse and multi- faceted teams to success. Proven track record of delivering projects on time and on budget while fostering a safe and productive work environment. Specializes in creating seamless plans for product development and process improvement. Adept in motivating teams from initial concept to completion.
Core Skills:
Leadership
Strategic Planning
Project Management
Process Improvement
Quality Assurance
Team Building
Cost Reduction
Risk Management
Problem- Solving
Data Analysis
Product Development
Professional Experience:
Engineering Manager, ABC Company – San Francisco, CA
Directed a team of 10 engineers and oversaw the design, development, and implementation of a range of products
Developed and managed project budgets and timelines to ensure successful project completion
Implemented quality assurance and risk management processes to ensure customer satisfaction
Collaborated with cross- functional teams to drive process improvement initiatives
Improved safety protocols, resulting in a 50% decrease in workplace accidents
Engineering Supervisor, XYZ Corporation – New York, NY
Supervised a team of 5 engineers and managed the design, development, and implementation of a range of products
Ensured projects met customer specifications, budgets, and timelines
Developed and enforced safety protocols, resulting in a 25% reduction in workplace accidents
Led process improvement initiatives to increase product quality
Mentored junior engineers and provided feedback and training
Education:
Bachelor of Science in Engineering, University of Chicago – Chicago, IL
Engineering Manager Resume with No Experience
Recent engineering graduate looking to transition into an engineering management role. Possess strong organizational and communication skills developed through four years of leading student organizations and volunteer activities. Experienced in managing diverse teams and working collaboratively to achieve project goals.
Skills
Strong project management skills
Excellent written and oral communication
Familiarity with engineering principles and concepts
Proficiency in Microsoft Office Suite and AutoCAD
Ability to work in a fast- paced environment
Ability to build relationships with stakeholders
Leadership and decision- making ability
Technical writing and problem- solving
Responsibilities
Develop and implement engineering management strategies to meet organizational goals
Provide guidance to engineering teams on project timelines and objectives
Coordinate with teams to ensure the successful completion of projects
Identify areas for improvement and develop solutions to enhance team performance
Monitor progress and provide feedback on projects
Manage budgets and resources to ensure projects are completed on time and within budget
Liaise with stakeholders to ensure the successful delivery of projects
Engineering Manager Resume with 2 Years of Experience
A motivated and experienced Engineering Manager with over 2 years of experience working with teams in the engineering and manufacturing industries. Experienced in quality assurance, engineering process management, and project management. Skilled at leading and managing engineering teams while ensuring product quality and accuracy. Responsible for ensuring that the team performs at its highest levels and can efficiently solve engineering problems.
Core Skills:
Engineering Process Management
Quality Assurance
Project Management
Leadership
Problem- Solving
Team Management
Root Cause Analysis
Technical Troubleshooting
Responsibilities:
Maintaining and improving quality and accuracy of engineering projects and processes
Developing and improving engineering processes and procedures to ensure efficient and effective engineering operations
Leading and managing engineering teams to ensure successful completion of engineering projects and tasks
Ensuring quality assurance of engineering products and components
Managing and overseeing the development and implementation of engineering projects
Identifying and resolving any technical issues or problems
Using root cause analysis to determine the source of technical problems
Monitoring and evaluating the performance of engineering teams to ensure maximum efficiency
Troubleshooting any technical issues that arise within engineering projects or tasks
Engineering Manager Resume with 5 Years of Experience
I am an engineering manager with 5 years of experience leading complex engineering projects. I have a successful track record of developing strategies to improve engineering processes, ensuring customer satisfaction and meeting deadlines. I have an extensive and diversified technical background in electrical, software, and mechanical engineering. My core skills include team leadership, problem solving, and working with multiple stakeholders to meet project goals. I am a hardworking and motivated individual who strives to ensure customer satisfaction and deliver successful projects.
Core Skills:
Team Leadership
Project Management
Budget Management
Problem Solving
Technical Troubleshooting
Scheduling
Resource Allocation
Risk Management
Technical Writing
Communication
Responsibilities:
Supervising, training and developing engineering teams
Monitoring and controlling project progress
Developing project plans and timelines
Analyzing customer needs and requirements
Ensuring compliance with engineering standards
Resolving customer issues
Assessing and mitigating project risks
Working with multiple stakeholders to meet project goals
Developing strategies to improve engineering processes
Documenting all engineering activities and results
Making recommendations for process improvements
Maintaining accurate and organized documentation
Engineering Manager Resume with 7 Years of Experience
Engineering Manager with 7 years of experience in product development, research, and team leadership. Proven track record of leading the development of innovative engineering solutions to complex problems. Expertise in product design, product development, and cross- functional team management.
Core Skills:
Strong technical background in product development
In- depth knowledge of engineering principles and processes
Excellent organizational and communication skills
Ability to manage multiple projects and lead teams
Highly skilled in problem- solving and decision- making
Proficient in CAD, SolidWorks, and LabVIEW software
Responsibilities:
Developing product designs, testing methods, and engineering processes
Leading cross- functional engineering teams in product development
Monitoring project progress and providing guidance and support
Working with external vendors and stakeholders to ensure successful product development
Conducting research to identify and address engineering issues
Tracking and analyzing data to improve product performance and efficiency
Engineering Manager Resume with 10 Years of Experience
A highly skilled and experienced Engineering Manager with 10 years of experience in project and program management, design and development, and process improvement. Proven success in leading teams to deliver complex projects from concept to completion, ensuring on- time delivery, meeting or exceeding quality requirements, and maintaining a high level of customer satisfaction. A passionate advocate for leveraging technology and automation to ensure engineering excellence and efficient operations.
Core Skills:
Project and Program Management
Engineering Design and Development
Process Improvement
Team Leadership and Management
Technology and Automation
Quality Assurance
Problem Solving and Analysis
Strategic Planning
Risk Management
Cost Reduction
Customer Service
Responsibilities:
Develop and implement project plans and budgets, managing timelines and resources to ensure the successful completion of projects
Manage engineering design and development activities, including the coordination of internal and external teams, to create and develop new products and enhancements to existing products
Direct process improvement initiatives to maximize efficiency, reduce cost, and ensure quality and reliability
Lead a team of engineers and technical staff, providing guidance, direction, and motivation to ensure successful project delivery
Develop and implement automation strategies to improve operational efficiency, reduce manual labor, and ensure quality control
Manage risk assessment activities to identify and address potential issues and ensure compliance with safety and quality regulations
Monitor project budgets, making changes and adjustments to ensure successful implementation and cost containment
Evaluate customer feedback and implement changes and enhancements to improve overall customer satisfaction
Engineering Manager Resume with 15 Years of Experience
Highly motivated engineering manager with 15 years of experience in managing complex engineering projects in the electronics and industrial automation industries. Proven ability to lead, inspire and motivate teams to achieve desired results. Experienced in project management, process improvement, budget management and problem- solving. Focused on ensuring company standards and safety regulations are met at all times.
Core Skills:
Project Management
Process Improvement
Team Leadership
Budget Management
Problem Solving
Safety Regulations
Quality Assurance
Responsibilities:
Develop successful working relationships with internal and external stakeholders
Lead project teams to execute engineering projects on time, within scope and within budget
Plan, direct and manage engineering projects of varying complexity
Develop project plans, control and manage resources, costs and schedules
Implement process improvement initiatives and maintain effective communication with all levels of personnel
Ensure compliance with all safety regulations and company standards
Oversee the day- to- day operations, progress and development of engineering projects
Ensure quality assurance and inspect work results to ensure they meet customer specifications and industry standards
In addition to this, be sure to check out our resume templates, resume formats, cover letter examples, job description, and career advice pages for more helpful tips and advice.
What should be included in a Engineering Manager resume?
A great Engineering Manager resume is an important tool in the job search process. In order to stand out from other applicants, it should include vital information about your skills, experience, and accomplishments. Here are some of the key components to include in your Engineering Manager resume:
Professional Summary: Summarize your key skills, experience, and accomplishments in a short paragraph at the top of your resume. This is a great way to quickly show potential employers why you're the right fit for the job.
Education: Include your highest level of education, as well as any certifications or specialized training you've received.
Technical Skills: List your technical skills, such as coding languages, software, and other engineering-related skills.
Project Experience: Highlight any engineering projects you've been a part of, and provide specifics about your role and the outcome.
Leadership Experience: Showcase any previous management experience, including how many people you managed, how long you were in the role, and any successes that occurred under your leadership.
Working Knowledge: Detail any working knowledge you possess, such as budgeting, scheduling, and problem-solving experience.
Professional Accomplishments: Include any significant accomplishments or awards that are relevant to the position you're applying for.
By including all of these components in your Engineering Manager resume, you can give potential employers a comprehensive picture of your skills and experience. Be sure to customize your resume to the specific job you're applying for, so that you can create a resume that will make you stand out from the competition.
What is a good summary for a Engineering Manager resume?
A strong summary for an Engineering Manager resume can help to quickly explain the candidate's job experience and key qualifications. The summary should be tailored to the specific requirements of each job listing, but should generally cover the candidate's areas of experience, training, and certifications. It should also highlight the candidate's accomplishments, such as any awards or recognitions. Finally, the summary should emphasize the candidate's ability to lead teams, motivate staff, and successfully manage engineering projects. An effective summary will help to draw the reader in and demonstrate why the candidate is the right choice for the role.
What is a good objective for a Engineering Manager resume?
A good objective for an Engineering Manager resume should be tailored to the job you are applying for and should demonstrate your skills, experience and accomplishments. An effective objective should outline the qualities that make you a strong candidate for the position, while summarizing your goals and aspirations.
Some examples of objectives for an Engineering Manager resume are:
To leverage my technical knowledge, project management experience and leadership abilities to effectively manage and lead engineering teams in achieving results.
To obtain an Engineering Manager role where I can utilize my expertise in software engineering and project management to ensure successful product delivery.
Seeking a challenging Engineering Manager position where I can use my technical background and leadership skills to motivate and guide teams in order to achieve organizational goals.
Seeking an Engineering Manager role in which I can utilize my extensive technical knowledge, project management experience, and communication skills to inspire and guide engineering teams in delivering successful projects.
How do you list Engineering Manager skills on a resume?
Engineering Managers are responsible for managing teams of engineers, ensuring that engineering standards are met, and meeting project deadlines. To be successful in this role, there are certain skills and competencies that must be highlighted on a resume when applying for an Engineering Manager position. Here is a list of Engineering Manager skills to include on a resume:
Technical Leadership: An Engineering Manager must be able to lead and guide their team, set technical standards and goals, and ensure that quality is maintained throughout the engineering process.
Project Management: An Engineering Manager must be able to develop and manage timelines, budgets, and tasks. They must also be able to coordinate activities between team members and stakeholders.
Communication Skills: An Engineering Manager must be able to communicate effectively with team members and stakeholders. They must also be able to communicate technical topics in a clear and concise manner.
Analytical Thinking: An Engineering Manager must be able to analyze complex problems, identify solutions, and present technical data in a meaningful way.
Collaboration: An Engineering Manager must be able to work with other departments and teams to ensure projects are completed on time and within budget.
Problem Solving: An Engineering Manager must be able to quickly identify, analyze, and resolve technical problems.
By including these skills and competencies on your resume, you can demonstrate that you have the skills and abilities needed to be an effective Engineering Manager.
What skills should I put on my resume for Engineering Manager?
When writing your resume for a job as an Engineering Manager, you should be sure to include the most important skills that hiring managers are looking for. While each position will vary, here are some skills that you should consider putting on your resume:
Technical Expertise: Engineering Managers typically need a deep understanding of engineering concepts, including working knowledge of computer hardware, software, and various programming languages.
Project Management: Engineering Managers need to be able to manage projects from start to finish, including setting objectives, deadlines, and budgets. They should have strong organizational and problem-solving skills.
Leadership: Good leadership skills are essential for any Engineering Manager. This includes the ability to motivate and inspire a team, delegate tasks, and resolve conflicts.
Communication: Engineering Managers should be able to communicate clearly and effectively with their team, other departments, and external stakeholders. They should also have the ability to present complex technical information to non-technical audiences.
Strategic Thinking: Engineering Managers need to be able to think strategically in order to develop and implement plans and initiatives that will help the team reach their goals.
By including these skills on your resume for an Engineering Manager position, you'll be able to show hiring managers that you have the qualifications they're looking for.
Key takeaways for an Engineering Manager resume
A resume is an important tool for engineering managers. It's your chance to showcase your skills and experience, and to give potential employers a glimpse of your professional background. To create a stand-out resume that will help you land the engineering manager job you seek, here are some key takeaways to keep in mind.
First, be sure to include all of your relevant experience. Include your years of experience, and any technical skills you have acquired in your previous positions. This will ensure that employers see that you have the necessary knowledge and skills for the job.
Second, your resume should highlight any successful engineering projects you have completed. Include any awards or recognition you have received, or any big projects you have led. This will show employers that you are capable and experienced.
Third, be sure to showcase your leadership skills. Employers want to know that you are able to manage teams and delegate tasks effectively. Make sure to include any management roles you have held, such as supervising employees or leading teams.
Finally, emphasize your communication and problem-solving skills. Engineering managers are often called upon to work closely with clients, so it's important to show that you have strong interpersonal skills. Similarly, you should demonstrate your ability to troubleshoot and find solutions.
By following these key takeaways, you will create a resume that will help you stand out from the competition and land the engineering manager job you desire.
Let us help you build
your Resume!
Make your resume more organized and attractive with our Resume Builder