The job market for junior engineers is competitive and standing out among the competition is crucial for success. A strong and well-crafted resume can make all the difference when it comes to landing a job as a junior engineer. To ensure your resume stands out, it's important to understand the basics of resume writing, as well as the specific skills, experiences and qualities relevant to junior engineers. This guide will provide you with an overview of resume writing for junior engineers, including examples of effective resumes for this profession.
If you didn't find what you were looking for, be sure to check out our complete library of resume examples.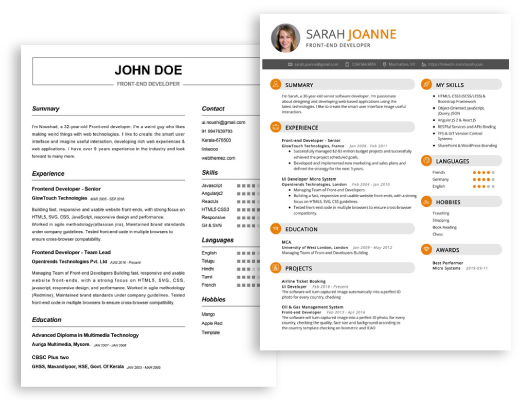 Start building your dream career today!
Create your professional resume in just 5 minutes with our easy-to-use resume builder!
Junior Engineer Resume Examples
John Doe
Junior Engineer
123 Main Street | Anytown, USA 99999 | Phone: (123) 456-7890 | Email: john.doe@email.com
I am a motivated Junior Engineer with a strong technical and problem- solving skillset. I have prior experience in software engineering, including experience in developing and maintaining software projects. I am passionate about creating products that make a difference in the world and have a knack for finding innovative ways to solve difficult problems. I am eager to apply my knowledge and skills in a new role, and am confident I would be an invaluable asset to any team.
Core Skills:
Software Engineering
Problem- solving
Object- Oriented Programming
Agile Methodologies
Database Design
Testing and Quality Assurance
Professional Experience:
ABC Corporation, Junior Software Engineer, July 2020 – Present
Developed and maintained software applications using agile methodologies
Created and executed test plans, ensuring quality assurance
Wrote and debugged object- oriented code for software projects
Designed and implemented databases for software applications
Provided technical support for users and troubleshooting of software
Education:
ABC University, Software Engineering, June 2020
Bachelor of Science in Software Engineering
Junior Engineer Resume with No Experience
Recent graduate seeking a Junior Engineer role in an organization that values innovative problem- solving and teamwork. Possesses a strong technical acumen and excellent interpersonal skills.
Skills
Strong Mathematical Skills
Critical Thinking
Problem Solving
Teamwork
Organizational Skills
Analytical Mindset
Computer Programming
Responsibilities
Conduct research to develop solutions to technical problems
Analyze and design efficient systems for data storage and manipulation
Write programs and develop software for specific tasks
Create algorithms for data analysis and process automation
Develop new technologies to improve system performance and efficiency
Troubleshoot and debug existing programs to ensure proper functioning
Design and implement test plans to validate software functionality
Junior Engineer Resume with 2 Years of Experience
A highly motivated and detail- oriented Junior Engineer with 2 years of hands- on experience working in software engineering, specializing in software development, testing and design. Passionate about problem solving and developing efficient solutions, with a strong eye for detail and quality assurance. Proven ability to work independently and in collaboration with teams to optimize performance.
Core Skills:
Experienced in software development and design
Problem solving and debugging expertise
Experienced in software testing
Strong knowledge of programming languages (Java, C#, JavaScript, HTML)
Ability to write clean and well- designed code
Experienced in working with software development tools
Knowledge of database systems and object- oriented programming
Responsibilities:
Developing and designing application software
Developing and maintaining software applications
Troubleshooting software issues and debugging programs
Writing code for software applications
Testing software applications for errors and performance issues
Writing technical documentation for software applications
Collaborating with teams on software development projects
Maintaining and updating existing software applications
Junior Engineer Resume with 5 Years of Experience
Highly experienced Junior Engineer with over 5 years of experience in software development, troubleshooting and problem solving. Skilled in delivering consistently high performance in all aspects of engineering, from designing and developing solutions, to managing projects and providing technical expertise. Excellent ability to manage multiple tasks and projects simultaneously while maintaining a high level of accuracy and detail.
Core Skills:
Software Development
Troubleshooting
Problem Solving
Project Management
Data Analysis
Technical Documentation
Technical Expertise
Responsibilities:
Developed numerous software applications and tools to support engineering activities.
Designed and tested engineering solutions to meet customer requirements.
Troubleshot and diagnosed technical problems within engineering systems.
Provided technical support and guidance to other engineers and team members.
Performed complex data analysis to identify solutions to technical problems.
Created technical documentation to ensure projects were completed accurately and on time.
Managed multiple engineering projects simultaneously, ensuring all deadlines were met.
Provided technical expertise to other teams and departments across the organization.
Junior Engineer Resume with 7 Years of Experience
Highly motivated and experienced Junior Engineer with 7 years of experience in the engineering industry. Possesses excellent technical skills, problem solving abilities, and interpersonal skills. Skilled in developing innovative solutions to challenging engineering problems in a timely and effective manner. Able to provide excellent customer service and take on new tasks with enthusiasm. Excellent communicator with strong organizational skills and a commitment to delivering superior results.
Core Skills:
Project Management
CAD Design
Engineering Principles
Quality Assurance
Networking
Troubleshooting
Problem Solving
Documentation
Responsibilities:
Developed and implemented engineering plans for projects.
Designed and drafted CAD drawings for projects.
Applied engineering principles to analyze and solve engineering problems.
Ensured that all engineering projects met quality standards.
Developed and maintained networks to ensure efficient communication and collaboration.
Troubleshoot and resolve engineering issues in a timely manner.
Identified and implemented solutions to improve efficiency and quality of engineering projects.
Maintained accurate and up- to- date engineering documentation.
Junior Engineer Resume with 10 Years of Experience
I am a Junior Engineer with over 10 years of experience in the engineering field. I specialize in the design, development and implementation of innovative software solutions. I am highly proficient in programming languages such as Java, C, and C++. I am also well- versed in database management systems like Oracle, MySQL, and SQL Server. Additionally, I have a deep understanding of web development frameworks such as Django, Node.js and React. I am an adept problem solver and have excellent communication, interpersonal, and analytical skills.
Core Skills:
Software Engineering: Java, C, C++, Django, Node.js, React
Database Management: Oracle, MySQL, SQL Server
Analytical Skills: Problem Solving
Communication: Interpersonal, Written and Oral
Project Management
Responsibilities:
Developing software solutions using Java, C, C++, and other programming languages.
Designing and implementing database management systems.
Integrating web development frameworks such as Django, Node.js and React.
Troubleshooting software issues and bugs.
Creating technical documentation for software applications.
Participating in sprint planning, code reviews and other project meetings.
Providing technical assistance and support to end- users.
Analyzing and optimizing software performance.
Junior Engineer Resume with 15 Years of Experience
Highly- skilled and experienced Junior Engineer with 15 years of experience in providing efficient support to engineering teams and their operations. Possesses a professional approach to problem- solving, excellent communication skills and the ability to work well with others to reach common goals. Demonstrates strong capabilities in supervising teams, analyzing data, designing systems, and developing strategies that improve processes.
Core Skills:
Technical troubleshooting
Data Analysis
System Design
Team Coordination
Project Management
Problem Solving
Quality Assurance
Responsibilities:
Assisted the engineering teams with technical issues and troubleshooting.
Investigated and analyzed complex engineering problems and provided accurate solutions.
Designed and implemented systems and processes to improve overall efficiency.
Managed and supervised teams of engineers, providing guidance and support.
Developed strategies for the resolution of technical issues and monitored progress.
Ensured quality assurance standards were met and maintained.
Implemented effective processes for efficient and cost- effective operations.
In addition to this, be sure to check out our resume templates, resume formats, cover letter examples, job description, and career advice pages for more helpful tips and advice.
What should be included in a Junior Engineer resume?
When writing a resume for a Junior Engineer position, it's important to include key skills and experiences related to the role, as well as any additional qualifications that are relevant. This helps to ensure that employers can quickly assess your suitability for the job.
Here are some of the key points to include in your Junior Engineer resume:
Professional Summary: A brief overview of your experience and qualifications, including any relevant certifications or awards.
Education: Any undergraduate or postgraduate engineering degrees, such as a Bachelor of Science or Master of Engineering.
Experience: Any relevant engineering experience, such as internships or apprenticeships, as well as any positions in related fields.
Technical Skills: A list of any computer software, programming languages, or other technical knowledge that you have.
Soft Skills: Any communication and team-working abilities that will help you to work effectively with colleagues.
Interests: Any engineering-related activities, such as volunteer work or research projects, that demonstrate a commitment to the field.
By including these points in your resume, you can demonstrate to employers that you have the right skills and experience for the position.
What is a good summary for a Junior Engineer resume?
A Junior Engineer resume should provide a summary of the applicant's skills, knowledge, and experience in engineering and related disciplines. The summary should highlight the applicant's technical expertise, leadership abilities, and problem-solving capabilities. It should also include any specialized training or certifications the applicant has completed. Additionally, the summary should provide information about the applicant's record of success in previous engineering roles, including any awards or recognition for their work. In sum, a strong Junior Engineer resume should serve as a concise but comprehensive overview of the applicant's engineering background and qualifications.
What is a good objective for a Junior Engineer resume?
A junior engineer typically has a Bachelor's degree in engineering and is just starting out in the field. A solid resume objective is key to highlighting your skills and experience and making a good impression on potential employers. Here are some tips for writing an effective objective for a junior engineer resume:
Highlight your educational background: Include your degree in engineering and any relevant coursework or certifications.
Focus on your skills: Emphasize the engineering skills you have acquired through coursework and any relevant work experience.
Demonstrate your problem-solving ability: Showcase your ability to research, analyze and develop solutions to problems.
Demonstrate your motivation: Showcase your enthusiasm for the field and your commitment to professional growth.
Highlight any relevant experience: Showcase any relevant experience gained through internships, co-ops, or other positions.
By emphasizing your educational background, skills, problem-solving ability, motivation, and relevant experience, you can craft an effective objective that catches the attention of potential employers. With an impressive objective, you can stand out from other junior engineers and get the job you want.
How do you list Junior Engineer skills on a resume?
When writing a resume, it's important to highlight your relevant skills to ensure you stand out from other Junior Engineers. Here are some tips for how to list your Junior Engineer skills on a resume:
Highlight your technical expertise. As a Junior Engineer, it is important to showcase your technical knowledge and skills, such as coding, problem-solving, and algorithm writing. Make sure that these abilities are clearly listed and described to highlight your abilities as an engineer.
Detail your experience. Showcasing your experience with relevant projects or internships is a great way to demonstrate your engineering skills. Make sure to detail the type of work you have done, the technology used, and any accomplishments or successes that came from your work.
Include your soft skills. Soft skills are just as important in engineering as technical skills. Showcase your soft skills such as communication, collaboration, and creativity to demonstrate that you can work well with teams and have the necessary interpersonal skills for the job.
List any relevant certifications. If you have any certifications in engineering, make sure to list them on your resume. This will show the employer that you have the necessary skills and knowledge for the job.
By following these tips, you can ensure that your Junior Engineer skills are properly showcased on your resume. Highlighting your technical and soft skills, experience, and certifications will make it easier for employers to see why you are a great candidate.
What skills should I put on my resume for Junior Engineer?
A Junior Engineer position requires a wide range of skills, and your resume must accurately reflect these skills in order to be successful. When creating your resume for a Junior Engineer position, here are some essential skills you should include:
Knowledge of Software Engineering: As a Junior Engineer, you will be expected to have a strong understanding of software engineering principles and techniques. Include any relevant experience or courses you have taken in software engineering on your resume.
Problem-Solving and Analytical Skills: You should demonstrate your ability to think critically, analyze problems, and devise creative solutions. Include any experience you have gained from completing engineering projects or working with software systems.
Technical Writing: Technical writing is an important skill for a Junior Engineer to have. Describe any experience you have writing technical documents or reports.
Communication Skills: As a Junior Engineer, you will need to be able to effectively communicate with team members and other stakeholders. Include any experience you have working on engineering projects in a team environment.
Knowledge of Programming Languages: As a Junior Engineer, you should be familiar with a variety of programming languages. Include any programming languages you are proficient in.
By including these skills on your resume, you will be able to demonstrate that you are well-suited for the Junior Engineer position.
Key takeaways for an Junior Engineer resume
As a Junior Engineer, your resume is a crucial tool in helping you stand out from other candidates. Here are some key takeaways to help ensure your resume has what it takes to get you hired.
Include relevant technical skills: Showcase the technical skills and competencies you have developed during your studies and internships. Highlight the areas you are knowledgeable in and the software or programming languages you have mastered.
Showcase your experience: If you have worked in any engineering roles, make sure to include them on your resume and explain the tasks you have completed. This will give employers an insight into your level of experience.
Demonstrate your problem-solving ability: Demonstrate your problem-solving ability by including projects that required critical thinking and engineering knowledge. Showing your ability to solve complex problems will make you stand out from other candidates.
Highlight your leadership experience: If you have had any leadership roles, make sure to mention them. This will show employers that you have the skills and experience to take on a leading role in an engineering team.
Include any awards or certifications: List any awards or certifications you have received that are related to engineering. This will show employers that you are committed to your field and have the skills necessary to be successful.
By following these key takeaways, you can make sure your resume stands out from the crowd and gives employers an insight into your knowledge and experience.
Let us help you build
your Resume!
Make your resume more organized and attractive with our Resume Builder