Writing a resume as a field technician can be intimidating. Field technicians work in a variety of industries, from construction and engineering to medical and IT. To adequately showcase your experience and skills, you must be able to convey technical knowledge while highlighting relevant experience. This guide will provide tips and examples for writing a strong field technician resume. With the help of a few key strategies, you can create a resume that stands out from the competition and shows why you are the best candidate for the job.
If you didn't find what you were looking for, be sure to check out our complete library of resume examples.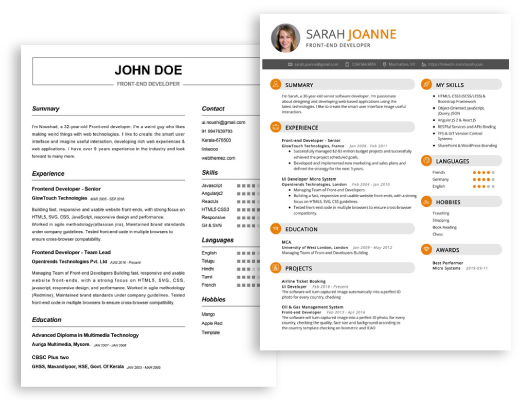 Start building your dream career today!
Create your professional resume in just 5 minutes with our easy-to-use resume builder!
Field Technician Resume Examples
John Doe
Field Technician
123 Main Street | Anytown, USA 99999 | Phone: (123) 456-7890 | Email: john.doe@email.com
I am an experienced field technician with over five years of experience in providing technical support to customers. I have a strong background in troubleshooting computer hardware and software, setting up and maintaining wireless networks, and repairing various computer- related issues. I also have experience in customer service and providing technical advice. I am a diligent worker with excellent communication and problem- solving skills and am dedicated to finding the best possible solutions to customer problems.
Core Skills:
Troubleshooting computer hardware and software
Setting up and maintaining wireless networks
Repairing computer- related issues
Providing technical advice and customer service
Excellent communication and problem- solving skills
Professional Experience:
Field Technician, ABC Company, 2020- Present
Install, configure, and maintain computer hardware and software
Troubleshoot computer- related issues and provide technical support to customers
Provide customer service and technical advice
Setup and maintain wireless networks
Monitor repair and maintenance process
Field Technician, XYZ Company, 2017- 2020
Set up and configured computer hardware and software for customers
Diagnosed and solved customers' computer- related issues
Installed and maintained wireless networks
Provided technical support and customer service
Education:
Associate's Degree in Computer Science, ABC University, 2017
Field Technician Resume with No Experience
Recent college graduate seeking an entry- level position as a Field Technician.
Proficient in utilizing technological tools to complete tasks and eager to learn new skills.
Demonstrated success in problem- solving, interpersonal communication, and organizational strategies.
Skills
Tech savvy
Critical thinking
Interpersonal communication
Problem- solving
Organizational strategies
Responsibilities
Troubleshoot and repair technical equipment
Perform preventive maintenance and safety checks
Provide customer service and technical advice
Train customers on the proper use of technical products
Maintain accurate records of all service calls, repairs, and maintenance
Ensure compliance with industry regulations and safety protocols
Remain up- to- date with new technology and products
Field Technician Resume with 2 Years of Experience
I am an experienced and reliable Field Technician with 2+ years of experience providing diagnostic and maintenance services for a variety of electronic systems. My key strengths include technical knowledge, problem- solving, and adaptability. I am highly competent in the use of software and hardware systems and have a strong commitment to customer service. I have an excellent eye for detail, a knack for troubleshooting, and an ability to think quickly on my feet. I am confident that my skills and experience will be an asset to any organization.
Core Skills:
Hardware and Software System Troubleshooting
Network and Data Security
Diagnostic and Maintenance Services
Problem Solving and Analytical Skills
Technical Knowledge
Customer Service and Communication
Responsibilities:
Diagnose and repair hardware, software, and network problems
Install and configure hardware, software, and network systems
Troubleshoot system outages
Perform preventive maintenance on computer systems
Provide technical support to customers via telephone or in- person
Provide on- site maintenance services for clients
Create detailed records of service requests and maintenance activities
Keep up- to- date with the latest technologies and trends in the industry
Field Technician Resume with 5 Years of Experience
A diligent and motivated field technician with 5 years of experience in the telecommunications industry. Skilled in troubleshooting, installations, and repairs. Possesses excellent communication and customer service skills. Adept in managing multiple tasks while meeting deadlines and staying organized. Experienced in working in a team- oriented and fast- paced environment.
Core Skills:
Troubleshooting
Installation & repairs
Excellent communication
Customer service
Time management
Teamwork
Attention to detail
Technical problem solving
Microsoft Office
Responsibilities:
Installing, testing, and repairing telecommunications systems
Providing technical support to customers via phone and email
Diagnosing and troubleshooting system failures
Performing routine maintenance on telecommunications systems
Upgrading software and hardware
Maintaining inventory of parts and supplies
Completing job orders and data entry in a timely manner
Writing technical reports and providing feedback to management
Coordinating with technicians and engineers to ensure timely completion of tasks
Field Technician Resume with 7 Years of Experience
Highly experienced and motivated Field Technician with seven years of experience in installation, maintenance, troubleshooting, and repair of electronic equipment, systems, and machinery in the industrial and commercial fields. Experienced in managing multiple projects and tasks simultaneously. Adept at working with customers and colleagues to solve complex problems. Knowledgeable with a wide range of tools, equipment, and technology.
Core Skills
Installation and configuration of hardware and software
Troubleshooting of complex systems
Network maintenance and repair
Working in a team environment
Customer service and support
Documentation of work processes
Adaptive to new technologies
Responsibilities
Installed, tested, and maintained hardware, systems, and software.
Evaluated and troubleshoot technical issues with customers and colleagues.
Developed and implemented technical documents for hardware and software issues.
Assisted in the installation of new equipment and services.
Tested, configured, and repaired systems.
Coordinated with different teams to resolve technical issues in a timely and efficient manner.
Provided customer service and support to clients.
Performed regular maintenance and repairs on equipment and systems.
Field Technician Resume with 10 Years of Experience
Dedicated field technician with 10 years of experience providing exceptional technical support in the field. Proven track record of utilizing a wide range of problem solving techniques to resolve issues quickly and accurately. Adept at troubleshooting, repairing, and preparing systems for end- users. Highly organized, with the ability to document processes, service calls, and best practices.
Core Skills:
Technical Support
Customer Service
Networking
Troubleshooting
System Administration
Equipment Repair
Documentation
Responsibilities:
Installed, maintained, and upgraded software and hardware on various systems.
Troubleshot technical issues and identified root cause of any problems.
Provided technical support and assistance to end- users.
Resolved network issues, configured security settings, and setup routers.
Monitored and optimized system performance.
Assisted with product roll- outs and installation of new systems.
Maintained up- to- date records of service calls and best practices.
Strictly adhered to safety and security protocol.
Field Technician Resume with 15 Years of Experience
Highly motivated and experienced Field Technician with over 15 years of experience in troubleshooting, installation, repairs and maintenance of electronic systems, communications and networks. Expert in the installation and maintenance of equipment, including IP phones, routers and switches. Skilled in networking, data installation and configuration, and hands- on problem- solving. Reliable professional with knowledge in product maintenance and customer service.
Core Skills:
Diagnose, troubleshoot, and repair technical issues
Professional expertise in communications and network systems
Skilled in installation, configuration and maintenance of routers, switches, and IP phones
Expertise in the use of testing tools and equipment
Comprehensive knowledge of computer hardware, software and operating systems
Effective organizational, communication and customer service skills
Responsibilities:
Installed and tested communication and network systems
Maintained and upgraded equipment, including routers and switches
Performed troubleshooting and repairs on system hardware, software and related components
Ensured all systems were running correctly and securely
Responded promptly to customer inquiries and complaints
Configured and updated network systems to ensure functionality
Provided technical support and training to customers
In addition to this, be sure to check out our resume templates, resume formats, cover letter examples, job description, and career advice pages for more helpful tips and advice.
What should be included in a Field Technician resume?
A field technician is an important role for many organizations, as they are often responsible for providing on-site maintenance and troubleshooting to customers. As such, a field technician needs to have a strong resume that accurately reflects their skills and experience.
When creating a resume as a field technician, there are a few key items that should be included:
Professional summary: The professional summary is a short one-line statement that explains why you are the ideal candidate for the position. This summary should be tailored to the job you are applying for, and should include the type of experience and skills you possess that make you a great fit for the role.
Education and certifications: You should include all relevant educational qualifications, such as a degree, diploma, or certification, as well as any applicable certifications you possess. This will help demonstrate your technical knowledge and skills.
Technical skills: Include a list of your technical skills, such as troubleshooting, installation, maintenance, and repair. This will help to demonstrate your expertise in the field.
Experience: Include a list of your professional experience, including any positions you have held as a field technician, as well as any other relevant work experience. Be sure to include dates of employment, as well as a brief summary of your duties.
Customer service experience: If you have customer service experience, be sure to include this on your resume. This will demonstrate your ability to interact with customers and provide quality service.
These are some of the most important components to include in a field technician resume, and should be included to help you stand out from other applicants and make a strong first impression.
What is a good summary for a Field Technician resume?
A field technician is a skilled and knowledgeable professional who is responsible for the installation, maintenance, calibration, and repair of complex systems and instruments. A good summary for a field technician resume should showcase the candidate's experience, technical knowledge, and communication skills. The summary should also highlight any special certifications or degrees that the candidate may possess. The summary should also discuss any previous experience in the field, such as customer service, troubleshooting, and problem-solving. Additionally, it should illustrate the candidate's ability to work autonomously and effectively in a variety of environments. A well-crafted field technician resume summary can help to distinguish the candidate from other applicants.
What is a good objective for a Field Technician resume?
Finding a job as a field technician can be difficult, especially if you don't have a strong resume. Crafting a good objective statement is key to standing out from the competition and convincing potential employers that you are the best candidate for the position.
When writing your field technician resume objective, you should focus on highlighting your skills and background that are relevant to the job. Here are some tips for writing a great objective statement:
Identify your unique qualifications: Use your objective statement to showcase the specific skills and experience that make you the ideal candidate for the position.
Highlight relevant experience: Focus on accomplishments and experiences that are relevant to the job, such as troubleshooting, customer service, installations, and other technical skills.
Showcase your interpersonal skills: Employers may be looking for field technicians who can also interact with customers in a professional, friendly manner. Showcase your interpersonal skills and customer service abilities.
Emphasize your dedication and reliability: Field technicians often work independently and are expected to be reliable and hardworking. Showcase your commitment to excellence and your reliability.
By crafting an effective objective statement, you can stand out from the competition and improve your chances of being hired as a field technician. Good luck!
How do you list Field Technician skills on a resume?
When creating your resume, it is important to include any relevant field technician skills you have acquired in your career. Being a field technician requires a wide range of skills, from troubleshooting to customer service, so make sure to include any technical and soft skills that you have obtained. Here are some tips for how to list field technician skills on a resume:
Provide Specific Examples: Explain the responsibilities and tasks that required the skills you listed. This will give employers a better idea of how you have used your skills and what you have contributed to your past positions.
Highlight Technical Skills: As a field technician, you must have a range of technical skills. Include any software and hardware skills that could be useful to employers.
Include Soft Skills: As important as technical skills are, soft skills are just as important. Show employers that you have good communication, customer service, and problem-solving skills.
Quantify Your Skills: Whenever possible, quantify your skills to show employers how successful you have been. For example, you could mention how many calls you were able to resolve or how many complex problems you were able to diagnose.
By including these tips, you can make sure that your field technician skills make it onto your resume. Employers will be able to get a better idea of your abilities and how you can contribute to the position.
What skills should I put on my resume for Field Technician?
Making sure your resume stands out when applying for a Field Technician position is essential if you want to land the job. To do this, you should highlight the skills that are most relevant and beneficial to the role. Here are some skills you should include on your resume for a Field Technician position:
Proficiency in Troubleshooting and Diagnostics: A great Field Technician is able to quickly and effectively diagnose and troubleshoot a range of technical issues. Highlighting your troubleshooting and diagnostic abilities on your resume can help demonstrate your suitability for the role.
Knowledge of Networking Protocols: Many Field Technician roles require knowledge of and experience with different networking protocols. Showcasing your knowledge in this area can give you a competitive advantage.
Familiarity with Networking Equipment: A good Field Technician is familiar with the different types of networking equipment and how they operate. Demonstrating your knowledge and experience working with networking equipment on your resume could help you stand out from other applicants.
Good Customer Service Skills: As a Field Technician, you need to be able to effectively communicate with customers while providing them with the highest level of service. Showcasing your customer service skills on your resume could make you a more attractive candidate.
Attention to Detail: Field Technician jobs require a high attention to detail in order to accurately diagnose and troubleshoot technical problems. Showcasing your attention to detail on your resume can show employers that you possess the skills necessary to do the job correctly.
By highlighting these skills on your resume, you can demonstrate to employers that you are the right candidate for the role. With the right skills, you can make sure your resume stands out and increase your chances of success.
Key takeaways for an Field Technician resume
When crafting your field technician resume, there are a few key points to remember that will help you stand out from other candidates. Here are the key takeaways to ensure your resume looks professional and grabs the attention of potential employers:
Highlight your technical skills and prowess. As a field technician, it is important to emphasize the technical skills you have obtained throughout your career. Include specific examples of how you have used those skills in the field.
Make sure to emphasize any certifications relevant to the position you are applying for. Employers want to know that you have the necessary knowledge and experience to do the job.
Include any safety training courses you have completed. This will show employers that you are aware of safety protocols and can make sure that the job is done correctly and safely.
Discuss any problem-solving or troubleshooting experience you have. This is a great way to demonstrate to employers that you can think on your feet and come up with solutions to technical issues.
Be sure to include any relevant field experience. List all of the companies or organizations you have worked for as a field technician and the length of time you have worked for them.
By following these key takeaways for your field technician resume, you can be sure that your resume will stand out from the competition and get you noticed by potential employers.
Let us help you build
your Resume!
Make your resume more organized and attractive with our Resume Builder