Writing a resume as an engineer can be tricky since you have to balance technical knowledge with soft skills such as communication and problem solving. However, if you know what sections to include and what information to highlight, it's possible to create a resume that helps you stand out from the other candidates out there. This guide will provide a step-by-step process for writing an effective engineer resume, along with tips and examples from successful engineers. By the end, you'll be ready to apply for your dream engineering job with a resume that stands out.
If you didn't find what you were looking for, be sure to check out our complete library of resume examples.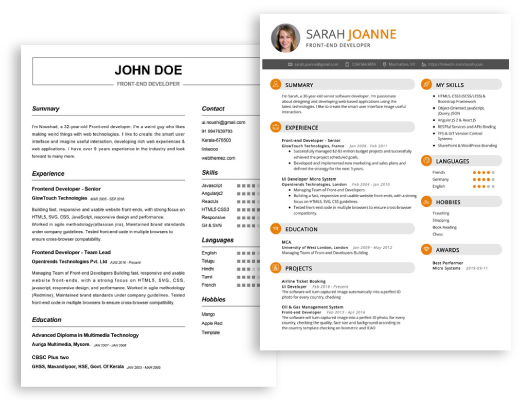 Start building your dream career today!
Create your professional resume in just 5 minutes with our easy-to-use resume builder!
Engineer Resume Examples
John Doe
Engineer
123 Main Street | Anytown, USA 99999 | Phone: (123) 456-7890 | Email: john.doe@email.com
A highly experienced and motivated engineer with over eight years of experience in the engineering field. Expertise in project management, engineering design, problem solving and team management. Proven ability to consistently deliver excellent results and meet deadlines. Passionate about utilizing the latest technology to improve processes and create innovative solutions.
Core Skills:
Project Management
Engineering Design
Problem Solving
Team Management
Technical Writing
Troubleshooting
Innovation
Software Development
Professional Experience:
Engineer, ABC Corporation, 2015- Present
Responsible for providing engineering services, including design, development and troubleshooting. Managed multiple projects simultaneously, ensuring that all deadlines were met. Researched and developed innovative solutions to technical problems. Collaborated with other engineers and departments to create successful projects.
Design Engineer, XYZ Inc., 2011- 2015
Developed detailed engineering designs according to customer requirements. Performed troubleshooting and debugging on complex systems. Researched and tested new technologies and methods to improve engineering processes. Collaborated with other departments to ensure successful implementation of designs.
Education:
Bachelor of Science in Engineering, University of Technology, 2010
Engineer Resume with No Experience
Recent engineering graduate with strong technical and problem solving skills, eager to join a dynamic engineering team and contribute to innovative solutions.
Skills
Proficient in CAD software
Experience with robotics and automation
Strong understanding of engineering fundamentals
Excellent communication and interpersonal skills
Excellent problem solving and troubleshooting abilities
Ability to work independently and in teams
Highly organized and detail- oriented
Responsibilities
Develop innovative solutions for engineering projects
Identify solutions to improve existing products
Analyze data and document results
Work collaboratively with other engineers
Perform calculations and simulations to test product performance
Conduct research on new technologies and materials
Create and maintain accurate records of engineering projects
Engineer Resume with 2 Years of Experience
Highly motivated and experienced engineer with two years of experience in the engineering industry. My professional skills and abilities include creating detailed technical drawings and plans, troubleshooting complex engineering problems, and analyzing data to develop innovative solutions. I also have extensive knowledge of industry regulations and standards, and I am able to apply my strong communication and leadership skills to successfully collaborate with clients, peers, and other stakeholders.
Core Skills:
Technical Drawings and Plans
Troubleshooting Complex Engineering Problems
Analyzing Data
Knowledge of Industry Regulations and Standards
Strong Communication and Leadership
Responsibilities:
Designing plans, blueprints, and diagrams for engineering projects
Estimating cost and time requirements for projects
Ensuring projects adhere to applicable regulations and standards
Developing testing procedures to evaluate performance of engineering systems
Troubleshooting engineering issues and recommending solutions
Documenting results of engineering processes
Engineer Resume with 5 Years of Experience
A self- motivated, creative and innovative engineer with 5 years of experience in designing and developing products, processes and solutions. Possesses exceptional problem- solving skills, excellent technical and interpersonal skills and the ability to work independently or collaboratively with various teams. Highly motivated to create and implement efficient solutions and processes that improve the quality and reliability of products.
Core Skills:
Project Management
Team Collaboration
Technical Writing
Design Development
Software Development
Data Analysis
Problem- Solving
Critical Thinking
Responsibilities:
Developed project plans and managed engineering projects to ensure timely completion.
Collaborated with teams to ensure cost- effective designs and processes that met customer requirements.
Drafted technical reports, user documentation, installation guides, and test plans.
Created prototypes of new designs and solutions and tested for performance, reliability, and safety.
Developed software applications and integration tools to automate engineering processes.
Analyzed data to evaluate product performance, identify design flaws and determine solutions.
Applied critical thinking and problem- solving skills to identify and resolve issues.
Engineer Resume with 7 Years of Experience
A seasoned engineer with over 7 years of experience in the field of engineering. Posses a strong knowledge of engineering principles, along with strong problem solving, technical and analytical skills. Experienced in managing projects, designing and developing engineering systems and technology, and troubleshooting complex systems. Highly organized and a team player, with a passion for solving complex problems.
Core Skills:
Technical expertise in engineering process and systems
Strong problem solving and analytical skills
Ability to design and develop engineering systems and technology
Knowledge of engineering principles
Project management and troubleshooting
Excellent written and verbal communication skills
Highly organized and a team player
Responsibilities:
Develop and maintain engineering systems and technology.
Design and develop engineering projects
Troubleshoot and resolve complex engineering issues.
Research and analyze engineering principles and processes.
Manage and coordinate engineering projects.
Develop technical documentation and reports.
Ensure compliance with engineering standards and regulations.
Maintain communication with project stakeholders and team members.
Engineer Resume with 10 Years of Experience
A highly experienced and motivated engineer with a decade of experience in project management and engineering design, who is passionate about developing solutions to challenging engineering problems. Experienced in developing and implementing innovative engineering solutions to improve efficiency and performance, as well as providing technical support in the areas of testing and validation. Possesses a thorough understanding of project management and engineering design principles, and has a proven track record of successful collaborations with stakeholders across multiple industries.
Core Skills:
Project and Engineering Design
Technical Support and Testing
Problem Solving and Innovative Solutions
Stakeholder Management
Quality Assurance
Troubleshooting
Cost Management
Risk Management
Responsibilities:
Develop engineering designs for projects, ensuring that all solutions meet customer needs, industry standards, and regulatory requirements.
Create cost management plans and perform risk assessments to ensure that projects remain within budget and are compliant with industry regulations.
Develop and implement innovative solutions to difficult engineering problems.
Create and deliver technical support for testing and validation processes.
Assist in the development of quality assurance plans and protocols.
Troubleshoot equipment and systems to identify and resolve technical issues.
Act as a liaison between technical and non- technical personnel, ensuring that all stakeholders are informed of project progress and issues.
Lead team members to ensure successful project completion.
Engineer Resume with 15 Years of Experience
A talented, experienced engineer with over 15 years of experience in the software and technology industry. Demonstrated expertise in software development, system engineering and problem- solving. Accomplished in research and development, design, analysis, and testing in a wide range of complex, multi- disciplinary engineering projects. Possesses strong organizational and communication skills, as well as a desire to stay up- to- date on the latest industry advancements.
Core Skills:
Software development
System engineering
Problem solving
Research and development
Design and analysis
Testing and debugging
Organizational skills
Communication and collaboration
Responsibilities:
Develop, test, document and implement software applications
Design, implement and test systems
Analyze complex problems and create solutions
Conduct research and development in new or existing technologies
Perform documentation and reviews of code
Collaborate with other engineers and stakeholders in the development process
Analyze project requirements and develop engineering plans
Ensure accurate and timely completion of engineering tasks
Provide technical guidance and mentorship to junior engineers
Stay abreast of the latest industry advancements
In addition to this, be sure to check out our resume templates, resume formats, cover letter examples, job description, and career advice pages for more helpful tips and advice.
What should be included in a Engineer resume?
A well-crafted engineer resume can be a powerful tool to showcase your skills, experience, and accomplishments. It's important to ensure that your resume is tailored to the job you are applying for, and that it contains all the relevant information for employers to consider. Here is a list of what to include in an engineer resume:
Professional Summary: A brief summary of your experience and qualifications that highlights your strongest attributes.
Work Experience: List your most recent positions first and include details such as job title, the company name, the dates employed, and a brief description of your duties.
Education: Include details about your educational background, such as your degree, university, and any relevant coursework.
Technical Skills: List any technical skills and software programs you are proficient in.
Certifications: Include any relevant certifications or professional licenses you have earned.
Awards and Achievements: Highlight any awards or recognition you have received in the engineering field.
Projects: Include any independent or team projects you have worked on.
Interests: Include any engineering-related or other interests you have.
By including all of the above details, you can create a comprehensive and effective engineer resume that will show employers why you are the right fit for the position.
What is a good summary for a Engineer resume?
A good summary for an Engineer resume should include the candidate's experience and qualifications, as well as any certifications they might have. It should also include their goals and objectives, as well as how they believe they can help the company they are applying to. The summary should be succinct and to the point, providing a brief overview of the candidate's qualifications and experience. It should also include any relevant achievements and awards. Additionally, the summary should show the candidate's enthusiasm and passion for engineering, as well as their commitment to their profession. Finally, the summary should reflect the candidate's knowledge of the engineering field, as well as their ability to work in a dynamic environment.
What is a good objective for a Engineer resume?
Engineering is a highly competitive field, and having a strong, clear objective statement is essential to standing out and getting noticed by employers. Your objective statement should summarize your engineering qualifications, experience, and the value you can bring to the organization. Here are a few tips to help you create an effective objective statement for your engineer resume:
Focus on the needs of the employer. Highlight your skills, abilities and achievements that are directly relevant to the job you are applying for.
Keep it short and to the point. Aim for one to two sentences that quickly and clearly summarize your objective.
Use action words. Don't just list your qualifications, but rather show employers how you can use them to benefit the organization.
Highlight your core competencies and specialties. Make sure to include your strongest qualifications and the most relevant engineering experience you have.
Make sure the statement is relevant. Avoid objectives that are too general or outdated.
Show your enthusiasm. Employers want to know that you're excited about the job and the opportunities it can bring.
By keeping these tips in mind, you can create an effective objective statement that will help you stand out from other applicants and get noticed by employers.
How do you list Engineer skills on a resume?
When writing a resume as an engineer, it is important to highlight your skills in the engineering field. To do this effectively, you should list your engineer skills in a separate section, below your experience. You should make sure to list out the technical skills that you have acquired, as well as any soft skills that you have developed.
Below are some tips on how to list your engineer skills on a resume:
Be specific: Make sure to include details about the specific engineering skills you possess. For example, you might list "proficient in AutoCAD, SolidWorks, and Revit" rather than just "proficient in CAD software".
Include soft skills: It is important to include your soft skills, such as problem-solving and leadership, in addition to your technical skills. This will help to demonstrate your ability to work well with others and handle difficult situations.
Quantify your experience: When listing your engineer skills, try to quantify them whenever possible. This will make your skills stand out and help to demonstrate that you have a high level of proficiency in the areas you are listing.
Use keywords: When writing your engineer skills section, try to include keywords that relate to the engineering field. This will help to catch the attention of hiring managers and show that you have the right skills for the job.
By following these tips, you should be able to effectively showcase your engineering skills on your resume. This will help to make your resume stand out and demonstrate why you are the best candidate for the job.
What skills should I put on my resume for Engineer?
When you are crafting a resume for an engineering role, it is important to highlight your technical skills and competencies in a way that demonstrates your qualifications for the role. A strong engineering resume should include the following skills:
Technical Skills: Showcase your technical engineering skills by highlighting your expertise with specific software, hardware, programming languages, circuit design, and other related skills.
Problem-Solving: Employers value engineers who can identify and solve problems and provide creative solutions. Showcase your ability to handle complex tasks and think critically about difficult problems.
Analytical Thinking: Stress your ability to think analytically and deliver detailed, accurate results.
Collaboration: Highlight your ability to work with a variety of teams, stakeholders, and clients, and to communicate effectively with those around you.
Computer Skills: Most engineering roles require the use of computers, so be sure to showcase your knowledge of computer hardware and software.
Time Management: Employers want to see that you can efficiently manage your time and prioritize tasks.
By including these skills on your resume, you can demonstrate to employers that you are qualified for the engineering role you are applying for.
Key takeaways for an Engineer resume
An engineer's resume can be a great way to show prospective employers the skills and qualifications they have to offer. However, crafting an effective engineer resume is no easy task. Here are some key takeaways to keep in mind when creating an engineer resume.
First, it is essential to highlight any technical certifications and qualifications you may have. Be sure to include any engineering-related degrees, such as a bachelor's or master's in engineering, as well as any relevant internships or apprenticeships. Additionally, list any technical workshops or seminars you have attended to show employers that you are up to date on industry trends.
Second, be sure to utilize keywords and phrases related to engineering. By using the language of engineering, you can show potential employers that you truly understand the field and how to apply that knowledge.
Third, showcase your accomplishments and experience with engineering projects. Employers want to know what you have done, so be sure to include information on any projects you've worked on and the results you achieved.
Finally, be sure to include any relevant soft skills you may have. Things such as communication and problem-solving skills can go a long way in helping you land a job in engineering.
By following these tips, you can craft an effective engineer resume that will get the attention of potential employers. Showcase your experience, technical certifications, and soft skills to give employers the confidence that you can help them achieve their goals.
Let us help you build
your Resume!
Make your resume more organized and attractive with our Resume Builder