Writing a resume as a design engineer can be intimidating, especially if you are a new graduate. When employers read your resume, they want to know that you have the technical abilities necessary to do the job, as well as the creative skills to design innovative products. Crafting a well-written design engineer resume that is tailored to the job posting is essential in order to stand out from the competition and get your foot in the door. This guide provides examples and tips for writing a design engineer resume that will stand out from the rest.
If you didn't find what you were looking for, be sure to check out our complete library of resume examples.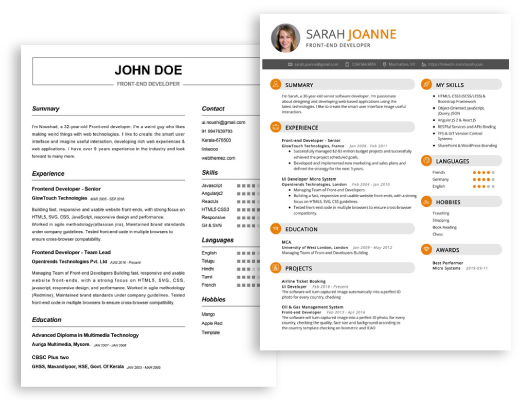 Start building your dream career today!
Create your professional resume in just 5 minutes with our easy-to-use resume builder!
Design Engineer Resume Examples
John Doe
Design Engineer
123 Main Street | Anytown, USA 99999 | Phone: (123) 456-7890 | Email: john.doe@email.com
I am a highly motivated and organized Design Engineer with over a decade of experience in designing and developing quality engineering solutions. I specialize in improving existing products and developing new ones, while applying best practices and the latest technologies to design optimized solutions. My core skills include project management, 3D modeling, problem- solving, CAD & CAM software, and engineering design principles. I also have extensive experience in supervising teams, working with vendors and clients, and delivering results on time and on budget.
Core Skills:
Project Management
3D Modeling
Problem- solving
CAD & CAM software
Engineering Design Principles
Vendor and client management
Team supervision
Time and budget management
Professional Experience:
Design Engineer, ABC Company – 2018 to Present
Designed innovative solutions for a variety of engineering problems for multiple projects
Developed 3D models and rendered images for clients
Utilized CAD & CAM software for design optimization
Drafted detailed technical reports for client projects
Collaborated with team members and vendors to develop and implement solutions
Provided technical support to other departments
Design Engineer, XYZ Company – 2016 to 2018
Managed and supervised a team of five engineers
Developed prototypes and conducted experiments to test product viability
Wrote technical documentation to document product design
Negotiated with vendors to procure necessary components
Created 3D models using CAD software
Ensured designs met industry standards and best practices
Design Engineer, QRS Company – 2014 to 2016
Developed new products from concept to completion
Created 3D models for client projects
Utilized engineering design principles to develop efficient solutions
Monitored project progress and ensured timely delivery
Developed and implemented process improvements
Documented design and testing results
Education:
Bachelor of Science in Engineering, University of Virginia
Design Engineer Resume with No Experience
Recent graduate in Mechanical Engineering with a diverse background in design, analysis and prototyping. Seeking a Design Engineer role to utilize skills in CAD/CAM, 3D printing and problem- solving to create efficient designs. Passionate about finding creative solutions to complex problems and eager to contribute to a team that is dedicated to continuous improvement.
Skills
SolidWorks, AutoCAD, CATIA, MasterCAM
CAD/CAM engineering
3D printing
Prototyping
Problem- solving
Troubleshooting
Technical documentation
Quality control
Team collaboration
Responsibilities
Create detailed engineering design models using CAD/CAM software
Utilize 3D printing for rapid prototyping
Troubleshoot and fix design defects
Generate technical documentation for design process
Perform quality assurance tests on design projects
Collaborate with a team of engineers to develop innovative designs
Research and analyze design trends in the industry
Design Engineer Resume with 2 Years of Experience
I am a Design Engineer with over two years of experience in designing, testing, and delivering products for a diverse range of products. I have a proven track record of success in project management, process improvement and collaboration with external stakeholders. I have a versatile skill set that includes concept development, CAD/CAM software, as well as a strong ability to troubleshoot and solve complex problems. I am an effective communicator and thrive in a fast- paced environment. I am an organized and detail- oriented individual who works well under pressure and can quickly adapt to changing demands.
Core Skills:
Project Management
Process Improvement
CAD/CAM Software
Troubleshooting
Problem Solving
Communication
Detail- Oriented
Adaptable
Time Management
Responsibilities:
Developed and tested new products to meet customer specifications and requirements
Used CAD/CAM software to design and simulate new parts, components and assemblies
Collaborated with various departments to ensure on- time delivery of products
Analyzed engineering data and design specifications to identify issues with existing products
Developed process improvement strategies to optimize product manufacturing
Investigated and troubleshot engineering issues to ensure product quality
Reviewed product design and manufacturing documents for accuracy and completeness
Implemented quality control procedures to ensure product safety and compliance with regulations
Design Engineer Resume with 5 Years of Experience
A highly motivated and detail- oriented professional with 5 years of experience in design engineering. Proven ability to develop creative design solutions, develop and maintain key relationships with personnel and clients, and manage engineering projects. Possesses excellent technical and time management skills, as well as the ability to think critically and solve complex engineering problems. A team player who is passionate about the field of design engineering and is committed to delivering high quality designs and engineering solutions.
Core Skills:
Design Engineering
CAD/CAM Software
Project Management
Problem- solving
Technical Writing
Quality Assurance
Client Relations
Responsibilities:
Managed and executed engineering projects from concept to completion
Developed design solutions for complex engineering projects
Utilized CAD/CAM software to create detailed designs
Prepared technical reports, drawings and schematics for engineering projects
Developed and maintained relationships with personnel and clients
Tested designs for accuracy and quality assurance
Researched and evaluated new engineering technologies and techniques
Provided technical support to other engineers and technicians
Design Engineer Resume with 7 Years of Experience
Highly skilled Design Engineer with 7+ years of experience in the engineering and design sector. Demonstrated solid ability to create a wide range of mechanical components and products. Adept at developing 3D models and drawings, developing prototypes, and creating various design concepts. Experienced in creating and implementing improvements to existing designs, as well as creating solutions that are cost- efficient, functional, and practical.
Core Skills:
AutoCAD
Engineering Design
3D Modeling
Product Development
Design Prototypes
Design Concepts
Problem Solving
Responsibilities:
Developed 3D models and drawings for a variety of engineering projects.
Created design concepts for products and components that adhered to customer specifications and requirements.
Developed prototypes for in- house testing and customer demonstration.
Implemented design improvements to existing products to increase efficiency and performance.
Performed cost- benefit analysis to ensure cost- efficient and practical solutions.
Assisted in the development and maintenance of engineering design standards.
Performed calculations and simulations for engineering projects.
Design Engineer Resume with 10 Years of Experience
Highly motivated and experienced Design Engineer with 10 years of experience in the design and engineering field. Skilled in troubleshooting and problem solving, with a high attention to detail and strong aptitude for project management. Experienced in customer relations, product design, engineering management, and quality control. Adept in leading a team to complete projects in a timely manner while maintaining a high standard of quality.
Core Skills:
CAD/CAM Design
Engineering Management
Product Design
Quality Control
Troubleshooting
Problem Solving
Project Management
Customer Relations
Responsibilities:
Managed customer relations, engineering and production processes, and quality control for engineering projects.
Developed product design using CAD/CAM software and documented the design process.
Identified and troubleshot issues with existing products and implemented solutions.
Oversaw engineering projects to ensure timely completion while maintaining a high standard of quality.
Managed teams of engineers to ensure projects are completed on time and within budget.
Collaborated with other departments to ensure project deadlines were met.
Developed testing protocols and conducted quality control inspections.
Assessed process improvements and implementation of best practices.
Design Engineer Resume with 15 Years of Experience
Design engineer with 15 years of experience in the construction and engineering industry. Skilled in developing engineering designs, analyzing technical data and material specifications, and optimizing project performance. Adept at collaborating with designers, engineers, and contractors to ensure that products and projects meet quality standards. Proven track record of success in overseeing projects from concept to completion.
Core Skills:
CAD/CAM Design
Project Management
Construction/Engineering Knowledge
Stress/Strain Analysis
Troubleshooting/Problem Solving
Cost Estimation
Documentation/Reporting
Responsibilities:
Developing and managing the production of engineering drawings and specs
Carrying out stress and strain analysis of components and assemblies
Collaborating with designers, engineers, and other stakeholders on projects
Optimizing project performance, ensuring cost, quality and schedule targets are met
Troubleshooting, diagnosing and resolving engineering problems
Assessing project requirements and developing appropriate designs
Preparing cost estimates and materials specifications
Generating detailed reports and maintaining accurate documentation
In addition to this, be sure to check out our resume templates, resume formats, cover letter examples, job description, and career advice pages for more helpful tips and advice.
What should be included in a Design Engineer resume?
A design engineer resume should be tailored to the individual's skills and experience. It should include the following sections:
Education: Include any bachelor's or master's degrees, or other related degrees or certifications.
Experience: Not just the job titles and places of employment, but also any awards, technical accomplishments, or other achievements relevant to the job.
Technical Skills: Include any software, coding, or other design-related skills.
Professional Skills: Describe any teamwork or communication skills, problem-solving skills, or other soft skills related to design engineering.
Accomplishments: Describe any projects or initiatives that you were involved in, and the positive outcomes of those.
Professional Associations: List any design or engineering organizations that you are a part of.
References: Include at least two professional references, such as past employers or professors, who can attest to your design engineering skills.
What is a good summary for a Design Engineer resume?
A Design Engineer resumes should be concise and contain a summary of the individual's skills, accomplishments, and experience. This summary should be tailored to the specific job and should highlight the candidate's ability to design and develop products, systems, or components. It should also demonstrate their knowledge of CAD/CAM software, fabrication techniques, engineering principles, and safety regulations. The resume should also include a list of relevant projects and any awards or recognition for excellence in engineering. Finally, the summary should discuss the candidate's ability to work well under pressure and deliver results in a timely manner. A Design Engineer resume should be an accurate representation of the engineer's experience and skills, which is why it should be thoroughly reviewed before submitting to a potential employer.
What is a good objective for a Design Engineer resume?
Design engineers are responsible for designing products according to customer specifications, as well as developing new products to meet market demands. When writing a resume for a design engineer position, it's important to create a clear and concise objective that speaks to your qualifications and experience. Here are some tips to help you create an effective objective for your design engineer resume:
Focus On Your Qualifications: Your objective should highlight your qualifications, such as your experience in product design, engineering principles, and CAD software. Make sure to list any certifications or education you may have to showcase your knowledge.
Describe Your Career Goals: Explain what you hope to achieve in your career as a design engineer. This could include more responsibility, a more advanced role, or a title such as lead design engineer.
Focus On Your Achievements: Showcase your achievements from previous positions, such as successfully developing a product from concept to completion.
By following these tips, you'll be able to create an effective objective for your design engineer resume. With a clear and concise goal, you'll be able to showcase your qualifications and experience while demonstrating your career ambitions.
How do you list Design Engineer skills on a resume?
Design engineers must possess a combination of engineering, technical, and creative skills in order to fulfil their responsibilities. The following list can help you include the design engineer skills most relevant to the job you're applying for on your resume:
Expertise in CAD software: Design engineers must be knowledgeable in the use of computer-aided design software, such as AutoCAD, SolidWorks, and Catia, in order to create and modify 3D models, drawings, and prototypes.
Knowledge of engineering principles: Design engineers must understand the principles of engineering, such as mechanics, thermodynamics, and materials science, in order to create designs that function as intended.
Analytical skills: Design engineers need to be able to analyze a design from multiple perspectives, such as safety, cost, and customer requirements.
Troubleshooting skills: Design engineers must be able to identify and solve complex engineering problems.
Creative problem-solving skills: Design engineers must be able to come up with innovative solutions to difficult problems.
Attention to detail: Design engineers must be able to spot any potential errors in a design before it is finalized.
Time management skills: Design engineers must be able to manage their time wisely and work efficiently to meet deadlines.
Communication skills: Design engineers must be able to communicate their designs effectively to customers and colleagues.
What skills should I put on my resume for Design Engineer?
When it comes to applying for a Design Engineer role, having the right skills on your resume is essential. The best way to showcase these skills is by listing them clearly and concisely. Here are a few of the top skills to consider adding to your resume:
CAD Design: Being proficient in computer-aided design is a must for any Design Engineer. Be sure to highlight your experience with software programs like AutoCAD and SolidWorks.
Engineering Principles: A good understanding of engineering principles and theories is essential. Showcase your knowledge of thermodynamics, structural analysis, and other relevant engineering topics.
Machine Design: If you have experience with machine design, be sure to include it on your resume. Demonstrate your understanding of materials, assemblies, and controls.
Project Management: Being able to manage projects and tasks efficiently is key. Showcase your ability to lead a team and coordinate the different parts of a project.
Problem-Solving: Demonstrate your analytical and creative problem-solving abilities. Showcase your ability to develop solutions to complex challenges.
Product Development: Showcase your experience in product development, from concept to completion. Highlight your ability to bring ideas to life and launch new products.
By adding these skills to your resume for a Design Engineer role, you'll be putting your best foot forward and demonstrating your qualifications for the job.
Key takeaways for an Design Engineer resume
As an aspiring Design Engineer, crafting an effective resume is essential to getting noticed by employers and landing the job of your dreams. It's important to highlight your experience, skills, and accomplishments that are most relevant to the job you're seeking. Here are some key takeaways to keep in mind when creating your resume as a Design Engineer:
Highlight your technical skills. Design Engineers must be highly trained and proficient in a wide range of technical skills and software, so be sure to emphasize these qualifications in your resume. Include a list of programs and technologies that you're familiar with, and give examples of how you've used them in the past.
Showcase your problem-solving skills. Design Engineers are known for their ability to solve complex problems quickly and efficiently. Showcase any challenges you've overcome in your past roles and how you used your skills and experience to resolve them.
Demonstrate your communication skills. Design Engineers must be able to effectively communicate with clients and colleagues, so make sure this is evident in your resume. Include examples of successful projects you've worked on and how your communication skills have contributed to their success.
Showcase your leadership abilities. Many Design Engineer roles require you to lead projects, so make sure you emphasize your leadership qualities in your resume. Include any examples of times you've taken charge of a project and successfully delivered the results.
By following these tips, you can ensure your Design Engineer resume is up to scratch and ready to help you land the job you've been dreaming of!
Let us help you build
your Resume!
Make your resume more organized and attractive with our Resume Builder