Writing a Chief Technology Officer resume can be quite a daunting task. As a CTO, you are expected to have extensive knowledge and experience in technology, as well as strong leadership and organizational skills. Your resume should clearly emphasize your technical skills and ability to take on complex projects, while also highlighting your achievements and managerial capabilities. This guide will provide you with key insights on how to write an effective CTO resume and provide examples of successful resumes to inspire you in creating your own.
If you didn't find what you were looking for, be sure to check out our complete library of resume examples.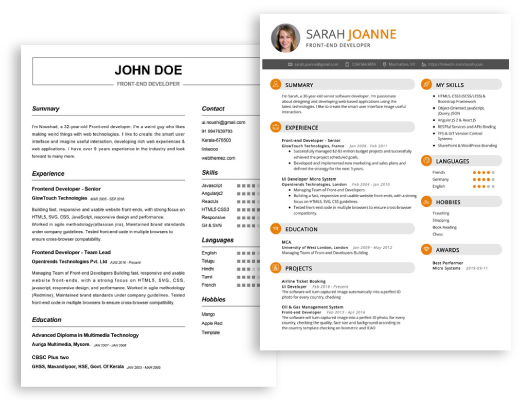 Start building your dream career today!
Create your professional resume in just 5 minutes with our easy-to-use resume builder!
Chief Technology Officer Resume Examples
John Doe
Chief Technology Officer
123 Main Street | Anytown, USA 99999 | Phone: (123) 456-7890 | Email: john.doe@email.com
I am an experienced Chief Technology Officer with a passion for innovation and a track record of developing and delivering cutting edge technology solutions. I have expertise in software architecture, project management, systems integration, and communication protocols. I am committed to creating an environment of collaboration and mutual respect with my teams. I possess strong leadership skills, an ability to think critically, and a drive to find new and innovative solutions. I am confident in my abilities to lead teams, develop and deliver quality products, and exceed expectations.
Core Skills:
Software Architecture
Project Management
Systems Integration
Communication Protocols
Leadership
Critical Thinking
Innovation
Quality Assurance
Professional Experience:
Chief Technology Officer, ABC Solutions, 2020- Present
Responsible for the delivery of operational and technical solutions, including architecture, development, and implementation
Managed and lead the software engineering team, setting goals and objectives and ensuring deadlines are met
Developed an effective communication system and culture to ensure team collaboration and success
Identified new technologies and potential solutions to improve product performance
Created and enforced standards for coding, testing, and deployment
Ensured quality assurance of software applications
Education:
Master of Science in Computer Science, University of XYZ, 2016
Bachelor of Science in Computer Engineering, University of ABC, 2014
Chief Technology Officer Resume with No Experience
Results- oriented Chief Technology Officer with no professional experience, but a wealth of innovative ideas and the ambition to take them to the next level. Possess a strong background in business technology, software development, and troubleshooting. Possesses excellent problem- solving, communication, and organizational skills.
Skills
Strong background in software development and business technology
Excellent problem solving, communication, and organizational skills
Creative and innovative thinker
Ability to develop strategies for technology use
Ability to prioritize and manage multiple projects
Ability to provide clear instructions on technical topics
Ability to work both independently and in a team
Responsibilities
Develop and implement technological strategies to achieve business objectives
Develop software solutions and troubleshoot technical issues
Manage the development and implementation of new software projects
Manage the IT budget and resources
Communicate technical topics to non- technical personnel
Lead a team of software developers and other IT personnel
Stay up- to- date on the latest software technologies and trends
Provide technical support and training to staff
Chief Technology Officer Resume with 2 Years of Experience
Dynamic Chief Technology Officer with two years of experience in a high- growth start- up environment. Expertise in software development, large- scale architecture, data analytics, and customer- focused product development. Proven track record of leading interdisciplinary teams to deliver innovative products and solutions that exceed customer expectations. Passionate about leveraging cutting- edge technology to create meaningful experiences that drive business growth.
Core Skills:
Software Development
Large- Scale Architecture
Data Analytics
Customer- Focused Product Development
Software Engineering
Cloud Computing
Data Management
Software Troubleshooting
IT Security
Agile Methodologies
Responsibilities:
Manage, lead, and mentor a team of software engineers and architects to ensure project completion and deadlines are met
Develop and implement product roadmaps based on customer needs and market trends
Conducting customer interviews and surveys to identify potential product opportunities
Oversee the design and implementation of large- scale software architectures and systems
Identify and troubleshoot software issues to maximize performance and uptime
Developing and implementing IT security protocols and procedures to protect customer data
Analyzing data and reporting results to stakeholders in order to optimize products
Collaborating with stakeholders to ensure customer requirements are met
Staying up- to- date on the latest technologies and trends in the industry
Chief Technology Officer Resume with 5 Years of Experience
Highly experienced Chief Technology Officer (CTO) with over 5 years of experience leading teams in the development of innovative technological solutions. Skilled in developing strategies and leading technical projects to ensure that business objectives are achieved. Possesses a strong background in coding, IT infrastructure design, and managing teams. Able to coordinate between departments and stakeholders to ensure timely delivery of products and services.
Core Skills:
Strategic Planning
Project Management
IT Infrastructure Design
Resource Allocation
Data Protection
Collaboration
Leadership
Problem- Solving
Responsibilities:
Spearheading technical strategy and vision to ensure alignment with business objectives
Designing and developing project plans, risk assessments, and budget proposals
Developing and maintaining technical infrastructure and security protocols
Collaborating with internal teams to ensure seamless integration of hardware, software, and IT solutions
Assigning tasks, monitoring progress, and setting deadlines for team members
Monitoring and evaluating performance of existing systems and solutions
Establishing and enforcing coding standards and best practices
Identifying areas for improvement and making recommendations to stakeholders
Chief Technology Officer Resume with 7 Years of Experience
Highly motivated and experienced Chief Technology Officer with 7 years of experience in a wide range of technological initiatives. Skilled in leading development teams, budgeting, organizing workflow and planning, researching and implementing new technologies, and devising strategies for improved efficiency. Passionate about evolving technology, utilizing new tools and platforms, and driving organizational growth and success.
Core Skills:
Leadership and Mentoring
Software and Hardware Development
Project Management
Strategy and Planning
Process Design and Automation
Product Roadmapping
Risk and Crisis Management
Management Reporting
Data Analysis and Insights
Budgeting and Financial Management
Responsibilities:
Managed technology- related budget and forecast for all IT projects and initiatives
Developed and implemented strategies for achieving maximum efficiency in IT operations
Managed and directed IT staff, ensuring timely and accurate completion of projects
Planned and implemented system upgrades, maintenance, and protocols
Monitored and assessed performance of existing and new technologies
Research and implement new technologies, tools, and platforms to improve system performance
Created and maintained detailed documentation and reports of all IT projects and initiatives
Developed, improved, and maintained technical and procedural standards
Identified areas of efficiency and cost savings within IT operations
Provided leadership and mentorship to IT team members
Chief Technology Officer Resume with 10 Years of Experience
A highly accomplished Chief Technology Officer with 10 years of experience in the technology sector. Proven success in leading high- performing teams and developing innovative strategies to drive change and maximize ROI. Experienced in conceptualizing, designing, and implementing technology projects and initiatives to propel business growth. Skilled in communicating complex information in an easily digestible manner for stakeholders at all levels.
Core Skills:
Leadership
Strategic Vision
Team Building
Project Management
Software Development
System Design
Data Analysis
Budget Management
Risk Mitigation
Responsibilities:
Leading and managing technical projects from conception to completion
Developing and revising project plans and schedules
Building and supervising a team of software engineers
Managing software development and maintenance
Monitoring system performance and identifying areas for improvement
Collaborating with department heads to ensure effective communication of technical requirements
Analyzing, designing, and implementing computer systems
Evaluating and selecting hardware and software
Designing and executing tests to ensure quality specifications
Managing cloud platforms and maintaining database security
Negotiating purchase agreements and vendor contracts
Creating and monitoring IT budgets
Ensuring compliance with security policies and regulations
Chief Technology Officer Resume with 15 Years of Experience
I am a highly experienced Chief Technology Officer with 15 years of experience in leading and managing the implementation of cutting- edge software and hardware technologies. My background encompasses a diverse range of industries, including finance, media and healthcare, as well as experience working with various programming languages, network infrastructure and cloud technologies. My core strengths include leadership, strategic planning, problem solving and the ability to effectively manage and motivate teams. I have consistently delivered innovative solutions to improve operational efficiency, customer experience and business results.
Core Skills:
Developing and leading technology strategies
Managing complex software and hardware implementations
Building and leading high- performing teams
Driving operational efficiency and customer experience
Overseeing and optimizing network performance
Integrating cloud technologies
Troubleshooting and debugging technical issues
Overseeing security and compliance
Responsibilities:
Developing, maintaining and executing technology strategies to support growth objectives
Creating frameworks for the launch and deployment of cutting- edge software and hardware technologies
Managing the design and development of software applications, network infrastructure and cloud technologies
Leading cross- functional teams and overseeing all aspects of software and hardware implementations
Analyzing customer needs and developing innovative solutions to improve customer experience
Monitoring and optimizing network performance, security and compliance standards
Developing and executing disaster recovery plans
Providing technical guidance to teams and stakeholders.
In addition to this, be sure to check out our resume templates, resume formats, cover letter examples, job description, and career advice pages for more helpful tips and advice.
What should be included in a Chief Technology Officer resume?
A Chief Technology Officer (CTO) is a leadership role responsible for overseeing technology strategy and developing new technology solutions to meet business needs.
When crafting your resume for a CTO role, it's important to focus on highlighting the skills and experiences that make you the ideal candidate for the position.
Here are the key elements that should be included in your CTO resume:
Leadership experience: As a CTO, you must be a leader who can manage both the technical and business aspects of the role. Be sure to include any relevant experience you have with leading a team and delegating tasks.
Technical expertise: CTOs should have a deep understanding of the various technical aspects of their job. Include details about your knowledge of software development, databases, networks, and other technical components.
Business acumen: Since the CTO role involves making business decisions, showcase the business skills you have developed. This could include budgeting, project management, and strategic planning.
Problem-solving skills: A good CTO must be able to solve problems quickly and efficiently. Showcase experiences in which you have identified and implemented solutions to challenging issues.
Communication skills: The CTO role also requires you to have excellent communication skills. Include any experiences you have had in communicating technical concepts to a non-technical audience.
By including these elements in your CTO resume, you will demonstrate to potential employers that you are the qualified candidate for the job.
What is a good summary for a Chief Technology Officer resume?
A Chief Technology Officer (CTO) is a senior executive responsible for the overall technology strategy and vision of an organization. The CTO is often the leader of the technology team, and is responsible for aligning the organization's technology goals and objectives with corporate goals.
A great summary for a CTO resume should emphasize the individual's experience leading the technology team and setting the technology strategy within an organization. The summary should highlight the CTO's technical experience, including their expertise in software engineering, analytics, cloud computing, artificial intelligence, and related technologies. Additionally, the summary should highlight the CTO's ability to lead teams and create innovative solutions.
The summary should also include the CTO's accomplishments and successes. This could include successful projects or initiatives the individual led, their role in developing new products or services, or their efforts to reduce costs and increase efficiency.
Finally, the summary should include specific details about the CTO's current or most recent role, such as the size of their team, the technologies they use, and the challenges they faced. This will give potential employers a better understanding of the CTO's capabilities and experience.
What is a good objective for a Chief Technology Officer resume?
The role of a Chief Technology Officer (CTO) is to lead a company's technology vision, strategy and initiatives. A successful CTO will have a resume objective that summarizes their experience, qualifications and professional goals.
Here are some examples of good objectives for a CTO resume:
To leverage extensive technical knowledge and experience to drive the development of innovative and cost-effective technology solutions for a leading company.
To leverage vast experience and expertise in technology management to contribute to the success of a world-class organization.
To develop and implement cutting-edge technologies for a growing company that will help deliver superior customer experiences.
To utilize innovative thinking and comprehensive knowledge of technology to propel the growth of a company.
To help a company enter new markets by utilizing my extensive technical expertise and understanding of evolving technologies.
To use my experience and knowledge of technology management to help a company reach its goals.
No matter what objective you choose, make sure it accurately reflects your skills, experience and goals. It should also be tailored to the specific job you're applying for. By crafting an effective CTO resume objective, you can demonstrate your qualifications and make yourself an attractive candidate.
How do you list Chief Technology Officer skills on a resume?
When it comes to crafting a professional resume, it's important to demonstrate your skills and experience to potential employers. As a Chief Technology Officer (CTO), you're responsible for the overall technology strategy and operations of a business, making it crucial that you list your skills and experience in a way that will impress employers.
Here's a guide on how to list Chief Technology Officer skills on a resume:
IT Leadership: Highlight your leadership skills and experience in managing complex IT projects. Include any experience you have in managing teams and coordinating with other stakeholders.
Technical Knowledge: Showcase any technical knowledge or experience you have in the IT and tech industry. This could include any programming or coding you've done, or any certifications or qualifications you hold.
Strategic Planning: Demonstrate your ability to develop, analyze, and implement tech strategies and plans. Show how you've used data and analytics to inform decisions and optimize operations.
Problem Solving: Show that you have the critical thinking and problem-solving skills to troubleshoot and overcome technical issues.
Business Acumen: Showcase your understanding of the business and how technology can help achieve business goals. Highlight any experience you have in analyzing business needs and crafting plans to meet them.
Communication: Show that you have strong communication and interpersonal skills. Demonstrate how you've used effective communication to collaborate with colleagues and stakeholders.
By showcasing these key CTO skills on your resume, you can give potential employers a better idea of your abilities and experience.
What skills should I put on my resume for Chief Technology Officer?
A Chief Technology Officer (CTO) is a senior executive responsible for the technological development and direction of a company. CTOs are responsible for developing and executing the technology strategy and identifying areas of growth and improvement. In order to be successful in this role, a CTO must possess a number of key skills. Here are some of the skills that should be included on your resume when applying for a CTO position:
Strategic Thinking: A CTO must have excellent strategic thinking and problem-solving skills to develop and execute a technology strategy that aligns with the company's overall objectives.
Project Management: The ability to manage multiple projects and teams is essential for a CTO. They must be able to prioritize tasks, delegate responsibilities, and develop efficient processes.
Technical Expertise: CTOs must possess a deep understanding of technology and be able to make informed decisions about which technologies to use for a particular project.
Leadership: CTOs must be able to lead and motivate a team of engineers and other technical professionals. They must also possess excellent communication and interpersonal skills.
Business Acumen: CTOs must understand the business side of technology, including budgeting, financial planning, and risk management.
Innovation: A CTO should have a passion for technology and a desire to push the boundaries of what's possible. They should be constantly exploring new technologies and finding ways to use them to benefit the company.
Having these skills on your resume will demonstrate that you are a qualified candidate for the position of CTO. If you possess these skills, make sure they are included on your resume so you can stand out from the competition.
Key takeaways for an Chief Technology Officer resume
A Chief Technology Officer (CTO) is responsible for leading a company's overall technical direction and ensuring that technology is implemented and used effectively. As such, a CTO's resume must be both comprehensive and compelling in order to demonstrate their ability to lead. There are several key takeaways to consider when writing a CTO resume that will ensure your experience stands out and you are taken seriously as a candidate.
Highlight Your Technical Skills: As the CTO, your technical abilities will be the backbone of your resume. Make sure you highlight your knowledge of programming languages, frameworks, and development environments in addition to any other technical skills you possess.
Showcase Your Leadership Abilities: A CTO also needs to be an effective leader. Make sure your resume highlights any experience you have leading teams and/or managing complex projects. This is where you can demonstrate your ability to prioritize tasks, delegate work, and provide guidance to team members.
Demonstrate Your Business Acumen: Technology skills are important, but a CTO also needs to understand the business side of things. Make sure your resume highlights any experience you have in dealing with vendors and negotiating contracts, as well as any experience you have with budgeting and financial planning.
Mention Any Industry Certifications: Any professional certifications you possess should be prominently displayed on your resume. This could include anything from a certification in a specific technology to an industry-specific certification. These certifications show potential employers that you have the knowledge and skills needed to get the job done.
Use Keywords and Metrics: CTO resumes should be tailored to the job description and should use specific language and keywords that employers are looking for. Additionally, you should include metrics when and where possible to demonstrate the impact of your work.
By including the above key takeaways in your CTO resume, you will ensure that your experience stands out and
Let us help you build
your Resume!
Make your resume more organized and attractive with our Resume Builder