If you are looking to pursue a career as a Chief Engineer, you will need a resume that clearly outlines your qualifications and experience. Writing a resume can be difficult, especially if you are not sure how to best highlight your skills and abilities. This guide will provide a step-by-step guide to writing a Chief Engineer resume, with examples of what to include and how to format your resume. Following the advice provided in this guide, you can create a resume that will help you stand out from the competition and land the job you want.
If you didn't find what you were looking for, be sure to check out our complete library of resume examples.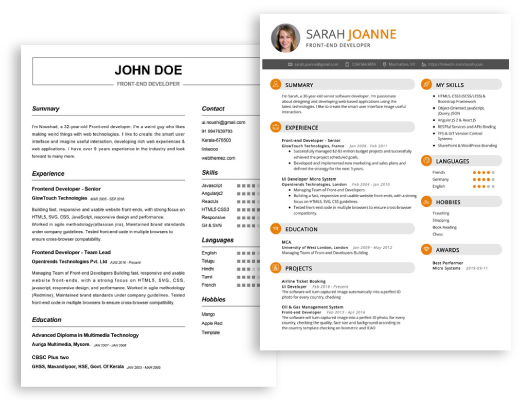 Start building your dream career today!
Create your professional resume in just 5 minutes with our easy-to-use resume builder!
Chief Engineer Resume Examples
John Doe
Chief Engineer
123 Main Street | Anytown, USA 99999 | Phone: (123) 456-7890 | Email: john.doe@email.com
A highly experienced Chief Engineer with over 15 years of experience in the engineering field. Possessing a strong command of engineering principles, I have a proven track record of successfully managing projects, meeting deadlines, and leading teams. I have worked in both private and public sector settings and have a deep understanding of the latest technologies and system developments. My knowledge and expertise in engineering has enabled me to consistently deliver results and provide creative solutions to complex problems.
Core Skills:
Design and Implementation of Engineering Systems
Project Management
Knowledge of Regulations and Standards
Troubleshooting and Problem Solving
Process Improvement Strategies
Technical Writing
Quality Assurance
Excellent Leadership Skills
Professional Experience:
Chief Engineer, ABC Corporation, New York, NY (2015- Present)
Manage daily operations and maintain engineering systems for multiple locations.
Oversee projects and ensure tasks are completed within desired timeframe and budget.
Develop and implement process improvement strategies to streamline operations.
Analyze data to identify areas of improvement and develop potential solutions.
Utilize technical writing skills to create documents such as proposals and manuals.
Implement quality control measures to ensure adherence to engineering regulations and standards.
Mentor and lead a team of engineers to maximize performance.
Senior Engineer, XYZ Corporation, Albany, NY (2008- 2015)
Collaborated with other engineers to develop, design and implement engineering systems.
Assisted in the resolution of technical problems and provided troubleshooting assistance.
Participated in project meetings and provided feedback regarding system development.
Conducted regular inspections of engineering systems to ensure proper functioning and compliance.
Prepared technical reports and performed data analysis to identify areas of improvement.
Chief Engineer Resume with No Experience
A highly motivated and organized Chief Engineer with a strong background in engineering, project management, and operations. Experienced in leading teams, troubleshooting complex problems and improving work processes. Highly knowledgeable in safety regulations and environmental standards. Adept at finding innovative solutions to challenges and working with stakeholders in a collaborative manner.
Skills
Excellent problem- solving and decision- making skills
Strong leadership and interpersonal skills
Strong organizational, time management and communication skills
Comprehensive knowledge of engineering processes and systems
Proficient in computer aided design software
Proficient in AutoCAD
Working knowledge of federal and state regulations
Highly experienced in coordinating with stakeholders
Skilled in developing and implementing plans
Responsibilities
Responsible for overseeing and managing engineering projects
Develop and implement plans to improve engineering processes
Create, supervise and maintain safety standards and procedures
Coordinate with stakeholders to ensure project completion within budget
Oversee engineering teams and provide training and guidance
Monitor and inspect engineering processes and systems
Utilize computer aided design software to create blueprints and plans
Ensure compliance with federal and state regulations
Chief Engineer Resume with 2 Years of Experience
Motivated and highly skilled Chief Engineer with 2 years of experience in the engineering field. Adept in the operation, maintenance, and repair of complex engineering systems. Possesses the ability to analyze and solve complex problems, communicate effectively with colleagues and design solutions that meet the needs of the project. Highly organized and detail- oriented with the ability to prioritize tasks and delegate responsibilities.
Core Skills:
Leadership
Problem Solving
Technical Skills
Communication
Project Management
Design Solutions
Responsibilities:
Managed the installation, operation, and maintenance of engineering systems.
Developed engineering designs and plans.
Ensured that all engineering projects are completed safely and in accordance with the budget and deadlines.
Implemented new engineering systems and processes.
Performed preventative maintenance and repairs on engineering systems and equipment.
Monitored project processes and implemented necessary changes as required.
Developed operational procedures and processes.
Trained and supervised personnel in the operation and maintenance of engineering systems.
Ensured that all systems are in compliance with applicable regulations and standards.
Chief Engineer Resume with 5 Years of Experience
Results- driven Chief Engineer with 5 years of experience in overseeing maintenance operations, staff, and budgets. Proven track record of developing and maintaining effective maintenance strategies, leading staff in achieving operational objectives, and providing teams with the right technical and operational resources. Skilled in problem- solving, troubleshooting, and budget management.
Core Skills:
Leadership
Budget Management
Project Management
Maintenance Strategies
Troubleshooting
Problem Solving
Responsibilities:
Managed and maintained all engineering operations, staff, and budgets.
Developed, implemented, and monitored maintenance strategies.
Assigned tasks and responsibilities to staff and ensured all activities were completed in a timely manner.
Ensured all engineering activities were conducted in accordance with local, state, and federal regulations.
Monitored staff performance and provided guidance and assistance as needed.
Created and managed budgets for engineering operations.
Coordinated with other departments to ensure efficient monitoring of engineering operations.
Researched and developed new technologies, techniques, and processes for engineering operations.
Identified and resolved technical and operational issues in a timely manner.
Chief Engineer Resume with 7 Years of Experience
Dynamic Chief Engineer with 7 years of experience in engineering management and industry best practices. Outstanding problem solving and technical skills. Skilled in engineering design, project management, and maintaining production deadlines. Background in creating cost- effective solutions for high- impact projects. Ability to effectively collaborate with stakeholders and maintain a successful team environment.
Core Skills:
Engineering Design
Project Management
Cost Analysis
Process Optimization
Automation Strategies
Troubleshooting
Research & Development
Responsibilities:
Developed engineering solutions that met project requirements, budget, and timelines.
Coordinated with team members in the development of designs, drawings, and associated documentation.
Analyzed project costs and prepared proposals for business and technical stakeholders.
Ensured production deadlines were met while maintaining quality assurance in accordance with regulatory standards.
Established engineering processes and procedures for teams to follow.
Implemented automation strategies to reduce labor costs and increase productivity.
Investigated and resolved technical issues in order to maintain peak performance levels.
Conducted research and development for innovative technologies.
Chief Engineer Resume with 10 Years of Experience
Highly experienced Chief Engineer with 10+ years of experience in the field of engineering. Skilled in HVAC systems, electrical circuitry, and maintenance of mechanical equipment. Expertise in scheduling, planning, and project management. Experienced in managing teams of engineers and resolving technical issues. Proven track record of successful projects and satisfied clients.
Core Skills:
HVAC Systems
Electrical Circuits
Maintenance of Mechanical Equipment
Project Management
Team Management
Technical Support
Responsibilities:
Developed and implemented efficient strategies for project management
Supervised a team of engineers and technicians to ensure accuracy and safety
Assisted in the design and installation of HVAC systems
Provided technical support and troubleshooting for clients
Managed and maintained electrical circuitry and mechanical equipment
Monitored and organized all project phases effectively
Ensured compliance with local and state regulations for engineering projects
Chief Engineer Resume with 15 Years of Experience
Highly experienced Chief Engineer with 15 years of expertise in designing, developing and deploying innovative solutions to complex engineering challenges. Possesses an extensive skillset in engineering management and project management, including planning, budgeting, scheduling, and risk management. Has an excellent understanding of engineering principles and the ability to manage multi- disciplinary teams. Demonstrated success in delivering high- impact projects in a timely and cost- efficient manner.
Core Skills:
Engineering Management
Project Management
Risk Management
Budgeting
Scheduling
Team Leadership
Quality Assurance
Developing Innovative Solutions
Troubleshooting
Responsibilities:
Developing and testing engineering prototypes
Developing and implementing engineering processes and systems
Managing engineering projects and ensuring timely completion
Monitoring and controlling project budgets
Creating and executing project plans, work breakdown structures, and risk management plans
Training and supervising engineering staff
Establishing and maintaining quality standards
Resolving engineering issues and identifying potential risks
Representing the organization at industry conferences and events
Maintaining relationships with vendors and stakeholders
In addition to this, be sure to check out our resume templates, resume formats, cover letter examples, job description, and career advice pages for more helpful tips and advice.
What should be included in a Chief Engineer resume?
A Chief Engineer resume should include an overview of qualifications and experience, as well as technical skills and certifications that demonstrate the individual's ability to effectively lead a team of engineers. Here are some key points to include in a Chief Engineer resume:
Work experience that reflects expertise in engineering management, quality assurance, and project management.
Qualifications that demonstrate a thorough understanding of engineering principles and the ability to manage complex projects.
Technical skills, such as software development, systems administration, and network engineering.
Experience leading teams of engineers, developing and implementing engineering processes, and overseeing the quality of engineering deliverables.
Certifications in engineering and leadership, such as a Professional Engineer status, Certified Quality Engineer certification, or Certified Project Manager certification.
Relevant education and training in engineering, including a degree in engineering, technology, or computer science.
Professional memberships and awards related to engineering, such as membership in the Institute of Electrical and Electronics Engineers.
What is a good summary for a Chief Engineer resume?
A chief engineer resume should provide an overview of an engineering professional's experience, qualifications, and accomplishments. It should include a summary that highlights the individual's expertise in project management, team leadership, budgeting, and problem-solving. Additionally, the summary should include any specialized knowledge or certifications the individual has obtained. This summary should emphasize the chief engineer's ability to develop innovative solutions that are cost-effective and efficient. Finally, the resume summary should demonstrate the individual's commitment to excellence and dedication to producing quality results.
What is a good objective for a Chief Engineer resume?
A good objective for a Chief Engineer resume is to showcase the individual's experience in engineering, project management and team leadership. Working as a Chief Engineer is a senior-level role, so the individual should also demonstrate the ability to effectively manage and motivate a team in order to ensure that projects are completed efficiently and to the highest quality standards.
Highlight experience in engineering, project management, and team leadership
Demonstrate strong organizational, problem-solving and communication skills
Showcase the ability to lead and motivate a team to complete projects efficiently and to the highest standards
Emphasize the ability to manage resources, meet deadlines and formulate strategies
Demonstrate proficiency in applying technical knowledge and engineering principles to achieve successful project outcomes
Illustrate the ability to stay up to date with technological advancements and industry trends
How do you list Chief Engineer skills on a resume?
When crafting a resume for the position of Chief Engineer, it's important to highlight the relevant skills and qualifications needed for the job. To make sure that your resume stands out, you should specifically list the skills that make you a great fit for the position. Here are some of the skills that Chief Engineers should list on their resumes:
Technical knowledge: Chief Engineers should have a sound knowledge of the technical aspects of their work, such as mechanical, electrical, and chemical engineering principles.
Problem-solving: Chief Engineers need to have strong problem-solving skills to successfully identify and address any issues that arise.
Project management: Chief Engineers should have experience in managing projects, including planning, budgeting, and resource allocation.
Communication: Chief Engineers need to be able to communicate their ideas and plans effectively.
Leadership: Chief Engineers should have strong leadership qualities to be able to motivate and inspire their team.
Decision-making: Chief Engineers need to be able to make sound decisions quickly and effectively.
By incorporating these skills into your resume, you'll be able to show potential employers that you're the perfect fit for the position of Chief Engineer.
What skills should I put on my resume for Chief Engineer?
The chief engineer position is a unique job that requires an individual with a specific set of skills and experience. When creating a resume for this position, it's important to include skills that demonstrate you have the qualifications necessary for the job. Here are some of the key skills you should consider putting on your resume as Chief Engineer:
Project Management: As Chief Engineer, you will be responsible for overseeing large-scale engineering projects. Having experience in project management and planning for engineering projects is essential for this role.
Technical Expertise: You must possess strong technical expertise in order to be an effective Chief Engineer. This should include knowledge of engineering principles, industry standards, and cutting-edge technologies.
Leadership: Chief Engineers must be able to lead, motivate, and inspire engineers under their command. Listing any past experience in a leadership role or validating your leadership skills on your resume is essential for this position.
Interpersonal Skills: As Chief Engineer, you must be able to communicate effectively and build relationships with supervisors, peers, and subordinates. Having strong interpersonal skills will be essential for this role.
Problem-Solving: Chief Engineers must be able to think on their feet and solve problems quickly and effectively. This includes being able to diagnose complex engineering issues, troubleshoot technical problems, and develop innovative solutions.
By including these skills on your resume, you can demonstrate that you have the required abilities to excel as Chief Engineer.
Key takeaways for an Chief Engineer resume
As a Chief Engineer, your resume is one of the most important tools for landing a new job and advancing your career. Crafting an effective resume requires a great deal of thought and attention to detail. Here are some key takeaways for creating a Chief Engineer resume that will make an impact.
Be sure to include relevant information about your experience. Your resume should include a detailed list of your technical abilities and certifications. It should also include a comprehensive list of the projects you have worked on and the successes you have achieved.
Highlight your leadership skills. As a Chief Engineer, you will be called upon to lead and manage projects. Show recruiters that you possess the leadership skills and experience to do the job by including examples of how you have led and managed projects in the past.
Showcase your technical knowledge. Your resume should include information that demonstrates your technical expertise. List the tools and technologies you are familiar with and the certifications you have achieved.
Emphasize your communication skills. As a Chief Engineer, you will be responsible for communicating with others in the organization, including engineers, executives, and other stakeholders. Show recruiters that you possess this skill by including examples of how you have effectively communicated with others in the past.
Make sure you have a professional-looking resume. Your Chief Engineer resume should be error-free, well-organized, and easy to read. Use a professional resume format and make sure to proofread it several times before submitting it.
By following these key takeaways, you will be able to create a Chief Engineer resume that will make a lasting impression on recruiters. Good luck!
Let us help you build
your Resume!
Make your resume more organized and attractive with our Resume Builder