If you're looking to break into the field of biomedical engineering, having a well-crafted resume is essential. A biomedical engineer's resume needs to showcase your technical and scientific expertise, highlight any research and development skills, and demonstrate your ability to think critically and solve complex problems. This guide will provide you with tips and examples on how to create a stand-out resume that will get you noticed by employers.
If you didn't find what you were looking for, be sure to check out our complete library of resume examples.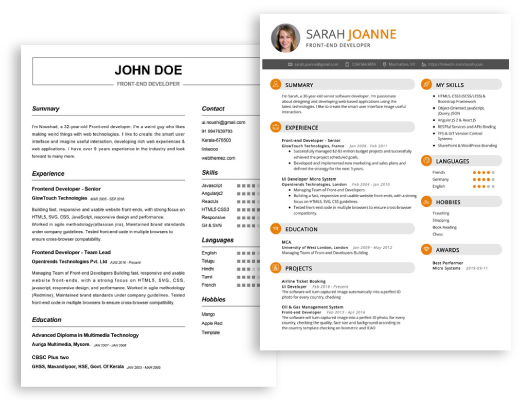 Start building your dream career today!
Create your professional resume in just 5 minutes with our easy-to-use resume builder!
Biomedical Engineer Resume Examples
John Doe
Biomedical Engineer
123 Main Street | Anytown, USA 99999 | Phone: (123) 456-7890 | Email: john.doe@email.com
I am a highly motivated, hard- working and detail- oriented Biomedical Engineer with five years of experience in the healthcare field. I have a comprehensive knowledge of medical device design and development, medical device manufacturing and quality assurance, and medical device regulatory compliance. My expertise in medical device engineering, project management, technical writing, and design processes have enabled me to excel in various healthcare settings. I am highly organized and possess strong interpersonal skills that allow me to effectively manage multiple projects simultaneously.
Core Skills:
Medical device engineering
Project management
Technical writing
Design processes
Medical device design and development
Medical device manufacturing and quality assurance
Medical device regulatory compliance
Professional Experience:
Biomedical Engineer, ABC Healthcare Co., 2014- Present
Unified the medical device design and development process, allowing for faster time- to- market and better quality assurance
Developed a series of medical devices and monitored their progress from concept to commercialization
Evaluated existing medical device designs, suggesting modifications to ensure regulatory compliance
Provided technical writing services, ensuring that all documents and instructions were clear and concise
Biomedical Research Assistant, DEF Research Institute, 2012- 2014
Collaborated with healthcare professionals to identify and address medical device design issues
Provided research support for various medical device projects, including design, prototyping, and testing
Monitored the progress of medical device projects, ensuring that all milestones were met in a timely manner
Maintained and updated medical device design records and reports
Education:
Bachelor of Science in Biomedical Engineering, University of California, 2010- 2014
Biomedical Engineer Resume with No Experience
Recent graduate in Biomedical Engineering looking to expand my knowledge and gain hands- on experience in the biomedical engineering field. Proven capacity to learn quickly and keen to apply my creativity and problem- solving skills to tackle complex challenges.
Skills and Responsibilities:
Strong understanding of medical technology, engineering principles and concepts.
Skilled in design, prototyping and testing of medical devices.
Experienced with CAD software and 3D designing of medical equipment.
Proficient in conducting research, analyzing data and developing experiments.
Familiar with regulatory compliance and safety standards.
Ability to work independently and collaboratively in teams.
Excellent communication and organization skills.
Biomedical Engineer Resume with 2 Years of Experience
Biomedical Engineer with 2 years of experience in developing medical equipment, researching medical technology advances, and improving existing technologies. Proven ability to evaluate new products, manage complex projects, and collaborate with multidisciplinary teams. Seeking to utilize extensive knowledge of medical sciences and engineering to benefit the growth of a highly respected healthcare organization.
Core Skills:
Experience in developing, researching, and improving medical equipment
Proficient in analyzing and evaluating medical technologies
Knowledge of medical sciences and engineering principles
Highly skilled in project management and collaboration
Ability to create efficient designs for new medical products
Solid understanding of product lifecycle management
Responsibilities:
Developing medical equipment and technology
Researching medical technology advances
Assessing potential risks and benefits of medical technologies
Improving existing technologies and products
Designing medical products and equipment
Testing and evaluating the performance of medical devices
Analyzing the operational requirements of medical devices
Collaborating with multidisciplinary teams to develop innovative medical solutions
Managing complex projects and budgets
Biomedical Engineer Resume with 5 Years of Experience
A dedicated and hardworking Biomedical Engineer with 5 years of experience in the field. Possesses exceptional technical skills in the areas of medical product development, medical equipment, and medical device design. Possesses excellent communication and interpersonal skills and is able to work in both a team and independent setting.
Core Skills:
Excellent knowledge of medical product development
Strong understanding of medical equipment and device design
Highly experienced in product testing and evaluation
Proficient in CAD/CAM software
Ability to troubleshoot and repair medical equipment
Knowledgeable in regulatory guidelines and standards (FDA, CE)
Responsibilities:
Conducted research to develop new medical products, equipment and devices
Created and tested prototypes of medical products and devices
Assisted in the development of new medical device models
Tested medical devices for safety and accuracy
Analyzed and documented data from experiments and research
Evaluated medical equipment for its performance and accuracy
Created design specifications for medical products and devices
Developed and modified CAD/CAM designs for medical devices
Ensured compliance with regulatory standards and guidelines (FDA, CE)
Biomedical Engineer Resume with 7 Years of Experience
An experienced and passionate Biomedical Engineer with 7 years of experience in developing biomedical instruments and devices. Expertise in the design, development, and testing of medical instruments and devices. Skilled in the operation of various medical equipment and the use of medical software. Possesses excellent problem- solving and communication skills, enabling an effective collaboration with healthcare professionals and other engineering teams.
Core Skills:
Design and development of medical instruments and devices
Utilization of medical software and equipment
Troubleshooting and problem- solving
Excellent communication skills
Ability to collaborate effectively with healthcare professionals
Responsibilities:
Design and develop medical instruments and devices based on customer requirements
Oversee the production of medical instruments and devices
Test and troubleshoot medical instruments and devices
Develop and maintain medical software
Create and implement quality control plans
Train healthcare professionals on the use of medical instruments and devices
Monitor the performance of medical instruments and devices in real- time
Support healthcare professionals in conducting clinical trials
Collaborate with other engineering teams in designing and developing medical instruments and devices
Biomedical Engineer Resume with 10 Years of Experience
A highly motivated, dedicated and experienced Biomedical Engineer with 10 years of experience in the medical industry. Areas of expertise include design and development of medical devices, health technology assessment and evaluation, product testing, and regulatory compliance. Proven ability to collaborate with multiple stakeholders in order to deliver quality products and services. Possess excellent technical and problem- solving skills, and excellent communication, organizational and leadership skills.
Core Skills:
CAD/CAM design and analysis
Product testing and evaluation
Regulatory compliance
Troubleshooting and problem- solving
Technical writing and documentation
Project management
Team leadership
Microsoft Office Suite
Responsibilities:
Design and develop medical devices, equipment, and systems
Operate, maintain, and troubleshoot medical equipment
Develop and implement medical device quality assurance and control systems
Analyze and evaluate medical device data
Provide technical support to medical staff and customers
Evaluate and identify new medical technologies
Develop product specifications and testing protocols
Monitor regulatory trends and requirements
Prepare and review technical reports, manuals, and documentation
Manage projects and teams to ensure timely delivery of products and services
Biomedical Engineer Resume with 15 Years of Experience
A highly experienced and specialized Biomedical Engineer with 15+ years of experience, specializing in the design, development, testing and maintenance of medical devices and systems. Expert in a variety of medical technologies and processes, including medical imaging, tissue engineering, biomaterials, medical devices, healthcare informatics, and biotechnology. Skilled in managing complex projects and technically challenging tasks, as well as providing technical support, troubleshooting and training.
Core Skills:
Advanced knowledge of principles and practice of biomedical engineering
Expertise in design, development, testing and maintenance of medical devices and systems
Proficient in medical imaging, tissue engineering, biomaterials, medical devices, healthcare informatics, and biotechnology
In- depth understanding of international regulatory standards and processes
Ability to develop and utilize computer- aided design and modeling software
Excellent communication and problem- solving skills
Strong project and time management skills
Responsibilities:
Developing medical devices and systems to improve patient safety, quality of care, and efficiency
Designing, prototyping, and implementing new medical technologies
Creating detailed technical specifications and drawings
Testing and validating medical equipment and systems
Conducting clinical trials to evaluate the performance of medical systems
Complying with FDA and other applicable regulatory standards
Providing technical support, troubleshooting, training, and maintenance
Managing complex engineering projects and ensuring timely completion
In addition to this, be sure to check out our resume templates, resume formats, cover letter examples, job description, and career advice pages for more helpful tips and advice.
What should be included in a Biomedical Engineer resume?
A Biomedical Engineer resume should have the same basic components as any resume, but with a few specialized sections. Here are the sections that should be included:
Contact Information: Start your resume off with your name, address, phone number, and email address.
Objective: This is a brief description of what type of position you are applying for.
Education: Include your college/university, degree, graduation date, and any relevant coursework.
Experience: Describe any relevant experience you have in biomedical engineering, whether it's from a formal job, volunteer experience, or internships.
Skills: List any relevant skills or qualifications you have, such as experience with specific software, hardware, or diagnostic procedures.
Certifications: Include any professional certifications or licensures you have in biomedical engineering.
Awards & Accomplishments: List any awards, publications, or presentations you've received related to biomedical engineering.
Professional Affiliations: Include any professional organizations you are a member of.
References: Include the contact information of two to three professional references.
What is a good summary for a Biomedical Engineer resume?
A successful biomedical engineer resume should concisely summarize your education and experience in the field. It should focus on highlighting your key competencies, such as engineering design, product development, research and development, and technical knowledge. Your resume should also demonstrate your ability to work with a variety of equipment and tools, and cover your experience in safety protocols and regulations pertaining to the field. Furthermore, ensure that your resume is organized and up to date, as the employer may look for specific skills and qualifications among applicants. With this information, you can provide a comprehensive and impactful summary of your qualifications as a biomedical engineer.
What is a good objective for a Biomedical Engineer resume?
Biomedical engineering is a highly competitive field, and a good resume objective is essential to stand out from the competition. A well-crafted objective statement should highlight the key skills and experience you bring to the position and demonstrate your commitment to advancing the field. Here are some tips to craft a strong biomedical engineer resume objective:
Showcase your technical knowledge. An objective should emphasize your knowledge of the biomedical engineering field, such as in-depth understanding of engineering principles, manufacturing processes, and medical devices.
Demonstrate your problem-solving skills. Highlight your ability to think critically and come up with innovative solutions to complex technical problems.
Highlight your interpersonal skills. Biomedical engineering often involves interacting with a variety of people, from medical professionals to technicians. Showcase your strong communication and collaboration skills.
Emphasize your commitment to the field. Include your motivation for pursuing a career in biomedical engineering and your vision to drive the industry forward.
By highlighting the key skills and experience you bring to the position, your biomedical engineer resume objective will help you stand out from the competition.
How do you list Biomedical Engineer skills on a resume?
Biomedical Engineering is an ever-evolving field that requires highly-skilled individuals to keep up with the latest advancements in technology and medicine. A successful Biomedical Engineer must possess a range of technical and nontechnical skills, from problem-solving abilities to communication and teamwork. Here is a list of skills to consider including on your Biomedical Engineer resume:
Familiarity with regulations and standards related to the medical industry
Ability to interpret medical reports and data
Proficiency in biomedical engineering software
Knowledge of anatomy and physiology
Skill in using medical diagnostic equipment
Knowledge of engineering principles and materials
Familiarity with medical software development
Ability to troubleshoot and diagnose technical problems
Teamwork and communication skills
Familiarity with coding languages
Ability to develop innovative solutions to complex medical problems
Strong problem-solving and analytical skills
Excellent research and development skills
Proficiency in computer-aided design (CAD) software
Knowledge of safety regulations and protocols
What skills should I put on my resume for Biomedical Engineer?
A career in Biomedical Engineering requires a diverse set of skills to make you a successful candidate. Here are some essential skills to include on your resume:
Problem-Solving: Biomedical Engineers must be able to identify problems, analyze data, and develop solutions.
Design: Ability to design and develop medical devices, instruments, and systems.
Mathematics: Strong knowledge of mathematics as it relates to engineering, including calculus, algebra, geometry, and trigonometry.
Science: Understanding of basic science principles, such as anatomy, physiology, biomechanics, and biomaterials.
Technical: Proficiency in computer-aided design (CAD), computer-aided engineering (CAE), and other engineering software.
Communication: Knowledge of technical writing and the ability to effectively communicate ideas to colleagues.
Attention to Detail: Eye for detail to ensure accuracy of designs and measurements.
Project Management: Ability to manage complex projects, prioritize tasks, and meet deadlines.
Research: Ability to conduct research and analyze data to identify potential solutions.
By showcasing these skills on your resume, you can demonstrate to potential employers that you have the skill set necessary to succeed in a career in Biomedical Engineering.
Key takeaways for an Biomedical Engineer resume
When creating a resume for a job in biomedical engineering, there are several key takeaways that should be kept in mind. A well-crafted resume should provide employers with a clear picture of what you can bring to the table.
First, it is important to highlight your technical and analytical skills. Specifically, be sure to list any specific software or programming languages you are experienced in. It is also important to list any relevant laboratory experience or certifications you may hold. Additionally, be sure to highlight any leadership or organizational skills you possess that could be beneficial to the role.
It is also important to provide a concise and concise summary of your educational background and any experience you may have had in the field. This should not just be a list of your classes, but should also include any relevant internships or research experiences you may have had.
Finally, don't forget to include a section devoted to your extracurricular activities or hobbies. This can help employers get a better sense of who you are as a person and can provide a great way to show off your unique personality.
By following these key takeaways when creating your resume for a job in biomedical engineering, you will be able to demonstrate to employers why you are the best fit for their position.
Let us help you build
your Resume!
Make your resume more organized and attractive with our Resume Builder