Writing a resume as an assistant engineer can be daunting. After all, you have to convey your skills and qualifications in a way that appeals to employers, while also highlighting your achievements—all in a single page. Thankfully, by following the right tips and tricks, you can create a resume that stands out. This guide will walk you through the process of writing an effective assistant engineer resume, from the essential components to consider, to useful examples and templates to refer to. So, if you need help putting together a resume for an assistant engineer role, you've come to the right place.
If you didn't find what you were looking for, be sure to check out our complete library of resume examples.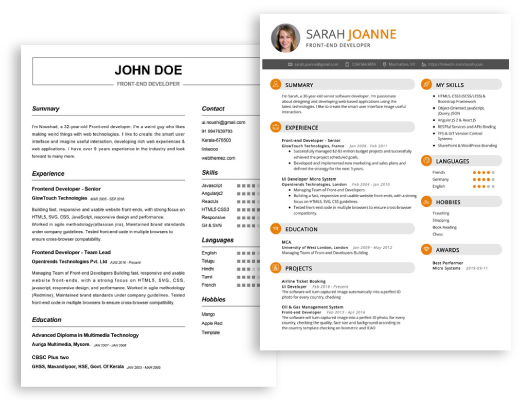 Start building your dream career today!
Create your professional resume in just 5 minutes with our easy-to-use resume builder!
Assistant Engineer Resume Examples
John Doe
Assistant Engineer
123 Main Street | Anytown, USA 99999 | Phone: (123) 456-7890 | Email: john.doe@email.com
I am a highly motivated, detail- oriented and self- driven professional with over 5 years of experience as an Assistant Engineer. My expertise lies in troubleshooting and problem- solving complex hardware and software- related issues, designing and testing systems for accuracy, and providing technical support for customers. I am highly organized and have excellent communication and interpersonal skills, which enable me to work well in both individual and team settings. I am passionate about staying up- to- date with the latest technologies and I am confident that I could contribute to the success of your company.
Core Skills:
Technical Troubleshooting and Problem- Solving
System Design and Testing
Team Collaboration
Communication and Interpersonal Skills
Networking and Firewall Security
Microsoft Office Suite
Database Management
Professional Experience:
Assistant Engineer, ABC Company, 2016- Present
Troubleshoot and solve hardware and software- related issues
Design and test systems for accuracy
Provide technical support for customers
Accurately document technical reports and findings
Analyze customer feedback and implement improvements
Utilize the Microsoft Office Suite, networking and firewall security
Education:
Bachelor of Science in Computer Science, ABC University, 2011–2016
Assistant Engineer Resume with No Experience
Recent engineering graduate with strong technical skills and research experience looking to become an Assistant Engineer. Possesses strong analytical and problem solving skills, able to develop innovative solutions to complex engineering problems. Demonstrated ability to excel in team settings, collaborating effectively with others to accomplish goals.
Skills
Proficient in engineering principles and concepts
Excellent knowledge of mathematics and physics
Strong organizational and communication skills
Ability to interpret technical drawings and schematics
Proficient in CAD software, MATLAB, and Microsoft Office Suite
Familiar with material properties and laboratory testing methods
Responsibilities
Assisting in the design, development, and testing of engineering projects
Performing calculations and simulations using CAD software and MATLAB
Monitoring the progress of engineering projects and providing support to team members
Collecting and analyzing data to evaluate current engineering processes
Updating engineering databases and technical documents
Conducting research and providing recommendations for improved engineering practices
Assistant Engineer Resume with 2 Years of Experience
Results- driven Engineer with two years of experience in troubleshooting, maintenance, and optimization of industrial operations. Adept at interpreting operational parameters and solving complex problems. Possess a well- defined knowledge of industrial engineering principles and sound understanding of root cause analysis. Demonstrated knowledge of safety protocols and hazardous materials management. Highly organized multitasker with a track record of delivering successful projects on time and within budget.
Core Skills:
Technical trouble- shooting
Maintenance and optimization
Industrial engineering principles
Root cause analysis
Safety protocols
Hazardous materials management
Multitasking
Project management
Responsibilities:
Design and implement effective maintenance operations for industrial plants.
Monitor operations and identify problems for resolution.
Diagnose problems and determine solutions.
Develop preventive measures to avoid future problems.
Ensure compliance with safety protocols.
Develop and implement process improvements.
Monitor and analyze operational performance.
Coordinate with other departments to ensure smooth operations.
Manage hazardous materials and ensure proper disposal.
Prepare reports and prepare data for analysis.
Assistant Engineer Resume with 5 Years of Experience
Highly experienced Assistant Engineer with 5 years of experience in providing professional engineering and technical assistance to engineers, management, and other staff. Skilled in troubleshooting and repairing technical equipment, designing and implementing test plans, and managing project timelines. Committed to consistently providing the highest levels of service and support to clients.
Core Skills:
Technical troubleshooting
Project management
Equipment maintenance
Designing test plans
Documentation
Technical writing
Microsoft Office Suite
Working in teams
Responsibilities:
Assisted engineering staff with developing and troubleshooting project designs
Implemented test plans and documented results
Coordinated with engineering staff to develop and implement solutions to technical challenges
Inspected and tested equipment for proper operation
Performed maintenance and repair work on equipment and systems
Ensured quality of materials used in projects
Prepared technical documents and reports on the progress of projects
Developed and maintained positive working relationships with staff, management, and clients
Assistant Engineer Resume with 7 Years of Experience
A highly motivated and enthusiastic professional with a degree in Mechanical Engineering and 7 years of diverse experience in leading and managing complex engineering projects. Demonstrated ability to develop and implement cost- effective and efficient engineering solutions to meet the project objectives. Possess excellent problem- solving, analytical, and critical- thinking skills. Have a proven ability to work within a team and handle multiple tasks simultaneously.
Core Skills:
Project Management
Quality Assurance
Risk Analysis
Technical Documentation
Cost Estimation
Troubleshooting & Maintenance
Systems Design & Implementation
Problem Solving
Team Coordination
Responsibilities:
Developed and implemented innovative engineering solutions to meet customer requirements.
Planned and monitored the progress of engineering projects to ensure that deadlines and quality standards were met.
Conducted detailed cost analysis and risk assessments to ensure that projects were completed in a cost- effective and efficient manner.
Wrote technical specifications and documentation for engineering projects.
Ensured that the engineering systems were maintained in accordance with safety standards.
Performed troubleshooting and maintenance of engineering systems.
Supervised the installation and testing of engineering projects.
Coordinated with other departments to ensure smooth project delivery.
Assistant Engineer Resume with 10 Years of Experience
Highly motivated and experienced Assistant Engineer with 10 years of experience in engineering, team management and customer service. Experienced in both residential and industrial projects. Possesses excellent communication skills, and a strong mathematical and technical background for excellent problem solving. A strong leader and team player with a commitment to safety and quality assurance.
Core Skills:
Technical knowledge in engineering principles
Proficient in the use of computer aided design (CAD)
Excellent written and oral communication
Team management and customer service
Problem solving and creative thinking
Strong mathematical and analytical skills
Responsibilities:
Managed and collaborated with a team of engineers on industrial and residential projects.
Developed and implemented technical drawings and plans using CAD software.
Monitored and coordinated the progress of all engineering projects.
Conducted safety inspections and ensured that all safety regulations were strictly followed.
Ensured the accuracy of all engineering plans and designs.
Provided technical support and advice to clients.
Resolved issues related to design and production.
Provided customer service in resolving customer inquires and complaints.
Performed quality assurance checks on all engineering projects.
Assistant Engineer Resume with 15 Years of Experience
A highly experienced and motivated Assistant Engineer with 15 years of experience in providing exceptional engineering services, ensuring project deadlines and budget requirements are met. Proven track record of successful project management and client satisfaction. Extensive knowledge of engineering principles and processes. Possesses strong problem solving and analytical skills, excellent communication and interpersonal skills, and the ability to work collaboratively in a team environment.
Core Skills:
Project Management
Technical Writing
Process Improvement
Risk Management
Cost Estimation
Quality Assurance
Troubleshooting
Problem Solving
Data Analysis
Time Management
Responsibilities:
Developed engineering strategies and plans to achieve project objectives.
Performed cost analysis and risk assessment to ensure projects remain within budget.
Coordinated with clients and internal teams to ensure project requirements are met.
Developed and maintained process improvement plans to improve efficiency.
Monitored and evaluated project progress and performance.
Tracked and reported progress to senior management.
Developed technical documents and reports to communicate project progress.
Performed quality assurance testing and troubleshooting of engineering projects.
Assisted in the development of new products and technologies.
Developed and implemented strategies for problem resolution.
Evaluated and identified potential risks and issues.
In addition to this, be sure to check out our resume templates, resume formats, cover letter examples, job description, and career advice pages for more helpful tips and advice.
What should be included in a Assistant Engineer resume?
Assistant Engineering is a demanding field requiring technical knowledge, an eye for detail, and the ability to work independently. A well-crafted resume is essential for any candidate looking to make an impact in this field. In order to effectively showcase your skills, knowledge, and experience, there are some key elements that should be included in an Assistant Engineer resume.
Education: Be sure to include any relevant degrees or certifications you've earned.
Work Experience: Highlight past roles that were related to engineering and showcase the skills you've gained.
Technical Skills: Demonstrate your knowledge of software, programming languages, and other engineering related skills.
Soft Skills: Include any interpersonal skills you have that may be beneficial in this role, such as problem solving, communication, or teamwork.
Volunteer Experience: Showcase any volunteer work you've done that is related to engineering.
Extracurricular Activities: Include any relevant clubs or organizations that you are involved in that are related to engineering.
With so much competition in the engineering field, having a well-crafted resume is essential to standing out from the crowd. By including the key elements mentioned above, you'll be giving yourself the best chance of securing an Assistant Engineer position.
What is a good summary for a Assistant Engineer resume?
A professional summary for an Assistant Engineer resume should highlight your technical engineering skills and knowledge, as well as your ability to work with team members and clients in a collaborative manner. You should also indicate any relevant certifications or software programs you are proficient in, as well as your familiarity with industry regulations and standards. You should also showcase any experience you have gained in the engineering field and demonstrate how it has helped you further your career. Finally, you should include a few words about your ability to research and develop innovative solutions to engineering problems. This should show potential employers that you are a well-rounded professional with the necessary skills and experience to excel in an engineering role.
What is a good objective for a Assistant Engineer resume?
A well-crafted resume objective for an Assistant Engineer should include the following:
Demonstrating a commitment to excellence in engineering principles, processes, and products.
Utilizing organizational, problem-solving and technical skills to develop and maintain high-quality engineering projects.
Applying knowledge of engineering processes, tools, and regulations to complete projects effectively.
Building strong relationships with project stakeholders, colleagues, and management.
Working collaboratively to optimize engineering processes and systems.
Showing the ability to adapt quickly to changing project requirements.
Staying abreast of developments in the engineering field and applying them to projects.
An Assistant Engineer's role is to support the team and contribute to the success of the engineering projects. A successful objective should demonstrate the candidate's ability to support the team and contribute to the successful completion of the engineering project. By including the points listed above in the resume objective, the candidate will be able to emphasize their commitment to excellence and their ability to work with a team to complete projects successfully.
How do you list Assistant Engineer skills on a resume?
When you're applying for an Assistant Engineer role, you need to make sure your resume is tailored to the job and includes all the technical and soft skills you possess. It's important to remember that your skills section is the place to highlight your qualifications, so it should be one of the first sections of your resume.
To make sure your skills stand out on your resume, follow these tips for listing your Assistant Engineer skills:
Begin with a list of any technical skills related to the job you're applying for, such as computer programming, engineering software, CAD software, etc.
Next, list any general skills such as problem solving, communication, and time management.
Include any management or leadership experience you may have, such as managing projects or teams.
Finally, don't forget to mention any certifications or licenses you have.
By following these guidelines, you'll be sure to include all the necessary skills to make your resume stand out. With the right qualifications and skills, you'll be on your way to landing your dream job as an Assistant Engineer!
What skills should I put on my resume for Assistant Engineer?
When writing a resume for the role of Assistant Engineer, it is important to highlight the skills and experience that make you unique and qualified for the position. Here are some of the key skills and competencies to consider including on your resume:
Technical Skills: Demonstrate your technical abilities and expertise in engineering-related topics, such as computer programming, mechanical engineering, electrical engineering, and more.
Problem Solving: Showcase your ability to analyze and solve complex engineering problems.
Communication: Demonstrate your ability to communicate effectively with colleagues, customers, and other stakeholders.
Organizational Skills: Highlight your ability to plan, organize, and manage projects and tasks.
Time Management: Showcase your ability to work efficiently and effectively within given deadlines.
Attention to Detail: Demonstrate your ability to pay attention to detail and ensure accuracy when working on projects.
Research Skills: Showcase your ability to conduct research and analyze data to inform decisions.
Interpersonal Skills: Demonstrate your ability to work collaboratively and build relationships with team members.
By highlighting these skills on your resume, you will demonstrate to employers that you have what it takes to be a successful Assistant Engineer.
Key takeaways for an Assistant Engineer resume
When you are applying for a job as an assistant engineer, you want to make sure your resume stands out from the crowd. Here are some key takeaways to help ensure your resume is a successful one.
First, make sure your resume is well-organized and easy to read. An assistant engineer's resume should highlight your technical skills, such as software development and coding, as well as any relevant experience you have in the industry. Use bullet points to make it easier for recruiters to quickly scan through your resume.
Second, make sure to include any accomplishments you have made in the engineering field, such as successful projects or initiatives you have been involved in. This will show employers that you are capable of taking on responsibility and completing tasks in a timely manner.
Third, provide any certifications and other badges you have that are related to the assistant engineer position. This will prove to employers that you are knowledgeable in the field and have the necessary qualifications for the job.
Fourth, make sure to put your contact details at the top of your resume, so recruiters can easily reach out to you. This should include your email address, phone number, and social media accounts.
Finally, make sure to tailor your resume to the company and job description you are applying for. This will ensure that your resume stands out from the rest and shows employers that you have taken the time to research the company and position.
By following these key takeaways, you can create an effective and successful resume for an assistant engineer position. With a well-crafted resume, you can be sure to make a great impression on recruiters and increase your chances of landing your ideal job.
Let us help you build
your Resume!
Make your resume more organized and attractive with our Resume Builder