Writing a resume as an ASIC engineer can be a daunting task due to the highly technical nature of the job. You will need to effectively communicate your design, verification and debugging skills and demonstrate your experience with the industry's most advanced technologies. Crafting the perfect resume requires forethought, a good understanding of your skills and experience, and an effective presentation of your qualifications for the job. In this guide, we'll provide you with a comprehensive resume writing guide for ASIC engineers, with helpful examples and tips for creating your own stand-out resume.
If you didn't find what you were looking for, be sure to check out our complete library of resume examples.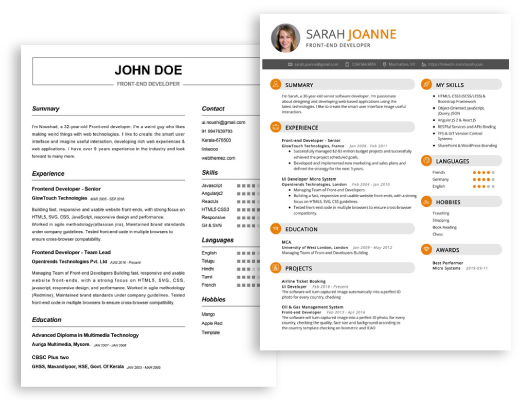 Start building your dream career today!
Create your professional resume in just 5 minutes with our easy-to-use resume builder!
Asic Engineer Resume Examples
John Doe
Asic Engineer
123 Main Street | Anytown, USA 99999 | Phone: (123) 456-7890 | Email: john.doe@email.com
I am an ASIC engineer with a wide variety of experience across digital and analog electronic design, simulation, and testing. I have worked on many complex, large- scale projects and have a proven track record of successful implementation and product delivery. My strong problem- solving skills, combined with my ability to quickly learn and adapt, have enabled me to take on challenging projects and deliver results.
Core Skills:
Digital circuit design
Analog circuit design
System- level architecture
Power management
Schematic entry and PCB layout
Simulation, debugging and testing
Product optimization
Documentation and technical writing
Verilog, VHDL and C programming
Professional Experience:
Designed and implemented various high- speed, low- power digital ASICs, including FPGA and CPLD devices
Developed micro- architectures for complex, power- efficient SoC designs
Created custom, high- performance analog and mixed- signal circuits for industrial applications
Investigated and tested new technologies for power management and system- level optimization
Developed verification plans and tools for validating design specifications
Developed and debugged product firmware and device drivers
Collaborated with other engineers to develop and implement solutions that align with project requirements
Education:
Bachelor of Engineering, Electrical and Electronics Engineering, University of Technology, Sydney
Master of Science, Electrical Engineering, University of Technology, Sydney
Asic Engineer Resume with No Experience
Recent Engineering graduate with a passion for ASIC design and a commitment to excellence. Seeking to leverage my technical knowledge and creativity to contribute to the success of an innovative technology company.
Skills:
Proficient in ASIC design and logic simulation software
Strong knowledge of digital circuit design and Verilog/VHDL coding
Excellent problem- solving, analytical and communication skills
Ability to work independently and collaboratively as part of a team
Responsibilities:
Analyze system specifications and generate technical designs for ASICs
Perform logic simulation to verify design and debug errors
Design and develop Verilog/VHDL code for ASICs
Develop test benches for simulation and debugging
Conduct power and performance analysis
Perform ASIC synthesis, timing analysis and optimization
Asic Engineer Resume with 2 Years of Experience
A highly motivated and experienced ASIC Engineer with two years of experience in the design, development and implementation of integrated circuit chips. Expertise in the development of complex logic structures with the integration of hardware and software systems. Experienced in design verification, debugging and test planning and execution. Experienced in the development of ASICs and FPGAs, as well as the integration of them into products.
Core Skills:
ASIC Design and Verification
VHDL/Verilog/SystemVerilog/UVM
FPGA Design
Logic Design
Synthesis & Place & Route
Hardware and Software Integration
Debugging
Test Planning and Execution
Responsibilities:
Responsible for the development of highly complex integrated circuit systems from specifications, design and verification of ASICs and FPGAs.
Developed logic designs using VHDL/Verilog/SystemVerilog/UVM for implementing complex logic structures.
Utilized synthesis, place & route tools to ensure efficient implementation of logic designs.
Debugged hardware and software issues in the integrated circuits.
Tested and verified designs, prepared test plans and executed tests.
Optimized designs to improve performance and reliability.
Developed and maintained user manuals and technical documents.
Asic Engineer Resume with 5 Years of Experience
Dedicated and experienced ASIC Engineer with 5 years of experience in designing and developing state- of- the- art system- on- chip (SoC) solutions. Demonstrated expertise in various aspects of ASIC and FPGA design, including logic design, physical design, verification, and validation. Highly proficient in Verilog, C, C++, and VHDL. Adept in reviewing and analyzing ASIC designs, developing new algorithms and IPs, and ensuring high- quality results. Possessing excellent problem solving and communication skills in order to collaboratively work with multiple stakeholders.
Core Skills:
ASIC Design
FPGA Design
Logic Design
Physical Design
Verification and Validation
Verilog
C
C++
VHDL
Algorithm and IP Development
Problem Solving
Communication
Responsibilities:
Designed and developed state- of- the- art SoC solutions using Verilog, C, C++, and VHDL.
Performed logic design, physical design, verification, and validation of different ASIC and FPGA designs.
Reviewed ASIC designs and created detailed reports outlining the results.
Developed new algorithms and IPs to meet product requirements.
Ensured high quality results through proper testing and validation.
Collaborated with multiple stakeholders, including engineering teams, product teams, and customers.
Troubleshot and solved design and implementation issues in a timely manner.
Asic Engineer Resume with 7 Years of Experience
I am an experienced ASIC Engineer with 7 years' experience in designing advanced ASICs, delivering successful results and meeting deadlines. My responsibilities include creating RTLs and designing and simulating digital designs. My core skills are in HDL coding, verification techniques, and SOC level integration and design. I am also knowledgeable in embedded systems and have a good working knowledge of FPGAs. I am a self- motivated and professional individual who is dedicated to providing quality designs and results.
Core Skills:
HDL Coding
Verification Techniques
SOC Level Integration and Design
Embedded Systems
FPGAs
Responsibilities:
Develop and design high performance ASICs
Create RTLs for ASICs
Perform and simulate digital designs
Deliver successful results and meet deadlines
Analyze functional requirements and design specifications
Write and review test specifications
Perform debugging and optimization of designs
Write technical documents and reports
Collaborate with the design team and other stakeholders to ensure successful product delivery
Asic Engineer Resume with 10 Years of Experience
As an experienced ASIC Engineer with 10 years of work in the industry, I have a strong knowledge of the ASIC design process, from RTL design and verification to synthesis and timing closure. My expertise includes the design and verification of ASICs in the consumer electronics, consumer products, and semiconductor markets. I have a proven track record of meeting design requirements, timelines and budgets. I am looking to leverage my skills and experience to contribute to the success of a new employer.
Core Skills:
RTL design and verification
Synthesis of advanced ASIC designs
Timing closure
Low- power design
Debugging of complex ASICs
Knowledge of EDA tools such as Verilog and SystemVerilog
Familiarity with industry standards and protocols such as I2C and SPI
Responsibilities:
Develop and verify ASICs for consumer electronics, consumer products and semiconductor markets
Design, implement, and verify RTL for ASICs
Perform synthesis and timing closure in a low- power design flow
Debug complex ASICs by using various EDA tools
Develop test benches and verification plans
Generate timing constraints, floor plans, and power estimates
Work with design teams to ensure design meets requirements and budget
Asic Engineer Resume with 15 Years of Experience
Driven and motivated ASIC Design Professional with 15 Years of experience in the semiconductor industry. Proven track record of developing and implementing solutions to complex design problems to exceed customer requirements. Expertise in all aspects of ASIC design from product specification through physical implementation, as well as in creating test plans and leading verification activities. Skilled at working with both large, multi- site teams and small groups. Thrives in fast paced and dynamic environments.
Core Skills:
SystemVerilog, Verilog, VHDL, CPLD, FPGA Design
RTL coding and verification
Full- chip and IP- level Synthesis
Physical Design and Verification
Power, timing and signal integrity analysis
ASIC and FPGA Debugging and Troubleshooting
Test Plan Development and Execution
Project Management and Leadership
Responsibilities:
Developing and Implementing ASIC designs from product specification through physical implementation
Designing and coding RTL modules and blocks in SystemVerilog, Verilog and VHDL
Synthesizing and optimizing designs for ASIC and FPGA technologies, including full- chip and IP- level synthesis
Performing power, timing, and signal integrity analysis
Verifying design correctness and debugging issues
Leading ASIC and FPGA verification activities
Creating test plans and leading test plan execution
Managing and leading multi- site project teams and small groups
In addition to this, be sure to check out our resume templates, resume formats, cover letter examples, job description, and career advice pages for more helpful tips and advice.
What should be included in a Asic Engineer resume?
Asic Engineers are responsible for creating and designing computer chips for a wide range of applications. A resume for an Asic engineer should highlight their experience and knowledge in the field of computer chip design, as well as their strong communication skills. In order to effectively showcase these skills and knowledge, the following components should be included in an Asic engineer resume:
Education. This should include any degrees or certifications related to computer chip design and engineering.
Technical Skills. This should include a list of the programming languages, platforms, and tools the candidate is proficient with.
Design Experience. This should include details on any previous projects the candidate has undertaken, such as the chip types they have designed and the companies they have designed chips for.
Problem Solving Ability. This should include any challenges the candidate has faced while designing chips and how they overcame them.
Communication Skills. This should include the candidate's ability to effectively communicate their ideas and designs to their team and company.
Professional Experience. This should include any past positions the candidate has held in chip design, including the companies and dates of employment.
By including these components in an Asic engineer's resume, employers can get an in-depth look at the candidate's experience and skills related to chip design. This will help them find the best Asic engineer for their organization.
What is a good summary for a Asic Engineer resume?
A summary for an ASIC Engineer resume should focus on the candidate's experience and ability in designing, developing, and testing integrated circuits. It should highlight the candidate's successful projects and experience working with computer-aided design (CAD) tools, such as Verilog and VHDL. An ASIC Engineer should also have knowledge of digital signal processing and signal integrity. Additionally, a well-crafted summary should emphasize any experience with board-level design and debugging, as well as any other relevant education and certifications. By highlighting a combination of experience, technical knowledge, and certifications, your resume's summary will stand out to potential employers.
What is a good objective for a Asic Engineer resume?
A well-written resume objective for an ASIC Engineer is key to optimizing your chances of getting noticed by employers. An ASIC Engineer is a chip design engineer who is responsible for designing and developing custom integrated circuits (ASICs) for a variety of applications.
An effective resume objective for an ASIC Engineer should highlight your technical experience, knowledge, and skill set. It should also demonstrate your commitment to staying up to date on the latest advancements in chip design and manufacture.
Here are a few examples of good objectives for an ASIC Engineer resume:
Experienced ASIC Engineer with 5+ years in chip design and manufacture, specializing in high-performance and low-power designs.
Highly skilled ASIC Engineer with expertise in RTL coding, simulation, and validation, seeking to contribute my design and development skills to a dynamic organization.
Professional ASIC Engineer with a passion for electronics and a keen eye for detail, eager to develop innovative ASIC solutions that meet customer needs.
Proven ASIC Engineer with a strong track record of delivering successful designs within tight schedules and budgets, looking to bring my experience to a cutting-edge development team.
How do you list Asic Engineer skills on a resume?
The job market for ASIC engineers is highly competitive, and having a comprehensive resume with the right skills listed is essential if you wish to stand out from the competition. Following are some skills that should be included when creating a resume for an ASIC engineer:
Digital Circuit Design: ASIC engineers must be knowledgeable in digital design, including logic design and circuit simulation tools.
System-on-Chip (SoC) Design: An understanding of SoC architecture and design is critical for ASIC engineers.
Verilog/VHDL Programming: Familiarity with programming languages like Verilog and VHDL is important for designing integrated circuits.
Debugging: Debugging complex circuit designs is an important part of being an ASIC engineer.
Layout Design: Experience with layout design tools is a key component of being an ASIC engineer.
Project Management: Being able to successfully manage projects from conception to completion is a valuable skill that employers look for.
Problem-Solving: Being able to effectively identify and solve problems is an important skill for ASIC engineers.
By including the above skills on your resume, you will be able to demonstrate your proficiency in the field and make yourself stand out from the competition.
What skills should I put on my resume for Asic Engineer?
As an ASIC Engineer, your resume should highlight a combination of technical and soft skills that are essential for success in the field. Below are some important skills to consider listing on your resume:
Technical Expertise: As an ASIC Engineer, you should be knowledgeable in areas such as hardware design, microprocessor architecture, circuit design, logic design, and embedded systems.
Problem Solving: You must have the ability to analyze and resolve complex technical problems.
Communication: Being able to clearly communicate technical concepts and ideas is essential for success in this role.
Attention to Detail: You should have the ability to spot mistakes and errors in complex systems.
Time Management: You must be able to manage your time effectively, prioritize tasks, and meet deadlines.
Teamwork: As an ASIC Engineer, you should be able to work well in a team environment.
Including these skills on your resume will show potential employers that you are a competent ASIC Engineer with the right combination of technical and soft skills. Be sure to highlight your experience and qualifications in a way that demonstrates your abilities and knowledge in the field.
Key takeaways for an Asic Engineer resume
When looking to strengthen your Asic Engineer resume, it is important to include the key takeaways that stand out to employers and leave a positive impact.
Highlight your specific qualifications.
Be sure to list your qualifications that are specific to Asic Engineering, such as your experience with specialized software, hardware, and processes. This will help demonstrate your knowledge in this field.
Demonstrate your problem solving skills.
Your ability to identify and solve problems is an essential skill for any Asic Engineer. It is important to highlight any specific challenges you have tackled and the solutions you have implemented.
Showcase your technical knowledge.
Employers will be looking for technical knowledge and skills when reviewing Asic Engineer resumes. Be sure to include any relevant certifications or training that you have received in this field.
Showcase your communication skills.
Communication skills are important for any engineer, especially Asic Engineers. Be sure to highlight any experience you have in communicating with clients, teams, and other stakeholders.
Communicate your understanding of industry trends.
Employers will want to see that you are aware of the latest trends in Asic Engineering. Be sure to include any latest developments you have been following and any changes that you have implemented in your work.
By highlighting these key takeaways for an Asic engineer resume, you can help set yourself apart from the competition and demonstrate your expertise in this field.
Let us help you build
your Resume!
Make your resume more organized and attractive with our Resume Builder