Writing a resume as a telecommunications manager can be a difficult and challenging process, as there are many factors to consider. From showing off technical skills to highlighting key responsibilities and accomplishments, it's important to ensure that your resume sets you apart from other applicants and showcases the unique qualifications and experience you have. This blog post is an in-depth guide to help you write the perfect resume as a telecom manager, with examples to help you get started on writing your own.
If you didn't find what you were looking for, be sure to check out our complete library of resume examples.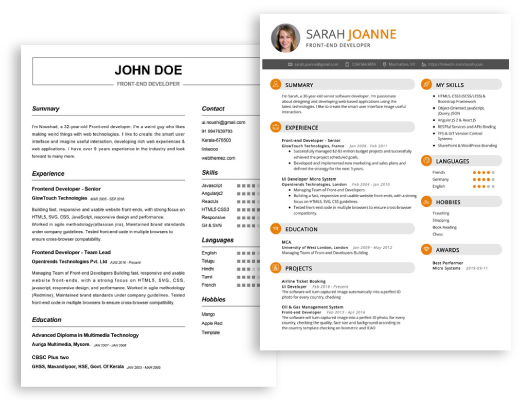 Start building your dream career today!
Create your professional resume in just 5 minutes with our easy-to-use resume builder!
Telecom Manager Resume Examples
John Doe
Telecom Manager
123 Main Street | Anytown, USA 99999 | Phone: (123) 456-7890 | Email: john.doe@email.com
A motivated and experienced Telecom Manager with an extensive background in telecommunications and operations management. My core strengths include exceptional technical abilities and problem- solving skills, as well as a proven ability to develop and implement cost- effective solutions for a wide range of telecom projects. I have a successful track record of meeting tight deadlines and completing projects on time and on budget. I am confident that my knowledge and skills make me an ideal candidate for any telecom position.
Core Skills:
Networking: Fiber Optics, Ethernet, TCP/IP, VoIP, LAN/WAN, Route/Switch
Telecom: System Design, Project Management, Troubleshooting, Maintenance, Documentation
Operations Management: Resource Management, Cost Control, Client Relations, Regulatory Compliance
Software: Microsoft Office Suite, Cisco IOS, Avaya, Visio
Professional Experience:
Senior Telecom Manager, ABC Company, 2020- Present
Supervised a team of 8 Telecom Specialists
Developed and implemented efficient solutions for large- scale telecom projects
Facilitated successful network maintenance and repairs
Designed, tested and deployed a new VoIP solution for the company
Telecom Manager, XYZ Company, 2019- 2020
Managed a team of 7 Telecom Specialists
Ensured compliance with industry regulations and standards
Successfully implemented new telecom systems and services
Performed system upgrades and maintenance tasks
Education:
Bachelor's Degree in Telecommunications, University of California, 2019
Associates Degree in Computer Science, University of California, 2017
Telecom Manager Resume with No Experience
Recent graduate looking to establish a career in telecom management. Possess problem- solving and communication skills. Desire to leverage my background in organizational and project management to provide a competitive edge in the telecom industry.
Skills
Organizational and project management
Creative problem- solving
Team collaboration
Strong communication and interpersonal skills
Ability to meet tight deadlines
Technical aptitude
Responsibilities
Develop and implement telecom strategies to maximize resources and minimize costs.
Ensure compliance with all telecom regulations and policies.
Manage telecom systems and services, including selecting vendors and vendors.
Monitor and analyze telecom performance, making adjustments as needed.
Ensure reliable and secure telecom operations.
Keep current on industry trends and developments.
Develop and maintain productive relationships with key stakeholders.
Telecom Manager Resume with 2 Years of Experience
A highly organized and professional Telecommunications Manager with 2 years of experience in providing support for all telecom related projects. Possessing an extensive portfolio of knowledge in implementing and managing complex large- scale telecom solutions. Skilled in analyzing customer needs, managing teams, and coordinating activities for successful project completion.
Core Skills:
Project Management
Client Relationship Management
Telecommunication Solutions
Technical Writing
Network Design and Implementation
Vendor Management
Troubleshooting
Risk Management
Responsibilities:
Developed and implemented telecom strategies to ensure the smooth running of the organization's telecommunications systems.
Managed large- scale projects and telecom deployments, ensuring that all deadlines and budget requirements are met.
Monitored telecommunication systems and identified areas for improvement.
Created detailed technical documents and reports with complex network diagrams and configurations.
Facilitated communication between vendors and internal teams to resolve technical issues.
Maintained an up- to- date inventory of all telecom equipment and solutions.
Provided technical expertise and training to staff and stakeholders on telecom procedures.
Conducted regular audits and identified risks in the telecom system.
Evaluated the performance of the telecom system and identified areas for improvement.
Telecom Manager Resume with 5 Years of Experience
I am an experienced Telecom Manager with 5 years of expertise in the telecommunications industry. I have been credited for successfully managing large projects, providing excellent customer service, and maintaining the highest standards of quality. I possess excellent leadership, problem- solving, and communication skills. I am highly organized and proactive with a strong ability to develop and implement cost- effective strategies and processes that maintain efficiency.
Core Skills:
Project Management
Communication
Leadership
Problem- solving
Organizational
IT Infrastructure
Data Analysis
Quality Assurance
Customer Service
Responsibilities:
Planning and coordinating network projects for telecommunications
Leading a team of engineers and technicians for successful implementation of projects
Developing and maintaining effective customer relationships
Developing processes and procedures to ensure quality assurance
Monitoring the performance and functionality of network systems
Analyzing data to detect and identify any potential issues
Assessing the performance of existing infrastructure and suggesting improvements
Performing regular maintenance and repairs on communication networks and systems
Providing technical guidance and assistance to customers and staff.
Telecom Manager Resume with 7 Years of Experience
Experienced Telecom Manager with a comprehensive background in designing, developing and managing complex network infrastructures. Proven ability to manage teams, maximize system performance, implement cost savings initiatives and optimize resources. Outstanding problem- solving and project management skills.
Core Skills:
Troubleshooting complex network issues
Developing network plans and budgets
Maximizing system performance
Managing teams and resources
Implementing cost savings initiatives
Risk mitigation
Creating technical documentation
Project management
Vendor management
Responsibilities:
Designing and implementing telecommunications network infrastructures
Developing plans for network expansion and improvement
Maintaining high- level network performance and security
Evaluating and optimizing system performance
Monitoring and reporting systems activity
Troubleshooting and resolving system issues
Establishing and enforcing security protocols
Working with vendors to ensure quality service
Managing team and resources efficiently
Creating and updating technical documentation
Telecom Manager Resume with 10 Years of Experience
Experienced Telecom Manager with 10 years of experience in the telecom industry. Possess strong experience in developing and deploying telecom networks such as GSM, CDMA, and WCDMA. Skilled in managing installation, configuration and maintenance of telecom equipment, features, and systems. Proficient in developing and managing telecom projects, with a track record of achieving success in meeting customer requirements. Proven ability to develop and deploy innovative strategies to augment telecom operations.
Core Skills:
Project Management
Network Administration
GSM, CDMA and WCDMA
Telecommunications Installation
Systems Maintenance
Technical Support
Team Leadership
Vendor Management
Problem Solving
Responsibilities:
Managed installation, configuration, and maintenance of telecom systems, networks, and equipment in accordance with customer requirements.
Developed and deployed innovative strategies to optimize telecom operations and reduce operational costs.
Led projects for developing, testing and deploying telecom networks such as GSM, CDMA and WCDMA.
Assisted in planning and implementing telecom strategies that met customer needs.
Monitored and maintained telecom equipment to ensure its optimal performance.
Provided technical support to customers and troubleshoot complex telecom issues.
Managed vendors and suppliers to ensure timely delivery of telecom resources.
Analyzed customer feedback to identify and address areas of improvement in telecom operations.
Telecom Manager Resume with 15 Years of Experience
Dynamic and industrious Telecom Manager with 15+ years of valuable experience in providing efficient oversight, management and leadership to telecom teams, while upholding strict customer service standards. Proficient in identifying areas of improvement and developing cost- efficient programs to streamline operations. Recognized for delivering superior results through strategic planning and process improvement initiatives that increase operational efficiency.
Core Skills:
Excellent organizational and communication skills
Proven ability to successfully manage telecom teams
Proficient in process improvement initiatives
Highly skilled in identifying areas of improvement
Outstanding customer service standards
Skilled in developing cost- efficient programs
Knowledgeable in project management
Proficient in budget forecasting
Ability to resolve conflicts effectively
Responsibilities:
Developed and implemented telecom strategies and plans to ensure customer service compliance
Monitored and reviewed telecom operations to identify areas of improvement
Assisted in budget forecasting and cost management
Proactively identified issues and developed solutions to resolve them
Collaborated with other departments to ensure successful implementation of telecom plans
Liaised with vendors and suppliers to secure favorable contracts
Managed staff performance and conducted regular training sessions
Ensured all safety procedures and regulations were followed
Developed and maintained effective relationships with customers and internal departments
In addition to this, be sure to check out our resume templates, resume formats, cover letter examples, job description, and career advice pages for more helpful tips and advice.
What should be included in a Telecom Manager resume?
A Telecom Manager is responsible for overseeing the telecommunications systems within a business. As such, it is important for a Telecom Manager to have an up-to-date resume that reflects their experience and sets them apart from other candidates. Here are some of the key elements that should be included in a Telecom Manager resume:
List of Experience: This should include any prior experience managing telecommunications operations or related roles within the telecom industry. It should also detail any experience with telecom software, hardware, or other related telecom technology.
Qualifications: This should include any qualifications relevant to the role. Examples include certifications in telecom technologies, computer networking, and other related subjects.
Technical Expertise: Include any specific technical expertise you possess related to telecom operations. Examples could include programming languages, network configurations, and telecom protocols.
Problem Solving Skills: Demonstrate your problem solving skills and ability to work in a fast-paced environment. This could include any experience with troubleshooting telecom systems or resolving conflicts between telecom providers.
Leadership Skills: Detail your leadership skills, including any projects you've led or team successes you've achieved.
By including these elements in your resume, you can show potential employers that you are the ideal candidate for the Telecom Manager position.
What is a good summary for a Telecom Manager resume?
A Telecom Manager resume is a key document for professionals in the telecommunications industry. In the resume, job seekers should provide a comprehensive overview of their experience, qualifications, and accomplishments related to the telecom field. It should include a summary of the applicant's background, technical knowledge, ability to manage teams and staff, and ability to work with various vendors and stakeholders.
The summary should highlight the professional's most relevant experience, skills, and qualifications that make them an ideal candidate for the position. It should also emphasize their ability to effectively lead and manage projects, provide reliable customer service, and develop successful strategies. Additionally, job seekers should be sure to include any relevant certifications or education they have obtained in the telecom industry.
A good summary for a Telecom Manager resume should communicate the applicant's qualifications and experience in a concise and clear manner. It should also demonstrate the professional's knowledge of the telecommunications industry and their ability to effectively manage and lead teams. By doing so, it will help the applicant stand out from other candidates and could be the deciding factor in whether or not they land the job.
What is a good objective for a Telecom Manager resume?
A Telecom Manager is responsible for overseeing the planning and implementation of telecommunications projects for a company. As a result, a good objective for a Telecom Manager resume should emphasize their experience in the telecommunications industry and their ability to manage and lead successful projects.
When crafting an objective for your Telecom Manager resume, consider including the following:
Demonstrating a strong track record of success in the telecommunications industry
Possessing the ability to manage and implement complex telecom projects
Expertise in budgeting and cost analysis of telecom projects
Knowledge of the latest telecom technologies and systems
Experience in developing solutions to technical problems
Leadership skills in managing and motivating teams
How do you list Telecom Manager skills on a resume?
Telecom Managers are responsible for overseeing the telecommunications equipment and systems for a company. They handle tasks such as the installation and maintenance of telecommunication systems, troubleshooting technical issues, and monitoring system performance.
When creating a resume for a Telecom Manager position, it is important to include the skills you possess that are relevant to the role. Here are some of the skills that you may list on your resume:
Knowledge of telecommunications systems and technologies (e.g., VoIP, IP telephony, wireless, etc.)
Proficiency in installation, repair, and maintenance of telephone systems
Ability to analyze network performance and identify problems
Experience with troubleshooting technical issues
Excellent communication, organizational, and problem-solving skills
Ability to prioritize tasks and meet deadlines
Knowledge of customer service best practices and policies
Ability to work independently and as part of a team
Proficiency in using project management software and other related tools
Familiarity with network security protocols and standards
What skills should I put on my resume for Telecom Manager?
Telecommunications managers serve a critical role in ensuring organizations have access to a reliable, secure and efficient network. When applying for a telecommunications manager position, it is important to showcase your skills and qualifications to demonstrate that you are the best candidate for the job.
To help you in your job search, here are some important skills to consider including on your resume:
Technical Expertise: Telecommunications managers need to be well-versed in the different technologies and hardware used in telecommunications and networks. Be sure to include your technical proficiency in wireless networks, LAN/WAN systems, VoIP, routers, switches, security systems and more.
Leadership and Management: This position requires the manager to lead a team of technicians and engineers, so experience in leading teams is essential. Include any relevant experience you have in managing people, delegating tasks and providing direction.
Problem Solving and Analytical Thinking: Telecommunications managers need to be able to troubleshoot problems, identify their root causes and propose solutions. Include any relevant experience you have had in solving complex technical problems.
Communication: As the leader of the telecommunications team, the manager needs to be able to communicate clearly with multiple stakeholders. Demonstrate your ability to communicate complex information in a simple manner.
Organization: Telecommunications managers are responsible for overseeing various projects and tasks. Showcase your organizational skills by highlighting any experience you have with project management.
By showcasing your technical expertise, management skills, problem-solving abilities and communication skills, you can make sure your resume stands out to potential employers. Following these tips can help you create a compelling resume for your next telecommunications manager job.
Key takeaways for an Telecom Manager resume
As a Telecommunications Manager, you are responsible for managing a team of professionals, ensuring optimal performance of the voice, data and mobile infrastructures of your company. Your resume should make a great first impression and demonstrate your skills and experience to prospective employers. Here are some key takeaways to remember when crafting your resume:
Outline Your Work Experience: Your work experience should be front and center in your resume. Outline your most recent job responsibilities, the size and scope of your team, and the telecommunications solutions you implemented. Be sure to include any awards or honors you have received for your work.
Highlight Your IT Knowledge: Showcase the technical knowledge and expertise you have gained in the telecommunications field. Include the specific systems and software you are familiar with, and any certifications you have earned or studies completed.
Demonstrate Your Leadership Skills: As a Telecommunications Manager, you will be expected to have strong leadership abilities. Include any experience you have leading teams or managing projects. Showcase your ability to build relationships, identify issues, and develop solutions.
Include Your Communication Skills: Communication is key in any management role. Discuss the communication strategies you have employed in the workplace and highlight your ability to speak in front of large groups.
Demonstrate Your Problem-Solving Abilities: Employers want to hire managers who can quickly identify and solve problems. Share any experience you have resolving customer issues or finding creative solutions to complex problems.
By following these tips, you can create a resume that accurately reflects your experience as a Telecommunications Manager and showcases your skills and competencies to potential employers.
Let us help you build
your Resume!
Make your resume more organized and attractive with our Resume Builder