For telecom engineers, writing resumes can be challenging. You are a highly experienced and qualified professional, but how do you best display your credentials and credentials in a way that will help you stand out in a competitive job market? To help you hone your resume writing skills and craft a winning telecom engineer resume, this post will provide a comprehensive guide to writing a telecom engineer resume with examples. Here, we will discuss important components and tips for successful resume writing, as well as provide examples of telecom engineer resumes that stand out. With this guide, you can create a strong resume that will attract the attention of employers and job recruiters.
If you didn't find what you were looking for, be sure to check out our complete library of resume examples.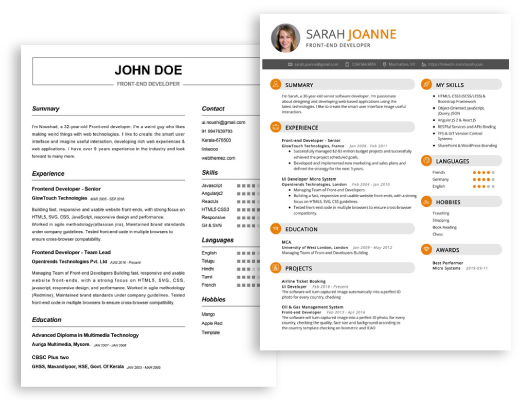 Start building your dream career today!
Create your professional resume in just 5 minutes with our easy-to-use resume builder!
Telecom Engineer Resume Examples
John Doe
Telecom Engineer
123 Main Street | Anytown, USA 99999 | Phone: (123) 456-7890 | Email: john.doe@email.com
A highly qualified and experienced Telecom Engineer with over 10 years of experience in the telecom engineering field. Possess excellent technical and analytical skills in working with the latest telecoms equipment and troubleshooting issues. Experienced in designing and implementing networks, ensuring the performance of networks, and providing maintenance and support. Committed to providing a high level of customer service and ensuring customer satisfaction.
Core Skills:
Expertise in telecom engineering principles, concepts, and technologies
Proven ability to design, install, and maintain complex telecom networks
Knowledge in telecommunications infrastructure, networking, and operations
Excellent customer service and support skills
Ability to work independently and as part of a team
Strong problem- solving and analytical skills
Adept at leading and managing teams
Excellent verbal and written communication skills
Professional Experience:
Installed and maintained telecom hardware and software for customers
Designed and implemented efficient telecom networks
Monitored network performance and took corrective action when required
Developed and implemented strategies for network growth
Analyzed customer issues and developed solutions
Trained and mentored junior engineers
Managed and supervised teams of engineers
Education:
Bachelor of Science in Telecommunications Engineering, University of Technology, Sydney, Australia (2013)
Telecom Engineer Resume with No Experience
Recent graduate with a Bachelor's degree in Telecommunications Engineering
Proficient in developing and implementing communication networks
Highly organized and detail- oriented with an analytical mindset
Strong problem solving skills and ability to troubleshoot networks
Able to work independently and in a team environment
Skills
Telecommunications engineering principles
Networking systems and protocols
Project management
Advanced troubleshooting skills
Software/Hardware IT support
Data analysis and interpretation
Communication systems design
Computer programming languages
Responsibilities
Design, configure, and deploy telecommunication systems
Implement network security and backup procedures
Develop plans for network expansion and optimization
Conduct research and analysis of telecommunication system performance
Monitor network operations and identify areas for improvement
Install, configure, and maintain hardware and software components
Troubleshoot hardware and software issues
Provide technical support to users and clients
Perform preventive maintenance on telecom systems.
Telecom Engineer Resume with 2 Years of Experience
A passionate and dedicated Telecom Engineer with 2 years of experience in telecom networks, designing, installing and maintaining telecom infrastructure, and troubleshooting customer issues. Possessing a strong understanding in radio frequency, communication system engineering, mobile network, and related technologies. Experienced in using various testing and troubleshooting tools. Committed to delivering customer service excellence and high- quality work.
Core Skills:
Telecommunications equipment installation and maintenance
Network troubleshooting and problem solving
IP and Radio Frequency (RF) testing
Network design and implementation
Data analysis and reporting
Vendor management
Project management
Customer service and support
Responsibilities:
Installed and maintained telecom infrastructure services and equipment.
Assessed customer requirements and developed plans to install and upgrade network infrastructure.
Created and updated network documentation, including system diagrams, standards and procedures.
Troubleshot and resolved customer issues related to telecom services.
Performed routine tests to ensure system performance, accuracy and reliability.
Analyzed and reported network performance data.
Contributed to project management responsibilities, including planning, scheduling and tracking.
Collaborated with vendors to ensure timely delivery of equipment and services.
Provided customer support and technical assistance.
Telecom Engineer Resume with 5 Years of Experience
A highly motivated, quick- learning and detail- oriented Telecommunications Engineer with 5 years of experience in providing service and support in all aspects of telecom operations. Demonstrated expertise in creating and maintaining reliable telecom networks, technical troubleshooting and ensuring optimized performance through monitoring and regular maintenance. A creative problem solver with excellent communication and organizational skills, capable of working with a team of engineers and other stakeholders.
Core Skills:
Designing, configuring, and implementing network architectures
Data network fundamentals, including WAN, LAN, VoIP and wireless technologies
Network security and troubleshooting
Configuration and deployment of network hardware and software
Vendor management, including negotiations and contracts
Excellent communication and customer service skills
Responsibilities:
Analyzing, diagnosing and resolving hardware, software, and network problems
Implementing effective network security measures to protect against intrusion
Designing and deploying new networks, including hardware, software and cabling
Monitoring and maintaining existing networks and performing regular maintenance
Conducting research and testing of new technologies and products
Assisting in the training of technical staff and end- users
Analyzing network traffic to ensure maximum performance and security
Telecom Engineer Resume with 7 Years of Experience
Telecom Engineer with 7 years of experience in project management and technology implementation. Adept at working with cross- functional teams to identify, assess, and execute telecom solutions. Skilled in coordinating with vendors and negotiating contracts. Proven track record of successful implementations, meeting tight deadlines and reducing costs.
Core Skills:
Project Management
Technology Implementation
Vendor Negotiations
Cost Analysis
Contract Drafting
Resource Allocation
Systems Integration
Risk Analysis
Software Troubleshooting
Network Design
Responsibilities:
Managed deployment of telecommunications solutions for a variety of customers.
Analyzed customer requirements and designed cost effective solutions.
Coordinated with vendors to develop contracts and ensure timely delivery of equipment.
Developed plans to implement system upgrades and optimize performance.
Identified areas of improvement and recommended system changes to improve performance and reduce costs.
Conducted system testing to ensure quality and accuracy.
Provided technical support for system troubleshooting and maintenance.
Collaborated with stakeholders to ensure successful system integration.
Monitored network and system security to prevent unauthorized access and data loss.
Telecom Engineer Resume with 10 Years of Experience
I am an experienced Telecom Engineer with 10 years of experience, offering expertise in installing, configuring, and troubleshooting various communication systems. I am highly knowledgeable in fiber optics and wireless technology, as well as network architecture systems, and have experience working with a wide range of telecommunications equipment, including routers, switches, and firewalls. I am an excellent problem solver and possess excellent customer service skills with the ability to effectively communicate technical concepts.
Core Skills:
Fiber Optic & Wireless Technology
Network Architecture & System Design
Telecommunications Equipment Installation & Troubleshooting
IT Infrastructure & Network Security
Telecommunications Software & Application
Problem Solving & Analytical Skills
Customer Service & Technical Support
Responsibilities:
Installing, configuring, and testing telecommunications equipment, hardware and software.
Designing and implementing network architectures, including routers, switches, firewalls and other hardware.
Setting up and configuring VoIP systems, as well as providing technical support.
Troubleshooting and resolving issues related to VoIP, LAN, WAN and other communication systems.
Configuring and maintaining router and switch ports.
Establishing network connections and ensuring network security.
Developing and maintaining system documentation.
Analyzing network performance, issues, and providing solutions.
Interacting with clients to deliver quality customer service.
Telecom Engineer Resume with 15 Years of Experience
A highly experienced Telecom Engineer with fifteen years of practical experience in supporting, designing and troubleshooting telecommunications systems. A passion for working with and understanding telecommunication networks, hardware, software and protocols. Experienced in working with a wide range of PBX and VoIP systems, along with related hardware and software. Possesses a strong customer service- oriented attitude and the ability to think on their feet to resolve technical issues.
Core Skills:
Project management
VoIP protocols
Network security
Telecommunications networks
Troubleshooting
Systems monitoring
Software installation
Hardware routing
PBX systems
Responsibilities:
Analyzing, installing and troubleshooting telecommunications systems.
Working with telecom hardware and software, such as routers, PBX, VoIP and IP systems.
Providing technical support for customers' telecommunications systems.
Configuring and managing networks for optimal performance.
Monitoring and documenting the performance of telecommunications networks.
Designing and implementing new telecom systems.
Testing telecom systems to ensure quality of service.
Identifying and resolving security issues.
Developing training materials for telecom systems.
In addition to this, be sure to check out our resume templates, resume formats, cover letter examples, job description, and career advice pages for more helpful tips and advice.
What should be included in a Telecom Engineer resume?
A Telecom Engineer resume is essential when applying for a job in the Telecom industry, as it highlights both your technical and professional skills and experience. When preparing your resume, it's important to include relevant information that will make you stand out from other candidates. Here are some key points to include in a Telecom Engineer resume:
Professional Summary: A concise, professional summary highlighting your experience as a Telecom Engineer and any major accomplishments.
Technical Skills: List your technical skills and expertise with telecommunications systems and technology, such as software, hardware, networks and protocols.
Education: Provide an overview of your educational background, including any certifications or degrees related to telecommunications engineering.
Work Experience: Include a list of your past positions and the responsibilities you had in each role.
Projects: Detail any major projects you've completed or helped to develop during your career.
Awards: If you've been recognized for any of your achievements, be sure to include this on your resume.
Additional Skills: List any additional skills you have that may be relevant to the role, such as customer service, problem solving, or project management.
By including these key points in your Telecom Engineer resume, you'll be able to showcase your skills and experience, and create an effective resume that will help you stand out from other candidates.
What is a good summary for a Telecom Engineer resume?
A Telecom Engineer resume should effectively summarize the professional experience and key qualifications of the applicant. The resume should demonstrate the ability to troubleshoot and solve complex telecommunications problems, as well as experience working with both analog and digital telecommunication systems. The resume should also highlight the abilities to analyze, design, and maintain telecom networks while staying abreast of industry standards and technologies. Additionally, the applicant should be able to demonstrate strong communication and organizational skills, as well as a desire to learn new technologies.
Overall, a Telecom Engineer resume should clearly demonstrate the ability to provide technical support, implement new telecom systems and components, and complete complex telecom engineering tasks. The resume should also demonstrate the applicant's knowledge of relevant government regulations and industry standards.
What is a good objective for a Telecom Engineer resume?
Telecom engineers are responsible for the design, development and maintenance of communication networks, such as phone systems, cellular networks and the Internet. In order to stand out as a top candidate for a telecom engineer role, it is important to craft a resume that is tailored to the specific position you are applying for. The objective statement is one of the most important sections of your resume, as it gives potential employers an overview of your experience, qualifications and career goals.
A good objective for a telecom engineer resume should be concise and to the point, and should clearly communicate the unique skills and experience you can bring to the position. Here are some examples of objectives that could be used on a telecom engineer resume:
To use my expertise in software development, network engineering and telecommunications to contribute to the growth and success of the organization.
Seeking a position as a telecom engineer, where I can apply my knowledge of network design, wireless communication and software development to design and implement innovative solutions.
Experienced telecom engineer with 5+ years of experience in designing and managing wireless networks. Looking to leverage my skills in data analysis, troubleshooting and customer service to help the organization reach its goals.
To secure a telecom engineer position with a well-established organization, utilizing my knowledge of IT systems and networks to deliver high-quality solutions.
To leverage my expertise in network engineering and telecommunications to help the organization stay competitive in the market.
No matter what your career goals are, it is important to create an objective statement that accurately reflects your qualifications and goals. An effective objective statement will make potential employers take notice and will help you stand out in the competitive job market.
How do you list Telecom Engineer skills on a resume?
When listing Telecom Engineer skills on a resume, it is important to showcase the technical and interpersonal abilities related to the role. Telecom Engineers are responsible for designing, installing, managing, and maintaining telecom networks, so they must have a strong technical background. Additionally, they must have strong customer service skills, as they often work with clients to ensure successful installations. Below are some of the skills that are important to highlight in a resume for a Telecom Engineer.
Knowledge of telecom equipment installation, maintenance, and troubleshooting
Proficiency in system testing and analysis
Ability to read and interpret technical schematics, diagrams, and drawings
Knowledge of network protocols and design
Understanding of relevant safety regulations
Excellent customer service and communication skills
Ability to troubleshoot telecom systems and identify problems
Proficiency in using relevant software and hardware tools
Ability to work independently and as part of a team
Ability to meet deadlines and stay organized in a fast-paced environment
What skills should I put on my resume for Telecom Engineer?
Telecommunication engineering is an ever-evolving field and a successful career in it requires keeping up with the latest technologies. It is important to highlight the skills that you have already acquired as a telecom engineer on your resume so that potential employers are aware of your current qualifications. Here are some of the essential skills to include when writing a resume for a telecom engineer position:
Telecom Protocols: Experience with telecom protocols such as IP, TCP, SIP, H.323, and MPLS is essential for telecom engineers. Make sure to list any experience you have with these protocols.
Networking Skills: Telecom engineers must be knowledgeable about networking fundamentals such as routing, switching, and firewall configuration. List any experience you have with these networking topics.
Telecom Applications: Experience with telecom applications such as VoIP, mobility, IPTV, data services, and contact center applications should be highlighted on your resume.
Cloud Computing: Telecom engineers must understand how cloud computing works and how it can be used to improve the performance and efficiency of a telecom network.
Troubleshooting: Experience in troubleshooting telecom networks is essential for telecom engineers. Make sure to list any experience you have in this area.
Project Management: Telecom engineers must be able to manage projects and coordinate with other teams. List any experience you have in project management.
By including these skills on your resume, you will demonstrate to potential employers that you have the necessary qualifications to be a successful telecom engineer.
Key takeaways for an Telecom Engineer resume
For telecom engineers, a well-written resume is essential for getting ahead in the competitive job market. Crafting a standout resume is the key to landing that dream job, so here are some key takeaways to keep in mind when creating your own resume.
Highlight Your Technical Skill Set: Telecom engineers should showcase their technical expertise in their resume by listing the relevant skills and experience they have. Make sure to include the specific hardware and software you have worked with, and any certifications or training you have had that are related to the telecom industry.
Demonstrate Your Communication Skills: Telecom engineers must have excellent communication skills in order to effectively interact with customers and colleagues. Make sure to include experience that demonstrates your ability to communicate effectively, such as customer service experience or your involvement in a project involving communication with multiple stakeholders.
Showcase Your Leadership Experience: If you have had any leadership roles in the telecom industry, make sure to highlight them in your resume. This could include anything from leading a team on a project, to organizing and running meetings.
Emphasize Your Problem-Solving Skills: Problem-solving skills are important for any telecom engineer. Demonstrate your aptitude for troubleshooting and finding creative solutions by highlighting any projects or experiences that required problem-solving.
List Your Professional Accomplishments: Showcase any accomplishments and contributions you have made to the telecom industry in your resume. This could include awards, publications, or any contributions to organizations or conferences.
By following these tips, telecom engineers can craft a stand-out resume and increase their chances of getting hired for their dream job. Good luck!
Let us help you build
your Resume!
Make your resume more organized and attractive with our Resume Builder