Writing a resume as a server engineer can be a daunting task if you aren't sure where to start. It's important to create a resume that not only demonstrates your skills and experience, but also showcases your technical abilities in the server engineering field. In this guide, we'll provide tips and examples to help you create a standout server engineer resume. We'll cover the basics, such as what to include and how to format your resume, as well as provide some examples of effective resumes. With these tips and tricks, you'll be able to create a compelling server engineer resume that will help you stand out from the competition.
If you didn't find what you were looking for, be sure to check out our complete library of resume examples.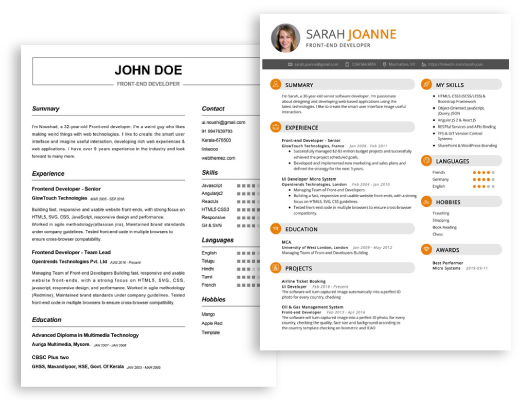 Start building your dream career today!
Create your professional resume in just 5 minutes with our easy-to-use resume builder!
Server Engineer Resume Examples
John Doe
Server Engineer
123 Main Street | Anytown, USA 99999 | Phone: (123) 456-7890 | Email: john.doe@email.com
Dynamic and detail- oriented Server Engineer with 5+ years of experience designing, deploying and maintaining server infrastructures in a variety of industries. Proven ability to troubleshoot difficult and complex problems in a timely and effective manner. Possess deep understanding of server hardware, operating systems and enterprise software. Experienced in the use of scripting and automation tools to increase the reliability and efficiency of server operations.
Core Skills:
Networking & Security
System Administration
Scripting & Automation
Troubleshooting & Problem Solving
Virtualization & Cloud Computing
Server Hardware & Software
Database Management
Professional Experience:
Installed, configured and maintained physical and virtual server systems
Conducted system and security audits, applying OS patches and security updates accordingly
Developed automation scripts, using PowerShell and Bash, to streamline server operations
Deployed and configured Windows Server, Active Directory and MS Exchange
Implemented server policies and procedures for maximum security and reliability
Monitored server performance, analyzed system logs and responded to alerts
Assisted in the design, deployment and testing of multiple server systems
Restored data and other critical information in the event of a disaster
Education:
B.S. in Computer Science, ABC University, City, ST
Server Engineer Resume with No Experience
Dynamic and hardworking server engineer with excellent problem- solving and critical thinking abilities. Seeking to leverage a previous background in IT- related studies and knowledge to fill the server engineer role at your organization.
Skills
Proficient in Microsoft Office Suite
Attention to detail
Ability to work in a fast- paced environment
Knowledge of basic networking
Troubleshooting skills
Ability to work independently
Responsibilities
Configure and maintain server infrastructure
Monitor server performance and resource utilization
Ensure server security and integrity by applying regular updates
Troubleshoot and resolve server related issues
Develop and update server documentation
Perform regular backups and restore data when needed
Server Engineer Resume with 2 Years of Experience
A highly motivated and adaptable Server Engineer with 2+ years of experience providing quality server and network administration support. Highly experienced in Linux systems administration and web server security. Proven ability to troubleshoot, identify and install hardware and software solutions. A team player with excellent communication and problem- solving skills.
Core Skills:
Linux Systems Administration
Web Server Security
Hardware and Software Solutions
Network Troubleshooting
Communication
Problem- solving
Responsibilities:
Installed and configured operating systems, software and hardware components.
Managed server infrastructure and maintained security protocols.
Monitored system performance and provided network support.
Created and implemented server policies and procedures.
Assisted with system backups, recovery and archiving.
Troubleshot and resolved server, application and network issues.
Developed and implemented server scripts for automation.
Performed maintenance of system software and hardware.
Ensured proper installation of server hardware and software.
Server Engineer Resume with 5 Years of Experience
A highly experienced Server Engineer with an extensive background in designing, implementing, and maintenance of server architecture, networking and virtualization. Adept at troubleshooting server- related issues and performing administrative tasks. Proven record of delivering cost- effective and high- performing hardware and software solutions. Experienced in managing and deploying complex projects with a high degree of accuracy and attention to detail.
Core Skills:
Server Architecture Design
Network Administration
Virtualization Solutions
System Troubleshooting
Data Security
Software Deployment
Hardware Maintenance
Project Management
Responsibilities:
Identifying and resolving server- related issues
Installing and configuring server hardware and software
Developing and maintaining server architecture
Monitoring server performance and providing reports to management
Performing routine maintenance and upgrades on existing servers
Implementing data security measures to protect server data
Developing and enforcing policies and procedures for server usage
Creating and maintaining technical documentation for server systems
Coordinating with vendors for hardware and software procurement
Server Engineer Resume with 7 Years of Experience
A highly motivated, experienced Server Engineer with 7 years of experience in server engineering, system design, and network operations. Proven ability to troubleshoot and maintain complex network infrastructures with a focus on performance, scalability, and reliability. Able to work independently as well as collaboratively in a team environment.
Core Skills:
Network Design & Administration
System Design & Administration
Technical Troubleshooting & Analysis
Network Security & Firewall Configurations
Server/Application Management
Virtualization & Cloud Technologies
Storage & Backup Solutions
Scripting & Automation
Responsibilities:
Design, install, and configure server hardware and software
Monitor and analyze system performance, and take corrective action to ensure optimal performance
Develop automation and scripting to maintain system health
Implement secure and reliable network architectures, including routers, switches, firewalls, and intrusion detection systems
Troubleshoot, diagnose, and resolve issues with systems, networks, applications, and hardware
Manage system backups and recovery processes
Develop and maintain system documentation and procedures
Coordinate with vendors and service providers for hardware, software, and service related issues
Server Engineer Resume with 10 Years of Experience
Senior Server Engineer with 10+ years of experience in designing and deploying secure, cost- efficient server solutions. Skilled in software development and system engineering with a strong record of meeting project deadlines and troubleshooting complex technical issues.
Core Skills:
Software Development
System Administration
Linux/Unix Platforms
Network Infrastructure
Network Security
Cloud Computing
Scripting
Automation
Project Management
Responsibilities:
Design, test, and deploy secure server solutions to meet user requirements.
Create and maintain comprehensive system documentation.
Monitor and optimize server performance for maximum efficiency.
Perform regular security audits of server systems to ensure compliance with industry standards.
Collaborate with software developers to improve system scalability and reliability.
Troubleshoot and resolve hardware and software server issues.
Install and configure hardware and software components for server systems.
Develop and implement automation scripts to improve system performance.
Provide support to system users and maintain a strong customer service focus.
Server Engineer Resume with 15 Years of Experience
With 15 years of experience in server engineering, I am highly experienced in all aspects of administering, maintaining, and developing server- based applications and services. I am highly motivated and thrive in a fast- paced technical environment. In my current role, I have implemented system automation and scripting to improve the reliability and performance of server- based applications and services. I am passionate about leveraging emerging technologies to optimize server performance and reliability.
Core Skills:
Server Administration
Automation & Scripting
Server Performance Optimization
System Monitoring & Troubleshooting
Server Security
Data Backup & Recovery
Virtualization
IT Infrastructure Design
Networking
DevOps
Responsibilities:
Installing, configuring, and maintaining Windows and Linux based servers
Developing and implementing automation and scripting to optimize server performance
Configuring hardware and software for new and existing servers
Identifying and troubleshooting server- related issues
Ensuring server security by implementing authentication protocols, firewalls, and other security measures
Monitoring server performance to identify potential issues
Developing and maintaining policies and procedures for server management
Performing regular data backups and disaster recovery
Establishing virtualization environments for server consolidation and improved performance
Designing and implementing IT infrastructure to support server operations
Configuring and managing network infrastructure to support server operations
Collaborating with cross- functional teams to implement DevOps initiatives
In addition to this, be sure to check out our resume templates, resume formats, cover letter examples, job description, and career advice pages for more helpful tips and advice.
What should be included in a Server Engineer resume?
A server engineer resume should clearly stand out from the crowd, highlighting the technical and managerial skills required to succeed in the position. When crafting your resume, take care to include the following items:
Professional Summary: Summarize your experience working as a server engineer, including notable accomplishments and relevant industry experience.
Technical Skills: Showcase your knowledge of server engineering, outlining the areas in which you specialize. Include both technical skills such as networking and scripting, and soft skills such as problem-solving and team leadership.
Professional Experience: Detail the roles and responsibilities you have taken on in each of your server engineering positions. Be sure to include the names of any companies you have worked with, their size, and the duration of your employment.
Education: Include the details of your degree program, noting any specializations or areas of study.
Certifications: Highlight any certifications related to server engineering, such as a Cisco Certified Network Associate (CCNA) or an Oracle certification.
Awards and Recognition: Include any honors or awards you have received related to your server engineering experience.
By including these items in your resume, you can be sure that hiring managers take notice of your qualifications and expertise. With the right combination of experience and technical knowledge, you can be on your way to becoming a successful server engineer.
What is a good summary for a Server Engineer resume?
A Server Engineer resume should summarize a person's experience and skills in setting up, configuring, and maintaining servers. It should include any certifications the engineer has, such as Microsoft Windows Server or Linux. It should also detail any experience working with networking equipment, such as switches, routers, and firewalls. The summary should also include any experience with cloud-based servers, as well as experience with scripting or programming languages. Finally, the resume should list any experience with server monitoring and maintenance software, such as Nagios or Splunk.
What is a good objective for a Server Engineer resume?
A Server Engineer is a computer professional who is responsible for managing, maintaining, and designing computer servers and networks. A Server Engineer resume should emphasize an individual's technical expertise and experience, as well as their ability to work in a team-oriented environment.
Here are some good objectives for a Server Engineer resume:
Obtain a position as a Server Engineer with a reputable organization where I can utilize my technical skills and experience in network architecture, server maintenance, and system upgrades.
To acquire a position as a Server Engineer that requires me to use my knowledge of computer hardware and software, my problem-solving skills, and my ability to manage projects.
To help an organization achieve its IT goals by utilizing my experience in server engineering, as well as my knowledge of system security and cloud computing.
To work as a Server Engineer in a fast-paced environment where I can deploy, maintain, and upgrade computer networks and servers.
To use my extensive knowledge of server engineering and system design to provide innovative solutions to complex problems.
To work with a team of knowledgeable professionals to design and develop secure networks, maximize system performance, and ensure system reliability.
How do you list Server Engineer skills on a resume?
When creating a resume as a Server Engineer, it is important to list the skills and experience that are relevant to the position in order to make yourself stand out from the competition. Here is a list of skills that should be included on a Server Engineer resume:
Knowledge of server hardware architecture and components
Proficiency in network communication protocols such as TCP/IP, Ethernet, and others
Expertise in virtualization technologies, such as VMware, Hyper-V, and Containers
Experience with server operating systems, such as Windows Server, Linux, and Unix
Ability to install and configure server hardware and software
Ability to troubleshoot and resolve issues with servers, networks, and applications
Ability to design, implement, and maintain multi-tier systems
Experience with deploying and managing server clusters
Knowledge of system security, such as firewalls, intrusion detection systems, and antivirus applications
Familiarity with cloud technologies and services, such as Amazon Web Services, Microsoft Azure, and Google Cloud Platform
Excellent problem-solving and communication skills
What skills should I put on my resume for Server Engineer?
The role of a Server Engineer is becoming increasingly important in today's ever-evolving digital landscape. To help you stand out from the crowd, here are some of the skills you should include on your resume when applying for a position as a Server Engineer:
Database Management: A Server Engineer should have a strong understanding of database management systems (DBMS), such as Oracle, SQL, and MySQL. They should be able to install, set up, configure, and maintain databases.
Operating Systems: Proficiency in popular operating systems such as Windows, Mac OS, and Linux is essential for Server Engineers. They should be able to install, update, and configure operating systems as well as troubleshoot any issues related to them.
Network Administration: Server Engineers should be well-versed in network administration, including installing and configuring routers, switches, and firewalls. They should also be able to troubleshoot any network issues and maintain network security.
Scripting: Knowledge of scripting languages, such as Python, PowerShell, and Bash, is essential for Server Engineers. They should be able to write, debug, and optimize scripts to automate tasks.
Virtualization: The ability to work with virtualization technology, such as VMware, Citrix, and Hyper-V, is essential for Server Engineers. They should be able to set up and manage virtual machines, as well as troubleshoot and optimize the performance of virtualized environments.
These are the skills you should include on your resume when applying for a Server Engineer position. Showcasing your expertise in these areas will help you stand out from the competition and ensure that you get your desired position.
Key takeaways for an Server Engineer resume
If you are a server engineer looking for a job, it is important to make sure your resume stands out from the crowd and clearly outlines your technical skills and experience. Here are some key takeaways to consider when creating or updating your server engineer resume.
First, include any server engineering certifications you have earned. This will demonstrate that you have the mastery and knowledge necessary to excel in the role. Also, emphasize any hands-on experience you have had working with servers. This could include the number of servers you have managed, the type of servers, the operating systems, and any troubleshooting you have done.
Second, make sure to highlight your understanding of networking and security protocols. Include any experience you have working with firewalls, VPNs, and other security systems. This shows that you are knowledgeable in the area and can help keep systems secure.
Third, emphasize any experience you have had with automation. This could include scripting, DevOps tools, and other automation solutions. Showing that you can streamline processes and increase the efficiency of systems will demonstrate your value to an employer.
Fourth, make sure to list any server performance improvements you have made in your past roles. This could include any optimizations or upgrades you have implemented, as well as any other performance enhancements.
Finally, show that you have a comprehensive understanding of server architecture. This could include the types of servers, the operating systems, and experience with server clustering.
By making sure to include these key takeaways in your server engineer resume, you will be able to demonstrate to potential employers that you have the skills and knowledge necessary to excel in the role.
Let us help you build
your Resume!
Make your resume more organized and attractive with our Resume Builder