A Sap Technical Consultant is an IT professional who is responsible for the technical aspects of an SAP system. They design and implement SAP implementations, configure and maintain existing systems, and provide customer support. Writing a Sap Technical Consultant resume can be a daunting task, but with the right guidance, it doesn't have to be. This guide will provide tips and examples for creating a Sap Technical Consultant resume that stands out from the crowd. With the right strategy and effort, you'll be able to create a resume that showcases your skills and experiences in the best light possible.
If you didn't find what you were looking for, be sure to check out our complete library of resume examples.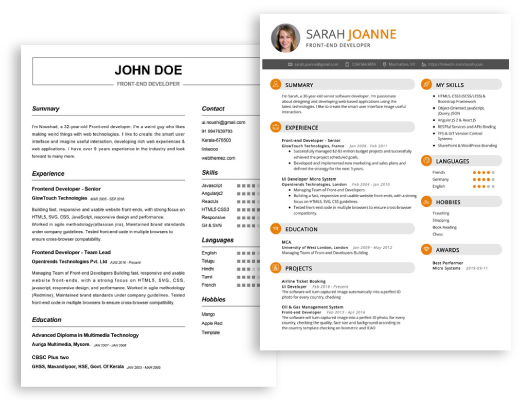 Start building your dream career today!
Create your professional resume in just 5 minutes with our easy-to-use resume builder!
Sap Technical Consultant Resume Examples
John Doe
Sap Technical Consultant
123 Main Street | Anytown, USA 99999 | Phone: (123) 456-7890 | Email: john.doe@email.com
A highly motivated and experienced SAP Technical Consultant with more than 5 years of experience providing technical expertise in the areas of SAP HANA, ABAP, and SAP ECC. Adept in developing innovative solutions and leading projects while collaborating with stakeholders. Aiming to leverage strong skills to help the organization achieve its technological goals.
Core Skills:
Proficient in SAP HANA, ABAP, and SAP ECC
Excellent project management and development skills
Exceptional problem- solving abilities
Strong communication and interpersonal skills
Attention to detail and ability to acquire new skills quickly
Ability to work independently and within a team environment
Professional Experience:
SAP Technical Consultant, ABC Company, 2017- present
Developed innovative solutions for SAP HANA implementations
Provided technical expertise on SAP HANA, ABAP, and SAP ECC projects
Collaborated with stakeholders to ensure successful project completion
Performed technical analysis and troubleshooting of system issues
Created and maintained SAP technical documentation
Education:
Bachelor of Science in Computer Science, XYZ University, 2013- 2017
Sap Technical Consultant Resume with No Experience
Recent graduate with a degree in Computer Science, seeking an entry- level position as a SAP Technical Consultant. Possess an eagerness to learn, an ability to quickly understand new technologies, and a passion for problem- solving.
Skills
Strong knowledge of SAP ERP, SAP BW, SAP Fiori, and SAP S/4
Proficient in SQL & JavaScript
Familiar with various software design and development principles
Excellent written and verbal communication skills
Able to work independently and as part of a team
Ability to multitask and prioritize tasks effectively
Responsibilities
Analyze and understand client requirements
Create, validate and implement SAP solutions
Develop custom SAP reports, programs and scripts
Design and document test plans and user acceptance criteria
Perform system testing and validation
Provide technical support and troubleshoot system issues
Participate in team meetings and provide progress updates
Sap Technical Consultant Resume with 2 Years of Experience
I'm a SAP Technical Consultant with 2 years of experience in the technology field. I specialize in developing and implementing SAP systems, customizing SAP modules and resolving complex technical issues. I have demonstrable ability in conducting end- to- end project cycles, troubleshooting and identifying system issues, and utilizing my knowledge of various SAP modules such as SD, MM, and FICO. I'm highly analytical and possess excellent problem- solving skills.
Core Skills:
SAP Module Customization and Implementation
SAP Modules (SD/MM/FICO)
System Troubleshooting and Issue Resolution
Project Cycle End- to- End Management
Problem- Solving Skills
Analytical Thinking
Responsibilities:
Responsible for developing and implementing SAP systems for clients
Customizing SAP modules according to clients' requirements
Resolving complex technical issues that arise in SAP systems
Conducting end- to- end project cycles from planning to execution
Analyzing and troubleshooting system issues
Utilizing knowledge of various SAP modules such as SD, MM, and FICO
Providing technical support to clients and colleagues
Sap Technical Consultant Resume with 5 Years of Experience
I am an experienced SAP Technical Consultant with 5 years of experience in developing business solutions using SAP technologies. I specialize in creating programs and solutions that deliver functional and operational excellence in global IT environments. I have a proven track record of developing complex systems and technology solutions that meet customer requirements. My expertise lies in designing, developing, and implementing SAP technical solutions, as well as managing and troubleshooting integration and messaging programs. I have a strong technical background in system administration, database management, security and compliance, and reporting and analytics.
Core Skills:
SAP ABAP and ABAP OO programming
SAP HANA and Sybase ASE development
SAP NetWeaver technologies including Integration, NetWeaver Portal, and Web Services
SAP Business Objects and Crystal Reports
SAP Solution Manager
Strong problem- solving and analytical skills
Project management
Responsibilities:
Develop and maintain SAP programs, scripts, reports, and user interface programs.
Perform daily system management tasks such as user management and system monitoring.
Perform system administration and security tasks such as account setup, configuration, and troubleshooting.
Integrate data between SAP and non- SAP systems using custom developed software.
Develop, modify, and debug SAP user exits and function modules.
Create ABAP programs to extract, transform, and load data into SAP, as well as integrate with third- party systems.
Configure and troubleshoot SAP Business Objects and Crystal Reports.
Document code and maintain program version control.
Sap Technical Consultant Resume with 7 Years of Experience
SAP Technical Consultant with 7+ years of experience in supporting large- scale SAP implementations. Skilled in providing technical guidance and leadership to the project team in areas such as integration and interfaces, system architecture, data migration, performance management and optimization. Proven ability to develop efficient solutions and resolve complex issues.
Core Skills:
SAP Basis Design & Architecture
System Installation & Maintenance
Technical Documentation & Training
System Security & Audit
Data Migration & Interfaces
Performance Monitoring & Optimization
Troubleshooting & Problem Resolution
Responsibilities:
Designed, implemented, and supported large- scale SAP systems.
Configured the various components of the SAP system including interfaces, database, and application servers.
Developed and tested system interfaces utilizing EDI, ALE, and BAPIs.
Participated in system security and audit activities.
Monitored system performance and implemented optimization techniques to improve the system's efficiency.
Coordinated with the application team to troubleshoot and resolve complex issues.
Developed technical documents and user manuals to guide users on the efficient use of the system.
Provided training to end- users on the SAP system and its applications.
Sap Technical Consultant Resume with 10 Years of Experience
A highly experienced and skilled SAP Technical Consultant with over 10 years of professional experience in providing innovative solutions, engineering planning and development of enterprise resource planning (ERP) systems. Skilled in integration, customization, development and support of SAP systems with expertise in developing technical solutions for specific organizational requirements. Possess strong problem- solving skills with the ability to evaluate business processes and apply the latest technologies to increase productivity and efficiency.
Core Skills:
SAP Application Design and Development
SAP NetWeaver Administration
SAP Security and Authorization
Data Migration and Integration
Business Process Automation
Report Writing and Design
SAP Programming and ABAP
Project Management and Documentation
Troubleshooting and Problem Solving
Vendor and Client Relations
Responsibilities:
Developed and maintained custom ABAP object designs for SAP applications
Provided technical support for SAP modules including FI, CO, MM, SD, PP, and QM
Coordinated with users and vendors in developing specifications for SAP enhancements
Implemented and managed SAP NetWeaver compliance and authorization
Updated, designed and maintained SAP data structures and integration tables
Developed and monitored ABAP code and objects such as reports, forms and scripts
Automated business processes using workflow and integration of modules
Monitored and tested system performance and provided recommendations for improvement
Assisted in translating business requirements into technical solutions
Performed troubleshooting of SAP issues and escalated to SAP support if necessary
Sap Technical Consultant Resume with 15 Years of Experience
I am a highly experienced SAP Technical Consultant with 15 years of experience in SAP technology. I have an extensive background in designing, developing, and customizing SAP solutions tailored to specific business needs. I specialize in ABAP programming, SAP HANA- based developments, SAP Scripts, and Smart Forms. My proven ability to communicate and collaborate with stakeholders, along with my extensive knowledge of Design and Configuration tools, makes me a valuable resource for any organization.
Core Skills:
SAP Development & Programming (ABAP & HANA)
SAP Scripts & Smart Forms
SAP System Design & Configuration
System Analysis & Troubleshooting
Data Migration & Integration
Database Management & Administration
Business Requirements Gathering & Documentation
Responsibilities:
Designed and developed custom SAP solutions according to specific business needs.
Developed, implemented and tested programs in ABAP and HANA.
Improved performance and scalability of existing SAP systems by providing various coding techniques.
Developed and maintained database applications by integrating various database systems.
Created and customized SAP Scripts, Smart Forms and IDOCs for use in SAP.
Developed and tested data migrations between existing and new SAP systems.
Analyzed user requirements and provided logical and technical design solutions.
Provided technical expertise and guidance to end users and other SAP Consultants.
Ensured the integrity of the system and data by performing periodic system monitoring and maintenance.
In addition to this, be sure to check out our resume templates, resume formats, cover letter examples, job description, and career advice pages for more helpful tips and advice.
What should be included in a Sap Technical Consultant resume?
SAP Technical Consultants are highly sought after for their experience in the SAP systems and their technical expertise. As a result, the resume of an SAP Technical Consultant should include all of their experience in the SAP programming language, as well as their qualifications and skills.
Here are some items that should be included in an SAP Technical Consultant resume:
Detailed experience with SAP programming language, including modules, functions and objects
Experience in developing and managing system integrations
Knowledge of SQL and other database languages
Familiarity with application development tools and methods
Expertise in system analysis and architecture
Strong written and verbal communication skills
Highly organized and able to multitask
Ability to handle multiple projects simultaneously
Ability to lead teams and collaborate with colleagues
Ability to understand and analyze business requirements
Experience with programming tools such as ABAP, Java, and Visual Basic
Understanding of business processes and functions
Problem solving and troubleshooting abilities
Excellent customer service skills
Knowledge of SAP development best practices
Proven ability to work with cross-functional teams
Ability to work in a fast-paced environment
What is a good summary for a Sap Technical Consultant resume?
A Sap Technical Consultant resume should be a concise summary of the applicant's technical knowledge and experience. It should highlight the applicant's understanding of the SAP software and their ability to handle the various technical challenges that comes with a SAP implementation. The resume should include details of the applicant's involvement in successful SAP implementations, such as the systems and modules they managed, as well as any certifications and trainings they have completed related to SAP. It should also include any related job experience in the software development and/or IT industry, as well as any programming languages the applicant is familiar with. Finally, the resume should include the applicant's educational background, which should showcase any relevant technical degrees or certifications.
What is a good objective for a Sap Technical Consultant resume?
A sap technical consultant is responsible for implementing and supporting all aspects of an organization's SAP system, including hardware and software, applications, and associated technologies. When writing a resume for this specialized role, it is important to focus on key objectives that showcase your technical aptitude and help you stand out from the competition.
Here are some objectives to consider including in your sap technical consultant resume:
Demonstrate strong knowledge of SAP systems, software, and applications, and the associated technologies required for successful implementation and support.
Design and execute system tests to ensure that the SAP system is running smoothly and meeting the organization's needs.
Demonstrate expertise in problem-solving and troubleshooting to quickly identify and resolve any issues related to the SAP system.
Proactively identify opportunities to optimize the organization's SAP system and improve its performance.
Utilize strong communication and collaboration skills to effectively train and support end-users on how to use the SAP system and its features.
Develop technical documentation to ensure efficient and secure operations of the SAP system.
How do you list Sap Technical Consultant skills on a resume?
A Sap Technical Consultant should highlight their problem solving, implementation and technical abilities on their resume. It's important to list relevant skills that demonstrate your knowledge of the SAP system and show potential employers that you're able to take on the job.
When listing Sap Technical Consultant skills on a resume, include:
Experience working with SAP ERP, BW, BI, and BO modules
Advanced knowledge of SAP programming languages, like ABAP, SQL and Java
Ability to analyze business requirements and develop SAP solutions
Proficiency in documentation and reporting of SAP systems
Experience in data migration, system testing and quality control
Knowledge of SAP security solutions, such as user access control, authorizations and user profiles
Expertise in system optimization and performance tuning
Strong organizational and communication skills
Aptitude to work independently and as part of a team
By showcasing your knowledge of SAP systems and your technical abilities, you'll be able to make a strong impression on potential employers and demonstrate that you're the right fit for the job.
What skills should I put on my resume for Sap Technical Consultant?
Sap Technical Consultants are highly sought after in the tech industry. They are responsible for designing, implementing, and maintaining SAP systems and solutions. To stand out from other applicants, it is important to showcase the relevant skills and experience on your resume. Here are some of the key skills you should focus on to make your resume stand out:
Expertise in SAP software, including SAP ECC, SAP S/4HANA, SAP BW/4HANA, and more
Proficiency in SAP-specific programming languages, including ABAP and BAPL
Knowledge of SAP data migration, integration, and security tools
Familiarity with ERP systems and processes
Experience in troubleshooting, debugging, and resolving software errors
Proven ability to develop and document procedures and processes
Strong communication and problem solving skills
Ability to work independently in a fast paced environment
Excellent customer service skills
Ability to work collaboratively with other team members
Key takeaways for an Sap Technical Consultant resume
When crafting your resume as a SAP Technical Consultant, there are a few key points to keep in mind. Here are some of the most important takeaways to include in your resume:
Demonstrate Your Mastery of SAP Technologies: As a SAP Technical Consultant, you should be well-versed in SAP technologies and be able to speak confidently about them. Make sure to include any certifications or specializations you may have earned in SAP technologies in your resume.
Highlight Your Technical Skills: When it comes to software development, technical skills are key. Make sure to list any specialized technical skills you have, such as coding languages, programming frameworks, software engineering principles, or database management.
Focus on Your Teamwork Skills: As a SAP Technical Consultant, you'll be working with both internal and external teams. Make sure to emphasize your ability to collaborate and work in teams in your resume.
Showcase Your Problem-Solving Capabilities: SAP Technical Consultants must be able to think critically and solve complex problems. Showcase any relevant experiences where you have successfully solved a technical issue.
By including these key takeaways in your resume, you can ensure that you stand out as a SAP Technical Consultant. Good luck!
Let us help you build
your Resume!
Make your resume more organized and attractive with our Resume Builder