Are you looking to apply for a position as a Sap Project Manager? If so, you need to have a great resume to make sure you stand out from the competition. A Sap Project Manager resume should demonstrate your knowledge and experience in the SAP software platform, as well as your ability to manage complex projects. This guide will provide you with tips on how to write an effective Sap Project Manager resume, as well as provide you with helpful examples and templates. With the right resume, you can be sure to land that all-important job interview and ultimately, the job.
If you didn't find what you were looking for, be sure to check out our complete library of resume examples.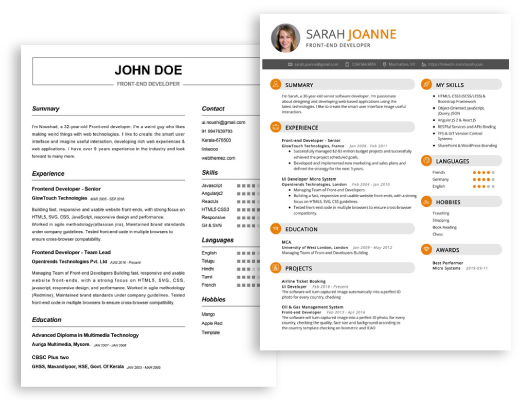 Start building your dream career today!
Create your professional resume in just 5 minutes with our easy-to-use resume builder!
Sap Project Manager Resume Examples
John Doe
Sap Project Manager
123 Main Street | Anytown, USA 99999 | Phone: (123) 456-7890 | Email: john.doe@email.com
Highly motivated and detail- oriented Project Manager with extensive experience overseeing global SAP implementations. Proven record of success in liaising between departments to ensure projects are completed on time and on budget. Effective leader and team player, with expertise in stakeholder management, risk assessments, and project documentation. Possess a unique ability to make sound decisions in a timely manner while responding to changing business requirements.
Core Skills:
Project Management
SAP/ERP System Implementation
Budget Management
Risk Management
Stakeholder Management
Change Management
Quality Assurance
Documentation
Professional Experience:
Senior Project Manager, ABC Corporation, 2019 – Present
Responsible for managing and coordinating global SAP implementation projects.
Lead cross- functional teams to deliver projects on time and within budget.
Developed and implemented project management plans, schedules, and tracking procedures.
Facilitated change management and communication processes between departments.
Oversaw documentation and quality assurance procedures for each project.
Conducted risk assessments and identified potential areas of improvement.
Education:
Masters Degree in Project Management, ABC University, 2017
Bachelor's Degree in Business Administration, XYZ University, 2015
Sap Project Manager Resume with No Experience
Recent college graduate with a degree in Business Administration focusing on SAP. Possess an eagerness to learn and an ambition to succeed. Possessing strong organizational skills, strong problem- solving skills and excellent communication skills.
Skills:
Proficient in SAP software
Strong organizational skills
Strong problem- solving skills
Excellent communication skills
Proficient in MS Office Suite
Responsibilities:
Manage SAP projects from start to finish
Develop project plans, budgets and timeline
Coordinate with internal stakeholders and external vendors to ensure successful completion of projects
Monitor progress of projects and provide regular updates to upper management
Provide technical support to end- users on SAP systems
Identify potential risks and develop strategies to mitigate them
Sap Project Manager Resume with 2 Years of Experience
Dynamic SAP Project Manager with 2 years of comprehensive experience in leading complex and cross- functional SAP projects. Expertise in analyzing project requirements and developing strategies to guide project delivery. Proven record of successful budget management, vendor negotiation, and risk management. Highly organized and goal- oriented professional with strong leadership and problem- solving skills.
Core Skills:
SAP project management
Budget management
Risk management
Vendor negotiation
Requirements analysis
Problem- solving
Leadership
Cross- functional project management
Responsibilities:
Coordinated with team members, vendors, and stakeholders to ensure the successful completion of SAP projects
Analyzed project requirements and developed strategies to ensure project delivery
Managed project budgets to ensure project completion within allocated budgets
Negotiated with vendors to secure cost- effective deals
Developed and implemented risk management strategies to mitigate project risks
Monitored the project timeline and budget to ensure the project delivered both on- time and on- budget
Provided technical guidance and oversight to project team members
Ensured the project adheres to industry standards and best practices
Developed effective communication strategies to ensure team members, stakeholders, and vendors remain informed on project progress
Sap Project Manager Resume with 5 Years of Experience
SAP Project Manager with 5 years of experience developing, leading, and implementing successful projects in the SAP Business Suite. Proven track record of success in delivering projects on time and on budget while delivering enhanced services, improving operational efficiencies, and providing cost savings. Adept at providing leadership and guidance to project teams and stakeholders to ensure successful execution of projects.
Core Skills:
SAP Business Suite knowledge and experience
Project management and process improvement
Excellent leadership and problem- solving skills
Effective communication and presentation skills
Strong interpersonal and organizational skills
Responsibilities:
Developed and implemented projects using the SAP Business Suite
Developed and managed project plans, timelines, and budgets
Managed project teams to ensure successful project completion
Liaised with stakeholders to ensure successful project delivery
Troubleshot and resolved project- related issues
Monitored and reported on project progress
Ensured compliance with standards and regulations
Sap Project Manager Resume with 7 Years of Experience
Experienced SAP Project Manager with 7 years of professional experience. A highly organized leader with a strong commitment to delivering excellent results on time and under budget. Skilled at coordinating cross- functional teams and developing comprehensive project plans. Track record of successful project implementations related to SAP ECC, BW, and HANA.
Core Skills:
SAP ECC, BW, and HANA
Cross- functional Team Coordination
Budget Management
Project Planning
Risk Mitigation
Stakeholder Management
Change Management
Responsibilities:
Coordinated cross- functional teams to ensure successful planning and execution of SAP projects.
Developed comprehensive project plans that established timelines, allocated resources and managed budget.
Monitored project progress and identified areas of risk.
Created presentations and reports to communicate project status, risks, success and potential improvements.
Facilitated change management processes to ensure successful system implementations and upgrades.
Led stakeholder meetings to discuss project progress and resolve issues.
Managed vendor relationships and ensured that all contractual agreements were met.
Sap Project Manager Resume with 10 Years of Experience
Highly experienced and accomplished SAP Project Manager with 10+ years' experience in end- to- end SAP project management. Experienced in leading complex projects, developing project plans, developing and implementing project budgets and managing on- time, on- budget and on- scope project delivery. Experienced in running large- scale international SAP deployments and ensuring complete customer satisfaction. Proven track record of successful project completion, even under the most challenging conditions.
Core Skills:
Project Management
SAP Applications
Business Analysis
Stakeholder Relations
Data Analysis
Vendor Management
Problem Solving
Systems Integration
Documentation
Financial Management
Responsibilities:
Lead end- to- end SAP project management activities
Develop project plans, project budgets and project deliverables
Manage on- time, on- budget and on- scope project delivery
Lead large- scale international SAP deployments
Manage stakeholders, vendors and resources
Conduct data analysis, process mapping and systems integration
Develop and maintain project documentation
Track and monitor project financials
Develop contingency plans and identify and resolve project issues
Sap Project Manager Resume with 15 Years of Experience
A highly experienced and organized project manager with 15 years of experience in the SAP domain. I have successfully completed a number of SAP projects in a variety of industries, including retail, pharmaceuticals, and finance. My expertise lies in working with clients to identify their needs and develop and implement solutions that meet those needs. I have a proven track record of successful delivery of projects on time and within budget while exceeding client expectations.
Core Skills:
SAP Project Management
Client Management
Business Process Improvement
Requirements Analysis
Stakeholder Management
Solution Design
Project Planning
Change Management
Budgeting
Responsibilities:
Lead and manage large- scale SAP projects from inception to completion
Develop and implement project plans, tasks and budgets
Oversee and ensure quality control of projects
Identify and manage risks and develop mitigating strategies
Analyze requirements and develop technical solutions
Engage stakeholders and ensure customer satisfaction
Manage and coordinate project teams and resources
Monitor project progress and adjust project plans accordingly
In addition to this, be sure to check out our resume templates, resume formats, cover letter examples, job description, and career advice pages for more helpful tips and advice.
What should be included in a Sap Project Manager resume?
The Sap Project Manager is a professional with expert knowledge in all aspects of Sap project management. As such, they should be able to demonstrate a comprehensive understanding of Sap technology and architecture as well as an ability to coordinate and manage multiple projects simultaneously. A Sap Project Manager resume should include the following items:
Comprehensive knowledge of SAP system architecture, configuration, and implementation
Expert knowledge of ERP systems, including SAP ERP and other ERP applications
Proven leadership and management skills with the ability to coordinate, delegate, and motivate teams
Ability to develop and implement project plans, track progress, and make proactive decisions to ensure successful project completion
A track record of successful project delivery, including cost savings and customer satisfaction
Excellent communication and interpersonal skills with the ability to communicate clearly and concisely with all stakeholders
Knowledge of industry-standard project management and quality assurance practices
Proficiency in Microsoft Office applications, project management software, and other relevant software tools
What is a good summary for a Sap Project Manager resume?
A Sap Project Manager resume should include a summary that emphasizes the applicant's key skills and successes in project management. The summary should provide a brief overview of the individual's experience leading SAP projects, such as the scope of the projects, the challenges they faced, and the successes they achieved. It should also highlight the applicant's expertise in areas such as SAP architecture, integration, and customization. Additionally, the summary should provide information on the applicant's leadership skills, such as team management, problem-solving, communication, and project planning and control. Finally, the summary should convey the applicant's enthusiasm for leading new projects and their commitment to delivering excellent results.
What is a good objective for a Sap Project Manager resume?
A Sap Project Manager resume should clearly communicate the experience and qualifications an applicant has acquired in the field of project management. An effective resume objective should focus on the candidate's ability to apply their knowledge of Sap to the successful completion of projects.
A good objective for a Sap Project Manager resume might include the following:
To obtain a position as a Sap Project Manager that utilizes my experience in coordinating and overseeing the implementation of successful Sap projects.
To leverage my up-to-date knowledge of Sap technology and best practices to ensure project success.
To use my strong problem solving and organizational skills to manage multiple projects and resources simultaneously.
To apply my expertise in project management to identify areas of risk and create mitigation strategies for successful execution of projects.
To build and maintain relationships with stakeholders to ensure customer satisfaction.
To contribute to team success by providing ongoing support and guidance on Sap related projects.
How do you list Sap Project Manager skills on a resume?
When writing your resume as a Sap Project Manager, you will want to highlight your skills and qualifications so that employers can quickly identify that you are a great fit for the job. To help you in this process, here are some tips on how to best list Sap Project Manager skills on your resume:
Plan and manage the implementation of SAP projects, including the selection, design and installation of SAP software.
Demonstrate experience in SAP business process analysis, SAP solution design and implementation.
Provide leadership and guidance to teams, ensuring that project goals and timelines are met.
Communicate project progress and issues to senior managers and stakeholders.
Develop and maintain relationships with SAP consultants, vendors and other third parties.
Ensure proper documentation and maintenance of all SAP systems and processes.
Create and maintain system configuration documents and other technical documentation.
Monitor performance and integrity of SAP systems and make recommendations for improvement.
Troubleshoot and resolve system problems in a timely and efficient manner.
Stay up to date on the latest SAP technology, trends and best practices.
What skills should I put on my resume for Sap Project Manager?
As a SAP Project Manager, it's important to showcase your skills and experience to potential employers. When crafting your resume, be sure to include the following skills to demonstrate your knowledge and expertise in this field:
Ability to manage SAP project teams and resources: You must be able to effectively manage all aspects of an SAP project, including budgeting, scheduling, risk management, team building, and quality assurance.
Knowledge of SAP modules and applications: You should be proficient in SAP's core modules and applications, as well as any other modules or applications used in the project.
Understanding of SAP development processes: You must have a strong understanding of the development process, including the tools and techniques used to create and implement SAP solutions.
Understanding of SAP integration: You must also have a good grasp of SAP integration, including data integration, process integration, and system integration.
Experience with SAP change and release management: You must understand the process of managing changes and releases within an SAP environment.
Ability to document, monitor, and analyze project progress: You should be able to accurately document and track the progress of an SAP project, as well as analyze the results and provide feedback.
Ability to troubleshoot SAP issues: You must have the knowledge and experience necessary to identify and resolve any SAP-related issues quickly and efficiently.
By including these skills and experiences on your resume, you can demonstrate your capabilities as a SAP Project Manager and increase your chances of landing the job.
Key takeaways for an Sap Project Manager resume
When it comes to crafting the perfect Sap Project Manager resume, there are a few key takeaways to keep in mind. An Sap Project Manager is responsible for managing the implementation and maintenance of Sap solutions. They must have a comprehensive understanding of the Sap system and a proven track record of successful implementation. Your resume should focus on highlighting your technical and management skills and showcase your experience in the field.
Start off with a powerful summary statement to showcase your expertise in Sap Project Management.
Include a list of technical proficiency in Sap solutions and tools.
Highlight your achievements with metrics and facts to showcase the success of your projects.
Describe your ability to manage, schedule and coordinate projects, as well as your experience in leading and motivating teams.
List any certifications or professional development courses related to Sap Project Management.
Demonstrate your problem-solving and analytical skills through case studies and examples.
Showcase your communication, time management, and organizational skills.
Offer details on your experience in training and onboarding new staff.
Detail any experience you may have in budgeting, forecasting and reporting.
Let us help you build
your Resume!
Make your resume more organized and attractive with our Resume Builder