Are you a highly experienced SAP Basis consultant looking for a job? Writing a professional resume is the first step in your job search process. This guide provides detailed instructions on how to create a compelling SAP Basis consultant resume, along with examples of successful resumes to help you get started. Whether you are a seasoned SAP expert or an entry-level consultant, following the tips in this guide will help you stand out from the competition and create an impressive resume. With the right skills, qualifications, and experience highlighted, you'll be ready to start applying for SAP Basis consultant jobs in no time.
If you didn't find what you were looking for, be sure to check out our complete library of resume examples.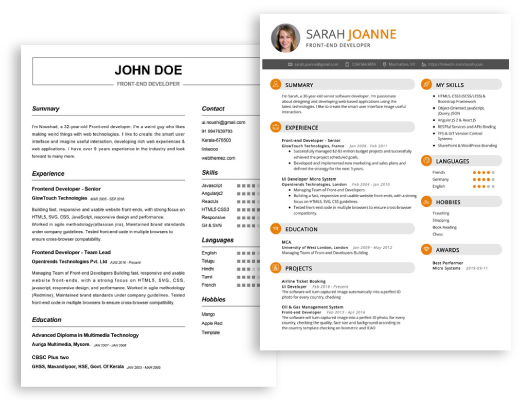 Start building your dream career today!
Create your professional resume in just 5 minutes with our easy-to-use resume builder!
Sap Basis Consultant Resume Examples
John Doe
Sap Basis Consultant
123 Main Street | Anytown, USA 99999 | Phone: (123) 456-7890 | Email: john.doe@email.com
I'm a highly experienced SAP Basis Consultant with over 10 years of experience in supporting and maintaining SAP systems. I'm well- versed in planning, installing and configuring SAP software, providing day- to- day system support, and troubleshooting issues. I have excellent communication, problem solving, and technical skills, and am driven to provide the highest quality of support for SAP users.
Core Skills:
SAP Basis Administration
ERP Installations
Systems Support
System Monitoring
DBA Support
Troubleshooting
Data Migration
User Authorization
Stakeholder Management
Process Analysis
Professional Experience:
Information Technology Solutions, Inc. – SAP Basis Consultant, 2018 – Present

Provide SAP Basis administration and technical support
Analyze, plan and configure SAP software
Monitor and tune system performance
Create, implement, and maintain user authorizations
Run system checks and troubleshoot any issues
Manage data migration for upgrades and applications
Provide DBA support for database backups and recovery
Maintain regular contact with stakeholders

Caliber Solutions – Senior SAP Basis Consultant, 2015 – 2018

Installed and configured SAP software
Provided technical and functional support to SAP users
Troubleshot and resolved system issues
Managed SAP system upgrades and patching
Performed system security checks
Set up user authorizations and maintained user profiles
Provided on- call support
Education:
Master of Science in Information Technology, University of Oregon, 2011 – 2014
Bachelor of Science in Computer Science, Oregon State University, 2007 – 2011
Sap Basis Consultant Resume with No Experience
Recent graduate with a degree in Computer Science looking to pursue a career as a SAP Basis Consultant.
Proficient in analyzing data, troubleshooting issues, and providing technical support.
Able to work independently and collaboratively, as well as effectively meeting deadlines.
Skills
Data Analysis
Troubleshooting
Technical Support
Customer Service
Time Management
Microsoft Office Suite
Unix/Linux
Responsibilities
Configuring and monitoring the SAP systems.
Troubleshooting and resolving SAP BASIS issues.
Developing, testing, and implementing new SAP software.
Analyzing system logs and data to identify areas needing improvement.
Assisting users with system navigation and data entry.
Providing technical support to end- users.
Creating reports and documents related to BASIS activities.
Sap Basis Consultant Resume with 2 Years of Experience
A Sap Basis consultant with 2 years of experience in providing system management, maintenance, and operations to clients. Adept at troubleshooting, problem solving and providing technical support for multiple SAP clients. Skilled in setting up and managing users, managing authorization roles, maintaining server security and setting up application servers. Possesses excellent communication, organizational and customer service skills.
Core Skills:
SAP Basis Consulting
System Management
Troubleshooting
Problem Solving
Technical Support
User Management
Authorization Roles
Server Security
Application Server Set Up
Communication
Organizational
Customer Service
Responsibilities:
Provided SAP system management, maintenance and operations
Troubleshooting and problem solving to resolve system issues
Supporting multiple SAP clients and providing technical assistance
Set up and managed users, authorization roles, server security and application servers
Provided excellent customer service while resolving issues
Developed and maintained client relationships to ensure customer satisfaction
Monitored and reported on system performance, security, and availability
Ensured server uptime, data integrity and data backup
Sap Basis Consultant Resume with 5 Years of Experience
A SAP Basis consultant with 5 years of experience in full life- cycle implementation of SAP environments. Experienced in providing technical and functional support to companies with SAP system landscapes. Has comprehensive experience in planning, upgrading, and implementing SAP systems along with the integration of various SAP modules. Proven skills in performance optimization, system monitoring, and troubleshooting.
Core Skills:
SAP Basis Consultancy
Full Life- Cycle Implementation
System Architecture and Planning
Performance Monitoring
System Troubleshooting
User and Security Management
Technical and Functional Support
System Upgrading and Integration
Database Administration
Responsibilities:
Provided technical and functional support for various SAP modules and components
Planned, implemented, and upgraded system landscapes and integrated various SAP modules
Optimized system performance and monitored system performance on an ongoing basis
Managed user and security settings and ensured system security
Carried out system troubleshooting and resolved technical issues
Provided regular maintenance and technical support to the users
Performed database administration activities such as creating and maintaining database objects, backups, and recovery operations
Sap Basis Consultant Resume with 7 Years of Experience
Highly motivated, certified SAP Basis Consultant with 7 years of hands- on experience in various SAP implementations, upgrades, migrations, and production support. Experienced in stakeholders management, project planning, and managing teams of developers and testers. Skilled in configuring and maintaining SAP systems in a variety of production and test environments.
Core Skills:
SAP Basis Administration
SAP System Monitoring
SAP System Performance Tuning
SAP Security Administration
SAP System Upgrades
SAP Data Backups and Recovery
SAP Transport Management
Client/Server Configuration
Responsibilities:
Provided technical support for SAP Basis administration, customization and upgrades
Installed, configured and tested SAP systems, applications and related software components
Participated in system tuning, performance monitoring and troubleshooting
Developed and implemented maintenance and system security measures
Created and managed user profiles and maintained user access rights
Carried out system backups and recovery tasks, managed transports and applied required post- implementation patches
Ensured end- user satisfaction, monitored system performance and maintained system documentation
Sap Basis Consultant Resume with 10 Years of Experience
SAP BASIS Consultant with 10 years of experience in the development, implementation, and configuration of SAP landscapes, covering SAP ECC, BW, and Solution Manager technologies. Experienced in implementing and configuring the most recent versions of SAP, as well as in troubleshooting and resolving SAP related issues. Possesses strong analytical and problem solving skills, the ability to lead cross- functional teams, and excellent communication skills.
Core Skills:
SAP ECC, BW, and Solution Manager
Installation, configuration and implementation
System monitoring and maintenance
System landscape integration
Troubleshooting and problem solving
Cross- functional team leadership
SAP user/security administration
Vendor management
Responsibilities:
Planning, designing and implementation of complex SAP projects
Handling tasks such as system upgrades and software patching
Developing comprehensive SAP strategies, roadmaps, and architectures
Installing, configuring, and maintaining SAP systems and components
Monitoring system performance and administering users/security
Carrying out integration tests and resolving issues
Developing and executing change requests for the SAP environment
Training users on the use of SAP applications
Sap Basis Consultant Resume with 15 Years of Experience
SAP Basis Consultant with 15 years of experience managing and delivering successful SAP projects in a wide range of industries. Highly adept at designing and implementing complex SAP solutions with proven interpersonal skills and a customer focused attitude. Skilled in troubleshooting and resolving issues related to SAP Basis, Data Migration, and ABAP programming.
Core Skills:
SAP Basis
SAP NetWeaver
Solution Manager
SAP HANA
SAP FICO
SQL
ABAP programming
System Monitoring
Data Migration
Project Management
Responsibilities:
Installing, configuring, and upgrading SAP systems
Providing technical support and maintenance
Developing and maintaining SAP objects and programs
Troubleshooting system and application issues
Coordinating with users and vendors on SAP projects
Planning, designing, and executing data migration strategies
Creating and managing system users and roles
Monitoring system performance and security
Generating reports and documents related to SAP projects
Developing and implementing best practices and standards for SAP systems
In addition to this, be sure to check out our resume templates, resume formats, cover letter examples, job description, and career advice pages for more helpful tips and advice.
What should be included in a Sap Basis Consultant resume?
A Sap Basis Consultant is responsible for the installation, configuration, and maintenance of the SAP ERP system, which is a core component of many businesses. To be successful in this position, a Sap Basis Consultant should have a strong understanding of enterprise business processes as well as knowledge of SAP systems and related technologies. A well-crafted resume is essential for candidates looking to land a Sap Basis Consultant position. To ensure your resume stands out, it should include the following points:
Technical Skills: A Sap Basis Consultant must have a thorough knowledge of SAP ERP systems and related technologies. This includes understanding of the system architecture, database management systems, security protocols, and integration points with other applications. It is important to indicate any relevant certifications you may have, such as SAP Basis Certified Professional.
Enterprise Applications Experience: Many businesses use a suite of integrated enterprise applications. A Sap Basis Consultant should have experience working with these applications, such as SAP HANA and SAP NetWeaver, in order to understand how they interact with the SAP ERP system. Be sure to include any relevant experience you may have with these applications.
System Administration: In addition to knowledge of SAP ERP systems, a Sap Basis Consultant should also be familiar with system administration tasks. This includes performing system backups, monitoring system performance, and troubleshooting system issues.
Project Management: As a Sap Basis Consultant, you will be responsible for managing projects related to SAP ERP systems. This includes developing project plans, setting timelines, and ensuring projects are completed within budget. Your resume should include any relevant project management experience you may have.
Communication Skills: A Sap Basis Consultant must be able to communicate effectively with both technical and non-technical audiences. This includes the ability to explain technical concepts in non-technical terms and to listen to the needs of stakeholders. Be sure to include any relevant
What is a good summary for a Sap Basis Consultant resume?
A Sap Basis Consultant resume should showcase an individual's expertise in administering, configuring, and troubleshooting the SAP landscape. It should highlight the individual's experience with the SAP Basis tools and technologies, as well as their knowledge of SAP security and authorization principles. The resume should also demonstrate the individual's understanding of concepts related to SAP systems, such as single sign-on, system architecture, and system integration. Additionally, the resume should showcase the individual's technical skills, such as their experience with various programming languages, their familiarity with databases, and their ability to work in a team-oriented environment. Ultimately, an effective Sap Basis Consultant resume should demonstrate the individual's qualifications to provide high-level SAP support and services.
What is a good objective for a Sap Basis Consultant resume?
A sap basis consultant is responsible for designing, implementing, and maintaining the SAP systems and databases used by their clients. They are also responsible for troubleshooting any technical problems that their clients may have with their SAP systems and databases. As such, it is important for a sap basis consultant to have an excellent resume objective that clearly outlines their qualifications and experience in the field.
A good objective for a sap basis consultant resume should include the following:
Experience with designing, implementing, and maintaining SAP systems and databases
Ability to troubleshoot technical issues with SAP systems and databases
Knowledge of SAP ERP and other related systems and their functionality
Understanding of database security and encryption principles
Analytical and problem-solving skills to identify and address issues quickly
Excellent communication and interpersonal skills to liaise with clients effectively
Strong organizational and time management skills to prioritize tasks and meet deadlines
Ability to work independently and as part of a team to complete tasks efficiently
Proficiency in using database query languages and database management tools
Working experience in the sap basis consultant role.
How do you list Sap Basis Consultant skills on a resume?
When listing Sap Basis Consultant skills on a resume, it's important to emphasize the technical and soft skills needed to be successful in the role.
Technical Skills:
Knowledge of system configuration, installation and upgrades
Expertise in configuring and maintaining the SAP system landscape
Experience in supporting multiple SAP instances
Knowledge of SAP architecture and related technologies
Ability to troubleshoot and solve technical issues
Proficiency in performance tuning and optimization
Understanding of security best practices
Ability to manage data migration and replication
Proficiency in creating and managing system backups
Soft Skills:
Strong analytical and problem-solving skills
Excellent communication, interpersonal, and organizational skills
Ability to work independently and manage expectations
Ability to multitask and manage multiple projects
Excellent customer service and relationship management abilities
Ability to work in a fast-paced environment and prioritize tasks
Ability to learn new technologies quickly and adapt to changing requirements
What skills should I put on my resume for Sap Basis Consultant?
A resume is a critical tool for any job seeker, and a Sap Basis consultant is no exception. As a Sap consultant, you need to showcase the technical skills needed to secure an interview. This blog will provide some key skills you should consider for your resume.
SAP Basis: As a Sap Basis Consultant, you need to demonstrate extensive knowledge of SAP Basis, including installation, configuration, security, and monitoring of the SAP systems.
SAP HANA/ABAP: SAP HANA is as an in-memory database, and ABAP (Advanced Business Application Programming) is a programming language. You should demonstrate knowledge and experience in both to be successful in this role.
Business Analysis: As a Sap Consultant, you will need to understand the business needs of your clients and develop solutions that meet their requirements. Demonstrate your ability to be a problem solver and strategic thinker.
Project Management: In this role, you must be able to manage projects and ensure they are completed on time and within budget. Demonstrate your ability to manage multiple projects and prioritize tasks.
Communication: As a Sap consultant, you must be able to communicate effectively with clients, colleagues, and other stakeholders. Showcase your verbal and written communication skills.
Technical Documentation: Developing and maintaining technical documentation is a key skill for a Sap Basis Consultant. Be sure to showcase your ability to create detailed and organized technical documentation.
By highlighting these skills on your resume, you will be able to demonstrate your technical and professional capabilities to potential employers.
Key takeaways for an Sap Basis Consultant resume
As an SAP Basis consultant, your resume is a key tool to showcase your talent and experience. It is important to create a resume that is tailored to the specific job you are applying for and highlights your technical skills and achievements. Here are some key takeaways to keep in mind when creating your SAP Basis consultant resume:
Be clear and concise: Be sure to include details of your technical experience and qualifications in a concise manner. Avoid lengthy paragraphs and instead focus on highlighting your technical skills and expertise.
Showcase relevant experience: Highlight any experience relevant to the role with specific examples of your success. Focus on the technical skills you have developed in the role, such as working with databases, SAP systems, troubleshooting and problem-solving.
Demonstrate your leadership skills: SAP Basis consultants need to be able to take initiative, lead team projects and lead by example. Showcase any times you have taken leadership roles or been part of successful projects.
Provide evidence of problem-solving skills: SAP Basis consultants must be able to troubleshoot issues and find solutions to technical problems. Include any examples of how you have successfully solved technical issues in the past.
Use relevant keywords: Recruiters often utilize Applicant Tracking Systems (ATS) to shortlist applicants based on their resume. Use relevant keywords related to the SAP Basis consultant role to ensure your resume is picked up by the system.
By following these tips and creating a resume that is tailored to the specific SAP Basis consultant role, you will be well-positioned to stand out and stand up to the competition.
Let us help you build
your Resume!
Make your resume more organized and attractive with our Resume Builder