Are you in the market to join the ranks of Sap Analysts? If so, you're in luck! Writing a Sap Analyst resume is not as daunting as it may seem. The key is to focus on the skills and experience you have that make you ideal for the role. As a Sap Analyst, employers will want to know that you have the technical and analytical skills to understand, analyze, and interpret complex business data. With the right resume, you can demonstrate to potential employers why you are the perfect candidate for the job. In this guide, we will provide you with tips and examples to help you create a great Sap Analyst resume that will help you get noticed by employers.
If you didn't find what you were looking for, be sure to check out our complete library of resume examples.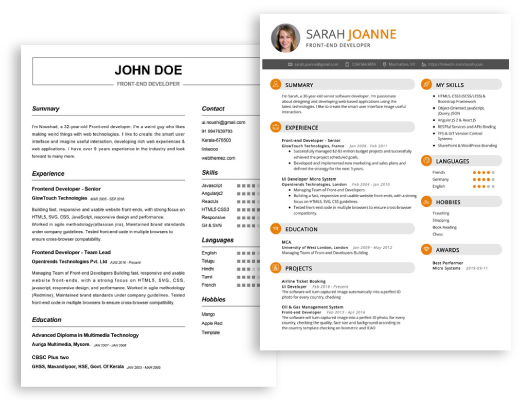 Start building your dream career today!
Create your professional resume in just 5 minutes with our easy-to-use resume builder!
Sap Analyst Resume Examples
John Doe
Sap Analyst
123 Main Street | Anytown, USA 99999 | Phone: (123) 456-7890 | Email: john.doe@email.com
Dynamic and highly analytical SAP Analyst with 5+ years experience in SAP applications, system administration, and project management. Skilled in systems analysis, data integration, system optimization, and business process re- engineering. Proven track record of managing complex projects with tight deadlines and delivering high- quality services. Experienced in supporting teams to develop and implement solutions that improve visibility and effectiveness of business operations.
Core Skills:
SAP Applications: S/4HANA, R/3, CRM, BW, SRM, SD, MM, FICO, HCM
System Administration: ABAP Programming, Troubleshooting, System Security, Integration
Data Integration: EDI, IDOCs, ALE, RFCs
System Optimization: Database Optimization, Performance Tuning
Project Management: Scope Definition, Risk Assessment, Quality Assurance
Business Process Re- engineering: Process Analysis, Process Documentation, Process Automation
Professional Experience:
System Analyst, Acer Corporation, 2018 – Present
Managed and monitored development of large- scale SAP projects from inception to completion
Developed and deployed ABAP programs, scripts, and other related solutions to integrate SAP systems
Implemented and tested system improvements to optimize scalability, performance, and reliability
Created and maintained documentation to facilitate user adoption
Provided technical support to internal customers during various stages of the project
Business Systems Analyst, IBM Corporation, 2014 – 2018
Provided technical solutions to address business needs in alignment with the defined objectives
Developed SAP solutions by analyzing complex business requirements
Designed, customized and tested functional configurations in SAP applications
Assisted in the migration of data to the SAP system
Monitored development teams to ensure that projects were completed according to
Sap Analyst Resume with No Experience
Recent graduate with a Bachelor's Degree in Computer Science looking to leverage my knowledge and skills to become a SAP Analyst. Possess an analytical mindset and the ability to quickly understand and analyze complex issues. Adept at using SAP software to troubleshoot and optimize systems for maximum efficiency.
Skills
Strong knowledge of SAP and associated software
Proficient in SQL and database design
Familiar with Java and C++ programming languages
Competent in problem- solving and troubleshooting
Excellent communication and organizational skills
Proficient in Microsoft Office Suite
Responsibilities
Develop and implement SAP solutions to meet customer requirements
Analyze software and systems to identify areas of improvement
Maintain and modify existing SAP systems
Troubleshoot SAP system issues and provide solutions
Train users on the use of SAP applications
Perform ongoing maintenance and updates to SAP systems
Monitor system performance and address any issues that may arise
Sap Analyst Resume with 2 Years of Experience
I am a competent and driven SAP Analyst with 2 years of extensive experience in providing analysis, administration, and support for SAP systems. I have expertise in the areas of project management, system development, data analysis, and reporting. With a demonstrated ability to develop custom solutions, I am highly accomplished in coordinating and troubleshooting various SAP modules. I have a proven track record of understanding the client requirements and implementing efficient business solutions using SAP platforms.
Core Skills:
Analyzing requirements and designing business solutions using SAP platforms
Developing custom solutions and modules using SAP technologies
Coordinating and troubleshooting various SAP modules
Managing projects, training and support for SAP systems
Working with functional and technical teams for smooth implementation of projects
Creating and maintaining reports, documentations and other materials related to SAP projects
Auditing and monitoring the performance of SAP systems
Responsibilities:
Conducted research and developed detailed documentation related to the implementation of SAP systems
Managed the development and implementation of SAP projects in various domains
Provided system administration support in the areas of troubleshooting, maintenance and upgrades
Created and maintained technical and functional documents of SAP systems
Assisted in the development and implementation of related policies and procedures
Generated reports and analyzed data related to SAP systems
Developed and tested custom SAP solutions to improve system performance and reliability
Conducted trainings and workshops for SAP users to ensure proper utilization of the system
Sap Analyst Resume with 5 Years of Experience
SAP Analyst with 5+ years of experience in software implementations, process improvement and business analysis. Proven track record of successful system implementations and superior customer service to ensure client satisfaction. Experienced in working with global teams to ensure successful technical and functional projects.
Core Skills:
Experience in leading the implementation of SAP modules with global teams
Knowledge of multiple SAP modules, including FI/CO, MM, SD and HR
Strong analytical and problem- solving skills
Ability to work well in a team environment
Excellent communication and interpersonal skills
Knowledge of business processes and requirements
Responsibilities:
Lead the design, configuration, testing and deployment of SAP modules
Perform business process analysis and develop system solutions to meet user requirements
Perform testing of system changes to ensure accuracy and conformity to company standards
Provide technical support and troubleshooting
Develop and maintain documentation for business processes and system configurations
Train and mentor team members in system use and technical issues
Sap Analyst Resume with 7 Years of Experience
I am an experienced SAP Analyst with 7+ years of expertise in developing and customizing applications and programs to support the business operations as well as providing technical support to end users. I have a strong background in systems analysis, design, programming and implementation of major SAP IT applications. I am proficient in troubleshooting and resolving system issues and providing technical support to end users. I also have strong communication and organization skills which enable me to work in a fast- paced and customer- focused environment.
Core Skills:
SAP ERP customization and implementation
Business process analysis and design
Programming and coding
Database management
System Integration
Troubleshooting and problem solving
End- user technical support
Communication and organizational skills
Responsibilities:
Developed and customized SAP applications for various business operations
Analyzed and identified business process requirements for various departments
Developed and implemented various user roles and authorization profiles
Developed and maintained program codes for various programs and applications
Created and managed database tables and maintained database integrity
Implemented system integration between various applications
Performed troubleshooting and debugging on various systems
Provided technical support and training to end users
Monitored system performance and identified areas for improvement
Sap Analyst Resume with 10 Years of Experience
A highly experienced SAP Analyst with over 10 years of experience in the field of SAP functional analysis and troubleshooting. Having an in- depth knowledge of the SAP modules, the ability to configure and customize SAP systems to meet the customer's needs and the ability to provide support for SAP modules. Possessing strong problem solving, organizational and communication skills that help to ensure successful SAP implementations.
Core Skills:
In depth knowledge of SAP modules including MM, FI and SD
Familiarity with SAP configuration and customization techniques
Ability to troubleshoot and debug SAP systems
Strong organizational and communication skills
Exceptional problem- solving capabilities
Ability to provide support for SAP modules
Responsibilities:
Analyzing customer requirements and developing solutions using SAP ERP modules.
Configuring and customizing SAP systems to meet customer needs.
Troubleshooting and debugging SAP systems to identify and resolve errors.
Providing support for SAP modules and delivering user training.
Developing, implementing and documenting SAP process flows.
Identifying and resolving data integrity issues.
Working with internal teams and external vendors to ensure successful SAP implementations.
Sap Analyst Resume with 15 Years of Experience
I am a highly motivated and experienced SAP Analyst with over 15 years of experience in SAP project implementations and maintenance. My expertise lies in developing, integrating and testing SAP applications, ranging from ABAP and BASIS to PP, QM, FICO, MM, SD and HR. With an extensive understanding of the key business processes and the technical aspects of SAP, I am able to develop and maintain customizations, modifications, reports and interfaces. I am also experienced in troubleshooting, resolving support tickets and providing training to end- users.
Core Skills:
SAP implementation and support
SAP integration and testing
ABAP and BASIS
SAP modules, such as HR, FICO, MM, SD, PP and QM
Solution design and configuration
Customizations and reports
Troubleshooting and resolving support tickets
End- user training
Responsibilities:
Guiding the requirements gathering, analysis, design and development of SAP systems
Leading the delivery, testing and support of SAP applications
Developing and supporting customizations, modifications and reports
Maintaining and troubleshooting SAP systems and ensuring data integrity
Creating and managing support tickets
Training and educating end users on the usage of SAP systems
Analyzing user requirements and developing cost- effective solutions
In addition to this, be sure to check out our resume templates, resume formats, cover letter examples, job description, and career advice pages for more helpful tips and advice.
What should be included in a Sap Analyst resume?
A Sap Analyst resume should include the skills and qualifications necessary to handle the complexity of Sap Analytical systems. Sap Analysts are responsible for the implementation and maintenance of Sap Analytical systems, which provide critical business information to support a company's decision-making process. The following should be included in a Sap Analyst resume:
Experience in analyzing, validating, and optimizing the performance of SAP systems
Ability to interact with stakeholders to gather requirements and document business processes
Knowledge of SAP implementation tools such as SAP HANA, SAP BW, and SAP BusinessObjects
Ability to analyze and interpret data to identify trends and make recommendations
Familiarity with database systems such as Oracle and Microsoft SQL Server
Aptitude for troubleshooting and resolving system issues
Excellent communication and interpersonal skills
Familiarity with coding languages such as SQL, HTML, and JavaScript
Ability to work effectively in a team environment
Experience with data warehousing and reporting solutions
B.S. in Computer Science, Information Technology, or a related field
What is a good summary for a Sap Analyst resume?
A Sap Analyst resume should be a brief summary of your experience, skills, and qualifications relevant to the role you are applying for. It should give an accurate snapshot of your background, demonstrate your knowledge and understanding of the Sap software, and show your achievements in the field. Additionally, it should include your technical experience, such as any certifications you may possess, and any prior experience with the software. It is also important to emphasize soft skills, such as communication and collaboration, as these are essential for success in the role. By providing an accurate and comprehensive summary of your experience and qualifications, you can ensure your Sap Analyst resume stands out from the competition.
What is a good objective for a Sap Analyst resume?
A Sap Analyst is a specialized professional with expertise in the development and management of enterprise-level software systems, such as the SAP platform. A strong objective statement on a resume for a Sap Analyst position will include the candidate's experience and technical skills, as well as qualifications that make them the right choice for the job. Below are some examples of good objectives for a Sap Analyst resume:
Experienced Sap Analyst with 5+ years of expertise in developing and managing SAP ERP systems for large companies.
Seeking a Sap Analyst position to utilize my extensive understanding of SAP systems and experience in business process mapping.
Proven track record of developing solutions that improve SAP operations and streamline business processes.
Looking for a Sap Analyst position with a progressive organization that values effective communication and collaboration.
Self-motivated and organized Sap Analyst with experience in system implementation and troubleshooting.
Seeking a Sap Analyst role to leverage my expertise in customer service and data analysis to support the organization's objectives.
How do you list Sap Analyst skills on a resume?
When you are creating a resume as a SAP Analyst, it is important to include your skills and core competencies in order to demonstrate your qualifications for the job. To ensure that your skills and knowledge are highlighted, you should list them in a section on your resume. Here are some tips for listing your SAP Analyst skills on a resume:
Highlight Your Technical Skills: As a SAP Analyst, your technical skills are the most important skills to list on your resume. Include a heading such as "Technical Skills" or "SAP Analyst Skills" and then list the skills that make you a qualified candidate. These skills can include SAP modules, coding languages, system configurations, and other software applications.
Showcase Your Problem-Solving Skills: In addition to your technical skills, it is important to highlight your problem-solving skills. As a SAP Analyst, you should be able to identify issues and develop solutions quickly. To show employers that you have the necessary problem-solving skills, include a section titled "Problem Solving" or "Analytical Skills" on your resume and provide examples of how you have used these skills in a professional setting.
Demonstrate Your Knowledge of Business Processes: SAP Analysts must have a strong understanding of business processes in order to be successful. To demonstrate your knowledge, list the processes that you are most familiar with such as budgeting, forecasting, accounting, and inventory management. Include a heading such as "Business Processes" or "Business Analysis" and then describe the processes that you have experience with.
Highlight Your Communication Skills: Finally, it is important to showcase your communication skills. SAP Analysts must be able to work with others in order to effectively manage projects, so include a section titled "Communication" on your resume. Describe how you have used your communication skills to collaborate with team members
What skills should I put on my resume for Sap Analyst?
When applying to an SAP Analyst role, it is important to showcase your relevant skills on your resume to stand out from other candidates. Here is a list of essential skills to consider adding to your resume as an SAP Analyst:
Technical Knowledge: Expertise in SAP ERP systems, including SAP FICO and SAP ABAP. In-depth understanding of SAP functional and technical configurations, such as material master, purchasing and pricing.
Problem Solving: Ability to investigate and resolve complex issues related to SAP implementation and upgrade.
Analytical Thinking: Proven ability to develop and analyze business processes and system design models.
Project Management: Capability to manage multiple projects and ensure timely completion of tasks while adhering to deadlines.
Communication: Excellent verbal and written communication skills to clearly explain complex SAP technical concepts to non-technical personnel.
Leadership: Demonstrated expertise in leading SAP teams and providing guidance to team members.
By including these skills on your resume, you can show employers that you have the necessary qualifications to be a successful SAP Analyst.
Key takeaways for an Sap Analyst resume
Writing a resume as an SAP analyst can be a daunting task. With the potential of being hired by a large company, the stakes are high and you want to make sure your resume is up to par. Here are some key takeaways for an SAP analyst resume to help you make a successful application:
Highlight Your Technical Expertise: The main focus of an SAP analyst's resume should be on their technical expertise. Include certifications and any other credentials that prove your knowledge and skills in SAP.
Showcase Your Problem-Solving Skills: SAP is all about problem-solving and an employer needs to know that you have the necessary skills to help them. List any projects where you were able to solve complex problems and explain how you did it.
Focus on Your Soft Skills: In addition to your technical prowess, employers will be looking for other skills such as communication and organization. Make sure to include areas where you've demonstrated these in the past.
Include Work Experience Relevant to SAP: Even if your work experience is not specifically related to SAP, include any relevant experience that could demonstrate your ability to work with the system.
List Your Education: Although your technical expertise is the most important part of your resume, employers will also be looking for any formal education in SAP or related fields. Include any degrees, certifications, or other qualifications you have.
By following these key takeaways for an SAP analyst resume, you can make sure that your resume stands out from the competition and increase your chances of getting the job. Good luck!
Let us help you build
your Resume!
Make your resume more organized and attractive with our Resume Builder