A well-crafted Oracle consultant resume is essential to your job search success. If you want to be considered for the best available opportunities, a strong resume is needed to make a great impression on potential employers. This guide will cover everything needed to create a successful resume, from what information to include, how to format it, and how to include relevant examples. With the help of this guide and the included examples, you will be ready to present your qualifications and expertise in the most effective way.
If you didn't find what you were looking for, be sure to check out our complete library of resume examples.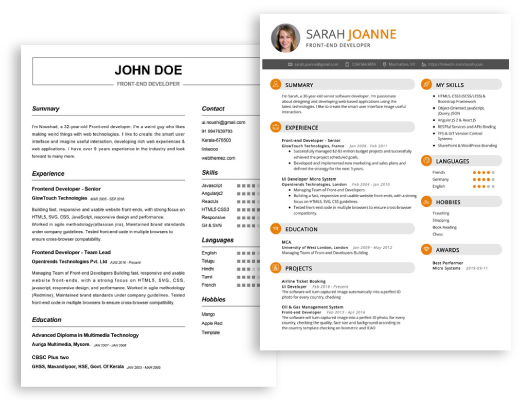 Start building your dream career today!
Create your professional resume in just 5 minutes with our easy-to-use resume builder!
Oracle Consultant Resume Examples
John Doe
Oracle Consultant
123 Main Street | Anytown, USA 99999 | Phone: (123) 456-7890 | Email: john.doe@email.com
I am an Oracle Database Consultant with 8+ years of experience providing a wide- range of database solutions for clients in the financial, retail and telecom industries. I have extensive knowledge of the Oracle Database environment and have designed, implemented, and managed multiple large- scale database solutions. I am experienced in troubleshooting and resolving data issues, developing database strategies, and optimizing database performance. I am passionate about providing the best database solutions for my clients and thrive on finding solutions to the most challenging database problems.
Core Skills:
Oracle Database 10g/11g/12c
Database Design and Architecture
Database Performance Optimization
PL/SQL Programming
SQL Tuning and Query Optimization
Database Security and Access Control
Database Backup and Recovery
UNIX/LINUX Scripting
Oracle Grid/Cloud Computing
Data Warehousing
Professional Experience:
ABC Solutions, Inc. – Oracle Database Consultant (2015 – Present)
Designed and implemented high- performance database solutions for Financial, Retail and Telecom clients.
Analyzed business needs and developed database strategies to meet the needs of clients.
Developed and maintained PL/SQL code to automate database maintenance tasks.
Created and managed database security and user access control.
Optimized the performance of databases by tuning SQL queries and configuring parameters.
Provided troubleshooting and resolution of database issues.
Developed and maintained Oracle Grid/Cloud Computing environments.
XYZ Corporation – Oracle Database Engineer (2013 – 2015)
Developed database architecture and designed database solutions for clients in the retail and telecom industries.
Developed and maintained database scripts using UNIX/LINUX commands.
Optimized the performance of database queries using SQL Tuning.
Established database security, user access control and backup procedures.
Provided technical support, troubleshooting and resolution of database
Oracle Consultant Resume with No Experience
Recently graduated consultant with excellent communication, problem- solving and analytical skills. Eager to learn and grow in the Oracle consulting field, leveraging my enthusiasm and knowledge of Oracle products and relational databases.
Skills
Excellent communication skills
Proficient in Oracle products
Comprehensive knowledge of relational databases
Skilled in problem- solving and analytical thinking
Proven ability to learn quickly and apply new information
Ability to work independently and as part of a team
Responsibilities
Follow Oracle best practices and guidelines to ensure successful implementation of Oracle solutions
Design, implement and configure Oracle databases for clients
Monitor and maintain performance of Oracle databases
Provide expertise and guidance to clients on troubleshooting Oracle database issues
Develop comprehensive technical documentation for assigned projects
Work with cross- functional teams to ensure successful deployment of Oracle solutions
Oracle Consultant Resume with 2 Years of Experience
Highly motivated and hardworking Oracle Consultant with 2 years of experience in developing and managing Oracle databases. Proven ability to troubleshoot and diagnose any Oracle related issues. Expert in SQL, PL/SQL, and Oracle Enterprise Manager Grid Control. Possess strong analytical and problem- solving skills, as well as excellent communication and interpersonal skills. Experienced in working with clients to develop solutions to their Oracle- related needs.
Core Skills:
Database administration
Oracle Enterprise Manager Grid Control
SQL & PL/SQL Programming
Troubleshooting & diagnostic
Database Design & Development
Database Security
Performance Tuning
Responsibilities:
Install, configure and upgrade Oracle server software and related products
Develop, manage and monitor all database systems
Monitor performance, implement changes, and apply new patches and versions when required
Design, develop, and implement database solutions
Develop, manage and test backup & recovery plans
Ensure security and integrity of the databases
Optimize and troubleshoot issues related to database performance
Prepare and present reports on database performance and system health
Create and maintain detailed documentation for database structure, definitions, and changes
Oracle Consultant Resume with 5 Years of Experience
A dedicated and experienced Oracle Consultant with 5+ years of expertise in providing strategic and tactical business solutions. Skilled in data modeling, installation & configuration, PL/SQL development, database tuning, and troubleshooting. Adept at developing complex Oracle databases for mission- critical applications and leveraging the latest Oracle technologies for greater efficiency and scalability. Proven record of meeting customer expectations and delivering successful project outcomes.
Core Skills:
Oracle Database Administration
PL/SQL Development
Database Tuning
Data Modeling
Installation & Configuration
Troubleshooting
Business Solutions
Responsibilities:
Installed and configured Oracle 11g/12c databases, applied patches and monitored server performance.
Developed and optimized PL/SQL code to facilitate efficient data storage and retrieval.
Implemented database security measures to ensure data integrity, validity, and security.
Developed and implemented data model designs optimized for application requirements.
Tuned Oracle databases to ensure optimal performance and scalability.
Developed and implemented backup and recovery strategies to ensure business continuity.
Provided technical consultation to customers on Oracle technologies, implementation, and management.
Oracle Consultant Resume with 7 Years of Experience
An experienced Oracle Consultant with 7 years of expertise in designing, implementing, and managing Oracle systems. Proven record of utilizing Oracle Applications and Databases to optimize system performance. Skilled in using Oracle tools and techniques to drive business results. Proven ability to lead teams to success while providing exceptional customer service.
Core Skills:
Oracle Application & Database Development
Project Management & Planning
Data Analysis & Troubleshooting
Team Leadership & Training
Database Performance Optimization
Business Process Analysis
Oracle Application Performance Tuning
Responsibilities:
Developed and implemented Oracle applications for clients.
Created and maintained technical documentation for Oracle implementations.
Participated in project planning and management activities.
Provided technical support to clients regarding Oracle systems.
Conducted data analysis and troubleshooting of Oracle applications.
Trained and led teams of Oracle developers and administrators.
Optimized Oracle database performance using various tools and techniques.
Performed business process analysis to identify areas for improvement.
Tuned Oracle applications to maximize performance and scalability.
Oracle Consultant Resume with 10 Years of Experience
Highly motivated and experienced Oracle Consultant with over 10 years of experience helping clients optimize their Oracle databases. Possess excellent knowledge of Oracle technologies and a deep understanding of the importance of high- performance and secure data systems. Possess the ability to proactively identify problems and develop solutions to a variety of issues and problems. Additionally, have a proven track record of providing customer service excellence, strong project management and efficient implementation of technology solutions.
Core Skills:
Oracle Database Administration
Database Design and Tuning
Oracle SQL and PL/SQL
Installation and Configuration of Oracle Products
Database Security and Auditing
Database Backup and Recovery
Data Integration
Database Performance Management
Change Management
Data Migration
Project Management
Responsibilities:
Developing and configuring Oracle databases to meet customer requirements.
Designing and implementing complex database architectures to meet customer needs.
Implementing various data security measures to ensure data integrity and confidentiality.
Performing regular maintenance tasks such as database backup and recovery, indexing and scripting.
Monitoring performance and tuning databases as necessary to ensure optimal operational efficiency.
Working with customers and other parties to gather requirements and develop solutions.
Resolving any technical issues that arise in the day- to- day operations of the Oracle database.
Managing projects and ensuring that they are completed on time and within budget.
Providing ongoing customer support to ensure customer satisfaction.
Oracle Consultant Resume with 15 Years of Experience
Highly experienced Oracle Consultant with 15 years of industry experience in a variety of industries. Proven ability to develop effective long- term business solutions for clients. Experienced in Oracle database administration, financial operations and reporting, software application development, and system architecture. Skilled in problem solving, communication, and project management.
Core Skills:
Oracle Database Administration
Financial Operations & Reporting
Software Application Development
System Architecture
Problem Solving
Communication
Project Management
Responsibilities:
Responsible for designing, developing, and administering Oracle databases.
Developed software applications using Oracle tools and technology.
Analyzed and solved technical problems resulting from application development.
Monitored, tested, and maintained Oracle databases.
Developed and implemented financial operations and reports.
Designed and implemented system architecture.
Communicated with clients and team members to ensure project success.
Managed multiple projects and provided project updates.
In addition to this, be sure to check out our resume templates, resume formats, cover letter examples, job description, and career advice pages for more helpful tips and advice.
What should be included in a Oracle Consultant resume?
A resume for an Oracle Consultant should emphasize their experience with the Oracle database software and provide evidence of their achievements in this field. It should include:
Relevant experience and skills that demonstrate the individual's expertise in working with Oracle databases.
Knowledge of Oracle database configuration, installation, and troubleshooting.
Understanding of data warehousing, database design and optimization, and database security.
Ability to create and analyze reports in Oracle database applications.
Proficiency with database languages such as SQL, PL/SQL, and Transact-SQL.
Experience with database development and systems integration projects.
Excellent communication and problem solving skills.
Ability to work well in teams and independently.
Any relevant certifications or training in Oracle technologies.
What is a good summary for a Oracle Consultant resume?
A good summary for an Oracle Consultant resume should include a brief but comprehensive overview of the individual's experience and qualifications. This should include the individual's experience working with Oracle databases and application systems, as well as other relevant certifications or qualifications. The summary should also demonstrate the individual's technical knowledge, communication skills, and problem-solving abilities in order to provide the hiring manager or recruiter with a strong impression of the individual's potential value as an Oracle consultant. Finally, any applicable awards, honors, or achievements should be included to further demonstrate the individual's capabilities and potential value. By providing a comprehensive summary that highlights the individual's experience and qualifications, a good Oracle Consultant resume will create a positive first impression and increase the chances of getting the job.
What is a good objective for a Oracle Consultant resume?
A good objective for an Oracle Consultant resume is to demonstrate expertise in Oracle database technology and a comprehensive knowledge of related tools and software. A skilled Oracle Consultant can provide a range of services, including database management and design, database upgrades and migrations, database performance analysis, and data warehousing.
When crafting an objective for an Oracle Consultant resume, some helpful objectives include:
To leverage expertise in Oracle database management and design to drive success for clients.
To use sound problem solving skills to troubleshoot and optimize databases for improved performance.
To apply strong knowledge of database technologies to develop cost-effective solutions.
To bring an extensive background in data warehousing and database migrations to identify and resolve complexities.
To use analytical and communication skills to effectively engage with clients and stakeholders.
How do you list Oracle Consultant skills on a resume?
Oracle is an enterprise software provider that helps businesses store and manage data. As an Oracle Consultant, you use your technical and analytical skills to develop and implement solutions that meet a client's specific needs. To showcase your Oracle Consultant skills on a resume, you can use the following bullet points:
Expert knowledge of Oracle Database Administration and SQL scripting
Proficiency in developing and implementing Oracle database solutions
Ability to design and create database schemas, tables and views
Strong understanding of database security and backup strategies
Excellent knowledge of system architecture and data modeling
Ability to troubleshoot database problems and provide solutions
Excellent communication, problem-solving, and analytical skills
What skills should I put on my resume for Oracle Consultant?
When writing a resume for a job as an Oracle Consultant, it is important to highlight the skills and qualifications that will make you a standout candidate. Here are some skills to consider including on your resume:
Knowledge of Oracle database and related products: As an Oracle Consultant, you will need to be proficient in understanding Oracle database and related products such as Oracle's Exadata, RAC, and ASM. Your resume should demonstrate your comprehensive knowledge in this area.
Strong problem-solving skills: As an Oracle Consultant, you will need to be able to quickly identify the root cause of any issues and come up with solutions to address them. Showcase your problem-solving skills on your resume to demonstrate that you have the necessary skills to handle challenges.
Ability to work independently: As an Oracle Consultant, you will often work independently and will need to be able to complete tasks without constant supervision. Demonstrate your self-motivation and ability to work without supervision.
Excellent communication skills: Oracle Consultants need to be able to communicate effectively with a variety of stakeholders, including clients, colleagues, and IT professionals. Showcase your ability to communicate clearly and effectively to potential employers.
Technical writing experience: Oracle Consultants should also have excellent written communication skills. Demonstrate that you have experience writing technical documentation, as this will be required for your role.
By including these skills on your resume, you can give potential employers an idea of the qualifications and experience you bring to the table. Make sure to tailor the information to fit the specific role you are applying for and highlight the most relevant skills.
Key takeaways for an Oracle Consultant resume
When crafting your resume as an Oracle Consultant, it's important to highlight your technical expertise and specialized knowledge. Oracle consultants are in high demand, so you need to make sure your resume stands out from the competition. To help make sure your resume is a winner, here are some key takeaways to keep in mind:
Make sure your qualifications and experience are clear. Your resume should clearly explain your background and skills when it comes to working with Oracle software. Include any certifications or training programs you have completed related to Oracle, as well as any experience you have with specific Oracle solutions.
Highlight your soft skills. An Oracle Consultant needs to have excellent communication skills, problem-solving capabilities, and the ability to work with a variety of stakeholders. Make sure to include any customer service or project management skills you may have.
Showcase your technical abilities. List any specific Oracle programs and software you are familiar with, such as Oracle Database, Oracle Applications, and Oracle Fusion. Also be sure to include any programming languages you are proficient in, such as Java, PL/SQL, and HTML.
Demonstrate your results. Don't just list your qualifications – make sure to explain the outcomes of any projects you've completed to show potential employers the value you can bring to their organization.
By following these key takeaways, you can create a resume that will grab the attention of potential employers and set you up for success as an Oracle Consultant.
Let us help you build
your Resume!
Make your resume more organized and attractive with our Resume Builder