Networking Associates are in high demand in this digital age and writing an effective resume is key to landing a job in this competitive field. This resume writing guide offers tips and advice on how to construct a resume that will make your skills stand out and help you to secure an interview. Furthermore, this guide provides examples of Network Associate resumes so you can find inspiration and ideas to make your resume shine. Network Associates are professionals with specialized knowledge in the field of computer networks and systems and this guide will provide you with the tools to put together a resume that will showcase your technical expertise and give you the best chance of success.
If you didn't find what you were looking for, be sure to check out our complete library of resume examples.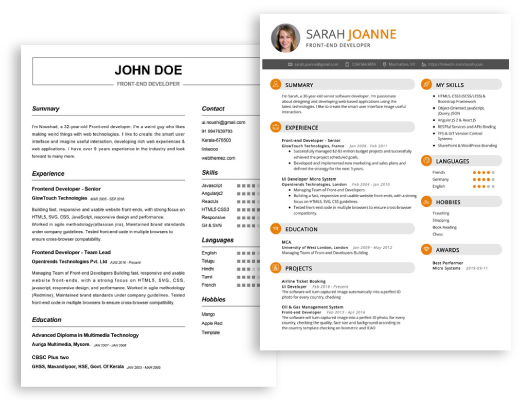 Start building your dream career today!
Create your professional resume in just 5 minutes with our easy-to-use resume builder!
Network Associate Resume Examples
John Doe
Network Associate
123 Main Street | Anytown, USA 99999 | Phone: (123) 456-7890 | Email: john.doe@email.com
A Network Associate driven by a passion to deliver the highest quality network engineering services to customers. Possesses a bachelor's degree in Computer Information Systems and experience in configuring, monitoring, and troubleshooting networks. Skilled in maintaining and administering computer networks, providing technical support, customer service, and performing network maintenance, upgrades, and repairs. Committed to ensuring all networks are secure, reliable, and running efficiently.
Core Skills:
Network Maintenance & Troubleshooting
Network Security
Server Installation & Configurations
Router & Switch Configurations
System Troubleshooting & Repair
Network Monitoring & Design
Hardware & Software Support
Network Protocols & Technologies
Customer Service
Team Collaboration
Professional Experience:
Network Associate, ABC Technologies, Inc., 2018 – Present
Monitored network performance, identified network outages, and implemented solutions to improve network performance.
Installed, configured, and maintained local area networks, wide area networks, intranets, and other data communication systems.
Utilized knowledge of network protocols and technologies to configure, maintain, and troubleshoot network issues.
Administered network security systems, including firewalls and intrusion detection systems.
Performed research and analysis to identify new technologies, products, and services to improve network performance.
Collaborated with other team members to ensure comprehensive coverage of customer service needs.
Network Technician, XYZ Technologies, Inc., 2017 – 2018
Installed, configured, and maintained networks, including routers, switches, and other network devices.
Identified and addressed network performance issues by troubleshooting network outages and performing system upgrades.
Performed network maintenance, including backups and system restorations.
Implemented security protocols and measures to ensure network security.
Responded to network outages and provided technical support services to customers
Network Associate Resume with No Experience
Recent college graduate with a Bachelor's degree in Computer Science, seeking an entry- level Network Associate position. Experienced in troubleshooting and resolving network issues and skilled in using a variety of network tools and technologies.
Skills
Network Troubleshooting
Network Protocols
Network Security
Network Installation
Network Design
Network Monitoring
LAN/WAN Technologies
Network Administration
Data Backup/Restore
Responsibilities
Install, configure and troubleshoot local area networks (LANs) and wide area networks (WANs).
Conduct regular performance tests and troubleshoot network problems.
Design and implement secure network solutions.
Manage and maintain network hardware and software.
Manage network users and user accounts.
Monitor network performance and security.
Perform data backup and restore operations.
Implement prescribed security protocols.
Network Associate Resume with 2 Years of Experience
Dynamic Network Associate with 2 years of experience in providing network support and maintaining network systems. Skilled in troubleshooting network system issues, configuring systems according to industry standards, and installing network devices. Possesses excellent problem- solving skills, the ability to work under pressure, and a strong commitment to the safety and security of networks.
Core Skills:
Network Infrastructure Maintenance
Network Troubleshooting
Network Security
System Monitoring
Server Administration
Network Architecture
Network Documentation
Network Configuration
Technical Support
Firewall Management
Network Access Control
Responsibilities:
Monitored network performance to ensure optimal system performance and reliability.
Configured and installed network devices, routers, switches, and firewalls.
Set up and maintained network infrastructure, including local and wide- area networks.
Troubleshot network system issues, identified root causes, and resolved them.
Developed network architecture that adhered to industry standards and best practices.
Ensured network security by establishing and enforcing access control policies.
Administered and maintained servers, including system backups, patch management, and software updates.
Developed and maintained network documentation for all network devices and configurations.
Provided technical support and guidance to internal and external customers.
Network Associate Resume with 5 Years of Experience
A highly motivated and experienced Network Associate with 5 years of experience in network management, maintenance and installation. Has a proven track record of providing exceptional technical support and service to customers. Has a strong understanding of network architecture and experience troubleshooting, diagnosing and resolving network issues in both wired and wireless environments. Possesses excellent communication skills, the ability to work well with teams, and the technical knowledge to stay abreast of changes in the industry.
Core Skills:
Network Architecture
Troubleshooting and Diagnosing
Customer Relations
Network Equipment Installation
Configuration of Networks
Network Security
Network Maintenance
Responsibilities:
Configure and maintain networking equipment such as routers, switches, and wireless access points.
Monitor, diagnose, and repair network issues.
Configure and implement security protocols to protect the network from external threats.
Install and configure wired and wireless networks.
Develop and maintain network documentation.
Manage and troubleshoot network performance issues.
Research and implement new technologies to improve network performance.
Collaborate with other teams to ensure smooth operations.
Network Associate Resume with 7 Years of Experience
Highly experienced Network Associate with more than 7 years of professional experience in system architecture, network engineering, troubleshooting and server maintenance. Possesses in- depth knowledge of the installation, configuration, maintenance and troubleshooting of LAN/WAN networks and systems. Well- versed in a wide range of hardware, software and operating systems. Proven ability to diagnose, modify and repair computer and network hardware and software components.
Core Skills:
Network Design & Configuration
Network Security
Network Troubleshooting
Network Maintenance
Firewall & VPN Security
System Architecture
Server Maintenance & Performance
Hardware & Operating Systems
System Diagnostics & Repair
Responsibilities:
Designed, implemented and maintained highly secure LAN/WAN networks that comply with organizational security policies.
Installed and configured routers, switches, firewalls and other network equipment.
Monitored and reviewed system logs to detect potential security issues.
Diagnosed, modified and repaired computer and network hardware and software components.
Deployed software/firmware upgrades, patches and security updates on network equipment.
Analyzed network usage and performance, troubleshooting network- related problems.
Ensured network performance and availability by performing regular maintenance and monitoring.
Developed and documented network topologies, configurations and policies.
Designed and implemented system architecture for new technologies.
Network Associate Resume with 10 Years of Experience
Network Associate with over 10 years of experience in configuring, troubleshooting and optimizing network systems. Skilled in performing network analysis to identify and resolve issues, providing consultative support to customers and maintaining network security. Proven ability to analyze customer requirements and develop innovative technology solutions. Adept at rapidly assessing and resolving complex network problems.
Core Skills:
Network Analysis
Troubleshooting
Network Security
System Optimization
Customer Support
Problem Solving
Technology Solutions
Risk Management
Responsibilities:
Diagnose and resolve network issues.
Monitor, troubleshoot, and analyze network performance.
Configure and manage routers, switches and other network components.
Develop and implement network security policies.
Create and maintain system documentation.
Provide technical support to customers.
Maintain and update software and hardware.
Perform risk assessment and identify vulnerabilities.
Stay up- to- date with the latest technologies.
Network Associate Resume with 15 Years of Experience
A highly experienced Network Associate with 15 years of experience in the field of networking and IT infrastructure. Having immense knowledge in networking, communication and troubleshooting, I have worked for a wide range of organizations designing, installing, configuring and maintaining networks and other related systems. I possess excellent interpersonal skills to handle customer requirements, needs and issues and strive to provide cost- effective solutions.
Core Skills:
Network Installation, Configuration and Troubleshooting
Networking Protocols & Standards
System Administration
Hardware & Software Maintenance
Customer Service & Technical Support
VPN & Remote Access Configuration
Database Administration & Management
Responsibilities:
Installed and maintained physical and wireless networks.
Maintained and monitored databases.
Configured and maintained firewalls and routers.
Detected and troubleshoot network problems.
Monitored network performance and security.
Carried out regular maintenance and upgrades.
Supported remote access, VPN and VoIP services.
Provided customer support & technical assistance.
Established and maintained good relationships with clients.
In addition to this, be sure to check out our resume templates, resume formats, cover letter examples, job description, and career advice pages for more helpful tips and advice.
What should be included in a Network Associate resume?
A Network Associate resume should be tailored to the job you're applying for, highlighting the skills and experience that make you the best fit for the role. It's important that you include all the necessary information for employers to assess your suitability for the job. Here's what you should include in your Network Associate resume:
Professional summary: A brief overview of your qualifications, experience, and skills.
Work experience: A list of your past positions and accomplishments, detailing your responsibilities in each role.
Education: Degrees, certificates, and other education you've received that's relevant to the job you're applying for.
Technical skills: Your knowledge of different network protocols, hardware and software, and other network technologies.
Soft skills: Your interpersonal skills and ability to work with teams or independently.
Professional certifications: Any certifications or awards you've earned that demonstrate your proficiency in the field.
Achievements: Any accomplishments you've achieved in your career, such as awards or special projects.
In addition to these items, you should also include any other relevant information that employers need to know to assess your fit for the job. By including all the necessary information in your resume, you'll be sure to stand out to hiring managers.
What is a good summary for a Network Associate resume?
A Network Associate resume should provide a concise summary of a candidate's technical and professional skills and qualifications that are relevant to the position. It should include their educational background, relevant certifications, and experience in network administration and support. It should also highlight any accomplishments in the field, such as successful network upgrades or major network projects. The summary should be brief and to the point, detailing why the candidate is a good fit for the role. The summary should also emphasize the candidate's ability to quickly learn new technologies and respond effectively to changing network requirements. Finally, the summary should reflect the candidate's enthusiasm and commitment to networking.
What is a good objective for a Network Associate resume?
A network associate is an individual who provides technical assistance to networking systems within a company or organization. When crafting a resume for this position, it's important to include an objective statement that highlights your qualifications and abilities as they relate to the job. Below are some good objectives for a network associate resume:
To obtain a Network Associate role utilizing my expertise in networking, system configurations, and troubleshooting.
To utilize my extensive knowledge of network systems and hardware to effectively manage and maintain a secure and efficient network environment.
To gain a position as a Network Associate where I can use my enthusiasm for learning and troubleshooting to support business-critical networks.
To leverage my 3+ years of experience in network management, hardware, and software to provide efficient solutions.
To apply my extensive knowledge of routers, switches, and firewalls to ensure reliable and secure network performance.
To obtain a Network Associate role and utilize my experience in network design, systems engineering, and network security.
How do you list Network Associate skills on a resume?
When applying for a Network Associate position, it is important to make sure your resume stands out and showcases your relevant experience and skills. Here are some tips for listing Network Associate skills on a resume:
Include any certifications you have obtained. This could include CompTIA certifications such as A+ or Network+. Make sure to list any specialty certifications such as Wireless Networking or Security.
List any experience you have in building, installing and maintaining computer networks. This could include both wired and wireless networks.
Include any experience you have working with routers, switches and firewalls.
Showcase any experience you have in developing, managing and troubleshooting systems.
Showcase any experience you have in monitoring network performance and security.
Demonstrate your ability to identify and resolve network problems.
Showcase your experience in implementing network technology.
Showcase any experience you have in designing network architecture.
If you have experience working with different operating systems, make sure to list that as well.
By showcasing your relevant experience and skills, you can ensure your resume stands out and catches the attention of recruiters and hiring managers.
What skills should I put on my resume for Network Associate?
When it comes to your Network Associate resume, you want to make sure you include the skills that are essential to the job. In this section, we'll discuss some of the skills you should include on your resume.
Thorough Knowledge of Network Technologies: As a Network Associate, you'll need to be familiar with a variety of network technologies including routers, switches, firewalls, and more. You should be able to identify and troubleshoot problems with these technologies.
Excellent Communication Skills: The ability to communicate effectively is essential for a Network Associate. You should be able to provide clear and concise instructions to other team members and explain complex technical concepts to non-technical personnel.
Troubleshooting Skills: As a Network Associate, you'll be responsible for diagnosing and resolving network problems. You should be able to identify the root cause of a problem quickly and efficiently.
Organization and Time Management: Network Associates often have to manage multiple tasks at once. You should be able to prioritize tasks, manage deadlines, and remain organized at all times.
Attention to Detail: Network Associates should have an eye for detail and be able to identify and fix small issues before they become bigger problems.
Customer Service Skills: You should be able to provide excellent customer service in order to ensure customer satisfaction. You should also be able to respond to customer inquiries promptly and accurately.
Key takeaways for an Network Associate resume
The Network Associate role is an important one in the IT industry, as it involves setting up, configuring, and managing network systems. The resume of a Network Associate should highlight their skills and experience in this field. Here are some key takeaways that a Network Associate resume should include:
Include an accurate and detailed description of your job history in the Network Associate position. This should include the duties and responsibilities that you were responsible for, such as setting up and configuring network systems, troubleshooting network issues, and managing hardware and software installations.
Make sure to include any certifications or qualifications you have obtained in the field of networking. This could include certifications from organizations such as Cisco, CompTIA, or Juniper.
Focus on the skills and abilities you possess that are relevant to the role. This could include knowledge of various protocols, network configurations, hardware and software solutions, and security protocols.
Demonstrate your expertise in managing, troubleshooting, and configuring networks. This could include examples of projects you have worked on, or any success stories you can share.Emphasize your ability to work in a team environment and collaborate with other members of the network team.
Highlight any additional IT skills you have, such as web development, programming, database administration, or virtualization.
By following these tips, you can create a strong resume that will help you stand out as a Network Associate. Make sure to include all the relevant information about your skills and experience that are related to networking and IT in general.
Let us help you build
your Resume!
Make your resume more organized and attractive with our Resume Builder