If you are looking for a job as a Mis Specialist, it is important to have a resume that stands out from the competition. A well-written resume can help you land interviews, and ultimately increase your chances of success in the job hunt. This guide will provide you with the tools and resources needed to craft the perfect Mis Specialist resume. From the basics of resume writing to tips on how to create an effective summary statement, this guide will walk you through the steps to make sure you create a resume that will help get you noticed by potential employers. Additionally, you will find several resume examples to help you get started.
If you didn't find what you were looking for, be sure to check out our complete library of resume examples.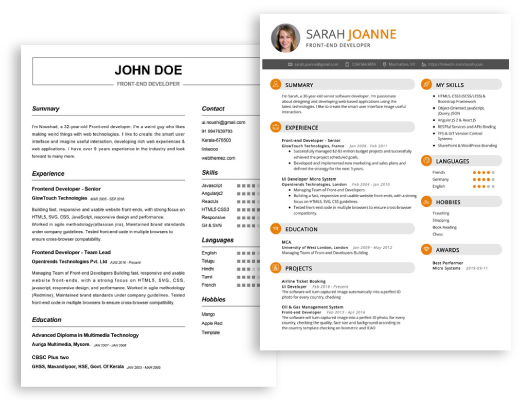 Start building your dream career today!
Create your professional resume in just 5 minutes with our easy-to-use resume builder!
Mis Specialist Resume Examples
John Doe
Mis Specialist
123 Main Street | Anytown, USA 99999 | Phone: (123) 456-7890 | Email: john.doe@email.com
A highly- skilled and motivated MIS specialist with 5+ years of experience in developing, deploying and managing IT solutions. Experienced in the installation and maintenance of computer networks and systems, testing and troubleshooting applications, and providing technical support to end- users. Possess excellent analytical and problem- solving skills and the ability to work independently and collaboratively in a fast- paced environment.
Core Skills:
Systems/Network Administration
Software Troubleshooting
Hardware Configuration
Data Analysis
Project Management
Technical Support
Database Design/Development
Professional Experience:
MIS Specialist
ABC Corporation, San Francisco, CA
June 2016–Present
Developed, tested, maintained and monitored computer networks and systems.
Installed hardware and software and provided technical support services to end- users.
Performed system upgrades, managed user accounts and configured security settings.
Conducted research to identify and analyze technical solutions for system issues.
Designed and implemented database solutions and applications.
Collaborated with other departments to ensure solutions meet business needs.
MIS Technician
XYZ Corporation, San Francisco, CA
January 2015–May 2016
Provided technical support to end- users and monitored network performance.
Installed and maintained hardware, software and network systems.
Troubleshot and resolved system issues and performed system backups.
Implemented security policies and procedures and ensured compliance.
Performed system upgrades and tested applications for functionality.
Education:
Bachelor of Science in Information Technology
University of California, San Francisco, CA
2012–2016
Mis Specialist Resume with No Experience
Motivated and detail- oriented Mis Specialist with a passion for developing and maintaining efficient data systems. Proven ability to assess the need for data and create comprehensive plans to ensure data accuracy, reliability, and availability. Experienced in gathering data from various sources, applying data analysis and optimization, and communicating results to all stakeholders.
Skills
Data Analysis
Database Management
Data Optimization
Data Visualization
Data Reporting
Project Management
Technical Writing
Responsibilities
Develop and maintain data systems for tracking and reporting of information
Collect data from various sources such as reports, user feedback, and other internal sources
Analyze data to identify trends and patterns
Apply data optimization techniques to improve the accuracy of data
Create data visualizations to present findings in an easy- to- understand manner
Create and maintain data reports for stakeholders
Improve existing processes with data- driven solutions
Maintain an up- to- date knowledge of the latest industry trends and technologies
Collaborate with other teams to ensure data accuracy and reliability
Mis Specialist Resume with 2 Years of Experience
Hardworking and detail- oriented MIS Specialist with two years of experience in information systems and data management. Adept at troubleshooting, testing and resolving technical issues, utilizing various programming languages and databases. Possesses excellent organizational and communication skills, as well as a knack for problem- solving. A strong team player with a passion for technology, and the desire to excel in the MIS field.
Core Skills:
Database Management
System Analysis
Business Analysis
Troubleshooting
Programming Languages
Technical Writing
Technical Support
Responsibilities:
Responsible for the setup and maintenance of computer software and hardware.
Performed system analysis and determined the needs of users.
Developed and implemented processes to ensure efficient operations.
Conducted research and provided recommendations for new systems.
Provided technical and operational support for users.
Monitored and generated reports for system performance.
Installed and configured software and applications to meet user requirements.
Analyzed data and generated reports for management review.
Resolved technical issues and troubleshot problems with systems.
Mis Specialist Resume with 5 Years of Experience
A highly skilled and motivated MIS Specialist with 5 years of experience in MIS project management, operations and analysis. Expert in data analysis and management, problem solving and technical writing. Possess excellent knowledge of business process management, process automation, programming, database design and development. Proven ability to maintain and enhance existing systems as well as create new solutions. An excellent communicator, who works well in a team environment and provides guidance to less experienced colleagues.
Core Skills:
Excellent knowledge of MIS processes, techniques and technologies
Expert in data analysis, management, problem solving and technical writing
Proficient in business process management, process automation, programming, database design and development
Excellent communication and interpersonal skills
Ability to work well in a team environment
Proficient in data reporting and CMS/CRM applications
Strong understanding of IT security protocols
Responsibilities:
Designing, developing and implementing MIS systems and software solutions
Performing data analysis, troubleshooting and resolving system issues
Managing and monitoring system performance and user access
Developing reports, dashboards and other data visualizations
Creating and maintaining databases and software applications
Ensuring the security of the systems and data
Providing technical support and training to users
Collaborating with IT and business teams to ensure smooth system operations
Analyzing user requirements and developing solutions to meet those requirements
Mis Specialist Resume with 7 Years of Experience
I am a highly experienced MIS Specialist with 7+ years of experience in the IT industry. I have extensive experience in analyzing data, and developing reports, along with troubleshooting and maintaining computer systems, networks and databases. I am knowledgeable in a wide range of technologies, including SQL, Oracle and Microsoft SQL Server, Windows, Linux and other operating systems. I am familiar with scripting and programming languages, such as Python and JavaScript. I also possess excellent communication, problem- solving and troubleshooting skills.
Core Skills:
Data Analysis
Database Design and Management
Scripting and Programming
Troubleshooting
Systems Maintenance
Networking
Business Analysis
Responsibilities:
Analyzed data to identify trends and insights and provided reports based on results.
Designed and maintained databases, including creating tables and stored procedures.
Authored, modified and tested scripts and programs to automate tasks.
Responded to customer inquiries, troubleshooting and resolving technical issues.
Monitored system performance and optimized databases for optimal efficiency.
Installed, configured and maintained hardware, software and network systems.
Assessed customer needs and implemented solutions that met business requirements.
Provided training and support to end- users.
Developed detailed technical documentation and procedures.
Mis Specialist Resume with 10 Years of Experience
A highly motivated and experienced MIS Specialist with 10 years of experience in IT- related fields. Skilled in developing, troubleshooting, and maintaining IT systems and networks. Thorough knowledge of Windows OS, Linux OS, and network infrastructures. Possess excellent problem- solving, analytical, and communication skills. A team player with a desire to provide excellent service to clients.
Core Skill:
Computer Networking
Network Infrastructure
System Maintenance
IT Troubleshooting
Data Analysis
Windows OS
Linux OS
Project Management
Software/Hardware Installation
Customer Service
Responsibilities:
Maintaining and troubleshooting existing computer systems and networks.
Installing and configuring new hardware, software, and networks.
Providing technical support to clients and colleagues.
Monitoring system performance and ensuring security.
Developing databases and other IT systems.
Creating user accounts and managing user access.
Developing training programs for users.
Creating reports as needed for management.
Resolving technical problems and providing assistance as needed.
Upgrading existing systems and networks.
Auditing system performance and providing recommendations for improvement.
Mis Specialist Resume with 15 Years of Experience
A highly motivated and experienced IT professional with 15 years of experience in managing and leading IT projects, troubleshooting hardware/software systems, and developing technical solutions. Adept at developing effective problem- solving strategies, leveraging strong analytical and organizational skills to ensure the smooth deployment of IT systems. Possesses an in- depth understanding of computer systems, software and hardware, networks, IT security and advanced troubleshooting.
Core Skills:
Technical Support
Network Administration
System Administration
Service Desk Management
Help Desk Support
Software Installation
System Troubleshooting
Upgrade Management
Data Migration
IT Security
Network Security
System Security
Server Administration
Desktop Support
Documentation
Responsibilities:
Installed, configured, and maintained computer systems and networks.
Assisted with resolving technical and functional issues.
Ensured the security of networks and systems by enforcing policies and procedures.
Monitored system performance, identified and resolved technical issues.
Implemented IT projects and provided technical support.
Performed system upgrades and installations.
Developed system documentation and test plans.
Conducted data migration and data backup.
Developed and implemented IT security protocols.
Maintained desktop and laptop hardware and software.
Created and administered user accounts and permissions.
Responded to customer inquiries and provided technical assistance.
In addition to this, be sure to check out our resume templates, resume formats, cover letter examples, job description, and career advice pages for more helpful tips and advice.
What should be included in a Mis Specialist resume?
A mis specialist (Management Information Systems specialist) is a professional who specializes in the development, management and maintenance of an organization's IT infrastructure. A resume for a mis specialist should include a summary of your qualifications and key skills, your experience, and education.
Summary of Qualifications and Skills
Excellent knowledge of computer hardware, software and networking systems
Strong problem-solving and analytical skills
Ability to troubleshoot hardware and software issues
Ability to prioritize tasks efficiently
Excellent attention to detail and organizational skills
Excellent communication and interpersonal skills
Experience
Provide technical support to end users
Troubleshoot hardware and software issues
Manage and maintain computer networks
Monitor system performance and security
Train users on new software and applications
Prepare and maintain technical documentation
Education
Bachelor's degree in computer science, information technology, or a related field
Relevant certifications and/or training courses in IT and MIS
What is a good summary for a Mis Specialist resume?
A mis specialist resume should focus on the relevant experience, skills, and qualifications that demonstrate your capabilities as a MIS specialist. Your summary should be a brief snapshot of your abilities, such as working on complex projects, installing and configuring software, and maintaining networks. You should also include any certifications or educational qualifications that you possess, as well as any experience with specific technologies, such as Microsoft Office or Windows Server. Finally, you should also highlight any awards or recognitions that you have earned in your career as a MIS specialist. By including this information in your resume, you can show employers that you are the right person for the job.
What is a good objective for a Mis Specialist resume?
A MIS Specialist is an administrative professional who is responsible for various tasks related to the management and maintenance of a computer system. A MIS Specialist needs to have strong technical and organizational skills, as well as the ability to work with a variety of people and systems. Having a clear and concise objective statement on a resume can help a MIS Specialist stand out from the competition.
Here are some tips for writing a good objective statement for a MIS Specialist resume:
Demonstrate knowledge of computers and programming languages
Showcase your troubleshooting and problem-solving abilities
Highlight your experience with system security and data protection
Showcase your strong communication skills
Mention any relevant certifications or qualifications
Demonstrate your ability to work in a fast-paced environment
Showcase your ability to work independently and as part of a team
Demonstrate your commitment to customer service and satisfaction
How do you list Mis Specialist skills on a resume?
If you are looking to apply for a job as a MIS Specialist, you need to make sure you list the right skills on your resume. MIS Specialists are responsible for a variety of tasks related to both technical and business aspects of managing information systems. As such, it is important to highlight the different technical and business skills you have that make you suited for the role.
When listing your skills as a MIS Specialist on your resume, make sure to include the following:
Knowledge of computer networking and database systems: A MIS Specialist should have an understanding of networks, servers, and other computer systems to ensure smooth operation.
Technical troubleshooting: MIS Specialists often need to troubleshoot problems related to the computer and network systems they are managing.
Knowledge of software development and systems analysis: MIS Specialists should have experience with software design, coding, and debugging. They should also have experience in analyzing systems and making recommendations for improvement.
Strong written and verbal communication skills: To successfully interact with all levels of personnel, MIS Specialists should have strong communication and interpersonal skills.
Project management experience: MIS Specialists are often responsible for managing projects and ensuring deadlines are met.
Knowledge of industry standards and regulations: Knowledge of industry standards, such as HIPAA, Sarbanes-Oxley, and PCI DSS, is important for MIS Specialists.
What skills should I put on my resume for Mis Specialist?
When applying for a job as a MIS Specialist, your resume should demonstrate several key skills that are necessary for success in the position. This includes technical skills, project management skills, and communication skills. Here are some of the skills that you should highlight on your resume for a MIS Specialist position:
Technical Skills: MIS Specialists need to be proficient in a variety of software, programming languages, and operating systems, such as SQL, Oracle, Java, C++, Visual Basic, and Linux. You should also be knowledgeable of computer networks, system security, and other related technology.
Project Management Skills: You should be able to manage multiple projects and tasks simultaneously while meeting deadlines. This includes being able to prioritize tasks and manage time effectively.
Communication Skills: MIS Specialists need to be able to communicate clearly and effectively with team members and clients, both in person and over the phone. You should also be able to explain technical concepts to non-technical audiences.
Analytical Skills: MIS Specialists need to have strong analytical skills in order to troubleshoot problems and identify solutions. You should be able to quickly analyze data and identify trends.
By including these skills on your resume, you can show potential employers that you have the skills and qualifications necessary to be successful in a MIS Specialist position.
Key takeaways for an Mis Specialist resume
When it comes to crafting a resume for an MIS Specialist position, there are many important components to consider. To make sure your resume stands out from the competition and effectively captures the attention of potential employers, here are some key takeaways for an MIS Specialist resume.
Highlight Your Technical Skills: One of the most important aspects of an MIS Specialist resume is highlighting your technical skills. Demonstrate your understanding of database management systems, software development, system analysis, networking configuration and more. Include details about how you used these skills to solve specific problems or increase efficiency.
Include Education: If you have a college degree in information systems or related field, make sure to highlight it on your resume. Even if you have extensive experience, your educational background is still important to employers.
Show Your Problem-Solving Abilities: Employers want to know what you can do to make their business run more efficiently, so make sure to highlight your experience with problem solving. Describe how you identified and solved problems, and the results you achieved.
Include Relevant Experience: Include any experience that is related to the MIS Specialist role. This could include internships, volunteer positions, or other experience that taught you valuable skills or gave you the opportunity to practice your knowledge.
Showcase Your Communication Skills: MIS Specialists need to be able to work with others, so don't forget to highlight your communication skills. Describe how you have effectively communicated with others in the past, and how you were able to collaborate with team members.
By following these key takeaways for an MIS Specialist resume, you can be sure that you are presenting yourself in the best possible light to potential employers. With the right skills and experience, you will be well on your way to landing your dream job.
Let us help you build
your Resume!
Make your resume more organized and attractive with our Resume Builder