Writing a resume as a MIS Manager can be daunting because there are so many unique skills and qualifications required for the role. This guide will provide tips and examples on how to effectively write a resume for a management information systems (MIS) manager. By following the steps outlined in this guide, you can create a resume that accurately represents your skills and experience and increases your chances of success in your job search.
If you didn't find what you were looking for, be sure to check out our complete library of resume examples.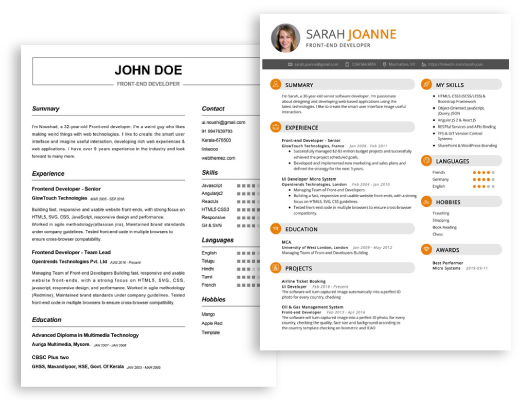 Start building your dream career today!
Create your professional resume in just 5 minutes with our easy-to-use resume builder!
MIS Manager Resume Examples
John Doe
MIS Manager
123 Main Street | Anytown, USA 99999 | Phone: (123) 456-7890 | Email: john.doe@email.com
With over 10 years of experience in operations and management, I am an experienced MIS Manager with a successful track record of driving business growth and efficiency through the implementation of data- driven solutions. I have an in- depth understanding of the various software and hardware components of the MIS field, and a knack for leveraging this knowledge to develop and maintain effective information systems. Throughout my career, I have displayed a strong ability to effectively communicate with numerous stakeholders, while prompting collaboration and engagement to ensure successful project completion.
Core Skills:
MIS Management
Database Management
System Design
Software Implementation
Quality Assurance
Troubleshooting
Strategic Planning
Data- Driven Solutions
Collaboration
Problem Solving
Excellent Communication
Professional Experience:
MIS Manager, ABC Corp. – 2010- Present
Developed comprehensive MIS systems to increase operational efficiency and reduce costs
Developed and implemented software to streamline internal processes and procedures
Managed database systems to ensure data accuracy and integrity
Performed quality assurance to ensure software systems were functioning properly
Provided support and maintenance services for existing systems
Trained and mentored team members in the use of MIS systems
Collaborated with stakeholders to develop data- driven solutions
Education:
Bachelor of Science, Computer Science – ABC University – 2009
MIS Manager Resume with No Experience
Recent college graduate with great knowledge and understanding of office technologies and management software. Possess excellent communication and organizational skills, which enable me to provide exceptional service to clients. Driven to develop and grow within an MIS environment.
Skills
Proficient in Microsoft Office Suite
Thorough understanding of IT operations
Strong background in customer service
Excellent communication and interpersonal skills
Time management and organizational skills
Ability to multi- task and prioritize tasks
Problem solving and analytical skills
Responsibilities
Maintain and update MIS systems
Provide technical support to users
Identify potential opportunities for improvement
Create and implement new systems
Train and guide users on MIS systems
Analyze and diagnose system errors
Manage and monitor daily operations
Troubleshoot and resolve system issues
Ensure compliance with system requirements
Document system procedures and processes
MIS Manager Resume with 2 Years of Experience
Highly organized, detail- oriented and experienced MIS manager with two years of experience in the management and organization of large- scale information systems and technology projects. Proven track- record of success in the development and deployment of updated software and hardware solutions for multiple departments. Possesses a strong knowledge of data analysis and report writing. A highly collaborative individual with excellent communication skills and a deep understanding of IT and computer systems.
Core Skills:
MIS System Management
Data Analysis
Software Deployment
Hardware Solutions
Problem Solving
Report Writing
Project Management
Responsibilities:
Manage the activities related to the development, implementation, and maintenance of information systems and technologies
Ensure the efficient and secure operation of the department's computer network
Develop and deploy updated software and hardware solutions to meet changing business needs
Create detailed reports and analyze data to identify and solve system issues
Provide training and guidance to staff to ensure proper use of hardware and software
Monitor system performance and make adjustments as needed
Work with third- party vendors to secure additional hardware and software solutions as needed
MIS Manager Resume with 5 Years of Experience
MIS Manager with five years of experience managing system infrastructure and delivering IT services. Proven record of creating cost- effective solutions that improve operational efficiency. Skilled in identifying user requirements and developing plans to meet objectives. Possess strong project management and technical expertise.
Core Skills:
System Infrastructure Development
Project Management
Database Administration
System Analysis & Design
Change Management
Budget Development & Management
Strategic Planning
Responsibilities:
Managed the overall system development lifecycle and supported the development of a variety of IT systems.
Developed system requirements, conducted system tests and prepared system documentation.
Monitored system performance and identified system issues.
Worked with hardware vendors to identify and resolve system issues.
Developed and implemented policies and procedures to ensure system security.
Developed and managed project plans for the installation, upgrade and maintenance of systems.
Developed and managed budgets for system implementations and upgrades.
Developed and implemented change management processes for system installations, upgrades and maintenance.
Monitored system usage and prepared usage reports for senior management.
Developed and implemented backup plans to ensure data security.
MIS Manager Resume with 7 Years of Experience
I am MIS Manager with 7 years of experience in managing, developing and maintaining corporate information systems and networks. I possess a comprehensive knowledge of business processes, IT infrastructure and system requirements. I have successfully implemented applications, managed databases and developed software solutions to support the company's business needs. My expertise in problem solving, system analysis, data analytics and project management have enabled me to effectively lead teams and projects. With these skills, I am confident in my ability to take on new challenges and deliver results.
Core Skills:
System Analysis
Business Processes
Strategic Planning
Project Management
Data Analytics
Database Administration
Software Development
Responsibilities:
Developed and maintained corporate information systems and networks
Implemented business applications for various departments
Analyzed system requirements for hardware and software updates
Developed software solutions to support the company's business needs
Maintained data security and integrity of system databases
Monitored system performance, identified and resolved issues
Collaborated with IT teams to ensure the successful execution of projects
Assisted in developing reports and dashboard analytics to facilitate decision making
Trained and supported end- users on the use of corporate systems and applications
MIS Manager Resume with 10 Years of Experience
A highly organized and experienced MIS Manager with 10+ years of experience in developing and implementing IT systems and processes to maximize efficiency and profitability. Proven track record of creating and deploying successful IT solutions, leading teams to deliver assets on time and within budget, and managing multiple projects simultaneously. Skilled in SQL, data analysis, reporting, and troubleshooting. Solid experience in project management, resource allocation, and team development.
Core Skills:
SQL
Data Analysis
Reporting
Troubleshooting
Project Management
Resource Allocation
Team Development
Process Optimization
IT Solutions
Problem- Solving
Responsibilities:
Develop, implement and maintain IT systems, processes and infrastructure to maximize efficiency and profitability.
Create, deploy and maintain IT solutions to support the organization's objectives.
Analyze and report on data to identify trends and develop strategies to improve performance.
Monitor and troubleshoot system issues to ensure optimal performance.
Manage multiple projects simultaneously and ensure that assets are delivered on time and within budget.
Lead teams to complete projects, ensure accuracy and meet deadlines.
Allocate resources and ensure the effective utilization of personnel and equipment.
Develop and implement process optimization strategies.
Solve complex problems and provide innovative solutions.
MIS Manager Resume with 15 Years of Experience
Highly motivated and experienced MIS Manager with 15 years of experience in the design, development, and maintenance of large- scale enterprise systems. Proven ability to analyze, plan, implement, and manage large- scale projects while meeting budgets and timelines. Demonstrated ability to identify and solve complex technical problems while providing excellent customer service.
Core Skills:
IT Project Management
Large- Scale System Design and Development
Data Analysis and Modeling
Software Testing and Quality Assurance
Systems Troubleshooting and Problem Resolution
Troubleshooting Hardware and Software
Networking and Telecommunications
Database Design and Administration
Vendor and Stakeholder Management
Leadership and Team Building
Responsibilities:
Leading the design and development of large- scale enterprise systems
Analyzing data and creating models to improve system efficiency and performance
Developing effective project management plans for system upgrades and new implementations
Testing software and applications to ensure quality assurance
Troubleshooting hardware and software issues
Managing the installation and maintenance of networks and telecommunications systems
Designing and administering databases
Managing vendor and stakeholder relationships
Training and developing team members
Providing excellent customer service
In addition to this, be sure to check out our resume templates, resume formats, cover letter examples, job description, and career advice pages for more helpful tips and advice.
What should be included in a MIS Manager resume?
A MIS Manager is a critical role in any organization, and the ideal candidate should have a resume that reflects the necessary skills and experience. To be a successful MIS Manager, a resume should include the following:
Professional Experience: MIS Managers should list their experience in a professional, organized manner that clearly articulates the skills and achievements they have acquired over the course of their career. Listing any relevant certifications, awards, and/or industry successes is also a plus.
Technical Knowledge: MIS Managers need to possess a strong technical background and proficiency in a wide range of software and hardware. This should be clear from their resume, and include any specialized skills in databases and programming.
Leadership Qualities: Good communication and leadership abilities are essential for any high-level position, and these qualifications should be included in a MIS Manager resume. List any roles that demonstrate these qualities, such as team management or project oversight.
Management and Problem Solving: MIS Managers are responsible for managing a team and making sure the goals and objectives of the organization are met. Resumes should list any experience in problem-solving, process improvement and/or resource optimization.
Professional Certifications: This is a highly competitive role, and any relevant certifications or qualifications can be a major asset for any MIS Manager. List any certifications, such as Certified Information Systems Security Professional (CISSP).
By including these qualifications in a MIS Manager resume, potential employers will be able to quickly identify the ideal candidate for the role.
What is a good summary for a MIS Manager resume?
A Management Information Systems (MIS) Manager is responsible for developing and implementing IT solutions that improve the efficiency and effectiveness of a business. A good MIS Manager resume should include a summary of the candidate's qualifications, experience, and accomplishments. The summary should highlight the candidate's experience in leading teams, managing projects, and developing solutions for IT infrastructure. It should also mention the candidate's technical skills and any certifications they may have. Finally, the summary should demonstrate how the candidate is capable of making an immediate impact on the company's success.
What is a good objective for a MIS Manager resume?
A good objective for a Management Information System (MIS) Manager resume is an integral part of any job search. An effective MIS Manager resume objective should highlight the skills and strengths that make you an ideal candidate for the job. Here are some objectives for a MIS Manager resume that will help you stand out among other applicants:
Demonstrate leadership skills and proven ability to drive the team to success with the use of the latest technologies.
Possess strong knowledge of IT systems and software, as well as the ability to analyze and solve user problems.
Manage the development, implementation, and maintenance of MIS systems and applications to meet the organization's business goals.
Demonstrate excellent communication and interpersonal skills, with the ability to collaborate with team members and stakeholders.
Utilize analytical skills to identify, evaluate and resolve IT issues quickly and efficiently.
Develop and maintain effective business relationships with external IT providers.
Remain current with the latest developments and trends in the IT industry.
How do you list MIS Manager skills on a resume?
When listing MIS Manager skills on a resume, it is important to include the most relevant and applicable skills that demonstrate your expertise and experience with MIS. The following are some of the most important MIS Manager skills to list:
Analytical Skills: MIS Managers need to be able to analyze data and present analysis in a meaningful and useful way. They must also be able to draw business insights from the data they collect.
Technology Skills: MIS Managers need to be comfortable with a variety of software and technology platforms, as they need to manage and maintain the MIS systems. This includes expertise with data warehouses, databases, cloud computing, web technologies, and more.
Problem Solving: MIS Managers must be able to identify, diagnose, and solve problems quickly and efficiently. They need to be able to troubleshoot technology issues and develop solutions to improve the system.
Leadership: MIS Managers need to be able to lead and motivate a team of IT professionals in order to ensure the success of the MIS system. They must be able to provide guidance, set goals, and provide feedback.
Communication: MIS Managers must be able to communicate effectively with both technical and non-technical personnel. This includes being able to explain technical concepts in simple terms, as well as being able to work with others to identify and resolve system issues.
What skills should I put on my resume for MIS Manager?
When crafting a resume for a Management Information Systems Manager position, it is important to highlight certain skills that demonstrate your abilities and expertise in this field. This will be one of the first things employers notice when they review your application, so it is important to make sure your resume stands out. Here are some of the key skills to consider including on your resume when applying for a MIS Manager position:
Information Technology: As a MIS Manager, you will be responsible for overseeing and managing the complex IT systems within an organization. Make sure your resume showcases your knowledge and experience with various IT systems and software, such as computer networking, hardware, operating systems, and programming languages.
Project Management: MIS Managers are often responsible for managing multiple projects at once, so it is important to demonstrate your ability to successfully take on multiple tasks in a timely and organized manner. Highlight any relevant experience or certifications that demonstrate your project management skills.
Problem-Solving: MIS Managers must be able to effectively diagnose and troubleshoot problems in order to maintain the organization's IT systems. Be sure to showcase your problem-solving skills on your resume, such as your ability to analyze and solve complex technical issues quickly.
Communication: MIS Managers must be able to effectively communicate with technical and non-technical staff, so it is important to demonstrate your ability to clearly articulate complex technical concepts.
Leadership: It is important to demonstrate your leadership skills on your resume, as MIS Managers are often responsible for leading teams in the implementation and management of IT solutions. Highlight any relevant leadership experience or certifications that show you are capable of taking charge and motivating others.
By highlighting the right skills on your resume, you can prove that you are the right candidate for the job. With the right qualifications, you can take your career as a MIS Manager to the next level.
Key takeaways for an MIS Manager resume
For an MIS Manager, a well-crafted resume is the key to success in the competitive job market. To help you create an effective resume, here are five key takeaways to keep in mind:
Emphasize Your Technical Skills: MIS Managers are expected to have strong technical knowledge and skills, such as experience with databases, coding languages, and software development. Make sure to highlight your technical skills in your resume, emphasizing any certifications or advanced training you have received.
Demonstrate Your Leadership Skills: MIS Managers are expected to lead teams and manage projects. Make sure to include relevant work experience or volunteer roles that demonstrate your leadership abilities.
Showcase Your Communication Skills: MIS Managers must be able to communicate complex technical information in a clear and concise manner. Highlight any public speaking or teaching experience you have in your resume.
Highlight Your Problem-Solving Ability: MIS Managers must have the ability to identify and address complex issues. Showcase projects where you have solved difficult problems in your resume.
Showcase Your Analytical Skills: MIS Managers must have strong analytical skills to identify trends, forecast results, and develop strategies. Demonstrate your analytical skills by highlighting relevant data analysis experience.
By keeping these five key takeaways in mind, you can create an effective resume that will help you stand out in the job market. Good luck!
Let us help you build
your Resume!
Make your resume more organized and attractive with our Resume Builder