Writing a resume for a MIS Analyst position can be a challenge. With the right format and content, you can create an effective resume that will highlight your qualifications and compel hiring managers to call you in for an interview. This guide will provide you with the skills and knowledge needed to create a strong MIS Analyst resume that will show potential employers why you are the best candidate for the job. We will also provide several examples to help you format your resume for the best results.
If you didn't find what you were looking for, be sure to check out our complete library of resume examples.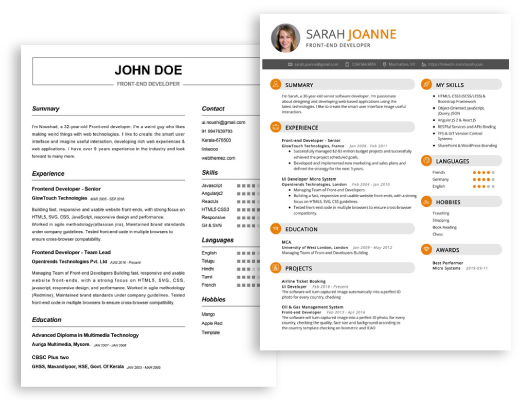 Start building your dream career today!
Create your professional resume in just 5 minutes with our easy-to-use resume builder!
MIS Analyst Resume Examples
John Doe
MIS Analyst
123 Main Street | Anytown, USA 99999 | Phone: (123) 456-7890 | Email: john.doe@email.com
Dedicated and analytical MIS Analyst with 5+ years of professional experience working in data analysis and business systems development. Excels in problem- solving and loves working with large datasets. Driven to stay current with the latest industry trends and developments and apply that knowledge to innovate solutions with the organization.
Core Skills:
Data Analysis
Business Systems Development
Data Visualization
Problem Solving
SQL
Technical Support
Professional Experience:
MIS Analyst
ABC Company
06/2015 – Present
Develop and analyze business systems solutions to ensure efficient processes
Design and implement data models, databases and data mining tools
Analyze performance data to identify trends and opportunities for improvement
Develop actionable recommendations for improving processes and systems
Utilize SQL for data analysis and querying
Provide technical support for systems and applications
MIS Analyst Intern
XYZ Company
06/2011 – 09/2013
Assisted with data analysis and reporting projects
Developed data models and databases
Used data visualization tools to present key findings
Assisted with system development and process improvement initiatives
Education:
Bachelor of Science in Management Information Systems
ABC University
2010 – 2013
MIS Analyst Resume with No Experience
Recent graduate with a Bachelor's degree in Business Administration, eager to leverage my analytical and problem- solving skills as a MIS Analyst. Possessing excellent communication skills and the ability to develop practical solutions to complex challenges.
Skills
Analytical Thinking
Problem- Solving
Data Interpretation
Management Software
Database Design
Business Process Improvement
Strategic Planning
MS Office Suite
IT Networking
Responsibilities
Analyze data from various sources to identify trends, risks, and opportunities
Develop and implement reporting solutions and be responsible for creating and maintaining reports
Collect and document business process requirements
Design and maintain data processing systems and databases
Generate and analyze performance metrics for the purpose of continuous improvement
Develop and maintain guidelines to ensure data integrity and accuracy
Monitor performance of IT systems and suggest improvements where necessary
Define and document user requirements and develop solutions to address user needs
Provide support and troubleshooting assistance to users on various system related issues
MIS Analyst Resume with 2 Years of Experience
MIS Analyst with 2 years of experience in data analysis, design, development and implementation of integrated business systems. Experienced in developing reports and creating dashboards to monitor business performance. Possess excellent analytical and problem- solving skills, combined with the ability to identify and implement process improvements.
Core Skills:
Analyzing data to identify trends and establish key performance indicators (KPIs)
Developing and maintaining databases and integrated systems
Developing effective reports and dashboards to monitor performance
Data analysis and manipulation using SQL and other tools
Process improvement and automation
Technical documentation writing
Responsibilities:
Analyzing and interpreting data to identify trends, patterns, correlations and anomalies
Developing, deploying and managing comprehensive databases, integrated systems, and applications
Designing, developing and implementing reports and dashboards to improve visibility into business performance
Identifying opportunities for process improvement, automation, and optimization
Collaborating with IT and other stakeholders to ensure proper implementation of systems
Developing technical documentation to ensure consistent operation of systems
MIS Analyst Resume with 5 Years of Experience
Results- oriented MIS Analyst with 5 years of experience providing data analysis and management across key business processes. Adept at assisting in the development of IT strategies to maximize efficiency and ensure the security of confidential data. Skilled in developing databases to improve operations and in creating user- friendly management information systems.
Core Skills:
Data Analysis
Problem Solving
Database Development
IT Strategies
Business Processes
Data Security
Management Information Systems
Process Improvement
Data Mining
Responsibilities:
Developed and implemented IT strategies to maximize efficiency and data security
Created and maintained databases to improve operations
Performed data mining exercises to identify process improvement opportunities
Analyzed data to uncover insights to support decision making
Developed user- friendly management information systems
Assisted in the development of business processes
Provided training to users on how to use Management Information Systems
MIS Analyst Resume with 7 Years of Experience
MIS Analyst with 7+ years of extensive experience in business intelligence, data analysis, reporting, data mining, and system administration. Skilled in utilizing specialized tools in providing insights on the performance of business processes and its impact on organizational goals. Proven track record in training staff in the usage of analysis, reporting and visualization tools. Expert in root cause analysis and problem solving.
Core Skills:
Knowledge in BI tools such as Tableau and Power BI
Proficient in data analysis, data mining and system administration
Proven ability in problem- solving and root cause analysis
Excellent communication skills
Ability to create actionable reports and presentation
Skilled in data visualization
Responsibilities:
Developed multiple ETL processes to extract, transform and load data from multiple sources
Developed business intelligence solutions such as dashboards, reports, and scorecards
Utilized advanced analytics techniques to identify trends and patterns in data
Developed data models to help guide decision- making for business operations
Created performance metrics to track progress and measure business performance
Administered and maintained the system and databases
Provided technical support on data analysis and reporting to stakeholders
Trained staff in the usage of analysis, reporting, and visualization tools
MIS Analyst Resume with 10 Years of Experience
I am an experienced MIS Analyst with over 10 years of experience in analyzing and evaluating the data of a business. I have extensive knowledge in developing, maintaining and providing a wide range of technical solutions. I have experience in developing complex SQL queries, working with large datasets and applying statistical analysis. I am also knowledgeable in using various software and programming languages such as Python, Tableau, Power BI and Excel. I am a highly organized and self- motivated individual with excellent problem- solving and communication skills.
Core Skills:
Analyzing and Evaluating Data
Developing SQL Queries
Working with Large Datasets
Data Modeling
Applying Statistical Analysis
Excel, Tableau, and Power BI
Experience with Microsoft Office Suite
Python and Other Programming Languages
Strong Problem- Solving Skills
Excellent Communication Skills
Responsibilities:
Developing and maintaining technical solutions
Analyzing data to identify trends, create models, and develop strategies
Designing and preparing reports to provide insight into trends
Developing complex SQL queries to extract data from multiple databases
Working with large datasets to identify patterns and draw logical conclusions
Utilizing programming languages such as Python, Tableau and Power BI to create visuals
Defining data requirements and documenting processes
Creating and maintaining datasets to aid in analysis
Assisting in the design and implementation of business processes
Providing ongoing support to internal stakeholders
MIS Analyst Resume with 15 Years of Experience
MIS Analyst with 15 years of experience working in various industries to provide comprehensive business intelligence solutions to support organizational strategies. Experienced in analyzing data, developing and managing database systems, and designing reports to improve organizational performance. Highly proficient in using SQL, Microsoft Access, and Visual Basic to optimize data processing.
Core Skills:
Analyzing data and developing database systems
Designing reports and optimizing data processing
Using SQL, Microsoft Access, and Visual Basic
Managing database systems and building queries
Strong knowledge of data warehouse concepts
Creating complex multi- dimensional reports
Responsibilities:
Identified data sources and their utilization in data warehouse projects
Designed and implemented data warehouses to store and analyze data
Developed database systems and managed access to databases
Created complex multi- dimensional reports with various data sources
Developed queries to extract and analyze data to generate meaningful reports
Maintained data integrity and quality by validating data formats, content, and accuracy
Provided technical and analytical support for data warehouse initiatives
In addition to this, be sure to check out our resume templates, resume formats, cover letter examples, job description, and career advice pages for more helpful tips and advice.
What should be included in a MIS Analyst resume?
A MIS Analyst resume should include key skills and qualifications, as well as your experience in the field. Here's what to include:
Contact Information: Your full name, phone number, professional email address, and link to your LinkedIn profile.
Summary Statement: A brief overview of your professional background, including the type of MIS roles you've held, your main duties and accomplishments.
Job Experience: A list of your MIS-related job histories, including job titles, company names, and dates of employment.
Technical Skills: In-depth knowledge of computer systems and software related to MIS, such as SQL, Oracle, and Microsoft Access.
Soft Skills: Interpersonal communication, problem solving, and managerial skills related to MIS roles.
Education: Relevant degrees, certifications, and training related to MIS.
Professional Memberships: Any professional organizations you are a part of related to your MIS roles.
By including the above elements in your resume, you can demonstrate to potential employers that you have the skills, qualifications, and experience to be an effective MIS Analyst.
What is a good summary for a MIS Analyst resume?
A good summary for a MIS Analyst resume should include the candidate's experience and qualifications in information systems, as well as other relevant skills. It should also highlight their knowledge of software development and database management, as well as their expertise in gathering, analyzing and interpreting data. The summary should also demonstrate the ability to develop and implement effective business solutions and to meet organizational objectives. Additionally, the summary should demonstrate the ability to troubleshoot and resolve complex technical issues in a timely manner, as well as the ability to work well with clients and colleagues. Finally, the summary should also showcase their excellent communication, organizational, and problem-solving skills.
What is a good objective for a MIS Analyst resume?
A good objective for a Management Information Systems (MIS) Analyst resume should focus on the applicant's knowledge and experience in the field, as well as their ability to analyze data and solve complex business problems. Following are some examples of objectives for a MIS Analyst resume:
To leverage my 5 years of experience in data analytics and software development in order to help businesses utilize technology and software to increase their efficiency and profitability.
To utilize my technical knowledge in MIS, SQL and programming languages to develop and implement effective solutions for the company's systems.
To use my knowledge in system development and analytics to help identify and analyze areas of improvement and develop suitable solutions.
To effectively analyze data to identify trends and develop strategies to increase organizational effectiveness and growth.
To provide technical support in the design and implementation of MIS systems for the organization.
To utilize my strong interpersonal skills to develop strong relationships with team members, upper management, and clients.
How do you list MIS Analyst skills on a resume?
MIS Analysts are in demand in a variety of industries, especially those that rely heavily on technology. Having the right skills and experience is essential to be successful in this role. When putting together your resume, it's important to include the right set of skills to demonstrate your abilities and qualifications. Here are some skills to consider including in your resume when you're applying for an MIS Analyst role:
Database Management: MIS Analysts are responsible for developing, testing, and maintaining databases. This includes using query language like SQL to retrieve information and creating reports.
Technical Writing: MIS Analysts must be able to write technical documents that can be easily understood by their team and users of the system.
Programming: MIS Analysts may be required to program in a variety of languages, including Python, Java, and C++.
Project Management: MIS Analysts must be able to manage projects from start to finish, including setting up timelines, organizing resources, and ensuring that deadlines are met.
Troubleshooting: MIS Analysts need to be able to identify and solve technical issues that arise.
Data Analysis: MIS Analysts must be able to analyze large amounts of data and draw meaningful conclusions from it.
Process Improvement: MIS Analysts should possess the ability to review existing processes and make changes to increase efficiency.
Teamwork: MIS Analysts must be able to work as part of a team to ensure that tasks are completed accurately and on time.
Communication: MIS Analysts need to be able to effectively communicate with others, both verbally and in writing.
These are just some of the key skills that should be included in your resume when applying for an MIS Analyst role. It's important to customize your resume to the job you're applying for, so include any other relevant skills you have that could help you stand out from other applicants.
What skills should I put on my resume for MIS Analyst?
When crafting a resume for a role as a MIS Analyst, it is essential to showcase your technical and analytical skills in order to stand out from the competition. Here are some of the most important skills to include on your resume:
Database Management: MIS Analysts are responsible for maintaining and managing databases. You should demonstrate your expertise in database management software such as Oracle, Microsoft SQL, MySQL, and MongoDB.
Data Analysis: MIS Analysts take raw data and turn it into meaningful information. Describe your experience analyzing data, understanding trends, and creating reports.
Business Intelligence: MIS Analysts must keep up with the latest business intelligence tools and trends. Demonstrate your knowledge of query and reporting tools, data visualization, and data mining.
Programming: Many MIS Analysts are expected to understand basic programming languages such as Python, Java, and C++. If you have experience in any of these languages, make sure to include it on your resume.
IT Infrastructure: MIS Analysts must have experience with IT systems and networks. Showcase your knowledge of Windows and Linux operating systems, networking, security, and system administration.
Project Management: MIS Analysts often manage projects, so they must have experience with project management tools and techniques. Describe your experience with Agile, Scrum, and other project management methodologies.
By showcasing these skills on your resume, you will make it clear to recruiters that you are a qualified and experienced MIS Analyst.
Key takeaways for an MIS Analyst resume
In the current job market, having an impressive resume is essential for any job seeker, regardless of their industry. As an MIS analyst, having a resume that accurately reflects your qualifications, experience, and technical knowledge is key to standing out from the other applicants. Here are a few key takeaways to keep in mind when crafting your MIS analyst resume.
Highlight Your Technical Skills – Technical skills are essential for MIS analysts, and as such, you should make sure to highlight them in your resume. Include any technical programming languages you know, such as Java and SQL, as well as any software programs you are familiar with and have worked with.
Emphasize Your Analytical Skills – MIS analysts are expected to have excellent analytical skills and the ability to interpret data. Be sure to highlight any skills and experiences that demonstrate your analytical capabilities.
Demonstrate Your Problem-Solving Skills – MIS analysts are often faced with complex problems, and so having the ability to identify and solve them quickly and efficiently is a must. Make sure to demonstrate your problem-solving skills in your resume by providing examples of successful solutions you have implemented.
Showcase Your Communication Skills – One of the most important skills for any MIS analyst is the ability to communicate effectively. Highlight any experiences you have working in teams, and emphasize any communication skills you have developed.
These are just a few key takeaways for an MIS analyst resume. Remember to make sure your resume is accurate and up-to-date, and to highlight the qualities and experiences that make you an ideal candidate for the position. Good luck!
Let us help you build
your Resume!
Make your resume more organized and attractive with our Resume Builder