Are you looking for the best way to write an effective Linux Engineer resume? Having an up-to-date and well-crafted resume is critical as it can be the deciding factor whether you'll get the job. This guide will provide a comprehensive overview of what a Linux Engineer resume should include, along with helpful examples to get you started on creating your own. You will learn how to showcase your qualifications and experience to best highlight your skills and make your resume stand out from the competition.
If you didn't find what you were looking for, be sure to check out our complete library of resume examples.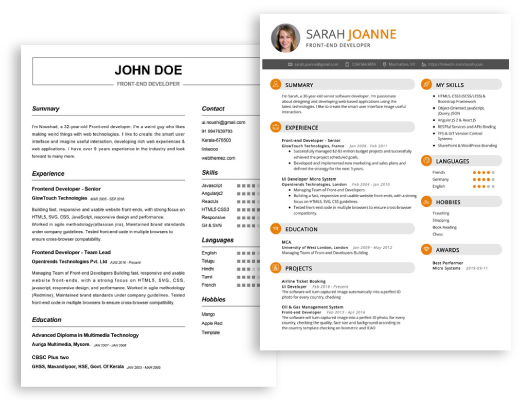 Start building your dream career today!
Create your professional resume in just 5 minutes with our easy-to-use resume builder!
Linux Engineer Resume Examples
John Doe
Linux Engineer
123 Main Street | Anytown, USA 99999 | Phone: (123) 456-7890 | Email: john.doe@email.com
As an experienced and passionate Linux Engineer, I have over 10 years of experience in providing technical support, configuring servers and networks, and managing resources. I have a proven track record of working successfully with clients and colleagues to identify and deploy solutions for complex problems. I have an excellent understanding of Linux systems and the ability to troubleshoot and fix problems in a timely manner. I am committed to providing the highest quality of service to my clients and coworkers.
Core Skills:
Linux System Administration
Network Configuration
Security Management
Troubleshooting
Database Management
Scripting and Automation
System Performance Optimization
Problem Solving
Project Management
Professional Experience:
Senior Linux Engineer, ABC Technologies, 10/2010 – Present
Managed deployment, configuration, and maintenance of Linux systems
Developed scripts and automation tools to improve system performance
Coordinated with other teams to implement solutions to improve system reliability
Diagnosed and troubleshot hardware and software issues
Provided technical support to end- users and customers
Linux Systems Engineer, XYZ Solutions, 2/2008 – 10/2010
Configured, maintained, and monitored Linux servers
Developed and maintained system documentation
Established security measures for Linux systems
Conducted system performance optimization
Collaborated with other engineers and technicians to develop solutions
Education:
BS in Information Systems, XYZ University, 2005 – 2008
A+ Certification, ABC Institute,2004 – 2005
Linux Engineer Resume with No Experience
Recent graduate student seeking to leverage knowledge of Linux fundamentals, communication and problem- solving skills to become a Linux Engineer.
Skills
Proficient in Linux administration and troubleshooting
Strong understanding of system and network security
Knowledgeable in scripting languages such as Bash, Python, and Ruby
Highly organized, detail- oriented, and able to meet tight deadlines
Excellent verbal and written communication skills
Responsibilities
Install, configure, and maintain Linux systems
Perform system backups, patching and upgrades
Monitor system performance and security
Troubleshoot hardware, software, and network issues
Create and maintain documentation of system configurations
Manage user accounts and groups
Perform system maintenance tasks including system optimization and tuning
Provide technical support and training for users
Developing and testing scripts for automation of system tasks
Troubleshoot and resolve advanced Linux- related issues.
Linux Engineer Resume with 2 Years of Experience
A highly motivated and energetic Linux Engineer with 2 years of experience in managing, developing and supporting Linux- based systems. I have a proven track record of providing excellent technical support, problem analysis and resolution. I have extensive knowledge in the areas of system architecture, system administration, and database administration. I have a good understanding of server hardware and networking. Additionally, I am well- versed in scripting and automation tools such as Bash and PowerShell.
Core Skills:
System Architecture
System Administration
Database Administration
Scripting & Automation
Hardware & Networking
Responsibilities:
Installation, configuration and maintenance of Linux- based systems.
Managing and deploying patches and upgrades.
Creation and maintenance of user accounts and access privileges.
Developing and executing scripting tasks to automate system processes.
Providing technical support and troubleshooting of system issues.
Monitoring system performance and ensuring security of the system.
Administering backups, restores, and other file system operations.
Performing system tuning, configuration and optimization.
Linux Engineer Resume with 5 Years of Experience
A Linux Engineer with over five years of professional experience, gained from a variety of challenging roles. Highly experienced in implementing, maintaining and administering Linux systems, networks, and applications. Adept at troubleshooting complex technical issues, configuring and installing software, as well as providing system support. Possesses a Bachelor of Science in Computer Science and a Red Hat Certified Engineer (RHCE).
Core Skills:
Linux system administration
Network configuration
Troubleshooting
Software installation
System security
System support
Scripting
Responsibilities:
Installed, configured, and maintained Linux- based operating systems, databases, and networks.
Performed system maintenance tasks such as patch management, software upgrades, and system backups.
Monitored system performance and security, identifying and resolving any issues.
Administered user accounts, providing access control and user privileges.
Assisted with user support, troubleshooting technical issues and resolving user issues.
Developed and maintained Bash scripts to automate system administration tasks.
Implemented security policies and procedures in accordance with industry best practices.
Provided technical support and guidance to users.
Linux Engineer Resume with 7 Years of Experience
I am a Linux Engineer with 7 years of experience in designing, deploying, and supporting mission- critical Linux- based solutions. My expertise lies in system administration, network security, and performance monitoring and optimization. I have a deep understanding of Linux architecture and have successfully implemented solutions on a wide range of platforms. My experience includes supporting high- availability and high- traffic systems, providing technical solutions to complex problems, and troubleshooting system issues. I am highly organized, detail- oriented, and have excellent communication and problem- solving skills.
Core Skills:
System Administration
Network Security
Performance Monitoring & Optimization
Troubleshooting & Problem Solving
Linux Architecture
Responsibilities:
Installing and configuring Linux systems, including servers, desktops, and network devices
Ensuring the security of the Linux environment, including firewalls and network access control lists
Maintaining and monitoring system performance, including memory and CPU utilization
Upgrading systems and applications as needed
Deploying patches and security updates in a timely manner
Troubleshooting and resolving system issues
Developing scripts and automation tools to streamline operations
Documenting system processes and procedures
Providing user support and training
Participating in system architecture design and planning
Linux Engineer Resume with 10 Years of Experience
Linux Engineer with 10 years of experience in providing system and network engineering support, deploying complex IT network solutions, and managing mission- critical projects. Expertise in Linux and Unix- based systems, scripting and automation technologies, cloud computing services, and engineering management. Proven ability to troubleshoot and resolve complex technical problems, optimize network performance, and ensure complete customer satisfaction.
Core Skills:
Linux and Unix- based Systems
Scripting and Automation Technologies
Cloud Computing Services
Engineering Management
Troubleshooting and Problem Solving
Network Performance Optimization
Project Management
Responsibilities:
Installed, configured, and maintained Linux/UNIX operating systems to ensure optimal performance and security
Developed scripts and automation tools to streamline system operations and improve system efficiency
Managed and monitored cloud infrastructure services to ensure reliable performance and scalability
Coordinated with other engineering team members in order to troubleshoot and resolve technical issues
Participated in project planning and management of mission- critical projects
Monitored network performance and implemented performance optimization strategies
Prepared system reports and documentation to ensure complete accuracy and clarity
Linux Engineer Resume with 15 Years of Experience
Highly motivated and results- driven Linux Engineer with 15 years of experience in designing, implementation, and maintenance of complex Linux systems. Expert in scripting, orchestration, and automation of Linux Operating Systems and cloud services. Ability to rapidly develop and deploy solutions with an eye for detail. Proven track record of successful Linux systems implementations and migrations.
Core Skills:
Linux System Administration
Cloud Services
Scripting and Automation
Networking and Security
Business Analysis
Troubleshooting and Problem- Solving
Project Management
Responsibilities:
Designed and implemented complex enterprise Linux systems and cloud services
Developed scripts and automation processes to increase system efficiency and reliability
Managed and maintained Linux servers, networking, and firewall systems
Monitored and provided support for Linux systems and applications
Arbitrated and resolved technical issues between users and technical staff
Worked closely with stakeholders to define and document technical requirements
Developed and maintained system security, system optimization, and patch management
Collaborated with third- party vendors and system integrators on system integration and implementations
In addition to this, be sure to check out our resume templates, resume formats, cover letter examples, job description, and career advice pages for more helpful tips and advice.
What should be included in a Linux Engineer resume?
A Linux engineer is responsible for overseeing, troubleshooting, and maintaining Linux systems that are used for a company's business functions. It's important for a Linux engineer to have a comprehensive resume that showcases their expertise and experience in the field.
When crafting a resume for a Linux engineering job, consider including the following:
Professional summary: In this section, provide a brief overview of your experience with Linux systems and how you can contribute to a company.
Technical skills: List your familiarity and experience with different operating systems, programming languages, and other relevant tech-related skills.
Experience: Describe the experience you have in Linux engineering and other related roles. For each job you held, briefly outline your responsibilities and accomplishments.
Education: List your educational qualifications in the field, including any certifications you've earned.
Training: If you have received any specialized training related to Linux engineering, include it on your resume.
Projects: If you have completed any projects related to Linux engineering, mention them and explain your involvement in each.
Awards and recognition: If you have received any awards or recognition related to your work in Linux engineering, list them here.
Including all of the above information in your resume should give employers a comprehensive understanding of your experience with Linux engineering and how you can contribute to their team.
What is a good summary for a Linux Engineer resume?
A Linux Engineer resume should emphasize a candidate's experience with software, hardware, and networking technologies related to Linux and associated open source tools. The summary should highlight a candidate's technical knowledge, their ability to troubleshoot, configure, and deploy systems, their familiarity with scripting and automation tools, and their experience with DevOps and cloud computing platforms. The summary should also include soft skills such as communication, problem-solving, critical thinking, and organizational abilities. Finally, qualifications such as certifications and formal education should be included in the summary.
What is a good objective for a Linux Engineer resume?
A Linux Engineer's resume should include objectives that demonstrate their skills and experience with Linux systems. The resume should also highlight how their knowledge will help the employer. Here are some examples of good objectives for a Linux Engineer resume:
To use my experience and technical knowledge to effectively administer and manage Linux systems, and ensure efficient system operations.
Seeking to secure a Linux Engineer role to effectively manage networks and troubleshoot issues to maintain system performance.
Aiming to leverage my experience in Linux systems to provide secure and reliable IT solutions for the company.
Looking for a position as a Linux Engineer to utilize my comprehensive understanding of Linux platforms to improve system efficiency.
Utilizing my expertise in Linux systems to ensure the smooth operation of networks and servers while protecting the system from potential threats.
Seeking to apply my extensive knowledge and experience of Linux systems to develop and maintain secure networks and applications.
How do you list Linux Engineer skills on a resume?
Writing a resume for a Linux Engineer position can be tricky. Linux is an open source operating system, so the skills and knowledge necessary to work with it aren't always easy to convey on a resume. However, there are several key skills that are essential for any Linux Engineer, and it's important to make sure that these are included on your resume.
To help you list your Linux Engineer skills on a resume, here is a list of the most important skills and knowledge to include.
Proficiency in Linux commands: A Linux Engineer must have a thorough understanding of the Linux command line, as well as the ability to use the command line to solve complex problems.
Knowledge of network protocols and technologies: A Linux Engineer should have a basic understanding of networking protocols and technologies, including TCP/IP, DNS, DHCP, and SSH.
Scripting and automation skills: The ability to write and use scripts to automate certain processes is an essential skill for a Linux Engineer.
Database experience: A Linux Engineer should have experience working with databases, such as MySQL, Oracle, or PostgreSQL.
Experience with virtualization technologies: Knowledge of virtualization technologies, such as VMware, KVM, and Xen, is a must for any Linux Engineer.
Troubleshooting and problem-solving skills: Being able to quickly identify and resolve complex problems is an essential skill for any Linux Engineer.
Excellent communication skills: Linux Engineers must be able to communicate effectively with both technical and non-technical personnel.
Ability to work independently: Linux Engineers should be able to work independently and take initiative to resolve issues without supervision.
Including these Linux Engineer skills on your resume will demonstrate your knowledge and expertise to potential employers, and help you stand out from the competition.
What skills should I put on my resume for Linux Engineer?
When you're creating a resume for a Linux Engineer position, you need to be sure to demonstrate the skills and experience you've gained in working with Linux systems. Here are some skills that should be included in a resume for a Linux Engineer:
Experience with Linux operating systems: You should demonstrate a deep understanding of the Linux operating system and its various distributions. Include any certifications in Linux you may have obtained.
Scripting and programming languages: You should have some experience with scripting and programming languages such as Python, Bash, Perl, and Ruby.
Shell scripting and automation: Be sure to list your experience with shell scripting and automation tools such as Puppet, Ansible, and Chef.
Troubleshooting and problem-solving: List your experience in troubleshooting and resolving problems related to Linux systems.
Cloud computing: Demonstrate your knowledge of cloud computing technologies such as Google Cloud Platform, Amazon Web Services, and Microsoft Azure.
Networking: Show off your expertise in network protocols such as TCP/IP, SSH, and DNS.
Security: Describe your experience in configuring and managing security systems such as firewalls and intrusion detection systems.
Virtualization: Show that you have experience in virtualization technologies such as VMware, Xen, and KVM.
By including these skills in your resume, you'll demonstrate to potential employers that you're an experienced and skilled Linux Engineer.
Key takeaways for an Linux Engineer resume
If you're a Linux engineer, writing a resume can be tricky. You want to make sure you highlight all your skills and experience and make your resume stand out from the rest. Here are a few key takeaways to keep in mind when crafting your resume:
Highlight Your Technical Skills: As a Linux engineer, your technical skills are essential and should be highlighted at the top of your resume. List out any specific commands or scripting languages you are familiar with, as well as any system administration tools you are knowledgeable in. Make sure to also include any certifications or trainings you may have gone through to stay up-to-date with the latest technologies.
Showcase Your Problem-Solving Skills: As a Linux engineer, you need to be able to solve complex technical problems. Showcase any unique problem-solving techniques or strategies that you've used to tackle difficult issues. This will demonstrate to potential employers that you are a creative and capable problem-solver.
Demonstrate Your Experience with Troubleshooting: As a Linux engineer, it's important that you have strong troubleshooting skills. Showcase any experience you have with troubleshooting and resolving technical issues. This will help potential employers gauge your technical competency and understand your experience with troubleshooting.
List Relevant Projects: It's important to highlight any relevant projects that you have completed. Include the project title, an overview of the project, the technical skills you utilized, and the final outcome. This will help demonstrate to potential employers that you have the technical experience they are looking for.
By following these key takeaways, you can craft a strong Linux engineer resume that will help you stand out from the competition. Make sure to include your technical skills, problem-solving capabilities, experience with troubleshooting, and relevant projects to create a comprehensive and professional resume.
Let us help you build
your Resume!
Make your resume more organized and attractive with our Resume Builder