Are you looking for a job as a management analyst? If so, having a competitive and well-written resume is essential. This guide is designed to help you create an effective resume to show off your skills and experience. We'll provide you with tips on how to write a great resume, as well as provide you with templates and examples of successful management analyst resumes. With this guide, you'll be able to create a resume that is sure to impress potential employers and help you stand out from the competition.
If you didn't find what you were looking for, be sure to check out our complete library of resume examples.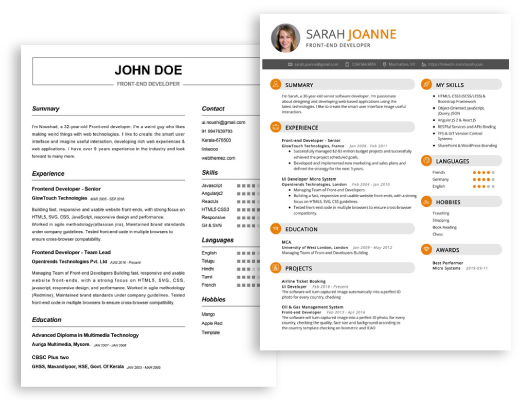 Start building your dream career today!
Create your professional resume in just 5 minutes with our easy-to-use resume builder!
Management Analyst Resume Examples
John Doe
Management Analyst
123 Main Street | Anytown, USA 99999 | Phone: (123) 456-7890 | Email: john.doe@email.com
Highly analytical and strategic- thinking Management Analyst with 5+ years of experience in data- driven decision making and problem solving. Proven ability to develop cost- effective solutions for multiple organizations, including the tracking of financial data and assessing project performance. Adept at working collaboratively with cross- functional teams to implement successful business solutions. Skilled at streamlining processes, leveraging analytics and evaluating financial information to drive growth and maximize profits.
Core Skills:
Strategic Planning
Financial Analysis
Business Process Improvement
Risk Mitigation
Data Analysis
Project Management
Problem Solving
Relationship Building
Communication
Professional Experience:
Management Analyst, ABC Corporation
June 2017 – Present
Analyzed financial and operational data to identify solutions and develop strategies that improve profitability and productivity
Developed financial models to determine the cost- effectiveness of proposed solutions
Implemented process improvement initiatives to streamline operations and reduce costs
Conducted research to evaluate the potential impact of proposed solutions
Developed and implemented training programs to educate staff on financial and operational processes
Collaborated with cross- functional teams to ensure solutions are implemented effectively
Monitored and reviewed project performance to ensure goals are met
Management Analyst, XYZ Corporation
September 2015 – June 2017
Assisted in the development of financial models to evaluate the profitability of new products and services
Analyzed customer data to identify opportunities for improvement
Developed cost- saving solutions to improve operational efficiency
Developed financial reports to track progress and performance
Conducted research to identify new areas for growth
Collaborated with cross- functional teams to implement solutions
Monitored and reviewed project performance to ensure goals are met
Education:
Bachelor of Science in Management Analysis, ABC University, 2015
Management Analyst Resume with No Experience
Recent college graduate with a Bachelor of Arts degree in Business Administration and strong technical, communication, and problem- solving skills. Seeking to leverage my educational background, technical skills, and determination to become a valuable asset in a Management Analyst position.
Skills:
Superior problem- solving and analytical skills
Excellent communication and interpersonal skills
Proficient in Microsoft Office Suite
Knowledgeable in financial analysis and budgeting
Understanding of business processes and operations
Responsibilities
Analyze organizational structure and suggest improvements
Monitor and evaluate performance of programs and processes
Create reports and analyze data to identify trends and patterns
Develop and recommend budgets and create financial models
Liaise with internal and external stakeholders to coordinate project activities
Conduct research on industry trends and practices
Management Analyst Resume with 2 Years of Experience
Motivated and results- oriented management analyst with two years of experience in project management, data analysis, and process optimization. Expertise in assessing business process, identifying opportunities for improvement, and creating strategies that result in increased efficiency and cost savings. Adept at working with stakeholders to develop solutions that meet organizational objectives. Driven to deliver high- quality customer service.
Core Skills:
Analytical thinking
Project management
Data analysis
Strategic planning
Problem solving
Requirements gathering
Process optimization
Risk analysis
Business process improvement
Cost- benefit analysis
Research and development
Responsibilities:
Developed and maintained project plans, tracked progress, and reported results to stakeholders.
Analyzed existing business processes and identified opportunities to increase efficiency and reduce costs.
Developed strategies for process improvement and implemented changes in a timely manner.
Researched and gathered requirements from stakeholders and created system designs.
Implemented cost- benefit analysis to evaluate proposed solutions.
Performed risk analysis to identify potential risks and develop mitigation plans.
Provided technical and analytical support to project teams.
Collaborated with stakeholders to define project scope and timelines.
Conducted research, gathered data, and analyzed trends to support strategic decision making.
Written reports, user guides, and other documentation.
Management Analyst Resume with 5 Years of Experience

Highly organized and detail- oriented Management Analyst with 5 years of experience in analyzing data and developing strategies to improve business processes. Experienced in providing insights and decision- making support to upper management. Adept at analyzing financial reports, using the latest software tools to develop business plans, and writing detailed reports. Possesses exceptional critical thinking, communication, and problem- solving skills.
Core Skills:
Data Analysis
Business Strategy Development
Financial Report Analysis
Software Tool Utilization
Problem- Solving
Critical Thinking
Communication
Report Writing
Responsibilities:
Conducted data analysis to identify trends, patterns, and correlations in financial data.
Developed detailed business plans to improve operational processes and increase profits.
Provided insights and decision- making support to upper management.
Assisted in developing strategies to improve internal processes and customer experience.
Utilized various software tools to analyze financial reports.
Drafted reports to provide detailed information on analysis results and recommendations.
Identified problems and provided solutions to improve operational efficiencies.
Collaborated with IT departments to develop new software and/or upgrade existing systems.
Management Analyst Resume with 7 Years of Experience
Accomplished and detail- oriented Management Analyst with 7 years of experience specializing in data collection and analysis, problem solving and troubleshooting, and project management. Adept at developing and deploying business strategies, creating project plans, and providing actionable recommendations for improvements. Possesses excellent communication, research, and organizational skills, making him a reliable collaborator with colleagues and clients.
Core Skills:
Project Management
Business Analysis
Data Collection & Analysis
Solutions Development
Problem Solving & Troubleshooting
Strategic Planning
Report Writing
Documentation
Interpersonal Communication
Responsibilities:
Reviewed existing business processes and identified areas of improvement.
Developed solutions to issues and advanced business strategies to create efficiencies.
Conducted data collection, research, and analysis to support project planning.
Created detailed project plans, including timelines and milestones.
Developed and presented proposals to key stakeholders and facilitated workshops.
Provided actionable recommendations for improvements based on research findings.
Collaborated with cross- functional teams and clients to ensure deliverables met expectations.
Wrote detailed reports to document project goals, progress, and outcomes.
Management Analyst Resume with 10 Years of Experience
Results- driven Management Analyst with 10+ years of experience in the fields of project management, business analysis and process improvement looking for a senior position to support the growth of an organization. Proven track record in delivering projects on- time and stakeholder engagement. Possess excellent problem solving skills and an ability to effectively liaise with all levels of stakeholders.
Core Skills:
Project Management
Business Analysis
Process Improvement
Change Management
Problem Solving
Stakeholder Engagement
Written and Oral Communication
Responsibilities:
Developed project plans, schedules and budgets to ensure a timely delivery of projects
Analysed current processes and identified areas for improvement to increase efficiency
Monitored project implementation to ensure alignment with initial objectives
Drafted project reports and presented results to stakeholders
Developed change management strategies to support new process implementation
Analyzed current business operations and identified areas of improvement
Liaised with stakeholders to ensure alignment of project objectives and strategies
Collaborated with different departments to ensure project implementation
Modified workflow processes to reduce cost and increase productivity
Developed action plans to identify areas of improvement to meet business objectives
Management Analyst Resume with 15 Years of Experience
Highly experienced Management Analyst with 15 years of experience providing comprehensive analysis of problem areas in business operations. Proven history of applying analytic and problem- solving abilities to create effective solutions that positively impact organizational efficiency and profitability. Knowledgeable in developing and implementing management control systems, preparing operational budgets, and providing consultation to senior executives.
Core Skills:
Business Analysis
Project Management
Data Analysis
Process Optimization
Strategic Planning
Problem Solving
Report Writing
Budgeting
Risk Management
Root Cause Analysis
Responsibilities:
Developed and maintained management control systems to track and analyze key performance indicators, identify risk areas and develop corrective actions.
Conducted data analysis to identify trends, risks, and opportunities for improvement.
Prepared operational budgets for departments to ensure proper utilization of available resources.
Analyzed financial and operational data to identify areas of strengths and weaknesses.
Developed plans and strategies to maximize operational efficiency and improve profitability.
Identified root causes of operational issues and implemented solutions to prevent recurrence.
Monitored competitor activities and provided analysis of competitive intelligence.
Prepared reports and presentations summarizing findings, analysis and recommendations.
Conducted risk assessment and developed risk management strategies.
Assisted in developing and implementing process improvements to enhance operational efficiency.
In addition to this, be sure to check out our resume templates, resume formats, cover letter examples, job description, and career advice pages for more helpful tips and advice.
What should be included in a Management Analyst resume?
A Management Analyst resume should include a summary of the candidate's qualifications, education, experience, and technical skills. It should also highlight any relevant certificates, awards, and professional affiliations. Here are some further details that may be included:
Relevant work experience – Include the job title, employer, and dates of employment. Briefly describe the scope of work and discuss any special achievements.
Education – Include the institution, degree and date of graduation or expected date of graduation.
Technical skills – List the software programs, databases, and other information technology resources the candidate is proficient in.
Certifications – Mention any professional certifications such as Certified Management Consultant or Certified Business Analyst.
Awards and recognition – Include any awards or honors the candidate has received.
Professional affiliations – List any professional organizations the candidate is affiliated with, such as the Institute of Management Consultants.
Personal interests and hobbies – List any personal interests or hobbies that could be relevant to the job.
What is a good summary for a Management Analyst resume?
A Management Analyst resume is a critical tool for job seekers looking to stand out from the competition. As such, a good summary should emphasize the individual's strengths, experience, and qualifications that make them the ideal candidate for the job. It should touch on the individual's educational background, professional experience, and any other skills or attributes that may prove beneficial to the role. Additionally, the summary should be concise, yet informative and demonstrate the individual's ability to effectively analyze and manage problems. Finally, the resume summary should showcase the individual's extensive knowledge of the industry, communication and organizational skills, and their ability to collaborate with other members of the team. A well-crafted summary will ensure that the individual's resume stands out from the rest and proves that they are the right fit for the job.
What is a good objective for a Management Analyst resume?
The goal of a Management Analyst resume should be to showcase the individual's strengths and experience in order to demonstrate that they are the ideal candidate for the position. A good objective should be tailored to the specific job position, and emphasize the individual's knowledge, skills and experience that are pertinent to the position.
Below are some examples of good objectives for a Management Analyst resume:
To utilize my experience and skills in financial analysis and forecasting, project management, and data analysis to improve organizational efficiency and performance.
To utilize my strong problem-solving and analytical skills to identify opportunities for process improvement as a Management Analyst.
To leverage my background in data analysis and project management to provide effective and timely solutions to management problems.
To use my exceptional organizational and planning abilities to guide organizations through complex tasks.
To leverage my expertise in financial analysis and forecasting to support the long-term success of an organization.
To use my knowledge of business processes and technology to increase organizational efficiency.
To use my analytical skills to identify and solve management problems and increase productivity.
To utilize my knowledge of operations and administration to streamline processes and increase organizational efficiency.
To leverage my experience in project management to ensure projects are completed on time and within budget.
How do you list Management Analyst skills on a resume?
Writing a resume for a management analyst position is an important process for any jobseeker. A resume should be tailored to highlight the skills and experience that are most important for the position. When it comes to listing management analyst skills, you'll want to emphasize both the technical and the soft skills that you have. Here are some tips for how to effectively list management analyst skills on a resume:
Include both Technical and Soft Skills: Management analysts are expected to have a combination of both technical and soft skills. List out both the technical skills, such as knowledge of databases, business intelligence, and project management, and the soft skills, such as communication, problem-solving, and collaboration.
Highlight Relevant Certifications: If you have any certifications related to management analysis, be sure to list them out on your resume. This will demonstrate to employers that you have the knowledge and expertise to work in the field.
Provide Examples: When describing your management analyst skills, provide concrete examples of how you've used those skills in the past. This will give employers a better idea of your capabilities and make your resume stand out from the competition.
Showcase Your Accomplishments: Be sure to list out any accomplishments or achievements you've had while working in management analysis. This could include successful projects or initiatives you've completed or awards or recognition you've received.
Following these tips will help ensure that your resume stands out and showcases your management analyst skills in the best way possible.
What skills should I put on my resume for Management Analyst?
Job seekers applying for a Management Analyst role should ensure that their resume accurately reflects their ability to analyze complex data and develop efficient solutions. A successful candidate must be an effective communicator and able to collaborate with teammates and stakeholders.
When crafting your resume, be sure to include the following skills to demonstrate your aptitude for the role:
Analytical Thinking: Management Analysts must have the ability to collect, analyze, and interpret data to identify trends, illuminate problems, and offer solutions.
Strategic Planning: Management Analysts must be able to plan and execute projects from start to finish. This includes setting goals, making decisions, and delegating work effectively.
Problem-Solving: Management Analysts must be able to identify and address problems in an efficient and effective manner.
Communication: Management Analysts must be able to communicate their ideas clearly and concisely both verbally and in writing.
Collaboration: Management Analysts must be able to work with others to achieve a common goal. This includes the ability to build relationships and develop strategies with stakeholders.
Time Management: Management Analysts must be able to manage their time effectively in order to meet deadlines and stay on budget.
By highlighting these skills on your resume, you can demonstrate to potential employers that you have the necessary capabilities to be successful in a Management Analyst role.
Key takeaways for an Management Analyst resume
As a Management Analyst, it is essential that your resume showcases your ability to conduct research and analysis to make business decisions. In order to stand out from the crowd, there are several key takeaways that should be included in your resume.
First and foremost, your resume should highlight your analytical and problem-solving capabilities. Illustrate how you used your skills to identify market trends, analyze customer behavior, and develop approaches to optimize operations. Additionally, make sure to emphasize any knowledge you may have in budgeting, forecasting, and risk management.
Next, you should emphasize any direct experience you may have in the field. Describe in detail any projects you have worked on and their outcomes. Make sure to include any relevant certifications or professional development courses that you have completed.
Finally, make sure to showcase your interpersonal skills. Management Analysts often have to work with a wide range of people and it is important to be able to communicate effectively. Furthermore, highlighting any leadership or management experience you may have can help you stand out from the crowd.
By taking the time to create a resume that showcases your analytical capabilities and professional experience, you can set yourself apart from the competition and increase your chances of landing the job.
Let us help you build
your Resume!
Make your resume more organized and attractive with our Resume Builder