Writing a resume can be an overwhelming task, but with the right guidance, it doesn't have to be difficult. As an ERP Analyst, it is important to highlight your technical background and experience with Enterprise Resource Planning systems, as well as any other relevant skills and qualifications. To help you get started, this guide provides examples of successful ERP Analyst resumes for you to use as a reference. With these examples and tips, you can craft a resume that stands out from the competition and gets you the job you want.
If you didn't find what you were looking for, be sure to check out our complete library of resume examples.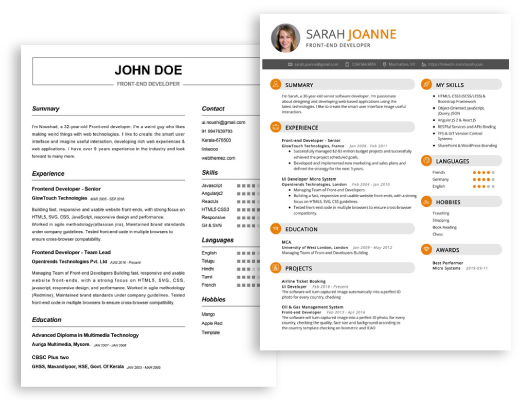 Start building your dream career today!
Create your professional resume in just 5 minutes with our easy-to-use resume builder!
ERP Analyst Resume Examples
John Doe
ERP Analyst
123 Main Street | Anytown, USA 99999 | Phone: (123) 456-7890 | Email: john.doe@email.com
I am an experienced ERP Analyst with 8 years of experience across a range of enterprise resource planning systems, including Oracle, SAP, and Microsoft Dynamics. I am highly skilled in data analysis, problem solving, process optimization, and system implementation. My in- depth knowledge of the latest technologies, along with my excellent communication and interpersonal skills, make me an ideal candidate for this position.
Core Skills:
ERP Application Support
ERP Database Design
ERP System Administration
ERP System Integration
Data Analysis
Problem Solving
Process Optimization
System Implementation
Business Process Analysis
Troubleshooting
Documentation
Customer Service
Professional Experience:
ERP Analyst, ABC Corporation, 2014- Present
Analyze business processes and develop ERP solutions to meet customer needs
Design, configure and maintain ERP databases and applications
Work with stakeholders to identify opportunities for process optimization
Perform system integration and data migration
Provide technical support and troubleshoot any system issues
Develop and maintain user- friendly documentation
Train users on ERP applications and processes
Education:
Bachelor of Science in Computer Science, XYZ University, 2010- 2014
ERP Analyst Resume with No Experience
Hardworking and motivated individual with strong analytical and problem solving skills. Experienced in data analysis and process improvement. Highly organized and detail- oriented with a desire to excel in the field of ERP Analyst.
Skills:
Experience with ERP systems and software
Knowledge of database structure and design
Proficient in data analysis and process improvement
Analytical and problem solving
Strong organizational and time management skills
Proficient in Microsoft Office Suite
Responsibilities
Analyze data and develop solutions to improve business processes
Assist in the development of ERP systems and software
Design and maintain database structures
Train users on the use of ERP systems
Monitor and ensure the accuracy of data within the system
Troubleshoot and resolve any technical issues within the system
ERP Analyst Resume with 2 Years of Experience
Dynamic and highly- motivated individual with 2 years of experience as an ERP Analyst. Possess a vast array of technical skills such as programming, database administration, and project management. Extensive experience in the use of ERP solutions for business processes and operations to maximize efficiency and increase profitability. Proven ability to identify, analyze, and resolve complex business problems in an effective and timely manner.
Core Skills:
ERP Solution Expertise
Database Administration
Business Process Analysis
Project Management
Programming
Problem Identification and Resolution
Responsibilities:
Develop and implement ERP solutions in a client- facing environment
Analyze and enhance existing ERP solutions for improved efficiency and cost savings
Design and configure databases to support ERP solutions
Develop and maintain project plans to ensure successful project completion
Train and mentor colleagues on the use of ERP solutions
Troubleshoot and resolve system- related issues and user errors
Conduct research to identify and recommend solutions to improve business processes and operations
Monitor and analyze system performance and recommend system upgrades and enhancements
ERP Analyst Resume with 5 Years of Experience
I am a highly organized and proactive ERP Analyst with more than 5 years of professional experience in providing data analysis, process optimization, and system design services. My core competencies include enterprise resource planning (ERP) implementation, project management, and customer relationship management (CRM). In my current role, I have successfully implemented ERP software for various clients, ensuring that the projects ran on time and on budget. Furthermore, I possess excellent problem- solving skills, enabling me to quickly identify any issues and develop creative and innovative solutions that are both cost- effective and efficient.
Core Skills:
Enterprise Resource Planning (ERP) implementation
Project Management
Customer Relationship Management (CRM)
Problem- Solving
Process Optimization
Data Analysis
System Design
Responsibilities:
Assisted in the planning, coordination, and implementation of enterprise resource planning (ERP) software
Provided technical support to clients in the use of ERP systems
Identified and resolved any software issues and problems
Analyzed existing system design and data flow to identify areas for improvement
Conducted research and analyzed customer requirements and needs
Developed and maintained strong customer relationships
Ensured that projects were completed on time and within budget
Assisted in the development of cost- effective and efficient solutions to customer problems
ERP Analyst Resume with 7 Years of Experience
Highly motivated ERP Analyst with 7 years of experience in successfully developing, implementing and supporting ERP solutions. Possess a strong understanding of ERP systems, customer service, and business operations. Experienced in providing exceptional customer service, troubleshooting, and training users. Proven ability to work effectively onsite and remotely, learn quickly and adapt to changing environments.
Core Skills:
ERP systems implementation and support
Business process optimization
Data integration and migration
Database administration
Software development and testing
End- user training and support
Troubleshooting and problem solving
Customer service
Analytical and problem solving skills
Responsibilities:
Implemented and maintained ERP solutions including SAP, Oracle, Dynamics365, and Salesforce
Optimized business processes for improved efficiency and effectiveness
Integrated and migrated customer data from multiple sources
Administered ERP systems and databases
Developed and tested software applications
Provided end- user training and support
Resolved technical problems and system issues
Assisted with customer service inquiries and complaints
Analyzed system requirements and designed efficient solutions
ERP Analyst Resume with 10 Years of Experience
I am a highly experienced ERP Analyst with 10 years of experience in various ERP systems. My core competencies include performing root cause analysis for complex ERP issues, designing, developing and implementing ERP solutions, and providing comprehensive user support and training. I possess strong analytical and problem- solving skills, with the ability to evaluate business processes and system functionality, and to analyze and identify solutions to improve the efficiency of the system. I have thorough knowledge of the latest versions of ERP software and am proficient in programming languages such as SQL and Java.
Core Skills:
ERP System Implementation
Process Analysis
Problem- Solving
Business Analysis
SQL and Java Programming
User Support and Training
Documentation and Reporting
Responsibilities:
Performed root cause analyses of complex ERP issues, identifying solutions to optimize system performance.
Developed and implemented ERP solutions to meet business needs.
Completed detailed business process analysis to identify areas for improvement.
Developed and executed test plans for ERP solutions and processes.
Provided comprehensive user support and training for ERP software.
Designed, modified and maintained ERP systems, including writing scripts and queries.
Wrote technical documentation, user manuals and training documentation for ERP systems.
Prepared detailed reports on ERP system performance and usage.
ERP Analyst Resume with 15 Years of Experience
Experienced ERP Analyst with over 15 years of experience in enterprise resource planning, data analysis and business systems implementation. Demonstrated expertise in developing ERP solutions for companies of all sizes, from small businesses to large multinational corporations. Proven track record of delivering successful ERP projects on time and within budget. Skilled in identifying process and system improvement opportunities, developing custom ERP solutions and providing technical support to internal users.
Core Skills:
ERP Analysis and Implementation
System Design and Development
Data Modeling and Management
Project Management
Process Improvement
SQL Reporting and Database Administration
Troubleshooting and Technical Support
Responsibilities:
Developed custom ERP solutions and provided technical support for a range of systems including Microsoft Dynamics, Oracle, SAP and Sage
Performed requirements gathering, analysis and data modeling for multiple projects
Leveraged SQL reporting and database administration to streamline company operations
Implemented process improvement initiatives, reducing operational costs and improving system efficiency
Managed projects from start to finish, including budgeting, timeline creation and quality assurance
Coordinated with internal and external teams to ensure successful ERP integration
Developed and maintained user documentation for system processes and updates
Provided technical training and support to end users and system administrators
In addition to this, be sure to check out our resume templates, resume formats, cover letter examples, job description, and career advice pages for more helpful tips and advice.
What should be included in a ERP Analyst Resume Examples resume?
A ERP Analyst Resume Examples resume should include the following:
Personal Information: The ERP Analyst Resume should include your full name, phone number, email address, and any other contact information required.
Career Summary: This section should provide an overview of your professional experience, including your job title and years of experience.
Educational Background: Include any relevant educational qualifications, such as a bachelor's degree in an applicable field.
Skills and Abilities: This section should list any technical or specialized skills that you possess, such as knowledge of specific ERP software, coding languages, or programming.
Work Experience: Include any relevant work experience you have in the ERP analyst field. This should include the company name, dates of employment, and job duties.
Accomplishments: Include any awards or recognition you have received in your field.
Professional Certifications: Include any professional certifications related to ERP analysis.
References: Provide the contact information of at least three references who are familiar with your work.
What is a good summary for a ERP Analyst Resume Examples resume?
A good summary for a ERP Analyst Resume Examples resume should be a concise, yet comprehensive snapshot of your experience, skills, and accomplishments. Your summary should be specific enough to showcase your unique qualifications and accomplishments, but also general enough to make it understandable by potential employers. It should include details about your past roles, such as your level of responsibility, successes, and challenges. Additionally, it should also include a few relevant keywords that correspond to the position you're applying for, such as ERP systems, data analysis, and systems integration. Finally, the summary should demonstrate your enthusiasm and dedication to the field of ERP analysis, so be sure to include your passion for the industry and your commitment to improving processes and systems.
What is a good objective for a ERP Analyst Resume Examples resume?
bullets Blog
A good objective for an ERP Analyst Resume Examples resume should emphasize the candidate's strong technical, communication, and problem-solving skills. It should also highlight the candidate's ability to work in a fast-paced environment and understand complex systems. Here are some points to consider when crafting the objective:
Highlight the candidate's experience in ERP systems and their proficiency in understanding and utilizing data
Showcase the candidate's understanding of the business processes related to ERP systems
Demonstrate the candidate's ability to develop and implement innovative solutions to solve business needs
Illustrate the candidate's aptitude to work in a team environment
Emphasize the candidate's ability to effectively communicate with stakeholders and customers
Showcase the candidate's ability to troubleshoot, analyze, and solve complex problems
Demonstrate the candidate's ability to manage multiple projects and tasks simultaneously
By emphasizing these skills and experiences, an ERP Analyst Resume Examples resume objective can help a candidate stand out to employers.
How do you list ERP Analyst Resume Examples skills on a resume?
An ERP Analyst is responsible for maintaining and managing Enterprise Resource Planning systems. To be successful in this role, the ERP Analyst should possess a combination of analytical, technical, and communication skills. When creating your resume, it is important to list the skills you possess that make you a suitable candidate for the job. Here are some examples of skills to consider including on your ERP Analyst resume.
Technical Understanding: ERP Analysts must have a deep understanding of ERP systems and their associated functionalities. This includes a working knowledge of database architecture, software development, integration, and system design.
Problem Solving: ERP Analysts use their problem-solving skills to troubleshoot and diagnose issues with ERP systems. They must be able to identify the root cause of a problem, develop solutions, and implement them to solve the issue.
Communication: ERP Analysts must possess excellent verbal and written communication skills to effectively collaborate with stakeholders and colleagues. They must be able to explain complex technical concepts in language that is easy to understand.
Analytical Thinking: ERP Analysts use their analytical skills to develop efficient solutions to improve processes and integrate systems. They must have the ability to interpret data and use it to make informed decisions.
Planning and Organizational Skills: ERP Analysts must be organized and have the ability to prioritize tasks and manage their time effectively. They must be able to plan projects and develop strategies to meet deadlines.
What skills should I put on my resume for ERP Analyst Resume Examples?
When writing a resume for an ERP analyst position, it is important to showcase the knowledge and expertise you have in the software, as well as the related skills you possess. Here are some skills you should include in your resume:
-Strong knowledge of ERP software, such as SAP or Oracle
-Ability to analyze and identify business needs and develop appropriate solutions
-Proficiency in SQL and scripting, such as Python or JavaScript
-Familiarity with data modeling and system design
-Excellent communication, collaboration, and problem-solving skills
-Ability to work independently and troubleshoot complex software issues
-Experience with system integration, testing, and deployment
-Strong attention to detail and excellent organizational skills
-Proven record of success in improving user experience and efficiency
Key takeaways for an ERP Analyst Resume Examples resume
If you're an ERP analyst and want to create a standout resume, there are some key takeaways you should keep in mind. An ERP analyst is responsible for the analysis, design, and implementation of enterprise resource planning (ERP) systems, so your resume should include details of your experience and skills in this area.
First and foremost, you should emphasize your technical knowledge and experience. Include any certifications you have earned and any software programs you are familiar with. This will help demonstrate to employers that you have the necessary skills and qualifications to do the job.
In addition, it's important to highlight your analytical and problem-solving abilities. You should highlight any experience you have had in developing and testing ERP systems, as well as any other experience you have in analyzing data.
You should also emphasize any experience you have had in working with teams and managing projects. Employers want to see evidence that you can manage projects and collaborate with others to achieve successful outcomes.
Finally, make sure to highlight any experience you have in customer service and training. It's important that an ERP analyst can communicate effectively with clients and provide support and training when necessary.
By emphasizing these key takeaways in your resume, you can make sure you stand out from the crowd and show employers that you are the right fit for their ERP analyst position.
Let us help you build
your Resume!
Make your resume more organized and attractive with our Resume Builder