A Category Analyst plays a vital role in companies by providing data-driven insights into product categories that enable the company to develop strategies to increase sales and maximize profits. Writing a successful resume as a Category Analyst requires attention to detail, an understanding of the job requirements, and the ability to showcase your applicable skills and experience. This blog post provides a resume writing guide with examples to help Category Analysts create an effective resume that will stand out from the competition.
If you didn't find what you were looking for, be sure to check out our complete library of resume examples.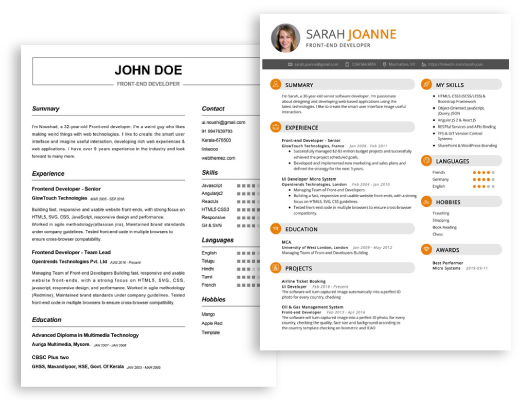 Start building your dream career today!
Create your professional resume in just 5 minutes with our easy-to-use resume builder!
Category Analyst Resume Examples
John Doe
Category Analyst
123 Main Street | Anytown, USA 99999 | Phone: (123) 456-7890 | Email: john.doe@email.com
I am an experienced Category Analyst with expertise in developing comprehensive sales tracking and forecasting systems while managing multiple projects and initiatives. I have utilized my skills in data analytics, database management, and reporting to drive the success of various categories. Through my experience, I have developed an in- depth understanding of the FMCG industry, with a focus on driving growth and profitability. My expertise in setting strategies and managing projects have helped to increase sales and improve operational efficiency.
Core Skills:
Database Management & Analytics
Sales Forecasting & Reporting
Project Management
FMCG & Retail Industry Knowledge
Category Product Strategies
Team Leadership
Professional Experience:
Category Analyst, XYZ Corporation, 2018- 2020
Developed and implemented category product strategies to increase sales and profitability
Analyzed and reported on category performance while providing actionable insights
Monitored and tracked competitor activities, pricing and promotional strategies
Utilized data analytics to forecast future sales and trends
Led a team of 5 in analyzing data to identify opportunities for improvement
Category Manager, ABC Corporation, 2015- 2018
Developed sales tracking and forecasting systems and processes
Analyzed market trends to identify opportunities and threats
Developed and implemented strategies to increase sales and profitability
Managed multiple projects and initiatives in the retail and FMCG industry
Collaborated with cross- functional teams to ensure success
Education:
Bachelor of Science in Business Administration, XYZ University, 2014- 2018
Category Analyst Resume with No Experience
A highly motivated individual with excellent analytical skills and a passion for data. Experienced in data collection and analysis, and eager to learn new methods and skills. Seeking to leverage analytical skills to become a Category Analyst.
Skills:
Data Collection/Analysis
Statistical Analysis
Database Management
Project Management
Problem- Solving
Attention to Detail
Organizational Skills
Critical Thinking
Responsibilities
Collecting and analyzing data to identify trends and potential opportunities
Developing and utilizing analytical models to drive insights and recommendations
Designing and implementing effective processes for data collection and analysis
Creating and managing databases for analyzing data
Managing multiple projects and ensuring timely completion
Monitoring industry trends and providing recommendations on strategies
Conducting research on customer behavior and purchasing patterns
Analyzing competitor strategies and developing competitive insights
Category Analyst Resume with 2 Years of Experience
A highly organized and detail- oriented Category Analyst with 2 years of experience in data analysis, product trend analysis, and competitive analysis. Adept in managing and maintaining large datasets, identifying patterns and trends in data, developing reports and insights, and providing strategic recommendations for business growth. Possesses strong data analytics, problem- solving, and communication skills.
Core Skills:
Data Analysis
Product Trend Analysis
Competitive Analysis
Insights & Reports Development
Strategic Recommendations
Problem- Solving
Strong Communication
Responsibilities:
Assessed new product launches and strategic initiatives to identify opportunities and recommend action plans.
Performed detailed analysis of sales and market trends to identify areas of improvement and ensure maximum efficiency.
Developed customized reports to present insights and strategic recommendations that helped drive business growth.
Conducted competitive analysis to understand competitor product offerings, pricing, and promotions.
Created and maintained large datasets to enable accurate data analysis.
Provided key insights to senior management based on market trends.
Analyzed data to identify potential risks and areas of improvement.
Category Analyst Resume with 5 Years of Experience
Category Analyst with 5+ years of experience in analyzing sales trends, forecasting demand and making recommendations to optimize merchandise planning. Adept in utilizing software packages for gathering, analyzing, and summarizing data and trends. Enthusiastic professional with a record of success in developing strategies to maximize products' potential.
Core Skills:
In- depth knowledge of demand forecasting methods and techniques
Thorough understanding of analytics and inventory management tools
Excellent problem- solving and communication skills
Proficient in using MS Excel, SQL, Tableau, MS Access and other analytical software
Highly organized and able to handle multiple projects simultaneously
Strong analytical and critical thinking skills
Responsibilities:
Analyzed consumer, market and competitive trends to develop strategies and plans
Identified target customers and profitability, demand forecasting and sales analysis
Developed and implemented new strategies to increase product sales and optimize distribution channels
Analyzed and reported weekly and monthly sales and margins from various product lines
Provided competitive pricing analysis to determine pricing strategies and maximize gross margin
Conducted degree of risk and financial analysis for product lifecycle management
Developed and maintained strong relationships with vendors and internal stakeholders
Prepared and presented reports and findings to senior management
Performed ad hoc analysis for decision- making processes and initiatives.
Category Analyst Resume with 7 Years of Experience
I am an experienced and highly motivated Category Analyst with seven years of experience in leveraging business intelligence and strategic insights to drive sales growth, collaborate with cross- functional teams, and lead teams to success. I possess a unique ability to identify market trends and develop innovative strategies to capitalize on them. I have a strong background in leading projects, conducting research and analyzing data to develop high- level business strategies. I am also adept at working with external vendors and managing category- specific activities. My comprehensive knowledge of the retail industry and broad technical skillset make me a perfect fit for any Category Analyst role.
Core Skills:
Business intelligence
Strategic insights
Sales growth
Cross- functional teams
Market trends
Developing strategies
Project leading
Research
Data analysis
High- level business strategies
External vendor management
Retail industry knowledge
Technical skillset
Responsibilities:
Develop and implement category- specific strategies to increase revenue and market share
Analyze sales data and market trends to identify growth opportunities
Coordinate with cross- functional teams (marketing, finance, operations) to ensure successful execution of category plans
Lead projects and initiatives to optimize category performance
Monitor and track category performance and adjust strategies to achieve desired results
Develop and maintain strong relationships with external vendors to support category objectives
Liaise with senior stakeholders to present category updates and identify areas of improvement
Compile and analyze competitor data to identify competitive advantages in the marketplace
Utilize business intelligence software to extract insights from large data sets
Stay updated on industry trends and best practices to ensure category strategies remain competitive
Category Analyst Resume with 10 Years of Experience
A highly motivated results- driven Category Analyst with 10 years of experience in analyzing FMCG markets, trends, and customer behaviors. Experienced in developing and executing strategic plans that increase sales and grow market share. Possesses strong analytical skills in extracting, analyzing and interpreting data to provide actionable insights. Excellent in the development of category plans and shopper marketing strategies to maximize sell- in, sell- through and inventory management.
Core Skills:
Strong analytical and problem- solving skills
Excellent communication and presentation skills
Advertising and brand management expertise
Proficiency in consumer behavior and market research
Experience in data warehousing and data mining
Proficient in Microsoft Office Suite
Knowledge of Nielsen & Kantar Panel data
Highly organized and detail- oriented
Skilled in market analysis
Responsibilities:
Analyzing consumer and market trends to formulate plans and strategies
Developing category plans and shopper marketing strategies to optimize sales
Performing consumer insight analysis and market segmentation for product launches
Monitoring and analyzing sales performance for categories and products
Reviewing and analyzing category depth, breadth and velocity
Analyzing pricing and promotional activities for effectiveness
Managing category financials, budgets and targets
Collaborating with cross- functional teams to ensure alignment on brand objectives
Providing guidance and support to sales team on category management initiatives and sales strategies
Category Analyst Resume with 15 Years of Experience
A highly experienced Category Analyst with 15+ years of experience in providing valuable insights through data analysis, trend tracking, and market research. Possess expertise in gathering and analyzing data from multiple sources, designing data- driven strategies to drive business growth, and developing sales and promotional strategies in line with customer needs. Skilled at leveraging market analysis and research to identify opportunities for product development and sales growth.
Core Skills:
Market research
Data analysis and mining
Business planning and strategy
Customer profiling and segmentation
Business intelligence
Sales and promotion
Market trends and forecasting
Report preparation
Database management
Problem- solving
Responsibilities:
Collect and analyze data from sales, marketing, and customer segments to identify opportunities for product growth
Analyze and evaluate customer needs, trends, and preferences to develop targeted sales and promotions
Monitor and track product performance, market trends, competitor activities, and customer feedback to identify areas of improvement
Develop and implement data- driven strategies to improve customer engagement and sales
Prepare reports, presentations, and other documents to summarize and communicate data- driven insights
Liaise with stakeholders to ensure data accuracy and to ensure sales and promotional goals are achieved
Manage and maintain the company's data warehouse and database systems for efficient data storage and retrieval
In addition to this, be sure to check out our resume templates, resume formats, cover letter examples, job description, and career advice pages for more helpful tips and advice.
What should be included in a Category Analyst Resume Examples resume?
A Category Analyst is a professional who works with a team of marketers, researchers, and other stakeholders to analyze, plan, and implement marketing strategies. As such, their resumes should reflect the skills and experience necessary to effectively lead and manage these initiatives. The following are some of the key components that should be included in a Category Analyst resume:
Professional Summary: This section should highlight the candidate's experience and qualifications in the field. It should also communicate the candidate's ability to lead and manage initiatives, as well as their commitment to staying up-to-date on various marketing trends and technologies.
Core Competencies: This section should list the candidate's core competencies including their ability to analyze data, create reports, strategize marketing plans, forecast trends, and manage budgets.
Educational Background: This section should include the candidate's relevant educational background, such as degrees in marketing, economics, or statistics.
Work History: This section should provide a detailed overview of the candidate's professional experience in the field, including positions held, responsibilities, and achievements.
Technical Skills: This section should list the skills the candidate has acquired in the field, such as proficiency in Excel, Google Analytics, Tableau, and other data analysis software.
Certifications: This section should list any relevant certifications in the field, such as a Certified Category Analyst (CCA) certification.
Professional Memberships: This section should list any professional memberships in industry organizations, such as the American Marketing Association or International Category Management Association.
What is a good summary for a Category Analyst Resume Examples resume?
A good summary for a Category Analyst Resume Examples resume should include the applicant's years of experience in the field, their core skills and qualifications, and any accomplishments that demonstrate their value to a potential employer. It should also emphasize the applicant's ability to analyze data, track trends, and create strategies to maximize category performance. Additionally, the summary should highlight how the applicant has used their knowledge to develop category plans, identify opportunities, and create promotional plans. Ultimately, the summary should demonstrate how the applicant has used their expertise to bring value to the organization they've been part of and why they're the best candidate for the job.
What is a good objective for a Category Analyst Resume Examples resume?
/bullet pointA Category Analyst Resume Examples resume should include an objective that is tailored to the specific job you are applying for. Here are some general objectives that you can use:
To secure a Category Analyst position in a growth-oriented organization that offers opportunities to utilize my skills and expertise in data analysis, market research, and problem-solving.
To leverage my education and experience in market analysis and customer insights to identify and develop strategies to increase market share.
To utilize my strong analytical and research skills to improve customer experience and drive customer loyalty.
To contribute to a data-driven decision-making process and develop customer-focused strategies to meet organizational goals.
To utilize my excellent communication and interpersonal skills to build relationships with stakeholders and foster team collaboration.
To utilize my strong organizational skills to streamline processes and ensure accuracy of data.
To bring innovative ideas and solutions to address issues and improve customer satisfaction.
How do you list Category Analyst Resume Examples skills on a resume?
(•)When creating a resume for a Category Analyst position, it's important to include both hard skills and soft skills. Hard skills are technical abilities related to the role, such as knowledge of software, spreadsheets, analytics, data analysis, and reporting. Soft skills are more general skills, such as communication, problem solving, and organizational skills. Here are some skills to consider adding to your resume as a Category Analyst:
Analytical Thinking: Ability to analyze data and draw meaningful insights from it.
Data Mining: Ability to identify, collect and organize data to be used in category analysis.
Sales Analysis: Ability to interpret sales data and identify trends.
Reporting: Ability to create detailed reports and present findings to colleagues or clients.
Leadership: Ability to manage and mentor team members.
Organization: Ability to prioritize tasks, manage multiple projects simultaneously and remain organized.
Interpersonal Skills: Ability to work as part of a team, as well as with clients, vendors and partners.
Time Management: Ability to set and stick to deadlines.
Research: Ability to find and use data from external sources.
Problem Solving: Ability to identify and address issues quickly and effectively.
Communication: Ability to clearly articulate ideas, both verbally and in writing.
What skills should I put on my resume for Category Analyst Resume Examples?
As a Category Analyst, you should include a variety of skills on your resume in order to be considered for the job. Depending on the specific job opening, your skills should demonstrate your ability to analyze market trends, think critically, and communicate effectively. Here are some of the top skills to include on your resume for a Category Analyst position:
Data Analysis: You should have the ability to analyze data collected from market research and other sources, in order to identify trends and insights.
Critical Thinking: You should be able to think critically and develop strategies for responding to trends and challenges.
Communication: You should be able to communicate effectively with colleagues and customers in order to deliver clear and concise analysis.
Project Management: You should have the ability to manage multiple projects at once as well as meet deadlines.
Business Acumen: You should have the business acumen to suggest creative solutions that improve customer satisfaction, increase sales, and reduce costs.
Technical Skills: You should be proficient in using various software programs and databases, such as Microsoft Excel and SQL.
By including these skills on your resume for a Category Analyst position, you will demonstrate your ability to succeed in the role.
Key takeaways for an Category Analyst Resume Examples resume
When writing a resume for a category analyst job, you want to highlight your experience and skills that make you the most suitable candidate for the position. Here are some key takeaways for an category analyst resume examples resume to help you stand out from the competition:
Demonstrate Your Knowledge of Category Analysis: Highlight the types of category analysis that you are familiar with, such as market segmentation, market sizing, and primary and secondary data collection and analysis. You should also include any certifications or awards related to category analysis that you have earned.
Showcase Your Technical Skills: Category analysis is a highly technical job, so be sure to showcase your technical skills, such as your computer programming skills, software programs, and statistical analysis.
Demonstrate Your Research Ability: As a category analyst, you must be able to quickly identify and analyze data from multiple sources. Show that you have the research and problem-solving abilities necessary to be successful in the job.
Emphasize Your Writing Ability: Good communication skills are essential for a category analyst. Showcase your writing skills and ability to communicate complex concepts clearly and concisely.
Highlight Your Attention to Detail: Category analysis requires a great eye for detail, so make sure to emphasize your attention to detail and ability to accurately analyze data.
By following these key takeaways, you can create an effective category analyst resume that will help you stand out from the competition.
Let us help you build
your Resume!
Make your resume more organized and attractive with our Resume Builder