A resume is the first impression you give to a potential employer, so it is important to make sure it captures their attention. As a business analyst, you have the unique opportunity to showcase your qualifications, experience and skills to employers. Crafting a resume specifically for the agile business analyst role can be tricky, as it requires you to demonstrate both technical and managerial abilities. This guide will provide tips and examples on how to best create a successful agile business analyst resume.
If you didn't find what you were looking for, be sure to check out our complete library of resume examples.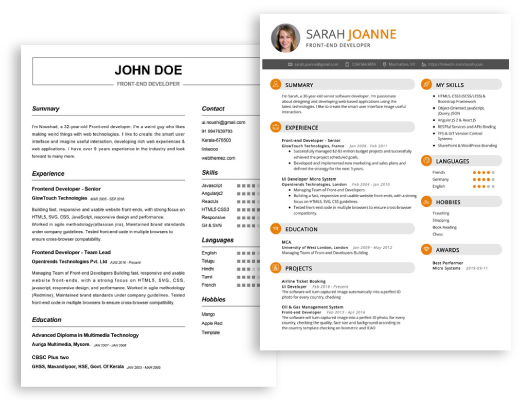 Start building your dream career today!
Create your professional resume in just 5 minutes with our easy-to-use resume builder!
Agile Business Analyst Resume Examples
John Doe
Agile Business Analyst
123 Main Street | Anytown, USA 99999 | Phone: (123) 456-7890 | Email: john.doe@email.com
A highly skilled and experienced Agile Business Analyst with a successful track record in analyzing business systems, gathering requirements, and creating software solutions that result in improved business outcomes. Proven ability to bridge the gap between business and technical teams and implement solutions that are cost- effective, efficient, and successful.
Core Skills:
Business Analysis & Documentation
Agile Methodologies
Requirement Gathering & Analysis
Software Design and Implementations
Strategic Planning & Execution
Project Planning & Management
Technical Writing & Presentation
Risk Analysis & Mitigation
Process Improvement & Optimization
Data Analysis & Reporting
Professional Experience:
Lead Agile Business Analyst, ABC Corporation, 2019- Present
Responsible for analyzing the business requirements, designing the technical solutions, and leading the implementation of innovative software solutions
Developed detailed documents and provided training on business processes, system changes, and software solutions
Monitored the progress and performance of user acceptance testing and system implementations
Developed risk analysis and mitigation strategies for the software solutions
Created system reports and dashboards to assist stakeholders in making informed decisions
Collaborated with software developers to ensure the software solutions meet the business requirements.
Education:
Bachelor of Science, Business Administration, XYZ University – 2016
Agile Business Analyst Resume with No Experience
Highly motivated Agile Business Analyst with excellent communication and problem- solving skills, and a passion for creating innovative and efficient solutions. Possess a strong understanding of Agile methodologies and the ability to work collaboratively with other stakeholders to ensure the successful delivery of projects.
Skills:
Analytical and problem- solving skills
Effective communication and interpersonal skills
Understanding of Agile methodologies
Knowledge of software development lifecycle
Excellent organizational and planning skills
Ability to develop and maintain relationships with stakeholders
Responsibilities
Facilitate team communication and collaboration to ensure project success
Develop system requirements and user stories to capture stakeholders' needs
Analyze existing system processes and suggest improvements
Identify and document business requirements and functional specifications
Participate in product design and user acceptance tests
Track, monitor and report on project progress
Act as a liaison between business and technology stakeholders
Provide support and training to users on new system implementations
Agile Business Analyst Resume with 2 Years of Experience
I am an experienced Agile Business Analyst with over 2 years of experience working on diverse projects within the Agile framework. From requirements gathering to software development, I am highly proficient in the complete Agile Business Analysis workflow. I have a strong understanding of the Agile methodology and have experience working in multiple software development environments, as well as having excellent communication, analytical, and problem- solving skills. I am an organized and detail- oriented professional, who excels at working collaboratively with teammates, stakeholders, and clients to ensure the successful completion of projects.
Core Skills:
Agile Software Development
Requirements Gathering
Project Planning
Business Process Improvement
Data Analysis
Stakeholder Management
Software Documentation
Risk Assessment
Responsibilities:
Analyze business requirements and develop detailed user stories, wireframes, and workflows
Facilitate sprint planning, retrospectives, and other Scrum ceremonies
Develop test plans and strategies to ensure the quality of product deliverables
Lead the implementation of Agile software development initiatives and processes
Identify and manage project risks and dependencies
Create data models, flowchart diagrams, and other process documentation
Monitor development progress and provide guidance for technical solutions
Conduct user acceptance testing and deliver product demos to stakeholders
Analyze business processes and recommend changes for business process improvement
Communicate effectively with stakeholders and team members to ensure project success
Agile Business Analyst Resume with 5 Years of Experience
Highly experienced Agile Business Analyst with 5+ years of professional experience in software development and implementation, business process re- engineering, requirements analysis, and project management. Proven success in driving efficient and effective business solutions through the utilization of Agile methodology, customer- centric design, and data- driven solutions. Skilled in developing and managing project plans, timelines, and sprints, as well as providing comprehensive analysis, reporting, and documentation. Passionate about delivering customer- focused solutions that improve operational efficiency and generate business value.
Core Skills:
Agile methodology
Business process re- engineering
Requirements analysis
Project management
Data- driven solutions
Customer- centric design
Project planning and timelines
Analysis, reporting, and documentation
Operational efficiency
Business value
Responsibilities:
Manage and maintain Agile projects, sprints, and timelines to ensure on- time delivery.
Lead customer- centric design initiatives to ensure that products meet customer needs.
Analyze and document business requirements and processes to ensure accuracy and adherence to standards.
Develop comprehensive reports and documentation to support project and system goals.
Monitor project progress and performance to ensure successful outcomes.
Utilize data- driven solutions to identify opportunities for improved process efficiency.
Collaborate closely with stakeholders to ensure customer satisfaction and successful outcomes.
Identify potential risks and opportunities to ensure successful project delivery.
Proactively provide solutions and recommendations to maximize business value.
Agile Business Analyst Resume with 7 Years of Experience
Highly experienced Agile Business Analyst with over 7 years of experience in the field. Experienced in the development, planning and implementation of various business strategies. Possesses excellent knowledge of software development lifecycles and agile methodologies, as well as strong analytical, communication, and problem- solving skills. Can quickly identify operational issues and develop innovative solutions that drive business growth and create value.
Core Skills:
Agile Methodologies
Software Development Lifecycle
Business Process Improvement
Data Analysis
Project Management
Stakeholder Management
Product Requirements Analysis
Responsibilities:
Creating and maintaining business process documents, user stories and business requirements
Analyzing, evaluating and synthesizing user requirements
Developing test cases and test plans, and tracking test results
Creating user stories and product backlogs for updating and maintaining the agile process
Creating project plans and leading Agile planning and review sessions
Worked with stakeholders to determine requirements, analyze data, and design solutions
Working with developers in the development of user- friendly, highly functional solutions
Conducting research and providing detailed reports to aid in decision making.
Agile Business Analyst Resume with 10 Years of Experience

I am an experienced Business Analyst with 10+ years of experience providing consulting and analysis services to a range of clients in different industries. I possess great knowledge of business analysis practices and processes, as well as experience in developing strategies for improving business processes, developing user requirements and functional specifications. My excellent interpersonal and communication skills have allowed me to effectively collaborate with stakeholders, business partners and other team members in order to identify, analyze, and develop solutions for their business needs.
Core Skills:
Create business process models, project plans, user stories and use cases
Strong understanding of business analysis practices and processes
Ability to identify and analyze project requirements
Able to translate information from technical to business language
Developing user stories, use cases, process models and project plans
Experience in testing and validating system requirements
Strong problem- solving and decision- making abilities
Excellent communication and interpersonal skills
Proficient in different software and systems
Responsibilities:
Conduct requirement gathering sessions with stakeholders
Analyze, document and validate business processes and user requirements
Collaborate with stakeholders in order to review and approve project deliverables
Develop user stories and use cases, process flows and diagrams
Develop test plans and test cases to validate system requirements
Conduct system testing, user acceptance testing and regression testing
Provide technical expertise and guidance to project teams
Perform post- implementation reviews and document process improvements
Develop project plans and manage projects to completion
Agile Business Analyst Resume with 15 Years of Experience
Highly experienced and motivated Agile Business Analyst with 15 years of experience in delivering successful software solutions, bridging the gap between business and software development teams, and streamlining processes to maximize efficiency. Exceptional problem solver who can rapidly adapt to changing business needs and objectives, while driving a culture of innovation and creativity. Proven ability to develop and maintain productive relationships with a wide range of stakeholders in both technical and business environments.
Core Skills:
Agile Methodology
Requirements Gathering
Process Modeling & Mapping
Software Design & Development
Data Analysis & Reporting
Stakeholder Management
Organizational Change Management
Leadership & Team Building
Project & Time Management
Risk Management
Problem Solving & Decision Making
Responsibilities:
Identifying business needs, defining and validating requirements, analysing process flows, mapping data exchange processes and modelling software solutions.
Facilitating Agile ceremonies such as sprint planning, stand ups, and retrospectives.
Prioritizing tasks, assigning work to team members and conducting regular progress reviews.
Evaluating user acceptance testing, system testing and regression testing.
Developing user stories, process flows and use cases.
Providing technical guidance and expertise to the development team.
Planning, scheduling and monitoring software delivery.
Liaising with stakeholders to ensure project requirements are met.
Identifying project risks, developing mitigation strategies and reporting on progress.
Leading teams, building relationships and developing consensus.
In addition to this, be sure to check out our resume templates, resume formats, cover letter examples, job description, and career advice pages for more helpful tips and advice.
What should be included in a Agile Business Analyst Resume Examples resume?
Agile Business Analyst resumes should demonstrate an applicant's understanding of the Agile Framework and the ability to create business solutions that meet an organization's needs. When writing a resume for an Agile Business Analyst role, here are a few key items to include:
Knowledge of Agile Methodologies: Demonstrate your understanding of Agile methodologies and how to apply them to business solutions.
Business Analysis Skills: Showcase your ability to analyze complex business needs, perform research and produce well-structured requirements documents.
Problem-Solving: Highlight your problem-solving skills and ability to quickly identify and resolve issues.
Communication: Demonstrate your effective communication skills both verbally and in writing, as well as your ability to collaborate with stakeholders.
Project Management: Showcase your experience in managing projects, balancing competing priorities and meeting deadlines.
Technical Skills: Detail knowledge of relevant software or tools used to create business solutions.
Leadership: Showcase your ability to lead projects and teams effectively.
By including these items in your Agile Business Analyst resume, you can demonstrate your qualifications and help employers make a better hiring decision.
What is a good summary for a Agile Business Analyst Resume Examples resume?
A good summary for an Agile Business Analyst Resume Examples resume should be tailored specifically to the job role and highlight the candidate's particular skill set and experience. The summary should begin by mentioning the candidate's experience in Agile methodology, their expertise in project management, and the experience they have gained in business analysis. The summary should also focus on the skills the candidate has in problem solving, data analysis, and software development. Finally, it should emphasize the candidates ability to work in a team environment and to be able to quickly adapt to changes. By properly highlighting the candidate's experience, skills, and abilities, the summary should be successful in setting the candidate apart from other applicants and attract the attention of the hiring manager.
What is a good objective for a Agile Business Analyst Resume Examples resume?
A good objective for an Agile Business Analyst resume should focus on the skills and qualifications needed for the job. An ideal objective should include the following:
A strong understanding of Agile principles, processes, and methodologies
Ability to effectively collaborate with stakeholders and development teams to ensure successful product delivery
Experience in gathering and analyzing business requirements, developing solutions, and documenting processes
Proven track record in creating and maintaining quality assurance documents, test plans, and user stories
Knowledge of industry trends, processes, and best practices related to Agile software development
Ability to manage multiple tasks and prioritize work efficiently to ensure timely completion of projects
Experience in troubleshooting, problem solving, and data analysis
Skilled in using project management tools and techniques to drive product development and delivery
How do you list Agile Business Analyst Resume Examples skills on a resume?
When it comes to showcasing your skills as an Agile Business Analyst on a resume, the key is to demonstrate your ability to work collaboratively with stakeholders and throughout the software development lifecycle. This includes:
Identifying and understanding customer needs, analyzing requirements, and developing solutions that deliver value
Utilizing Agile methodologies, such as Scrum and Kanban, to manage product backlogs, create roadmaps, and track project progress
Developing system designs, creating user stories and acceptance criteria, and creating visual diagrams to communicate system designs
Actively participating in sprint planning, daily stand-ups, and retrospectives with key stakeholders
Facilitating discussions and workshops with stakeholders to define and refine requirements
Analyzing, designing, and developing test strategies to ensure quality and accuracy of software deliverables
Supporting user and system acceptance testing activities, as well as resolving conflicts and providing feedback
Working with developers, product owners, and other stakeholders to ensure that the solutions meet the requirements
These are just some of the key skills and competencies that should be included on an Agile Business Analyst's resume. By including these skills and demonstrating your ability to collaborate and deliver value, you'll be able to show that you have the skills and experience needed for the job.
What skills should I put on my resume for Agile Business Analyst Resume Examples?
The Agile Business Analyst profession is highly sought after in the current job market. In order to stand out from the crowd, make sure to include the right skills on your resume. Below are some essential skills that you should include on your Agile Business Analyst Resume Examples.
Technical Skills: Agile Business Analysts need to have an in-depth understanding of the latest technologies and software applicable to their role. Make sure to list any technical skills you have, such as HTML, CSS, Java, SQL, etc.
Analysis Skills: Agile Business Analysts need to be able to analyze and interpret data to find patterns and trends. Make sure to highlight any software or data analysis skills you have.
Project Management: Agile Business Analysts need to be able to manage projects from start to finish. Include any project management certifications or skills such as Jira, Microsoft Project, etc.
Communication Skills: Agile Business Analysts need to be able to communicate effectively with all stakeholders and team members. List any communication skills such as presentations, report writing, problem-solving, and negotiating.
Business Acumen: Agile Business Analysts need to be able to understand the business objectives and goals of their organization. Include any business acumen you have and any courses or certifications related to the business side of the role.
Key takeaways for an Agile Business Analyst Resume Examples resume
Writing an effective resume as a business analyst is important to securing a job in the competitive field of information technology. An agile business analyst resume should emphasize the applicant's experience in project management, problem solving and data analysis. To maximize the impact of your resume, consider the following key takeaways when crafting your resume.
Emphasize Your Soft Skills: As a business analyst, it is important to emphasize your soft skills such as communication, collaboration and problem solving. These skills are key to successful project management. Make sure to showcase these skills in your resume by highlighting your successes in working with teams and resolving complex business problems.
Highlight Your Technical Knowledge: As a business analyst, it is important to showcase your technical knowledge. Make sure to include any certifications or training programs you have taken related to your field. Also include any specific software and programming language you are proficient in to demonstrate your technical capabilities.
Demonstrate Your Adaptability: Business analysts must be able to adjust to changing conditions and requirements related to projects. When writing your resume, make sure to highlight your ability to be flexible and adjust to different business needs.
Showcase Your Leadership: Business analysts often lead projects or provide guidance to stakeholders. Showcase your leadership skills and experience on your resume by highlighting any project management successes or initiatives you have taken to improve the efficiency of projects.
By following these key takeaways, you can create an effective resume that will help you stand out among other applicants in the competitive field of business analyst.
Let us help you build
your Resume!
Make your resume more organized and attractive with our Resume Builder