Writing an effective resume is one of the most important steps in getting hired as a laboratory technician. To stand out, you'll need an impressive resume that showcases your comprehensive laboratory experience, technical skills, and qualifications. This guide will walk you through the process of writing a laboratory technician resume that stands out from the competition and lands you the job. With tips and examples for each section, you'll be sure to create an eye-catching resume that highlights your experience and makes a good impression.
If you didn't find what you were looking for, be sure to check out our complete library of resume examples.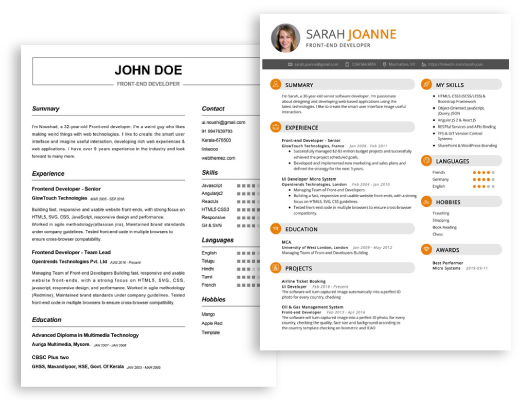 Start building your dream career today!
Create your professional resume in just 5 minutes with our easy-to-use resume builder!
Laboratory Technician Resume Examples
John Doe
Laboratory Technician
123 Main Street | Anytown, USA 99999 | Phone: (123) 456-7890 | Email: john.doe@email.com
Experienced Laboratory Technician with over 10 years of experience in the medical field. Possesses expertise in a variety of medical processes, including testing and analysis, maintenance of equipment and instrumentation, and data collection and storage. A reliable employee with an exemplary record of attendance and an ability to work both independently and cooperatively in a team environment.
Core Skills:
Accurate data collection and analysis
Proficient in laboratory and medical technology
Exceptional problem- solving and troubleshooting skills
Excellent communication, organizational, and people skills
Expertise in safety protocols
Meticulous attention to detail
Professional Experience:
Laboratory Technician, XYZ Medical Center, 2012- present
Perform routine and complex laboratory tests, analyze results and report findings to medical staff
Maintain laboratory equipment and instruments
Adhere to strict safety protocols and quality control measures
Monitor air quality, temperature and humidity
Provide training and instruction in the use of laboratory equipment
Laboratory Technician, ABC Laboratories, 2010- 2012
Conducted chemical, physical and biological analyses on samples
Analyzed data and reported findings to medical staff
Assisted with the calibration and maintenance of laboratory equipment
Worked with laboratory staff to ensure safety protocols and quality control measures were followed
Education:
Bachelor of Science in Medical Laboratory Science, ABC University, 2010
Laboratory Technician Resume with No Experience
Recent graduate with a strong interest in laboratory technology and a desire to become a laboratory technician.
Strong technical skills and eager to learn new techniques and procedures.
Highly organized and detail- oriented individual with excellent problem- solving skills.
SKILLS:
Knowledge of laboratory safety procedures
Proficient in Microsoft Office
Excellent communication and interpersonal skills
Strong attention to detail
Analytical skills
Knowledge of laboratory operations
Responsibilities:
Assist laboratory personnel in setting up and performing laboratory tests.
Conduct laboratory tests according to established protocols and procedures.
Maintain accurate records of laboratory results and findings.
Prepare and label samples for testing.
Clean and maintain laboratory equipment and supplies.
Monitor and record laboratory inventory levels.
Ensure safety guidelines and protocols are followed.
Laboratory Technician Resume with 2 Years of Experience
Self- motivated and knowledgeable Laboratory Technician with 2 years of experience in sample preparation, testing, and analysis. Experienced in creating and executing laboratory protocols and optimizing laboratory processes to ensure accurate results. Possessing a thorough understanding of laboratory safety regulations, chemical handling, and environmental control. Excellent problem- solving and organization skills.
Core Skills:
Sample Preparation
Testing and Analysis
Laboratory Protocol Execution
Laboratory Process Optimization
Laboratory Safety Regulations
Chemical Handling
Environmental Control
Problem- Solving
Organization
Responsibilities:
Prepared samples for testing and analysis
Executed laboratory protocols
Optimized laboratory processes to ensure accurate results
Monitored laboratory safety regulations and chemical handling
Controlled laboratory environment to meet all safety standards
Ensured all laboratory equipment was properly maintained
Analyzed data and prepared reports for review
Maintained clean and organized work area
Analyzed samples for contamination and conducted quality control tests
Laboratory Technician Resume with 5 Years of Experience
Hardworking Laboratory Technician offering 5+ years of diverse experience in a research lab setting, specializing in a wide range of lab techniques. Proven ability to develop protocols and oversee the collection, analysis, and interpretation of data in order to evaluate scientific hypotheses and theories. Possess a deep understanding of laboratory methods and techniques, as well as a strong foundation in laboratory safety and quality assurance practices.
Core Skills:
Laboratory Experimentation
Data Collection and Analysis
Laboratory Safety
Quality Assurance Practices
Protocol Development
Scientific Theories and Hypotheses
Responsibilities:
Executed experimental protocols and collected data under the guidance of laboratory supervisor.
Executed laboratory experiments in accordance with established protocols, utilizing a variety of lab techniques and instrumentation.
Maintained laboratory records, ensuring accuracy and completeness of all data entries.
Ensured laboratory safety by following standard operating procedures and adhering to all safety regulations.
Monitored and maintained laboratory equipment, including calibration and operation of instruments.
Conducted quality control and assurance testing to ensure accuracy and precision of test results.
Assisted in the development of new protocols and procedures.
Laboratory Technician Resume with 7 Years of Experience
Highly organized and detail- oriented Laboratory Technician with 7 years of experience in laboratory and medical research. Skilled in performing chemical and physical analyses, maintaining laboratory equipment and calibrations, and recording data. Possess excellent communication and organizational abilities, a strong work ethic, and the ability to multitask in a fast- paced environment.
Core Skills:
Knowledge of scientific methods and principles
Ability to operate and maintain laboratory equipment
Excellent communication and interpersonal skills
Ability to organize and analyze data
Understanding of safety protocols
Proficient in Microsoft Office Suite
Responsibilities:
Managed laboratory operations by performing laboratory tests, calibrating and maintaining equipment, and preparing samples for analysis
Monitored and recorded results, and maintained records of chemical or physical analyses
Coordinated with other departments to ensure prompt results
Prepared chemical solutions and reagents for laboratory use
Developed and conducted laboratory experiments, tests, and analyses
Assisted in the design and implementation of new laboratory techniques
Ensured laboratory cleanliness and adhered to safety protocols
Participated in medical research projects and patient studies
Educated staff members and patients on laboratory related topics
Maintained and updated laboratory safety manuals.
Laboratory Technician Resume with 10 Years of Experience
Experienced laboratory technician with 10 years of experience in the medical and scientific fields. Skilled in performing laboratory tests and experiments, analyzing results, and developing reports. Proficient in both traditional and modern laboratory techniques, along with a broad understanding of medical terminology, chemistry, and biology. Well- versed in using instruments such as microscopes, centrifuges, and thermocyclers.
Core Skills:
Experimental techniques
Microscopic techniques
Data collection
Laboratory safety
Quality control
Medical terminology
Microbiology
Analytical skills
Report writing
Responsibilities:
Performing laboratory tests and experiments
Collecting data and preparing results
Maintaining laboratory safety and hygiene standards
Following established laboratory protocols
Analyzing test results and developing reports
Operating and troubleshooting laboratory equipment
Ordering supplies and maintaining inventory
Conducting quality control tests
Performing chemical analysis and clinical tests
Laboratory Technician Resume with 15 Years of Experience
A highly motivated and experienced Laboratory Technician with 15 years of experience in a variety of settings and roles. Skilled in data management, sample preparation, testing and analysis, and complete laboratory maintenance. Experienced in ensuring regulatory compliance with ISO and GMP standards. Experienced in working with a wide range of equipment and instruments. Able to think critically and problem solve.
Core Skills:
Data Management
Sample Preparation
Testing and Analysis
Laboratory Maintenance
Regulatory Compliance
Equipment and Instrumentation Operation
Critical Thinking
Problem Solving
Responsibilities:
Collected samples, prepared and analysed them using standard laboratory procedures
Managed and maintained laboratory data, including sample storage and archiving
Verified accuracy of data and analysed results
Performed regular laboratory maintenance and upkeep
Ensured compliance with safety, quality, and regulatory standards
Operated a variety of laboratory equipment and instruments
Evaluated accuracy and quality of data
Developed standard operating procedures for laboratory processes
Developed and ran test procedures for validation and quality control
Trained new laboratory personnel in laboratory techniques, equipment, and safety protocols
Prepared documentation for laboratory records and reports
Maintained equipment according to established maintenance schedules and protocols
In addition to this, be sure to check out our resume templates, resume formats, cover letter examples, job description, and career advice pages for more helpful tips and advice.
What should be included in a Laboratory Technician resume?
Laboratory Technician resumes should provide employers with a concise overview of the applicant's qualifications, experience, and skills necessary for success in the role. An effective resume should include the following information:
Professional Summary: A short summary of the applicant's professional background and experience in a laboratory technician role.
Education: Relevant education such as laboratory technology and science degrees.
Experience: Relevant work experience as a laboratory technician, including roles, responsibilities, and achievements.
Special Certifications: Lab technician related certifications and licenses.
Technical Skills: Knowledge of relevant laboratory techniques, procedures, and equipment.
Interpersonal Skills: Ability to collaborate and communicate effectively with colleagues and supervisors.
Computer Skills: Proficiency with laboratory-related software and programs.
Professional Development: Participation in any relevant lab technician training or continuing education courses.
By including these important pieces of information in their resume, a laboratory technician can present themselves in the best possible light and make a great first impression on potential employers.
What is a good summary for a Laboratory Technician resume?
A good summary for a Laboratory Technician resume should highlight the applicant's experience and qualifications in the sciences, their relevant technical skills, and their ability to work effectively and efficiently in a laboratory environment. It should also emphasize any accomplishments or awards that the applicant has achieved. A summary should also mention any certifications or licenses the applicant may possess. Finally, the summary should explain why the applicant is a good fit for the specific lab technician job they are applying to.
What is a good objective for a Laboratory Technician resume?
A laboratory technician is a skilled professional who is responsible for performing a variety of duties in a laboratory setting. As a laboratory technician, you must be able to accurately collect, record, and analyze data while using the correct laboratory techniques. Crafting a well-written objective statement is key to obtaining a job in this field.
A good objective for a laboratory technician resume should be concise, yet provide enough information to stand out from other applicants. When writing an objective for your laboratory technician resume, consider the following points:
Demonstrate an understanding of laboratory techniques and procedures
Possess excellent organizational and time management skills
Utilize critical thinking skills to identify and address problems
Show knowledge of safety protocols and safety equipment
Provide accurate data collection and analysis
Maintain effective communication with team members and other personnel
Remain up to date on the latest lab technologies and trends
By including these points in your resume, you are showing potential employers that you understand the importance of accurate laboratory results and the need to follow safety protocols. A well-crafted objective statement can help you catch the eye of recruiters and make your resume stand out.
How do you list Laboratory Technician skills on a resume?
When it comes to listing laboratory technician skills on a resume, it's important to focus on the skills that are specific to the role. A laboratory technician is responsible for a wide range of duties and tasks, from prepping and conducting experiments to analyzing and recording results.
To make sure employers understand the depth of your laboratory technician skills, here are some tips on how to list them on a resume:
Start by specifying the type of lab experience you have. If you have experience in medical labs, for example, make sure you mention that.
Highlight your knowledge of laboratory safety protocols and procedures. Make sure you list any safety courses you've taken or certifications you've earned.
Showcase your understanding of laboratory equipment and supplies. Have you ever been responsible for ordering supplies or calibrating equipment? Make sure you list those experiences as well.
Demonstrate your knowledge of laboratory testing techniques. Make sure you provide details about the types of tests you've conducted and the results you've achieved.
Demonstrate your ability to troubleshoot and resolve technical issues. Have you ever identified and corrected a technical problem in the lab? Don't forget to mention this as well.
Detail your experience with data collection and analysis. Have you ever written reports based on data collected in the lab? Make sure to list this as well.
By highlighting your laboratory technician skills in a clear and concise manner, you can ensure that employers understand the depth of your experience.
What skills should I put on my resume for Laboratory Technician?
A Laboratory Technician plays an important part in the medical, research, and scientific fields. Their responsibilities include collecting and recording data, setting up and running experiments, and analyzing test results. When creating a resume for a Laboratory Technician role, it's important to showcase the skills that are relevant to the position. Here are some key skills to include on a resume for a Laboratory Technician role:
Knowledge of Laboratory Safety: Being able to ensure the safety of yourself and others when working in a laboratory environment is a must. Experience with GLP and GMP guidelines, as well as knowledge of laboratory safety protocols, are important to mention.
Good Attention to Detail: Laboratory Technicians are responsible for data collection and analysis, which requires an eye for detail. Demonstrate your attention to detail in your resume by showcasing the accuracy of your work.
Knowledge of Laboratory Equipment: Being able to work with various laboratory equipment is a must. Showcase your experience with microscopes, centrifuges, thermometers, and other laboratory equipment on your resume.
Analytical Skills: Laboratory Technicians need to be able to interpret data and draw conclusions from their experiments. Highlight any experience you have working with scientific data and include any analysis you've conducted for past projects.
Problem Solving: Being able to troubleshoot any issues that arise in the laboratory is important. Demonstrate your problem-solving skills by including any innovative solutions you've come up with in the past.
By highlighting these key skills in your resume for a Laboratory Technician role, you will be able to show potential employers that you have the skills and experience necessary to excel in the role.
Key takeaways for an Laboratory Technician resume
Writing a resume is a key part of the job search process. Crafting a strong resume can make the difference between landing an interview and missing out on a job opportunity. As a Laboratory Technician, it is important to highlight your experience and technical skills, as well as any other qualifications that can help you stand out from the competition. Here are some key takeaways for creating an effective Laboratory Technician resume:
Showcase your technical skills. As a Laboratory Technician, your technical skills are likely a central part of your job. Make sure to include a section of your resume that outlines your technical abilities and experience.
Highlight your laboratory experience. Make sure to include any relevant laboratory experience you have, including the type of lab, the tests conducted, and the equipment used.
Outline your certifications and qualifications. Be sure to mention any certifications and qualifications that you hold, as well as any laboratory safety or training courses you have taken.
Showcase your attention to detail. When working as a Laboratory Technician, attention to detail is essential. Include a section on your resume that focuses on your ability to work accurately and methodically.
List any related experience. If you have experience in a related field, such as research or data analysis, make sure to include this on your resume.
By following these key takeaways, you can create a strong resume for a Laboratory Technician position. After all, a well-crafted resume is the key to standing out from the competition and getting your foot in the door.
Let us help you build
your Resume!
Make your resume more organized and attractive with our Resume Builder