Writing a resume can be an intimidating task, but it's especially intimidating as a lab technician. As a lab technician, you have the technical skills and knowledge that employers are looking for, but you need to be able to express those skills on paper in a way that will impress hiring managers. To help you write an effective resume, this guide provides resume writing tips and examples specifically tailored to lab technicians. By following the steps outlined in this guide, you'll be well on your way to crafting a resume that will stand out from other candidates.
If you didn't find what you were looking for, be sure to check out our complete library of resume examples.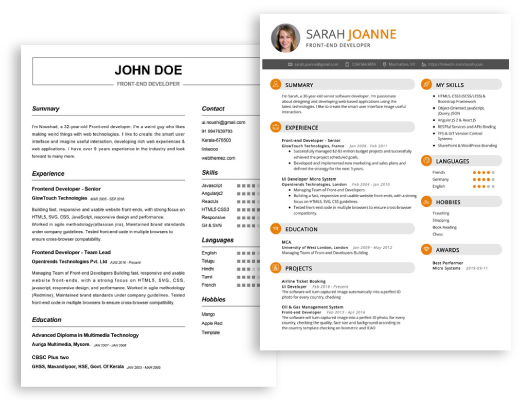 Start building your dream career today!
Create your professional resume in just 5 minutes with our easy-to-use resume builder!
Lab Technician Resume Examples
John Doe
Lab Technician
123 Main Street | Anytown, USA 99999 | Phone: (123) 456-7890 | Email: john.doe@email.com
I am a highly experienced Lab Technician with 10 years of experience in laboratory- based settings. During this time I have gained a wealth of experience in scientific testing, data analysis and product development. I have a strong eye for accuracy and detail and possess excellent problem solving and organizational skills. I am also well versed in laboratory safety protocols and procedures.
Core Skills:
Microbiology and Chemistry Analysis
Laboratory Safety Procedures
Data Analysis
Process Improvement
Specimen Collection
Analytical Methods
Instrument Operation
Quality Assurance
Regulatory Compliance
Professional Experience:
Lab Technician, ABC Medical Inc. 2015 – Present
Conducting product testing and documentation to ensure compliance with regulatory standards and procedures
Analyzing samples and performing various laboratory tests, and documenting results accurately
Designing and executing experiments, analyzing results and making recommendations based on findings
Operating and maintaining lab instruments and equipment, and calibrating equipment as needed
Assisting with research and development, product formulation, troubleshooting and process improvement
Developing and executing procedures and protocols, and revising as needed
Lab Technician, XYZ Pharmaceuticals 2012 – 2015
Performed a variety of laboratory experiments using standard laboratory techniques and methods
Collected and documented accurate data, and prepared reports for analysis
Assisted with inventory management, ordering supplies and materials, and maintaining lab equipment
Ensured lab safety standards were met, and maintained all necessary records
Analyzed and interpreted data, and made recommendations for process improvement
Education:
Bachelor of Science in Biology, University of California, Los Angeles 2010 – 2012
Associate of Science in Biology, Los Angeles Community College 2008 – 2010
Lab Technician Resume with No Experience
Enthusiastic, reliable lab technician with a strong interest in the sciences. Highly motivated to learn and grow in the field of lab sciences. Possesses a strong attention to detail and a commitment to accuracy.
SKILLS
Practical laboratory experience
Organizational and problem- solving skills
Attention to detail
Teamwork
Data entry
Knowledge of relevant lab equipment
MS Office proficiency
Responsibilities
Perform laboratory tests and experiments
Process and record results
Maintain and clean laboratory equipment
Prepare samples for testing
Prepare and manage laboratory chemicals
Identify and troubleshoot laboratory problems
Track and log data in laboratory records
Provide assistance to senior technicians and researchers in the laboratory
Lab Technician Resume with 2 Years of Experience
Hardworking and detail- oriented Lab Technician with 2 years of experience in laboratory operations and equipment maintenance. Possesses strong analytical and problem- solving skills, with the ability to interpret laboratory results. Experienced in working with hazardous and non- hazardous chemicals and materials, as well as a working knowledge of laboratory safety procedures.
Core Skills:
Experienced in laboratory operations and equipment maintenance
Proficient in data collection and analysis
Excellent problem- solving and organizational skills
Strong understanding of laboratory safety protocols
Knowledgeable in the use of hazardous and non- hazardous chemicals and materials
Responsibilities:
Set up and maintain laboratory equipment
Perform laboratory tests, analyze data and interpret results
Ensure laboratory safety protocols are followed
Maintain a clean and safe working environment
Conduct quality control tests on laboratory samples
Calibrate laboratory equipment and instruments
Perform regular laboratory maintenance and repairs
Document and report laboratory data accurately
Lab Technician Resume with 5 Years of Experience
Highly organized and detail- oriented laboratory technician with 5 years of experience in providing technical support for laboratory operations. Possesses excellent problem- solving skills combined with strong knowledge of laboratory safety protocols. Skilled in troubleshooting, record keeping, and data analysis. Familiar with various laboratory procedures and techniques.
Core Skills:
Proven track record in laboratory operations
Hands- on experience in lab maintenance
Proficient in computer applications
Familiar with laboratory safety protocols
Excellent problem- solving skills
Strong attention to detail
Exceptional data analysis and record keeping
Knowledge of laboratory techniques and procedures
Responsibilities:
Performed regular lab maintenance and repairs
Ensured laboratory safety and compliance with safety regulations
Operated laboratory equipment and performed quality control checks
Monitored and recorded laboratory results and observations
Collected and prepared samples for analysis
Assisted with research activities and experiments
Evaluated data, drafted reports, and presented findings
Trained and supervised other lab technicians
Maintained inventory of lab equipment and supplies
Lab Technician Resume with 7 Years of Experience
Results- driven Lab Technician with 7+ years of experience in a laboratory setting. Dependable professional with a strong work ethic, a keen eye for detail, and a passion for quality. Experienced in analyzing and interpreting complex data, developing and executing lab protocols, and installing and calibrating equipment. Demonstrated verbal and written communication skills, problem solving skills, and ability to work independently and collaboratively.
Core Skills:
Data Analysis
Protocol Development
Equipment Installation and Calibration
Laboratory Safety
Organizational Skills
Problem Solving
Verbal and Written Communication
Responsibilities:
Conducted tests, analyze data, and enter results into laboratory databases
Installed and calibrated laboratory equipment and instrumentation
Developed new and modified existing protocols to improve accuracy and efficiency
Performed various tasks related to laboratory maintenance and safety
Ensured compliance with all applicable safety regulations
Maintained inventory of equipment, supplies, and materials
Created comprehensive reports and presentations for senior management and other stakeholders
Lab Technician Resume with 10 Years of Experience
Results- driven Lab Technician with 10 years of experience in diagnosing and testing samples in laboratories. Possesses a high level of knowledge in laboratory safety protocols, testing and analysis processes, and highly accurate data reporting. Expert at gathering and storing samples for testing and analyzing results to diagnose and identify irregularities. Possesses excellent communication, record- keeping and problem- solving abilities.
Core Skills:
Laboratory safety protocols
Testing and analysis processes
Data recording and analysis
Gathering and storing samples
Communication and record- keeping
Problem- solving
Responsibilities:
Set up, maintain, and troubleshoot laboratory equipment and instruments
Prepare and conduct tests and experiments according to laboratory protocols
Collect and analyze data from laboratory samples
Document and record all test results accurately
Perform quality control checks on results and data
Monitor laboratory environment and equipment to ensure optimal performance
Maintain laboratory safety standards and protocols
Assist in preparation of reports and presentations based on test results and analysis
Lab Technician Resume with 15 Years of Experience
I am an experienced and certified lab technician with 15 years of experience in the medical field. I have a thorough knowledge of laboratory procedures, testing protocols, and equipment. I have a deep understanding of lab safety regulations and compliances, priority setting, and organizational skills. I have excellent oral and written communication skills and the ability to analyze data quickly and accurately. I am dedicated to producing accurate results and am determined to provide the best service for patients and doctors.
Core Skills:
Excellent laboratory testing proficiency
Highly skilled in lab safety and regulations
Priority setting and organizational skills
Oral and written communication skills
Ability to analyze results quickly and accurately
Responsibilities:
Performing laboratory tests to analyze body fluids such as blood, urine, and tissue samples
Preparing and recording test results accurately and timely
Operating, calibrating, and maintaining laboratory equipment
Ensuring lab safety and compliance with all regulations
Ordering and stocking supplies as needed
Recording and documenting data accurately in computer systems
Assisting the medical staff with patient care and other tasks as necessary
In addition to this, be sure to check out our resume templates, resume formats, cover letter examples, job description, and career advice pages for more helpful tips and advice.
What should be included in a Lab Technician resume?
A Lab Technician resume should include the specific qualifications and skills required for the role. Here are some of the key components a Lab Technician resume should include:
Education: List the schools you attended and the degrees or certifications you have earned. Include any pertinent coursework such as laboratory classes, biology or chemistry classes, or laboratory management classes.
Experience: Include any relevant experience in a lab setting, such as working with lab equipment, analyzing data, and performing tests. Include any positions you have held such as a lab assistant or research assistant.
Skills: Include any specialized skills you have acquired such as laboratory safety, data analysis, and writing reports. Also list any computer software and lab equipment you are comfortable with.
Professional Certifications: If you have any professional certifications related to laboratory work, such as a Lab Technician certification, list them here.
Technical Skills: Include any technical skills related to lab work, such as the ability to use specific lab equipment or software.
Work History: List any other positions you held prior to lab work that may be relevant to the Lab Technician role.
Professional References: Include two or three professional references who can vouch for your skills and experience.
By including these components in your resume, you can demonstrate to employers that you are the best candidate for the Lab Technician role.
What is a good summary for a Lab Technician resume?
Your resume summary should concisely and clearly show your potential employer the skills and qualifications you have that make you the perfect fit for the lab technician role. It should provide a snapshot of your experience, skills, and accomplishments, and highlight why you're uniquely qualified for the job.
A lab technician resume summary should include your relevant experience, such as any previous lab technician roles you've held, as well as any certifications specific to the field. You should also include your strong technical skills, such as proficiency in lab equipment and software, as well as any other applicable skills such as attention to detail, problem-solving, and critical thinking.
Finally, you should include any accomplishments or awards that you've received or any relevant projects or research you've been involved in that demonstrate your dedication to the field. This should be written in a clear and concise manner that is easily understood by potential employers.
What is a good objective for a Lab Technician resume?
A good objective for a lab technician resume should be concise and highlight the experience and qualifications that make you the best candidate for the position. When crafting your objective, think about how your background and skills can benefit the organization and how your experience can help make the organization's goals a reality. Here are some examples of objectives for a lab technician resume:
Highly organized and motivated professional with 3+ years of experience in clinical laboratory settings, seeking a Lab Technician position with ABC Lab to apply expertise in medical technology
Energetic and detail-oriented individual with a Bachelor of Science degree in Medical Technology, seeking a Lab Technician position with ABC Lab to utilize expertise in chemistry and lab procedures
Seeking a Lab Technician role at ABC Lab to utilize 5+ years of experience in medical laboratory settings, proficiency in laboratory instrumentation, and knowledge of safety protocols
Experienced lab technician with a demonstrated track record of success in laboratory settings, looking for a Lab Technician position with ABC Lab to leverage expertise in medical technology and laboratory procedures
To obtain a Lab Technician position at ABC Lab, where strong knowledge of medical technology and laboratory protocols can be utilized to ensure accurate results
Passionate Lab Technician with a Bachelor's degree in Medical Technology and 5+ years of experience in clinical laboratory settings, looking for a position with ABC Lab to utilize exceptional analytical and problem-solving abilities.
How do you list Lab Technician skills on a resume?
A Lab Technician is an essential part of any laboratory and offers support to laboratory scientists and personnel. When assembling your resume, it is important to include the skills that make you a strong candidate for the position. Here are some key Lab Technician skills to list on your resume:
Ability to use and maintain laboratory equipment: This includes familiarity with a range of laboratory equipment and the ability to maintain accuracy when operating it.
Knowledge of laboratory safety procedures: Laboratory technicians should be aware of the risks associated with their work, such as chemical exposure, and know how to take the necessary safety precautions.
Knowledge of laboratory protocols: Lab technicians should be familiar with laboratory-specific protocols, such as biosafety and good laboratory practices, and be able to follow them correctly.
Ability to collect and analyze data: Lab technicians should possess the skills to accurately collect and analyze data, as they are often in charge of recording and interpreting the results of experiments.
Attention to detail: Lab technicians should be detail-oriented and have the ability to troubleshoot when things don't go according to plan.
Time management: Lab technicians should be able to manage their time effectively, as they will often be working with tight deadlines.
Communication skills: Lab technicians should be able to communicate effectively with both colleagues and superiors.
Highlighting these skills on your resume will demonstrate to potential employers that you possess the necessary qualifications for the position.
What skills should I put on my resume for Lab Technician?
It's essential for any job seeker to have a comprehensive resume, especially for positions like lab technicians. To ensure you make a good impression, you should think carefully about which skills to include. Here are some of the most important skills that should be present on any lab technician resume:
Attention to Detail: Lab technicians must be able to carry out accurate testing and analysis, so it's essential that they pay attention to detailed instructions.
Technical Knowledge: Lab technicians need to have a strong understanding of the latest laboratory techniques, processes and technologies.
Analytical Skills: Lab technicians must be able to analyze data and draw accurate conclusions.
Problem-Solving: When something goes wrong in the lab, it's important that the lab technician can identify and solve the problem.
Communication: Lab technicians must be able to effectively communicate their results with colleagues and supervisors.
Organization: Keeping the lab well-organized is essential for successful and efficient operations.
Safety: Lab technicians must be aware of safety protocols and procedures.
Time Management: Lab technicians must be able to complete their assigned tasks within specific timeframes.
Key takeaways for an Lab Technician resume
As a lab technician, having a well-defined resume is essential for getting the job you want. Your resume should include your accomplishments, relevant experience, and education, as well as any specialized skills that may be applicable to your desired position. Here are some key takeaways for constructing the perfect lab technician resume:
Include a professional summary. Summarize your experience, skills, and qualifications upfront in an easy-to-read format.
Highlight relevant experience. Showcase the lab technician work you've done, such as experience with specific equipment and protocols.
Showcase technical knowledge. Demonstrate any certifications, licenses, or other qualifications that make you qualified for the job.
Describe the duties you've performed. List the specific duties and tasks you've completed as a lab technician.
List accomplishments. Showcase any successes you've achieved in the lab, such as improved efficiency or higher quality results.
Keep it concise. A lab technician resume should be no more than two pages in length.
By following these key takeaways, you can create a resume that will help you stand out as a qualified lab technician. Make sure to customize your resume for any position you're applying for and tailor it to the specific requirements of the job. With the right preparation, you can create a resume that will get you the job you want.
Let us help you build
your Resume!
Make your resume more organized and attractive with our Resume Builder