Writing a strong resume is a crucial step when applying for a lab coordinator role. To maximize your chances of landing a job, it's important to create a resume that stands out from the competition and accurately reflects your qualifications and experience. This guide will provide a few key tips for writing an effective lab coordinator resume, and provide several examples of resumes that follow best practices. By the time you've finished reading, you'll have the confidence and knowledge to create a resume that will help you get noticed by employers.
If you didn't find what you were looking for, be sure to check out our complete library of resume examples.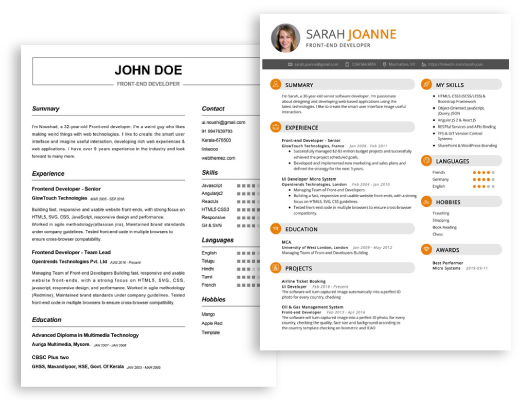 Start building your dream career today!
Create your professional resume in just 5 minutes with our easy-to-use resume builder!
Lab Coordinator Resume Examples
John Doe
Lab Coordinator
123 Main Street | Anytown, USA 99999 | Phone: (123) 456-7890 | Email: john.doe@email.com
Experienced Lab Coordinator with a history of effectively managing a variety of laboratory operations tasks from scheduling and ordering to safety and maintenance. Strong skills in organization and problem- solving, as well as excellent communication and interpersonal skills. Proven track record of successfully leading teams, developing and executing initiatives, and increasing laboratory efficiency and productivity.
Core Skills:
Laboratory Management
Organization
Problem- Solving
Interpersonal Communication
Safety Protocols
Planning and Scheduling
Ordering and Inventory Management
Team Leadership
Process Improvement
Data Analysis
Professional Experience:
Lab Coordinator, ABC Company, Anytown, USA, 2018 – Present
Oversee daily operations of the laboratory, including staffing, scheduling, safety protocols, and process improvement initiatives
Monitor laboratory equipment and order supplies as needed to ensure proper functioning
Ensure regulatory compliance and adhere to safety protocols, while managing laboratory personnel
Develop and implement procedures to maximize laboratory efficiency and accuracy
Train and supervise personnel on proper operation of laboratory equipment
Analyze data and develop reports to evaluate performance
Lab Manager, XYZ Company, Anytown, USA, 2015 – 2018
Managed laboratory operations, including laboratory personnel, equipment, and supplies
Developed and enforced safety protocols to ensure a safe working environment
Oversaw the ordering and inventory management of laboratory supplies
Developed and implemented processes and procedures to improve laboratory efficiency
Assisted in training new personnel on safety protocols, equipment, and procedures
Analyzed data and developed reports to evaluate laboratory performance
Education:
B.S. in Biological Sciences, Any Town University, Any Town, USA, 2012 – 2015
Lab Coordinator Resume with No Experience
Hardworking and well- organized Lab Coordinator with no experience in the field, but eager to learn and grow in the profession.
Possess excellent communication skills, with the ability to manage multiple tasks and assignments efficiently.
An independent and self- motivated individual, with the capacity to work collaboratively in a laboratory environment.
Skills
Excellent communication and interpersonal skills
Strong organizational and time management skills
Ability to prioritize tasks and execute effectively
Proficient in Microsoft Office and other relevant computer software
Responsibilities
Manage the laboratory environment, ensuring safety protocols and regulations are followed
Organize and coordinate laboratory activities, including scheduling, equipment maintenance, and inventory control
Assist with the preparation of data and reports
Communicate with laboratory staff and other personnel to ensure a smooth workflow
Ensure that all laboratory equipment is properly maintained and operational
Assist with research projects as needed
Lab Coordinator Resume with 2 Years of Experience
Highly motivated Lab Coordinator with 2 years of experience in the research and development sector. Proven track record of efficiently managing laboratory operations and resources. Demonstrated commitment to providing results- driven solutions to complex issues. Strong ability to work both independently and collaboratively.
Core Skills:
Laboratory operations management
Resource planning and optimization
Data analysis and reporting
Quality assurance and safety
Process improvement and streamlining
Technical problem solving
Effective communication
Responsibilities:
Manage daily laboratory operations including equipment maintenance, scheduling and ordering of supplies
Develop laboratory staffing plans, train and supervise staff
Maintain laboratory safety standards in compliance with relevant regulations
Prepare and analyze data and compile reports for laboratory personnel and management
Implement process improvement initiatives to optimize laboratory operations
Work with external vendors to coordinate repair and maintenance of laboratory equipment
Develop and maintain system for tracking and documenting quality assurance
Assist in the development of research projects and protocols
Identify and resolve technical issues related to laboratory operations and equipment
Lab Coordinator Resume with 5 Years of Experience
Highly organized and detail- oriented Lab Coordinator with 5+ years of experience in providing research support and managing lab operations. Skilled in developing and maintaining safety protocols, teaching lab safety procedures and ensuring compliance with safety regulations. Adept at analyzing large data sets, preparing reports, troubleshooting and maintaining lab supplies. Proven ability to coordinate and collaborate effectively with multiple teams and stakeholders.
Core Skills:
Organizational and Coordination
Safety Compliance
Data Analysis
Problem Solving
Report Preparation
Online Collaboration
Lab Supply Management
Responsibilities:
Established and implemented safety protocols and procedures in accordance with regulatory standards
Assisted in data collection and analysis of research experiments
Troubleshot and maintained lab equipment and supplies
Conducted research experiments and gathered data for research projects
Assisted in laboratory design and implementation of research protocols
Maintained a clean and safe laboratory environment
Coordinated with internal and external stakeholders to ensure project completion
Prepared and presented research results and data in reports
Lab Coordinator Resume with 7 Years of Experience
A highly motivated Lab Coordinator with 7 years of experience in managing lab operations, coordinating research projects and providing assistance to faculty members. Proven ability to collaborate with faculty and staff to ensure the smooth running of lab operations and the completion of research in a timely manner. Possesses an excellent knowledge of laboratory safety, laboratory protocols and the ability to recognize and solve problems quickly.
Core Skills
Lab Operations Management
Research Coordination
Laboratory Safety
Equipment Maintenance
Scientific Documentation
Data Analysis
Problem Recognition and Resolution
Responsibilities
Conducted daily lab operations, ensuring safety protocols were followed and lab equipment was properly maintained.
Coordinated research projects with faculty members, providing administrative and logistical support.
Performed data analysis, creating and maintaining lab records and other scientific documents.
Communicated with vendors for purchasing lab supplies and equipment.
Provided assistance to faculty members and students in laboratory processes, experiments and other activities.
Ensured the smooth running of all lab operations, from daily activities to research projects.
Monitored the lab environment and resolution of any technical issues.
Lab Coordinator Resume with 10 Years of Experience
Highly experienced Lab Coordinator with over 10 years of experience in a laboratory setting. Proven ability to ensure the safety of the environment and personnel, while successfully coordinating the operations of the lab and assisting in the development of the research projects. Skilled in the management and maintenance of laboratory equipment and supplies, as well as in the preparation and analysis of test results. Excellent analytical and problem solving skills with the ability to effectively communicate with personnel at all levels.
Core Skills:
Lab safety and compliance
Practical laboratory experience
Equipment maintenance and repair
Data analysis and report writing
Research project development
Record keeping and documentation
Communication and interpersonal skills
Time management and organizational skills
Responsibilities:
Ensuring lab safety and compliance with established protocols and regulatory standards
Maintaining and repairing laboratory equipment
Preparing and analyzing test results
Managing and ordering laboratory materials and supplies
Coordinating laboratory activities and workflows
Assisting in the development of research projects
Maintaining accurate records and documentation
Coordinating with other departments and personnel to ensure smooth operations
Assisting in the training of new personnel in laboratory procedures and safety protocols
Lab Coordinator Resume with 15 Years of Experience
Dynamic Lab Coordinator with 15 years of hands- on experience in laboratory management, personnel training, and laboratory safety. Proven record of successful maintenance and operation of a wide range of laboratory equipment, as well as providing technical assistance for laboratory protocols. Highly experienced in designing and implementing laboratory experiments, developing laboratory processes and methods, and performing data analysis. Possess an in- depth knowledge of cGMP, GLP, and safety regulations and policies.
Core Skills:
Organizational skills
Project management
Laboratory safety
Laboratory equipment maintenance
Data analysis
HIPAA/OSHA compliance
Quality assurance
Inventory management
Research and development
Team management
Technical writing
Performance tracking
Responsibilities:
Maintained and operated laboratory equipment
Developed and maintained laboratory safety protocols
Designed, implemented, and monitored laboratory experiments
Developed laboratory processes and methods
Performed data analysis and prepared technical reports
Provided technical assistance and support to laboratory staff
Ensured compliance with cGMP, GLP, and safety regulations and policies
Managed and monitored laboratory inventory
Trained and supervised laboratory staff in laboratory methodologies, safety protocols, and new equipment
Assisted in research and development of new laboratory processes and methods
Generated technical documents, such as SOPs, manuals, and protocols
Monitored and recorded laboratory performance metrics
Provided quality assurance for laboratory experiments
Addressed and resolved laboratory- related issues
Prepared and maintained laboratory- related documents, such as reports, logs, and records
In addition to this, be sure to check out our resume templates, resume formats, cover letter examples, job description, and career advice pages for more helpful tips and advice.
What should be included in a Lab Coordinator resume?
A lab coordinator resume should include the following key elements:
A clear, concise summary of qualifications: Begin your resume with a brief summary of your qualifications that highlights your most relevant experience and skills. Make sure to include any certifications or special trainings that you have related to lab coordination.
Work experience: Include all relevant positions that you have held as a lab coordinator. If you have held multiple positions in the same lab, list the most recent one first. Make sure to include details about your duties and any notable achievements during your tenure.
Education: Include all relevant degrees and certifications that are pertinent to your lab coordination job. Also include any relevant courses you have taken related to lab work.
Technical skills: List any software programs you are proficient in as well as any other computer-based skills you have that are relevant to the job.
Interpersonal skills: Include any relevant interpersonal skills such as customer service, problem solving, communication, and team leadership.
Professional affiliations: Include any professional organizations that you are a part of, as well as any awards or recognition you have received from them.
By including all of these elements, you can create an impressive resume that will give hiring managers a full picture of your qualifications.
What is a good summary for a Lab Coordinator resume?
A Lab Coordinator resume should be a clear and concise summary of your skills and experiences related to laboratory management. It should highlight your abilities to work in a laboratory setting, maintain and organize laboratory equipment, and manage laboratory staff. You should also list any certifications or qualifications you have related to the field. In addition, it should include any relevant experience or education you may have, such as a degree in laboratory science or laboratory management. Finally, be sure to include any relevant volunteer or professional memberships that demonstrate your commitment to the field. With a well-crafted resume, you can showcase your ability to be an effective and knowledgeable Lab Coordinator.
What is a good objective for a Lab Coordinator resume?
A Lab Coordinator is an essential position in a laboratory setting, as they are responsible for a range of tasks, such as setting up and maintaining laboratory equipment and keeping track of laboratory supplies. It is important for any Lab Coordinator to have a strong resume objective in order to stand out among other applicants.
A good resume objective for a Lab Coordinator should be detailed, yet succinct. It should give a clear indication of what you can bring to the laboratory setting.
Here are some ideas for creating a good objective for a Lab Coordinator resume:
Seek to leverage my experience in laboratory maintenance and data analysis to help maximize efficiency in the lab.
Offer my expertise in laboratory safety protocols, sample preparation, and quality control to help ensure a reliable and productive work environment.
Utilize my organizational skills and knowledge of laboratory instruments to effectively manage laboratory resources.
Bring my strong interpersonal skills and experience in customer service to provide a positive and productive experience for colleagues and clients.
Aim to use my analytical and problem-solving skills to help increase the effectiveness of laboratory operations.
How do you list Lab Coordinator skills on a resume?
When creating a resume, it is important to include the skills necessary to be a lab coordinator. Lab coordinators are responsible for managing a laboratory to ensure accuracy and efficiency. Below are some of the most important skills to list on a resume when applying for a lab coordinator position.
Laboratory Management: Lab coordinators must be able to manage laboratory operations, ensuring accuracy and efficiency. This includes overseeing laboratory activities, maintaining safety protocols, and ensuring that the laboratory workflow is running smoothly.
Problem-Solving: Lab coordinators must be able to identify and resolve technical and operational issues with the laboratory quickly and efficiently. This requires strong problem-solving skills and the ability to think on one's feet.
Communication: Lab coordinators must be able to communicate effectively with staff and clients to ensure that laboratory activities are running smoothly. This includes the ability to verbally and written communicate clearly and accurately.
Technical Knowledge: Lab coordinators need to have an in-depth understanding of the laboratory and its equipment, as well as the ability to troubleshoot and make adjustments when necessary.
Record Keeping: Lab coordinators must be able to keep accurate records of laboratory activities, including safety protocols and inventory.
Leadership: Lab coordinators must be able to provide direction and guidance to laboratory staff, ensuring that tasks are completed accurately and within the given timeframe.
By listing the above skills on your resume, you will be able to demonstrate that you have the necessary qualifications to be a successful lab coordinator. With these skills, you will be able to provide the best services possible to the laboratory and its clients.
What skills should I put on my resume for Lab Coordinator?
When creating a resume for a lab coordinator position, it is important to include the necessary skills and qualifications that employers are looking for. As a lab coordinator, you will be responsible for conducting, monitoring, and evaluating laboratory research and ensuring the laboratory runs smoothly. Here are some essential skills that should be included on your lab coordinator resume:
Strong Organizational Skills: A lab coordinator must be able to effectively manage multiple tasks and prioritize projects. They must be able to create and maintain organized systems that ensure the lab is running efficiently.
Knowledge of Laboratory Procedures: As a lab coordinator, you must be knowledgeable about lab safety protocols, laboratory equipment and procedures, and regulatory guidelines.
Communication and Interpersonal Skills: As a lab coordinator, you must be able to effectively communicate with staff in the lab, as well as external personnel. You must also be able to work with a variety of people and personalities.
Problem-Solving Skills: A lab coordinator must have the ability to identify and solve problems that may arise in the lab. You must be able to work independently and be able to think critically and develop creative solutions.
Computer Literacy: A lab coordinator must have a working knowledge of computer programs and software, such as Microsoft Office and laboratory management systems. They must also be familiar with data analysis, spreadsheet creation, and presentation software.
Research Abilities: A lab coordinator must have the ability to conduct research and analyze data. They must also have the ability to interpret results and prepare reports.
These are the essential skills that should be included on your lab coordinator resume. With these skills, you will be well-equipped to take on the role of lab coordinator and ensure the laboratory is running efficiently and safely.
Key takeaways for an Lab Coordinator resume
When it comes to creating a resume for a job as a Lab Coordinator, there are certain key takeaways that can make the document stand out from the crowd. To ensure that your resume makes a positive impression, consider the following key takeaways.
First, it's important to emphasize your experience with lab operations and management. Include any relevant courses and certifications you may have taken to ensure that potential employers know that you are knowledgeable about laboratory safety protocols and procedures. Additionally, highlight any experience you may have had in supervising lab staff or leading laboratory projects.
Second, it's important to emphasize your ability to communicate effectively. As a Lab Coordinator, you'll need to be able to communicate with administrators and other lab personnel as well as scientists and technicians. Make sure to include any relevant experience with creating and delivering presentations, as well as your ability to effectively lead meetings and trainings.
Third, highlight your problem-solving skills. As a Lab Coordinator, you'll be responsible for ensuring that the lab runs smoothly and efficiently on a daily basis. This will require you to troubleshoot any issues quickly and effectively. Make sure to highlight any experience you may have had in problem-solving and dispute resolution.
Finally, it's important to emphasize your ability to stay organized and manage multiple tasks. As a Lab Coordinator, you'll be responsible for managing the workflow in the lab and ensuring that all tasks are completed in a timely manner. Make sure to include any experience you may have had in multitasking and setting priorities.
By following these key takeaways, you will be able to create a resume that stands out from the crowd and gets you noticed by potential employers. Good luck!
Let us help you build
your Resume!
Make your resume more organized and attractive with our Resume Builder