If you are a histotechnologist looking for a job, you have come to the right place. Writing a resume can be a daunting task, but with a few helpful tips and examples you can write a great resume that will help you stand out from the other applicants. This guide will provide you with tips on how to craft an effective histotechnologist resume and provide some examples to help you get started. By the end of this guide, you will have the knowledge and tools necessary to craft a resume that will help you land the job of your dreams.
If you didn't find what you were looking for, be sure to check out our complete library of resume examples.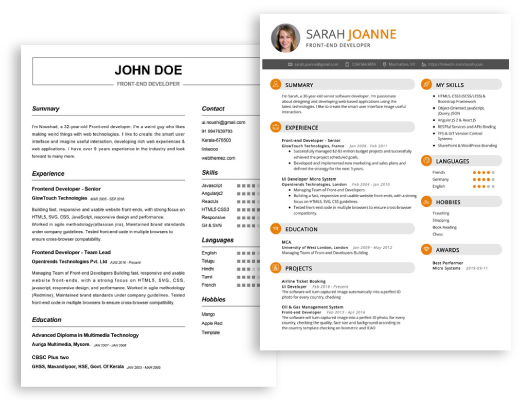 Start building your dream career today!
Create your professional resume in just 5 minutes with our easy-to-use resume builder!
Histotechnologist Resume Examples
John Doe
Histotechnologist
123 Main Street | Anytown, USA 99999 | Phone: (123) 456-7890 | Email: john.doe@email.com
Highly motivated and experienced Histotechnologist with over 10 years of experience in histology. Bringing expertise in tissue processing, embedding, sectioning, staining, and mounting. Proven track record of quality assurance, preparing and examining slides for microscopic examination. A passionate professional who is committed to increasing the success of the lab team and providing quality patient care.
Core Skills:
Tissue Processing
Embedding
Sectioning
Staining
Mounting
Quality Assurance
Microscopic Examination
Teamwork
Attention to Detail
Organizational Skills
Multitasking
Analysis
Professional Experience:
Histotechnologist, ABC Laboratory, 2014- present
Conducted tissue processing, embedding, sectioning, staining, and mounting on slides for microscopic examination
Involved in tissue sample collection and preservation
Performed quality assurance checks to ensure accuracy and reliability
Coordinated closely with lab technicians to coordinate workflow and maintain lab standards
Histology Technician, XYZ Hospital, 2011- 2014
Assisted with tissue processing, embedding, sectioning, staining, and mounting
Performed routine maintenance on laboratory equipment
Assisted with tissue sample collection and preservation
Conducted quality assurance checks
Education:
Bachelor of Science in Biology, ABC University, 2011
Histotechnologist Resume with No Experience
Recent medical laboratory science graduate looking to contribute knowledge and skills as a Histotechnologist. Detail- oriented and highly organized with a passion for helping others.
Skills
Familiarity with medical laboratory equipment, safety procedures, and laboratory testing protocols
Excellent attention to detail
Excellent communication and interpersonal skills
Strong organizational and record- keeping skills
Familiarity with laboratory technology and computing software
Ability to accurately interpret test results
Responsibilities
Cut, stain, and mount tissue specimens for microscopic examination
Perform routine laboratory tests and special stains to identify abnormal cells
Review and analyze results of laboratory tests
Maintain laboratory equipment and supplies
Ensure compliance with laboratory safety procedures and protocols
Maintain accurate records of laboratory tests and results
Histotechnologist Resume with 2 Years of Experience
Highly motivated and experienced Histotechnologist with 2 years of experience in sample preparation and analysis for diagnostic purposes, utilizing a variety of staining techniques. Experienced in providing tissue samples for pathologist testing, monitoring quality control protocols and ensuring laboratory safety and efficiency. Adept in maintaining accurate records and reports, as well as collaborating with a multidisciplinary team.
Core Skills:
Sample preparation and analysis
Staining techniques
Quality control protocols
Laboratory safety
Accurate record keeping
Team collaboration
Responsibilities:
Prepared tissue samples for pathologist testing, utilizing a variety of staining techniques
Monitored quality control protocols to ensure accuracy of slides and patient records
Ensured laboratory safety by monitoring and controlling the disposal of chemicals
Maintained accurate records and reports related to patient testing
Collaborated with a multidisciplinary team to ensure quality patient care
Provided technical support to pathologists and students in the laboratory
Histotechnologist Resume with 5 Years of Experience
A motivated and experienced Histotechnologist with 5 years of experience in the Laboratory Science field. Experienced in all aspects of histological sample preparation. Possess excellent communication and interpersonal skills, with a proven ability to work effectively both independently and in a team setting. Possesses the technical knowledge and ability to produce high- quality slides while meeting tight deadlines.
Core Skills:
Advanced knowledge of histological techniques and histology equipment
Excellent communication and customer service skills
Highly organized and detail- oriented
Ability to interpret histology results and analyze data
Proficient in the use of microscopes and other laboratory instruments
Able to work independently and with a team
Responsibilities:
Process and prepare histological samples for analysis
Perform microscopy and other laboratory tests
Record results accurately and accurately interpret data
Adhere to laboratory safety protocols at all times
Maintain accurate records of laboratory results
Perform quality control checks on samples and equipment
Coordinate with physicians and other medical staff for specimen collection and analysis
Train and mentor new laboratory personnel as required
Histotechnologist Resume with 7 Years of Experience
I am a certified histotechnologist with seven years of experience in the field. I possess strong analytical skills, technical expertise, and an in- depth knowledge of laboratory science. I have the ability to accurately prepare and analyze histologic specimens and cultures, perform complex laboratory procedures, and accurately maintain records of results. I am also well versed with current laboratory safety standards, protocols, and procedures. I am capable of troubleshooting and resolving various issues, while also keeping up with changing technologies in the field.
Core Skills:
Tissue analysis
Histology
Laboratory safety
Microscopy
Data management
Basic laboratory techniques
Specimen preparation
Logistical planning
Responsibilities:
Performing laboratory tests to identify, diagnose, and treat diseases
Examining specimen slides under the microscope
Recording, classifying, and interpreting results of laboratory tests
Assisting with basic bacteriology, hematology, and pathology procedures
Preparing cell blocks, paraffin sections, frozen sections, and other laboratory specimens for processing
Cleaning, sterilizing, and maintaining laboratory equipment
Adhering to laboratory protocols and safety standards
Maintaining detailed records of specimen collection and analysis
Histotechnologist Resume with 10 Years of Experience
Highly motivated and experienced Histotechnologist with ten years of experience in the medical field. A dedicated professional equipped with a broad level of knowledge in pathology, histology, and cytology, along with keen critical thinking, problem- solving, and communication skills. Quality- driven with expertise in tissue examination, laboratory testing, and cancer screening, as well as a passion for help others in need.
Core Skills:
Highly proficient with the use of microscope and related equipment
Familiar with medical safety standards and regulations
Knowledgeable in proper specimen collection procedures
Ability to perform detailed cytological and histological analysis
Talent for organization and multi- tasking
Excellent communication and interpersonal skills
Responsibilities:
Processing, cutting and staining of specimen slides
Maintaining laboratory equipment and instruments in accordance with safety protocols
Ensuring accuracy of laboratory results
Performing various laboratory tests and ensuring compliance with standards
Providing support to pathologists and other medical staff
Conducting tests on urine and tissue samples to detect the presence of cancerous cells
Histotechnologist Resume with 15 Years of Experience
A highly experienced and certified Histotechnologist with 15 years of experience in the field. Highly knowledgeable in a wide range of techniques related to tissue sectioning, staining, and identifying abnormal cell structure. A patient, focused, and reliable professional with a proven ability to carry out accurate and precise laboratory tests with a high level of technical and analytical skill. Possess excellent communication skills and a deep understanding of laboratory safety and regulatory standards.
Core Skills:
Expertise in tissue sectioning, staining, and identification of abnormal cell structure
Proven ability to perform accurate and precise laboratory tests with a high level of technical and analytical skills
Excellent communication skills and understanding of laboratory safety and regulatory standards
Proficiency with computers and laboratory software
Strong organizational and problem solving skills
Responsibilities:
Collecting and preparing tissue samples for various procedures
Processing and embedding samples for microtomy
Cutting and staining slides for microscopy
Identifying abnormal cell structure and performing immunohistochemistry on a routine basis
Quality assurance of laboratory results
Maintaining laboratory equipment and reagents
Performing routine laboratory maintenance and documentations as required
In addition to this, be sure to check out our resume templates, resume formats, cover letter examples, job description, and career advice pages for more helpful tips and advice.
What should be included in a Histotechnologist resume?
A histotechnologist resume is the first step towards getting into the field of histology. It should be tailored to highlight the skills and experience that are most relevant to a potential employer.
Here are some tips on what to include in your histotechnologist resume:
Contact information – Include your full name, current address, phone number, and email address.
Education – List any degrees and certifications related to histology, such as an Associate's degree in Medical Laboratory Technology or a certification in Histotechnician.
Work experience – List any relevant work experience in the field of histology, such as clinical laboratory assistant or histotechnician. Include the duration of the job, job title, and the duties that you performed.
Software and technology – Mention any software and technology experience relevant to histology, such as laboratory information systems or laboratory management systems.
Special skills – List any additional skills that may be helpful in performing histological tasks, such as laboratory safety procedures, tissue processing, and preparing slides.
Additional information – Include any additional information that you feel is relevant to the job, such as any volunteer work you have done or any awards or special recognition you have received.
By following these tips, you can ensure that your histotechnologist resume stands out from the competition and gives you the best chance of success in the field.
What is a good summary for a Histotechnologist resume?
A histotechnologist resume should provide a concise summary of your qualifications and experience related to the histology field. It should be tailored to the position you are applying for and highlight your relevant skills and expertise. Your summary should briefly explain your training and qualifications, experience level and professional achievements. This should be followed by a list of your core competencies, such as advanced knowledge of histology, laboratory organization, tissue preservation, production of slides and other related activities. You should also include any special skills you have, such as experience with immunohistochemistry, electron microscopy and other laboratory procedures. Finally, include a statement of your commitment to continuing your professional development and staying current with the latest technology and advancements in the field.
What is a good objective for a Histotechnologist resume?
A histotechnologist is a healthcare professional who performs laboratory tasks related to the preparation of tissue samples used in medical diagnosis. Writing an effective resume objective for a histotechnologist should explain how the applicant's education, qualifications, and experience make them a valuable asset to the employer.
Here are some examples of objectives for a histotechnologist resume:
To utilize my expertise in the histology field and excellent laboratory skills to provide accurate and reliable results for a respected healthcare organization.
To contribute my experience in laboratory testing and microscopy to a cutting-edge healthcare facility.
To apply my knowledge of histology and medical terminology to a progressive healthcare setting.
Seeking a Histotechnologist position in a challenging, fast-paced environment where I can utilize my expertise in tissue sectioning and embedding techniques.
To leverage my experience in the histology field and passion for scientific discovery to a forward-thinking healthcare organization.
Seeking to contribute my comprehensive knowledge of laboratory techniques and histology principles to a busy and productive healthcare environment.
How do you list Histotechnologist skills on a resume?
When writing a resume for a Histotechnologist, it is important to include a section that lists your skills. Doing so will help employers quickly understand your qualifications and make it easier for them to decide if you are the right fit for the position. Here are some tips for listing Histotechnologist skills on a resume:
Include comprehensive knowledge of histology techniques and procedures.
List experience with processing, embedding, cutting and staining tissue samples.
Highlight proficiency in preparing slides for examination.
Demonstrate knowledge of laboratory safety and quality control policies.
Demonstrate detail-oriented approach to work and recordkeeping.
Show proficiency in using laboratory equipment such as microscopes and automated staining systems.
Show familiarity with medical terminology and pathology lab protocols.
State any certifications or educational qualifications related to histotechnologist work.
What skills should I put on my resume for Histotechnologist?
When you're applying for a job as a Histotechnologist, it's important to make sure that you include the right skills on your resume. The skills you choose should demonstrate your ability to perform the job as well as show potential employers your qualifications and experience. Here are some of the skills and qualifications you should highlight on your resume:
Knowledge of histology and pathology laboratory techniques: Histotechnologists must have a strong knowledge of histology and pathology laboratory techniques and practices. This includes the ability to dissect, section, and evaluate tissue samples.
Laboratory safety protocols: Histotechnologists must also have a strong understanding of laboratory safety protocols and regulations to ensure the safety of both themselves and others in the lab.
Computer proficiency: Histotechnologists need to be proficient with computers, as they are often responsible for data entry and analysis of laboratory results.
Attention to detail: Histotechnologists need to have strong attention to detail in order to accurately interpret laboratory results and identify abnormalities.
Time management and organizational skills: Histotechnologists must be able to manage their time and organize their work in order to stay on top of their tasks and ensure that all lab results are accurate and up-to-date.
By highlighting these skills and qualifications on your resume, potential employers will be able to get a better understanding of your capabilities and experience as a Histotechnologist. Good luck!
Key takeaways for an Histotechnologist resume
When creating a resume as an Histotechnologist, there are several key takeaways to keep in mind.
First, highlight your knowledge and understanding of histology techniques and protocols. This should include everything from tissue processing, cutting and staining, to the use of various microscopes. Any experience you have in developing and maintaining laboratory safety procedures should also be included.
Second, emphasize the accuracy and attention to detail you bring to the role. Histology requires precision and accuracy in order to ensure accurate diagnoses and treatments. Make sure to note any time you have displayed these qualities in the workplace.
Third, demonstrate your ability to learn quickly and keep up with new technology. As an Histotechnologist, you will not only need to be able to learn new laboratory procedures and equipment, but also to stay up-to-date with the ever-evolving field.
Finally, showcase your leadership skills. Histology is often a team-based environment, so it's important to highlight your ability to lead and work with others.
By following these key takeaways, you can create a compelling resume that will show potential employers why you are the right fit for the job. With a well-crafted resume in hand, you'll be sure to stand out as an Histotechnologist.
Let us help you build
your Resume!
Make your resume more organized and attractive with our Resume Builder