Are you an ecologist seeking a new job opportunity? Crafting a resume to stand out among the competition can be a challenge. There are many different elements to consider when creating a resume, especially if you are looking to specialize in a specific field. This guide will provide tips and tricks for creating a resume that will help you get noticed by potential employers. Additionally, this guide provides examples of different sections of an ecologist resume and how they should be formatted. With these tips, you will be able to create a resume that will set you apart from the crowd.
If you didn't find what you were looking for, be sure to check out our complete library of resume examples.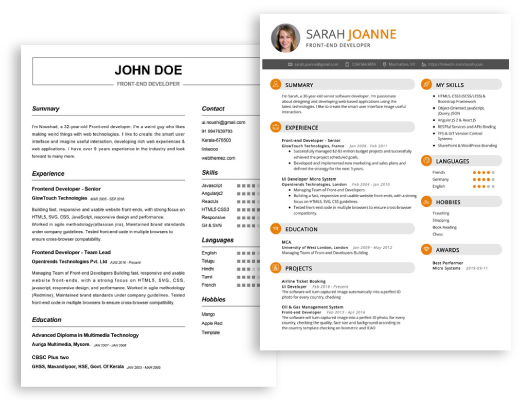 Start building your dream career today!
Create your professional resume in just 5 minutes with our easy-to-use resume builder!
Ecologist Resume Examples
John Doe
Ecologist
123 Main Street | Anytown, USA 99999 | Phone: (123) 456-7890 | Email: john.doe@email.com
I am an ecologist with five years of experience in managing, analyzing, and summarizing data from ecological studies. My expertise lies in developing, implementing, and executing best practices for assessing and monitoring the condition of ecosystems. I have led multiple field studies and contributed to several publications. My strong analytical, communication, and organizational skills allow me to excel in all aspects of ecologist duties.
Core Skills:
Proficient in statistical analysis and software for data collection and analysis
Expertise in ecological principles, data analysis techniques, and field sampling techniques
Strong organizational, written and oral communication skills
Experienced in leading field studies and collecting data from various field sites
Ability to interpret, analyze, and report data in a meaningful way
Professional Experience:
Ecologist, ABC Company, 2016 – Present
Responsible for the development, implementation, and execution of monitoring programs
Conducted field studies to collect data on environmental conditions
Analyzed and summarized data using statistical analysis and software
Drafted reports on the findings of studies and submitted it to stakeholders
Developed best practices for assessing and monitoring the condition of ecosystems
Education:
Bachelor of Science in Ecology, XYZ University, 2012 – 2016
Ecologist Resume with No Experience
Recent college graduate with a passion for the environment and a strong commitment to conservation. A highly motivated individual with strong communication and collaborative skills, eager to learn and develop in the field of ecology.
Skills
Scientific research and data analysis
Knowledge of ecological principles and processes
Good understanding of natural ecosystems
Excellent communication and interpersonal skills
Ability to work independently and in a team
Knowledge of environmental laws and regulations
Responsibilities
Conduct ecological field studies such as wildlife population surveys, vegetation assessments, and aquatic habitat assessments.
Collect, analyze, and interpret data on various aspects of ecosystems.
Prepare detailed ecological reports, including data analyses, maps, and recommendations.
Identify areas of ecological concern and develop plans for conservation and management.
Participate in public education and outreach activities to raise awareness of environmental issues and regulations.
Collaborate with environmental professionals and stakeholders to develop and implement environmental initiatives.
Ecologist Resume with 2 Years of Experience
A highly motivated and organized Ecologist with two years of experience in environmental management and habitat restoration. Expert in designing, developing and executing efficient strategies to mitigate the impact of human activities on the environment. Possess excellent data analysis skills and a knack for problem solving. Proven ability to work well in a team setting, build relationships and collaborate with people from diverse backgrounds.
Core Skills:
Environmental Management
Data Analysis
Project Management
Habitat Restoration
Problem Solving
Team Collaboration
Organizational Skills
Responsibilities:
Conducted environmental and ecological surveys in support of habitat restoration projects.
Analyzed data and developed reports for both stakeholders and regulatory agencies.
Prepared detailed plans for new projects, including cost and resource estimates.
Ensured compliance with all relevant environmental and regulatory standards.
Developed strategies to minimize the impact of human activities on the environment.
Provided technical advice and guidance on ecological matters to management.
Led teams of technicians and field staff in the implementation of habitat restoration projects.
Assisted in the development of outreach materials for public education and awareness programs.
Ecologist Resume with 5 Years of Experience
A highly motivated and detail- oriented ecologist with 5 years of experience in conducting ecological research and analysis. Adept at organizing large- scale projects, developing data- driven reports and collaborating with stakeholders to develop effective strategies that protect natural habitats and promote sustainable environmental practices. Possesses a strong commitment to environmental stewardship and demonstrates a deep knowledge of the scientific principles that underlie ecological research.
Core Skills:
Ecological Research
Data Analysis
Environmental Monitoring
Project Management
Data Collection and Reporting
Stakeholder Management
Problem- Solving
Risk Assessment
Responsibilities:
Develop data- driven reports to inform management decisions related to ecological research
Design and implement monitoring protocols to assess environmental conditions
Analyze data and identify patterns to inform management decisions
Develop and implement strategies to protect natural habitats and promote sustainable environmental practices
Collaborate with stakeholders to develop effective policies and management plans
Perform risk assessments to identify potential environmental impacts
Conduct field research to collect data and samples for analysis
Prepare reports and presentations for stakeholders and management teams
Maintain and update ecological databases and records
Ecologist Resume with 7 Years of Experience
I am an experienced ecological project manager with 7 years of experience in the field. I have a passion for protecting and preserving the environment as well as a strong understanding of the regulations governing the industry. My core skills include data analysis, GIS mapping, report writing, and project planning. I have a proven track record of coordinating successful projects and fostering strong relationships with stakeholders. I am highly organized, detail- oriented and capable of meeting tight deadlines.
Core Skills:
Data Analysis
GIS Mapping
Report Writing
Project Planning
Administrative Tasks
Problem Solving
Organizational Skills
Responsibilities:
Coordinate and manage ecological projects
Develop project plans and objectives
Analyze data and create GIS maps
Prepare reports and presentations
Provide support to stakeholders
Maintain a high level of safety and compliance
Develop risk assessment strategies
Identify potential environmental hazards
Monitor project progress and adjust as needed
Train and mentor new staff members
Liaise with government agencies, landowners and other stakeholders
Ecologist Resume with 10 Years of Experience
I am an experienced Ecologist with 10 years of experience in conservation, habitat restoration, wildlife management, and land stewardship. My experience includes a wide range of ecological duties, from developing management plans to monitoring wildlife habitat. I am highly knowledgeable in environmental regulations, conservation techniques, and environmental education. My expertise in the field has enabled me to make significant contributions to the preservation of our natural resources, and I am dedicated to protecting ecosystems and promoting sustainable practices.
Core Skills:
Wildlife and Natural Resources Management
Environmental Regulations and Compliance
Data Analysis and Reporting
Project Management and Implementation
Environmental Education and Outreach
Collaborative and Interdisciplinary Problem- Solving
Responsibilities:
Analyzing and interpreting environmental data,
Designing and implementing management plans,
Monitoring and evaluating habitat quality,
Developing and documenting conservation strategies,
Educating and informing the public on conservation issues,
Collaborating with other organizations to protect and restore ecosystems,
Assisting with grant writing and fundraising activities,
Developing and maintaining relationships with partners,
Creating and presenting educational materials on environmental topics.
Ecologist Resume with 15 Years of Experience
Experienced ecologist with 15 years of experience in environmental science and sustainability. Possesses a strong background in the natural sciences, including a Ph.D. in Ecology and Evolutionary Biology. Skilled in conducting research, educating students, and managing environmental projects. Committed to working to ensure the sustainability of our environment for future generations.
Core Skills:
Research Analysis
Data Collection & Management
Environmental Conservation
Risk Management
Environmental Policy Creation
Project Management
Public Speaking
Responsibilities:
Developing, implementing, and managing environmental projects.
Monitoring environmental data and analyzing results.
Performing risk assessment analyses to ensure compliance with environmental regulations.
Developing and creating environmental policy initiatives.
Educating students on environmental science and conservation.
Collaborating with other scientists in the design and application of research projects.
Presenting research findings to conferences and other stakeholders.
In addition to this, be sure to check out our resume templates, resume formats, cover letter examples, job description, and career advice pages for more helpful tips and advice.
What should be included in a Ecologist resume?
A resume is an important part of the job search process, and it should be tailored to fit the job you are applying for. If you are an ecologist, your resume should stand out and showcase your expertise and experience within the field. Here are some of the important elements that should be included in an ecologist resume:
Education: Include your qualifications, such as any degrees or certifications you possess, as well as any specialized training or workshops you have attended in the field of ecology.
Work History: List any relevant work experience that showcases your skills as an ecologist. Include the job title, name of the employer, your job duties and responsibilities, and any accomplishments you achieved in the role.
Skills: Highlight any key skills you have that are relevant to the job you are applying for. This could include data analysis, field work, project management, research, communication and report writing.
Awards and Publications: If you have been recognized for your work or have published any papers, you should include these on your resume. These will set you apart from other candidates and showcase your knowledge and expertise in the field of ecology.
Volunteer Experience: If you have done any volunteer work or part-time work related to ecology, make sure to include it on your resume. This will demonstrate to employers that you are passionate about the field, and that you are willing to go the extra mile to further your knowledge and experience.
By including all of these elements on your resume, you will be sure to make a good impression with potential employers. Make sure to tailor your resume to the job you are applying for and highlight any skills and experience that are relevant to the role. Good luck with your job search!
What is a good summary for a Ecologist resume?
A summary for an Ecologist resume should provide a brief overview of the applicant's qualifications and experience related to ecology. The summary should highlight the applicant's core competencies, such as expertise in environmental assessment and monitoring, GIS mapping, wetland restoration, plant and wildlife management, and soil and water conservation. Additionally, the summary should mention any related certifications or degrees the applicant holds, and any relevant volunteer or research experiences. Overall, the summary should showcase the applicant's skills, accomplishments, and experiences that make them an ideal candidate for the position.
What is a good objective for a Ecologist resume?
A ecologist is a scientist who studies the relationship between organisms and the environment. When crafting a ecologist resume, it is important to emphasize the necessary skills and experiences that make you a qualified candidate. A good objective for a ecologist resume should highlight your background and experience in the subject matter as well as identify the specific skill sets that make you a qualified candidate for the job.
Here are some examples of good objectives for a ecologist resume:
Experienced ecologist with five years of research and field experience in ecological studies, seeking a position that utilizes my knowledge and experience to help conserve natural resources.
Dedicated ecologist with a master's degree in conservation biology and a passion for preserving nature, looking to join an organization that values sustainability.
Passionate ecologist with a background in ecological research, looking to apply my knowledge and experience to a role that focuses on species conservation.
Detail-oriented ecologist with strong knowledge of ecological research methods, looking to join a team that values data-driven decision-making.
Knowledgeable ecologist with expertise in environmental analysis, looking to join a team that works to protect and preserve the environment.
How do you list Ecologist skills on a resume?
When creating a resume, it can be difficult to know how to best highlight your skills as an ecologist. Ecologists are experts in studying and understanding the environment, and their skills are invaluable in helping protect and preserve our planet. If you are an ecologist looking for job opportunities, here are some tips for how to list your ecologist skills on a resume.
Include a skills section. This section should be prominently displayed on your resume, generally near the top of the page. In this section you can list any relevant ecologist skills, such as environmental analysis, environmental conservation strategies, and wildlife management.
Describe specific projects you've completed. In your work experience section, be sure to include any projects you've completed that demonstrate your ecologist skills. For example, you might mention special research projects you've conducted, or specific conservation initiatives you've been involved in.
Quantify your achievements. Whenever possible, provide concrete numbers and results to demonstrate the impact of your ecologist work. For example, you might mention the number of acres of land you've helped to conserve or the number of species you've studied.
Highlight any certifications or awards. If you have any certifications or awards related to your field, be sure to list them on your resume. This will show employers that you are knowledgeable and experienced in your field.
By following these tips, you can effectively showcase your ecologist skills on your resume. This will help you stand out from other applicants and demonstrate to potential employers that you are the perfect candidate for the job.
What skills should I put on my resume for Ecologist?
When it comes to creating a resume for a career as an Ecologist, it is important to highlight the skills that demonstrate you have the knowledge and experience to do the job. Here are some of the key skills you should include on your resume:
Scientific Skills: Ecologists must have a deep understanding of the natural environment, the ecosystems and the organisms that inhabit it. They must be able to analyze data, interpret results, and apply their findings in their work.
Research Skills: Ecologists must be able to conduct and evaluate research in a variety of settings. They must be able to collect, document, and analyze data and observations.
Communication Skills: Ecologists must be able to effectively communicate their findings and observations to colleagues, stakeholders, and colleagues. They must be able to articulate their research and findings in a clear, concise manner.
Teamwork: Ecologists must be able to work collaboratively with other professionals, such as biologists, chemists, and engineers. They must be able to work productively in a team environment.
Problem-Solving: Ecologists must be able to identify problems, develop solutions, and implement solutions that address environmental issues.
Organizational Skills: Ecologists must be able to plan, organize, and execute projects effectively. They must be able to manage their time and resources efficiently.
Computer Skills: Ecologists must be able to use a variety of software applications and databases, and be comfortable working with hardware and technology.
Including these skills on your resume will show employers that you have the skills and experience necessary to be a successful Ecologist.
Key takeaways for an Ecologist resume
The world of ecology is a broad one and requires a deep understanding of the environment and the natural world. An ecologist's resume should reflect their knowledge and experience to highlight their relevant skills and qualifications. There are many key takeaways to consider when crafting an effective ecologist resume.
Demonstrate Your Knowledge of Ecology: The purpose of any resume is to showcase your skills and qualifications, and for ecologists, this means demonstrating your knowledge of ecology and the environment. Include relevant courses or certifications that demonstrate your proficiency in the field.
Highlight Your Skills: In addition to demonstrating your knowledge of ecology, be sure to highlight your skills that make you an effective ecologist. Include any research, field studies, or other activities that helped you hone your skills.
Describe Your Work Experience: Include any professional or volunteer experience related to ecology, including internships, research projects, fieldwork, and other activities. Describe the work you did and the results achieved.
List Your Outreach Activities: If you've participated in any outreach or education activities, such as giving lectures or leading workshops, include these experiences in your resume. This will demonstrate your ability to communicate and educate others on ecological topics.
Showcase Your Achievements: Include any awards or recognitions you've received related to ecology or the environment. This will demonstrate your commitment to the field and your success in it.
By following these key takeaways, you can create an effective resume that showcases your knowledge, skills, and experience in the field of ecology.