Having a great resume is essential for any job role, but it's especially important if you're looking to land a job as a biostatistician. This technical, highly specific field requires a deep understanding of data analysis and statistics, so you need a resume that reflects that expertise. To help you get started, this blog post provides a comprehensive guide to how to craft a biostatistician resume. It includes tips, examples, and guidelines to make sure that your resume is up to the task and stands out from the competition. With the help of this guide, you can create a resume that will show potential employers why you're the best candidate for the job.
If you didn't find what you were looking for, be sure to check out our complete library of resume examples.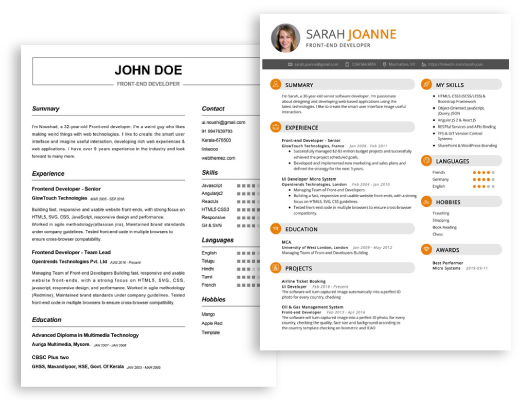 Start building your dream career today!
Create your professional resume in just 5 minutes with our easy-to-use resume builder!
Biostatistician Resume Examples
John Doe
Biostatistician
123 Main Street | Anytown, USA 99999 | Phone: (123) 456-7890 | Email: john.doe@email.com
I am an experienced biostatistician who specializes in the design and analysis of clinical research studies. I have a strong background in mathematical and statistical analysis, and have worked on a wide variety of projects, from large- scale clinical studies to small scale exploratory studies. I am adept at using a variety of software programs to analyze and interpret data, and am experienced in using electronic medical records to collect and analyze patient data. I am detail- oriented and take pride in producing high- quality data and results.
Core Skills:
Statistical Analysis
Data Mining and Interpretation
Designing Experiments
Electronic Medical Records
Statistical Software Programs
Quality Assurance
Professional Experience:
Senior Biostatistician, Medtronic Inc., 2016- present
Developed and implemented statistical analysis plans for several clinical trials
Led data mining and analysis projects to assess the efficacy of medical treatments
Developed statistical software programs to aid in the analysis of clinical data
Developed quality assurance plans and processes to ensure accuracy and consistency in patient data
Biostatistician, GlaxoSmithKline, 2012- 2016
Designed and implemented clinical studies with associated statistical tests
Collected and analyzed patient data using electronic medical records
Participated in the development of a range of statistical software programs
Education:
MS in Biostatistics, University of California Los Angeles, 2011
BS in Mathematics and Statistics, University of California Los Angeles, 2009
Biostatistician Resume with No Experience
Recent graduate with a Master's in Biostatistics seeking to gain experience in the field of biostatistics.
Analytical and detail- oriented with strong problem solving and research skills.
Eager to apply theoretical and practical knowledge to real- life problems in the healthcare field.
Skills
Statistical programming languages (R, SAS, SPSS)
Data collection and analysis
Data visualization and interpretation
Mathematical and quantitative modeling
Data mining
Statistical hypothesis testing
Responsibilities
Collaborate with researchers to develop data- driven solutions to complex statistical problems.
Organize and analyze data to identify trends and patterns.
Develop and apply data mining algorithms for predictive modeling.
Design experiments and identify appropriate statistical tests for hypothesis testing.
Interpret results, generate reports, and present findings to project stakeholders.
Biostatistician Resume with 2 Years of Experience
Dynamic and tenacious biostatistician with 2+ years of experience in data analysis, data modeling, medical research, and statistical computing. Detail- oriented and with excellent problem- solving skills, I possess the ability to develop meaningful insights from large datasets and deliver valuable results. I'm committed to providing the highest quality of service and can collaborate with cross- functional teams to ensure that all projects are completed efficiently and effectively.
Core Skills:
Data Analysis
Statistical Computing
Medical Research
Data Modeling
Project Management
Quality Assurance
Time Management
Cross- Functional Collaboration
Responsibilities:
Conducted high- level statistical analysis of complex datasets utilizing advanced tools and techniques
Developed and implemented data models to mine meaningful insights from raw and existing data
Led medical research projects and managed timelines while meeting all quality assurance standards
Coordinated with cross- functional teams to ensure project milestones and timelines were met
Developed statistical models and algorithms to identify patterns and trends in large datasets
Utilized data visualization methods to present findings in meaningful formats for various stakeholders
Provided guidance and expertise in statistics and data analysis to cross- functional teams
Developed and maintained detailed documentation of all research and statistical analysis processes
Biostatistician Resume with 5 Years of Experience
I am a highly motivated and experienced Biostatistician with 5 years of experience in the field. I have a strong background in data analysis and data management with extensive experience in the application of biostatistical methods for researching, designing, and analyzing clinical studies. I have a deep understanding of a variety of statistical packages and software and am experienced in the analysis of complex data. I am highly organized, analytical, and detail- oriented and excel in providing high- quality service to clients.
Core Skills:
Advanced knowledge of statistical methods
Proficient in data analysis and management
Ability to develop and maintain databases
Excellent communication and problem- solving skills
Organized and detail- oriented
Excellent analytical, research and writing skills
Responsibilities:
Analyze and interpret clinical data
Develop and maintain databases
Implement statistical methods to analyze clinical data
Design experiments, collect and interpret data
Prepare presentations and reports to communicate research results
Collaborate with other teams and researchers to design and complete projects
Conduct research to identify statistical trends and patterns
Provide insight and recommendations for clinical studies
Biostatistician Resume with 7 Years of Experience
An innovative and passionate Biostatistician with seven years of experience in the field of biostatistics. A committed professional with an extensive background in analyzing large data sets, drawing insights, and developing strategies for various research projects. Proven ability to work in collaboration with internal teams and external stakeholders to deliver high- quality and meaningful results efficiently.
Core Skills:
Advanced knowledge of statistical computations and software, such as SPSS, SAS, STATA and R
Strong understanding of research design and health outcomes
Excellent written and verbal communication skills
Proficient in data mining and data manipulation
Proficient in developing and implementing statistical models
Responsibilities:
Develop and analyze study protocols and develop methods for data collection and analysis
Conduct statistical analyses of data to generate reports and interpretations
Interpret and summarize research findings and create visual representations of data
Provide expertise in study design and statistical methods to investigators and other research staff
Collaborate with internal and external stakeholders to develop study plans and protocols
Develop statistical programs to evaluate data and produce results and reports
Biostatistician Resume with 10 Years of Experience
I am an experienced Biostatistician with 10 years of experience in data analysis, research, and report writing. I have accumulated extensive experience in data management and statistical modeling, along with experience in conducting data collection and statistical analysis as well as developing research plans. I am well- versed in performing statistical analysis for clinical studies, translating results into meaningful outputs, and creating and delivering presentations for data. I also have experience in creating reports, analyzing data from various sources, cleaning data, and creating data visualizations.
Core Skills:
Data Analysis
Data Visualization
Statistical Modeling
Research
Data Cleaning
Data Collection
Report Writing
Scientific Writing
Data Management
Responsibilities:
Develop and manage research plans and related documents.
Analyze research data using a variety of statistical models.
Perform statistical analysis of clinical studies and translate results into meaningful outputs.
Prepare, write and present reports on data analysis.
Analyze data from various sources such as surveys, polls and surveys.
Clean and format data, ensuring accuracy and completeness.
Create data visualizations, such as graphs and tables.
Write scientific papers and articles.
Provide technical guidance and direction to research teams.
Biostatistician Resume with 15 Years of Experience
A highly experienced and reputable Biostatistician with over 15 years of experience providing comprehensive statistical and data analysis services to a variety of clients. Adept at designing and developing statistical models and software, summarizing and presenting data and conducting tests to validate findings. Experienced in applying cutting edge statistical research to solve complex problems, leveraging the latest technologies to optimize performance and accuracy. Exceptional customer service and communications skills to provide guidance and consultation on data analytics and interpretation.
Core Skills:
Statistical Modeling and Simulation
Research Design and Data Collection
Data Analysis and Interpretation
Statistical Software Programming
Advanced Statistical Methods
Problem Solving and Decision Making
Technical Report Writing
Project Management
Responsibilities:
Developed innovative statistical models and software to analyze and interpret data
Collaborated with field experts to design and implement research projects
Collected and summarized data to generate meaningful results
Analyzed results to identify trends and made appropriate recommendations
Tested findings to assure accuracy and reliability
Assisted in the design of experiments, surveys and studies
Developed and maintained databases to store data
Prepared detailed technical reports to communicate findings
Managed multiple projects and prioritized tasks to meet objectives
In addition to this, be sure to check out our resume templates, resume formats, cover letter examples, job description, and career advice pages for more helpful tips and advice.
What should be included in a Biostatistician resume?
A strong biostatistician resume should include the following:
Education: Outline your academic background and any relevant certificates or credentials.
Professional Experience: List all relevant professional experience, including job titles, dates, and a description of your responsibilities.
Skills: Highlight any technical skills related to biostatistics, as well as any other applicable skills such as programming or data analysis.
Projects: Describe any independent or collaborative projects you've worked on related to biostatistics.
Publications: Include any articles or papers you've published related to biostatistics or other relevant topics.
Awards and Recognition: Mention any awards or acknowledgements you've received for biostatistics-related work.
Additional Information: If you have any other qualifications that may be pertinent to a biostatistician role, such as fluency in a certain language or experience with a certain software, include them here.
What is a good summary for a Biostatistician resume?
A good summary for a biostatistician resume should emphasize the candidate's ability to use statistics to analyze data and draw conclusions. It should also highlight the candidate's experience with statistical software, database systems, and data visualization techniques. Finally, the summary should demonstrate the candidate's ability to communicate complex findings in a clear and concise manner. By emphasizing these key skills, a biostatistician resume summary will showcase the candidate's abilities and help them stand out from the competition.
What is a good objective for a Biostatistician resume?
A biostatistician resume should focus on the applicant's credentials and career objectives. It should be concise and to the point, and should include information that is relevant to the position applied for. The objective should be clear, concise, and demonstrate the candidate's ability to contribute to the success of the organization.
To obtain a position as a Biostatistician where I can use my extensive statistical and analytical skills to provide valuable insights and help inform decision-makers
To use my knowledge and expertise in biostatistics to help organizations achieve their goals
To apply my experience in data analysis and research to develop efficient strategies and make data-driven decisions
To collaborate with other professionals to create innovative solutions and analyze complex data sets
To contribute to the development of new methodologies and approaches to data analysis
To leverage my experience in statistical programming and data analysis to provide efficient insights and improve research outcomes
How do you list Biostatistician skills on a resume?
Biostatisticians are essential to any medical research team as they use mathematics, statistics and computer software to solve medical problems. Employers are looking for candidates with the right skills, so it's important to list your biostatistician skills accurately and effectively on your resume.
Comprehensive knowledge of biostatistical theory, practice and methodology
Strong research and problem-solving abilities
Ability to interpret and analyze data
Proficiency in Excel, SAS, STATA and other statistical software programs
Familiarity with statistical modelling and predictive modelling
Excellent communication and presentation skills
Ability to work independently or in a team
Ability to manage multiple projects
Good understanding of medical terminology and concepts
What skills should I put on my resume for Biostatistician?
A Biostatistician is a professional who specializes in the craft of statistical analysis and data management in the field of healthcare. They use their expertise to analyze data and health trends, creating reporting structures to inform decision-making. When writing a resume for a career in biostatistics, it is important to highlight the skills necessary to succeed in this field. Here is a list of key skills to include in your resume for a biostatistician position:
Proficiency in statistical software: As a Biostatistician, you will be required to be proficient in several statistical software applications. These may include SAS, STATA, SPSS, R, or Microsoft Excel.
Analytical and problem-solving skills: You will need to be able to extract actionable insights from data while using creative and critical thinking skills.
Mathematical and data analysis skills: You will be responsible for developing and interpreting data models and interpreting statistical results.
Data visualization: You must be able to present data clearly and convincingly, using graphical displays and other visualization methods.
Written and verbal communication skills: A Biostatistician must be able to effectively communicate their findings to colleagues, clients, and other stakeholders.
Medical knowledge: You should be familiar with medical terminology and have a strong understanding of clinical and healthcare processes.
By including these skills in your resume, you can show potential employers that you are qualified for a Biostatistician position. With the right skillset and a bit of ambition, you can reach success in this field.
Key takeaways for an Biostatistician resume
Writing a resume can be an overwhelming and intimidating task, especially when trying to present oneself in the best possible light for a career like a biostatistician. However, with the right tips and tricks, one can create a great resume that stands out from the rest and will get the attention of potential employers.
To help you on your way to creating a resume that will get you noticed, here are some key takeaways for a biostatistician resume:
Highlight Your Relevant Education: Your education is key in a field like biostatistics, so make sure to showcase your educational background prominently. Include any relevant certifications or degrees, such as a Master's or PhD in biostatistics, that you have earned.
Showcase Your Technical Proficiency: As a biostatistician, you'll need to demonstrate a strong understanding of technical skills. Showcase your mastery of statistical software, such as SAS or SPSS, as well as your ability to work with large datasets.
Demonstrate Communication and Analytical Skills: Biostatisticians need to be able to communicate their findings effectively. Showcase your strong written and verbal communication skills, as well as your ability to interpret and analyze data.
Describe Your Past Experience: If you have past experience as a biostatistician, share it. List any projects you have worked on and the results you achieved.
Include Any Relevant Publications: If you have published any papers or reports in the field, include them in your resume. This will show employers that you have an active engagement with the field.
By following these tips, you can create a resume that will stand out and help you to land the job as a biostatistician. Good luck!
Let us help you build
your Resume!
Make your resume more organized and attractive with our Resume Builder