Writing a quality resume for the position of a biology lab assistant can be a challenging task. After all, you have to create a document that showcases your qualifications and experience in a way that is both professional and unique. Fortunately, this guide will provide you with some easy-to-follow tips for constructing an effective biology lab assistant resume that will help you get the job you're after. We'll also provide some examples of effective resumes that you can use as a starting point. With the right guidance, creating an impressive resume will be an easy and stress-free process.
If you didn't find what you were looking for, be sure to check out our complete library of resume examples.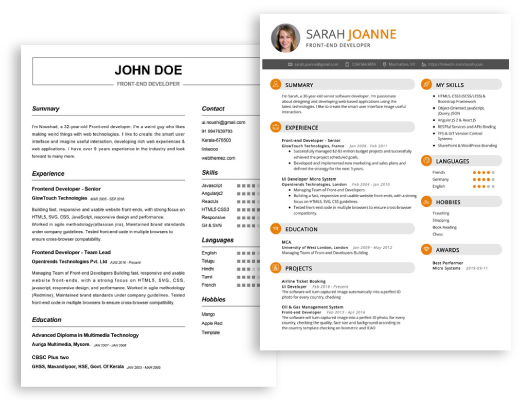 Start building your dream career today!
Create your professional resume in just 5 minutes with our easy-to-use resume builder!
Biology Lab Assistant Resume Examples
John Doe
Biology Lab Assistant
123 Main Street | Anytown, USA 99999 | Phone: (123) 456-7890 | Email: john.doe@email.com
I am an experienced and motivated Biology Lab Assistant with a background in performing lab experiments, handling laboratory equipment, and providing support to researchers. I have experience with troubleshooting laboratory instruments, maintaining lab supplies, and providing administrative support. I am knowledgeable of various lab techniques and possess excellent communication and problem- solving skills. With my aptitude for scientific research and commitment to excellence, I am confident that I am the best candidate for the role.
Core Skills:
Lab Experiments
Troubleshooting Lab Instruments
Maintaining Lab Supplies
Providing Administrative Support
Excellent Communication Skills
Problem- Solving Skills
Scientific Research
Commitment to Excellence
Professional Experience:
Biology Lab Assistant, XYZ Research Institute, NY (2019- Present)
Perform lab experiments and document results
Troubleshoot and maintain laboratory instruments
Stock, organize, and update laboratory supplies
Assist in data entry and administrative tasks
Ensure that all safety protocols are followed in the lab
Assist in the preparation of research papers and scientific presentations
Education:
Bachelor of Science in Biology, ABC University, NY (2015- 2019)
Associate of Science in Biology, XYZ College, NY (2013- 2015)
Biology Lab Assistant Resume with No Experience
Recently graduated Biology major with a strong interest in laboratory assistance and research. Possesses an eagerness to learn and gain new skills and knowledge in the field of Biology.
Skills:
Excellent communication and interpersonal skills
Adaptable to different work environments
Detail- oriented and organized
Proficient in Microsoft Office
Knowledgeable in Biology and related fields
Responsibilities:
Assist with laboratory experiments
Maintain and organize laboratory equipment
Prepare and dispose of hazardous materials
Maintain laboratory records and logbooks
Monitor safety protocols and procedures
Follow laboratory protocols and procedures
Other general laboratory and administrative duties
Biology Lab Assistant Resume with 2 Years of Experience
Motivated and reliable Biology Lab Assistant with 2 years of experience offering expertise in biological laboratory research and specimen analysis. Skilled in collecting, organizing, and analyzing data. Proficient in the use of various laboratory equipment, as well as in data entry, data analysis, and lab maintenance. Experienced in maintaining detailed records of specimens and experiments. A team player with excellent communication skills and an unwavering commitment to effective collaboration.
Core Skills:
Laboratory maintenance
Data entry
Data analysis
Specimen analysis
Use of laboratory equipment
Documentation of experiments
Communication
Collaboration
Responsibilities:
Maintaining a clean, organized, and well- stocked laboratory
Setting up equipment for laboratory tests and experiments
Recording and analyzing data from laboratory tests
Preparing samples and specimens for testing
Utilizing various laboratory equipment and technologies to complete tasks
Ensuring accuracy of results by validating data
Documenting experiments, findings, and data
Summarizing and reporting findings to supervisor or manager
Biology Lab Assistant Resume with 5 Years of Experience
Experienced and hardworking Biology Lab Assistant with five years of hands- on experience in support of research in biological and medical lab settings. Possesses excellent knowledge of laboratory processes and protocols. Adept at laboratory safety and maintaining a clean and organized environment. Experience in performing a variety of laboratory testing, including analyzing and evaluating samples.
Core Skills:
Organizational and Time Management
Data Entry and Record Keeping
Lab Equipment Operation and Maintenance
Lab Sample Collection and Analysis
Laboratory Safety
Written and Oral Communication
Responsibilities:
Performed tests and experiments following established protocols and standards.
Maintained laboratory equipment and supplies to ensure safe and efficient laboratory operations.
Collected, labeled, and analyzed laboratory samples, including blood, urine, and tissue specimens.
Recorded, transcribed, and analyzed data, ensuring accuracy and completeness.
Ensured safety in the laboratory by following safety procedures and protocols.
Provided technical assistance to research personnel and students in the laboratory.
Conducted experiments and provided support services to the laboratory research staff.
Reported results of laboratory tests, experiments, and analyses to the laboratory chief.
Biology Lab Assistant Resume with 7 Years of Experience
I have 7 years of experience as a Biology Lab Assistant, working in both academic and research settings. I have a strong background in developing and executing experiments, analyzing data, and preparing reports. I have excellent organizational and problem- solving skills, as well as the ability to efficiently manage multiple projects and deadlines while working in a team environment. I am enthusiastic, highly motivated, and have a passion for science.
Core Skills:
Ability to develop and execute experiments
Proficient in data analysis
Organizational and problem- solving skills
Ability to manage multiple projects and deadlines
Excellent written and verbal communication skills
Proficient in using various laboratory equipment
Strong knowledge of biology and associated laboratory techniques
Responsibilities:
Assisting with the setup and execution of scientific experiments
Preparing and maintaining laboratory materials, equipment, and supplies
Collecting, organizing, and analyzing data
Preparing and interpreting reports
Assisting in the development of new laboratory protocols
Collaborating with research teams on projects
Ensuring safety and cleanliness of the laboratory
Biology Lab Assistant Resume with 10 Years of Experience
Biology Lab Assistant with 10 years of experience organizing, preparing and maintaining a variety of equipment and supplies for advanced biological research laboratories. Experienced in following safety protocols and ensuring accurate results in a timely manner. Skilled in leading multiple projects and meeting deadlines in a fast- paced environment.
Core Skills:
Organizing and maintaining laboratory equipment and supplies
Managing data records and reports
Adhering to safety protocols
Performing laboratory procedures
Excellent problem- solving skills
Organizing and leading multiple projects
Compiling and analyzing results
Providing technical support
Responsibilities:
Preparing and maintaining laboratory equipment and supplies
Ensuring all safety protocols are followed
Performing a variety of laboratory procedures
Collecting, compiling and analyzing data
Producing and maintaining data records and reports
Organizing and leading multiple projects
Troubleshooting and resolving technical issues
Assisting research staff with data analysis and other tasks as needed
Biology Lab Assistant Resume with 15 Years of Experience
I am an experienced Biology Lab Assistant with 15 years of experience in laboratory operations. I have expertise in preparing and analyzing specimens, organizing equipment and materials, and setting up laboratory experiments. I am proficient in performing DNA extractions, setting up PCR reactions, measuring and analyzing results, and troubleshooting laboratory tests. I have strong technical skills in molecular biology, biochemistry, and microbiology, as well as excellent critical thinking, problem solving, and communication abilities. My background ensures that I am able to efficiently and accurately support the goals of any biology laboratory.
Core Skills:
Laboratory operations
DNA extraction
PCR setup
Analyzing results
Troubleshooting
Critical thinking
Problem solving
Molecular biology
Biochemistry
Microbiology
Responsibilities:
Prepare and analyze specimens
Organize equipment and materials
Set up laboratory experiments
Perform DNA extractions
Set up PCR reactions
Measure and analyze results
Troubleshoot laboratory tests
Maintain laboratory inventories
Create and maintain laboratory records
Conduct laboratory safety checks
Make recommendations for laboratory improvements
In addition to this, be sure to check out our resume templates, resume formats, cover letter examples, job description, and career advice pages for more helpful tips and advice.
What should be included in a Biology Lab Assistant resume?
A biology lab assistant is a key position in any laboratory, and having the right resume is essential to getting the job. When crafting a biology lab assistant resume, it is important to include certain areas that will show potential employers that you are qualified for the position.
Education: Be sure to include any post secondary education that you've completed, including degrees, certificates, and diplomas.
Experience: Your experience should include any previous laboratory experience that you've had. If you've held any other positions that have helped you to develop skills that are relevant to the position of a biology lab assistant, be sure to include those as well.
Skills: List any relevant skills that you have that are specific to the position of a biology lab assistant. This could include laboratory techniques, knowledge of laboratory equipment, or experience with research methods.
Professional Development: If you have participated in any professional development activities, such as workshops or conferences, be sure to include them in your resume.
Certifications: If you hold any certifications related to the field of biology, such as a Certified Laboratory Technician, be sure to include this in your resume.
By including these key areas in your biology lab assistant resume, you can be sure that potential employers will be able to see that you have the experience and qualifications necessary for the position.
What is a good summary for a Biology Lab Assistant resume?
A Biology Lab Assistant resume should highlight the applicant's experience and education, as well as their technical skills. The summary should include any relevant lab experience, such as assisting in experiments, performing lab tests, and compiling data. It should also emphasize skills related to the lab such as attention to detail, ability to follow instructions, and knowledge of laboratory safety protocols. Additionally, the summary should highlight any qualifications in the sciences, such as experience working with specialized equipment, experience with biological organisms, and any relevant certifications. Finally, the summary should emphasize the applicant's enthusiasm for the field of biology and their eagerness to contribute to the lab environment.
What is a good objective for a Biology Lab Assistant resume?
A Biology Lab Assistant resume should focus on the skills and experience required for the position, as well as the applicant's ability to provide support for research activities in a laboratory environment. Here are some objectives for a Biology Lab Assistant resume:
Provide assistance to laboratory researchers in planning, conducting, and analyzing experiments
Maintain laboratory equipment, materials, and supplies
Work collaboratively with research groups to ensure that experiments are conducted safely and efficiently
Follow standard operating procedures (SOPs) to ensure that experiments are conducted in accordance with safety and ethical guidelines
Investigate new techniques and technologies to improve the efficiency and accuracy of experiments
Prepare reports and presentations to summarize experimental results
Monitor laboratory environment and ensure safety protocols are followed
How do you list Biology Lab Assistant skills on a resume?
Having lab assistant experience is a great asset to include on your resume, as it indicates a knowledge of laboratory procedures and the ability to work with various laboratory equipment. When writing your resume, make sure to list all of the lab assistant skills you possess that are relevant to the job you are applying for.
Here are some skills to include in your resume when listing your Biology Lab Assistant skills:
Knowledge of laboratory safety procedures and use of safety equipment
Ability to follow lab protocols and procedures
Proficiency in the use of lab equipment such as microscopes, pipettes and centrifuges
Experience with aseptic techniques and sterile protocols
Ability to properly document and record data
Familiarity with chemistry and biology principles
Competence in the preparation of reagents, buffers and media
Knowledge of standard laboratory techniques such as centrifugation, chromatography, and electrophoresis
Good communication and organizational skills
Attention to detail and ability to work independently
What skills should I put on my resume for Biology Lab Assistant?
Biology Lab Assistant positions require a wide range of skills, both technical and practical, to be successful. When writing a resume for this type of job, be sure to highlight the following skills:
Ability to follow instructions: Being able to understand and execute the instructions given by a lab supervisor or professor will ensure the quality and accuracy of the work.
Attention to detail: Lab assistants must have an eye for detail and accuracy when completing tasks in the lab.
Technical proficiency: Having knowledge of operating and troubleshooting lab equipment, such as microscopes and centrifuges, is a necessary skill for any lab assistant.
Scientific writing: Strong written communication skills are essential in the lab, as lab assistants must be able to document their work and findings clearly and accurately.
Organizational skills: Lab assistants must be able to effectively organize the lab environment and prioritize tasks to ensure the safety and efficiency of the lab.
Data analysis: Lab assistants should be able to collect and analyze data, as well as accurately interpret results.
Teamwork: Working in a laboratory often requires collaboration with others, so having the ability to work well with a team is a must for any lab assistant.
Key takeaways for an Biology Lab Assistant resume
A biology lab assistant is a critical part of any biology research team. A lab assistant is responsible for helping scientists conduct experiments, gather data, and organize the lab space. As such, a well-rounded resume should highlight your technical skills, knowledge of laboratory procedures and safety protocols, and experience in the biology field. Here are some key takeaways for crafting the perfect resume for a biology lab assistant position:
Strong Academic Background: A solid foundation in biology is essential for any lab assistant. Make sure to include any relevant coursework, any degree or certification in the field, or any experience working in a laboratory setting.
Technical Skills: As a lab assistant, you will be expected to have a firm understanding of laboratory equipment and procedures. Make sure to include any knowledge of specific software or technical skills, as well as any experience with laboratory protocols or safety regulations.
Research Experience: Research is an integral part of any biology lab. Make sure to include any experience in conducting research or any previous work with research teams.
Attention to Detail: An important part of a lab assistant's job is to make sure everything is running smoothly and that all experiments are carried out correctly. Demonstrate your attention to detail by including any experience in double-checking calculations, confirming accuracy of data sets, or double-checking protocols.
Organizational Skills: Lab assistants are often responsible for organizing the lab space, managing experiments, and making sure all materials are ready for use. Include any experience with organization, such as managing inventory or keeping track of data sets.
By highlighting your technical skills, research experience, attention to detail, and organizational skills, you can create an impressive resume for a biology lab assistant position. As long as your academic background, technical skills, and experience in the biology field are included, you should have no trouble finding the perfect role.
Let us help you build
your Resume!
Make your resume more organized and attractive with our Resume Builder