Are you a professional looking to make a change in the job market? Are you looking for ways to make your timekeeper resume stand out? Writing your resume can be a daunting task, but with the right information and a few tips, you can put together a winning document that will get you the job you've been seeking. This guide will provide you with some tips on how to write a timekeeper resume, as well as some examples to get you started. So, if you're ready to take the next step in your career, read on for our guide to writing a timekeeper resume.
If you didn't find what you were looking for, be sure to check out our complete library of resume examples.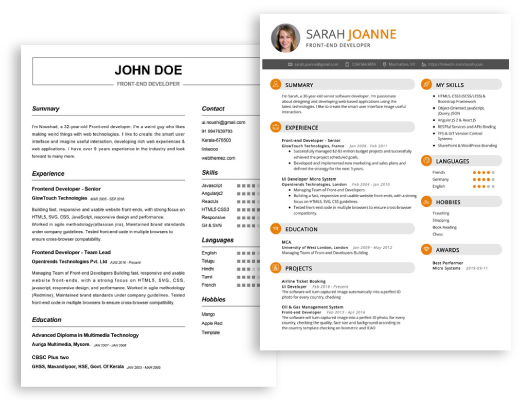 Start building your dream career today!
Create your professional resume in just 5 minutes with our easy-to-use resume builder!
Timekeeper Resume Examples
John Doe
Timekeeper
123 Main Street | Anytown, USA 99999 | Phone: (123) 456-7890 | Email: john.doe@email.com
I am an experienced timekeeper with over 10 years of experience in providing timekeeping services and tracking employee hours. My core strengths include meticulous attention to detail, strong organizational skills, and the ability to work in a fast- paced environment. I have worked in various industries and am able to adapt quickly to any organization or project. I am confident that my knowledge, experience, and dedication to excellence will prove to be an asset to your company.
Core Skills:
Knowledge of Timekeeping Management Systems
Ability to Manage Multiple Projects Simultaneously
Advanced Computer Skills (Microsoft Office, Excel, etc.)
Excellent Analytical, Problem Solving and Organizational Skills
High Degree of Attention to Detail
Ability to Work Under Pressure
Professional Experience:
Timekeeper, ABC Company, 2011 – Present
Compile and record employee time and payroll data, using timekeeping and other record- keeping systems
Maintain time tracking records, including vacation time, sick time, and other employee time off
Calculate employee hours worked, overtime, and other time- related data
Prepare and submit reports to management regarding employee time and attendance
Ensure compliance with all applicable labor laws, regulations, and policies
Assist in the preparation of payroll and benefits documents
Timekeeper, XYZ Company, 2009 – 2011
Processed timecards and other timekeeping records and documents
Calculated and processed payroll information
Managed employee time- off requests and tracking
Ensured accurate and timely payments of employee wages
Provided support to the payroll department in processing and recording payroll transactions
Prepared detailed reports for management
Education:
Bachelor of Science in Business Administration, University of Michigan, 2006 – 2009
Timekeeper Resume with No Experience
Recent college graduate eager to make a positive professional impact in the field of timekeeping. Possesses strong organizational skills, attention to detail, and an understanding of basic accounting principles.
Core Skills
Excellent multi- tasking abilities
Strong written and verbal communication
Proficient in Microsoft Office Suite
Detail- oriented and organized
Critical thinking and problem solving
Ability to work independently
Adaptable and eager to learn
Responsibilities
Maintained accurate and detailed records of employee time, attendance and vacation days
Managed payroll systems, ensuring the accuracy of employee hours, pay rates and deductions
Performed data entry related to timekeeping processes
Maintained and updated employee time records on a daily basis
Conducted regular audits to ensure compliance with all applicable laws and regulations
Provided general administrative support to the human resources department
Assisted with the preparation of various reports for management review
Timekeeper Resume with 2 Years of Experience
Dedicated timekeeper with 2 years of experience in processing payroll and maintaining employee attendance records. Skilled in administering timekeeping policies and procedures, handling confidential information, and using payroll systems. Committed to ensuring accurate and timely payments and data entry.
Core Skills:
Timekeeping Policy Administration
Payroll Processing
Employee Attendance Records
Data Entry
Confidential Information Handling
Payroll System Usage
Responsibilities:
Developed and enforced timekeeping policies and procedures.
Maintained accurate and detailed records of employee attendance and shift changes.
Processed payroll using specialized software and systems.
Ensured accurate and timely payments are made to employees.
Entered confidential information and data into system accurately and securely.
Supported management with data analysis and reports as needed.
Resolved employee time and attendance issues.
Timekeeper Resume with 5 Years of Experience
A highly experienced Timekeeper with five years of success in the role, offering considerable expertise in payroll administration and time entry. Proven ability to accurately track employee hours and assess overtime eligibility. Adept at document preparation, data entry, and assisting with payroll processing. Excellent understanding of general payroll practices and compliance with all applicable labor laws.
Core Skills:
Timekeeping
Payroll Administration
Data Entry
Document Preparation
Payroll Processing
Labor Law Compliance
Responsibilities:
Managed the timekeeping of multiple sites for a large organization.
Accurately tracked employee hours and created payroll- related reports using an automated system.
Assisted with payroll processing, such as tax calculations and deductions.
Assisted in the preparation of documents related to employee time off and holidays.
Performed data entry and maintained employee timekeeping records.
Ensured compliance with all applicable labor laws and regulations.
Provided assistance to employees with timekeeping related questions and issues.
Assisted with the implementation of new timekeeping procedures and processes.
Timekeeper Resume with 7 Years of Experience
A highly experienced and motivated Timekeeper, with 7 years of experience in timekeeping, payroll and data entry management. Expert at maintaining accurate records, monitoring time and attendance, and helping ensure that employees are paid correctly and on time. Skilled at using various computer applications and software programs, such as Microsoft Office and payroll software. Possesses a high level of organizational and problem- solving skills, as well as the ability to collaborate effectively with various individuals and departments.
Core Skills:
Timekeeping
Payroll Management
Data Entry
Computer Software Usage
Organizational Skills
Problem- Solving
Collaboration
Responsibilities:
Manage and maintain accurate timekeeping records for employees
Monitor time and attendance records, ensuring accuracy of data
Compile payroll data for employees on a weekly and bi- weekly basis
Enter data into computer systems to process payroll
Perform data entry in a timely and accurate manner
Assist in the development of new processes and procedures for payroll and timekeeping
Assist with the development of reports and analysis
Act as a liaison between employees and other departments
Provide assistance and support to other staff members in the payroll and timekeeping department
Timekeeper Resume with 10 Years of Experience
Highly organized and detail- oriented professional with 10 years of experience in timekeeping. Adept at tracking employee attendance and leave records and ensuring accuracy and accuracy of payroll operations. Skilled in coordinating with other departments to ensure accurate payroll processing and efficient employee utilization. Possessing excellent analytical and problem- solving skills and an ability to work under pressure and meet deadlines.
Core Skills:
Time Keeping
Data Entry
Attendance Tracking
Payroll Processing
Communication
Organizational
Problem Solving
Responsibilities:
Maintained employee attendance records, including time clocks, vacation, and sick leave.
Processed payroll for all employees, including calculating hours worked and overtime.
Reconciled payroll related accounts and coordinated with other departments to ensure accurate payroll processing and utilization of employee time.
Tracked employee leave records, including vacation, sick and holiday time.
Resolved payroll issues and discrepancies and worked with other departments to ensure accuracy of payroll operations.
Performed data entry and maintained employee database, including entering new hire, termination, promotion and salary information.
Assisted in the preparation of reports and other documents relating to payroll and personnel.
Timekeeper Resume with 15 Years of Experience
Highly experienced Timekeeper with over 15 years of professional experience in the construction and engineering industries. Skilled in tracking employee hours, ensuring payroll accuracy, and managing payroll data. Experienced in the management of labor costs, onboarding new employees, and handling confidential personnel information. Possess a comprehensive understanding of local, state and federal labor regulations, and offer a history of providing accurate, timely and professional services.
Core Skills:
Timekeeping
Payroll accuracy
Labor regulations
Personnel data management
Team management
Supervision
Cost management
Responsibilities:
Maintain daily timekeeping records and ensure accurate tracking of employee hours
Responsible for employee data entry, payroll accuracy verification and direct deposit management
Handle confidential personnel information such as timecards and payroll
Generate reports and maintain records of hours worked, vacation time, sick time and overtime
Manage labor costs and ensure compliance with local, state and federal labor regulations
Maintain accurate records of employee attendance and time off requests
Onboard new employees and ensure they understand company timekeeping policies
Assist with the preparation of payroll documents and related reports
Supervise and train other timekeeping staff and provide guidance when needed
In addition to this, be sure to check out our resume templates, resume formats, cover letter examples, job description, and career advice pages for more helpful tips and advice.
What should be included in a Timekeeper resume?
A timekeeper resume should highlight the skills and experience necessary to manage employee time and attendance records. In addition, it should include information about the candidate's previous experience in timekeeping and technology.
Education and qualifications: Include details about the highest level of education achieved and any relevant qualifications, such as certifications or online courses completed.
Work experience: Include any previous jobs, internships, or volunteer work that involved timekeeping, payroll, and administrative duties.
Relevant skills: List any special skills or knowledge that could be useful in a timekeeping role, such as proficiency in particular payroll and time tracking software.
Technical skills: Outline any technical skills you possess, such as knowledge of computer hardware and software, databases, and spreadsheet programs.
Problem solving: Demonstrate how you have solved problems related to payroll and attendance in previous roles.
Time management: Show your ability to manage and organize large amounts of data and to find and correct errors in records quickly.
Interpersonal skills: Describe how you have worked effectively with other departments, such as HR and finance, to ensure accuracy and compliance with company policies.
Attention to detail: Demonstrate your ability to record and review timesheets and attendance records accurately and consistently.
Leadership: Highlight any leadership or supervisory roles you have held in which you managed people or projects.
By including these elements in your timekeeper resume, you can show prospective employers that you have the necessary knowledge and skills to manage employee time and attendance records effectively.
What is a good summary for a Timekeeper resume?
A good summary for a Timekeeper resume should highlight the candidate's experience in tracking and managing employee hours and days worked, as well as any knowledge of payroll software. It should also detail their administrative and organizational skills and their ability to work well with others in a fast-paced environment. The summary should also include any relevant certifications or qualifications and any additional responsibilities undertaken, such as managing scheduling and overseeing timekeeping systems. Including any experience working with union labor, as well as any experience in conflict resolution, is a plus. This summary should emphasize the candidate's potential to make a positive impact on their future employer's timekeeping processes.
What is a good objective for a Timekeeper resume?
A timekeeper resume should include an objective that articulates the individual's qualifications and career goals. A good objective for a Timekeeper resume should include the following:
Demonstrate a deep understanding of payroll, accounting, and timekeeping processes
Utilize strong organizational and analytical skills to manage employee timecards
Demonstrate advanced knowledge of legal regulations with regards to payroll
Leverage strong interpersonal and problem-solving skills to resolve payroll issues
Utilize a high level of attention to detail to ensure accuracy
Showcase excellent customer service and communication skills to successfully explain payroll regulations to employees
Provide exceptional organizational skills to manage payroll data
How do you list Timekeeper skills on a resume?
Your resume is your own personal marketing document, designed to showcase your professional experience, skills, and accomplishments. Timekeeper skills are essential in any customer-facing or customer service role, and you should list them prominently on your resume. Here are some ways you can highlight your Timekeeper skills on a resume:
Include a dedicated section to list your Timekeeper skills. This should be placed either at the top or bottom of your resume, depending on the order of importance.
When describing the customer service roles you have held in the past, focus on the timekeeper-related tasks you completed in each role.
Include any customer service or timekeeper certifications you have received.
Use action words to emphasize your timekeeper skills, such as "maintained," "monitored," and "scheduled."
Showcase any awards or recognition you have received for your timekeeper skills.
By highlighting your Timekeeper skills on your resume, you can demonstrate to prospective employers that you are experienced in customer service, time management, and problem-solving.
What skills should I put on my resume for Timekeeper?
Timekeeper is a critical job that requires specific skills in order to be successful. A timekeeper is responsible for keeping accurate records of employee work hours, making sure those hours are tracked correctly, and paying employees on time. Here are some skills to highlight on your resume for a timekeeper position:
Knowledge of Human Resources (HR) Policies & Procedures: A timekeeper should have a good understanding of HR policies and procedures related to tracking employee hours and payroll.
Excellent Organizational Skills: As a timekeeper, you must be able to organize and prioritize data and tasks to ensure accuracy and timeliness of payroll.
Attention to Detail: Timekeepers must pay close attention to detail, as any inaccuracies in employee hours can lead to costly errors.
Computer Savvy: Timekeepers must be comfortable with computers and understand how to use payroll and other software programs related to tracking employee hours.
Ability to Manage Multiple Projects: A timekeeper must be able to manage multiple projects at once in order to keep track of all employee hours.
Problem Solving Skills: As a timekeeper, you may encounter various issues related to employee hours or other data. You must be able to think quickly and resolve any issues in a timely manner.
By highlighting these skills in your resume, you demonstrate to potential employers that you have the necessary qualifications to be a successful timekeeper.
Key takeaways for an Timekeeper resume
When crafting a resume for a position as a Timekeeper, it is important to remember a few key points that can help make your resume stand out from the competition. Knowing the key takeaways for a Timekeeper resume can help you ensure that your resume is accurately and effectively showcasing your experience and skills.
First and foremost, it's important to include a detailed work experience section. As a Timekeeper, you'll need to provide specific details about the roles you've held and the tasks you were responsible for. Highlight your experience with scheduling projects, tracking employee hours, and any other relevant experience that you have.
In addition, be sure to show off your knowledge and understanding of timekeeping laws and regulations. You should show your familiarity with the rules and regulations surrounding timekeeping, as well as any certifications or education you may have on the topic.
Finally, demonstrate your ability to work with technology. As a Timekeeper, it is important to have the ability to use and understand different types of software and programs. Highlight any relevant technical skills you may have and the systems you are familiar with.
By emphasizing your work experience, understanding of timekeeping regulations, and tech savvy, you can make sure that your Timekeeper resume is as strong as possible. Highlighting these key takeaways can help ensure that you're putting your best foot forward when applying for a Timekeeper position.
Let us help you build
your Resume!
Make your resume more organized and attractive with our Resume Builder