Writing a resume for a Reconciliation Analyst role can be a daunting task, but it doesn't have to be. By using the right tips, techniques and examples, you can craft a resume that will highlight your unique skills and experience and lead to a successful job search. In this blog post, we'll provide a complete guide to resume writing for reconciliation analysts, including resume section tips, examples and more. With the right approach and a little bit of effort, you can create an impressive resume that will land you the job of your dreams.
If you didn't find what you were looking for, be sure to check out our complete library of resume examples.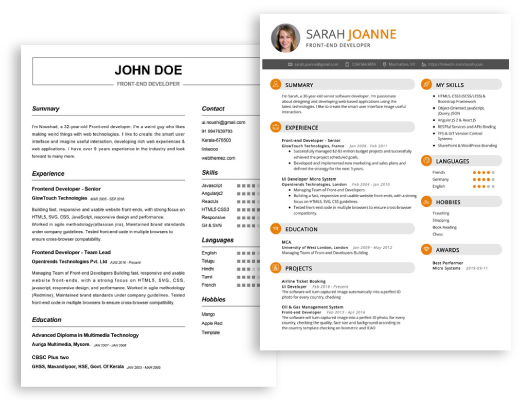 Start building your dream career today!
Create your professional resume in just 5 minutes with our easy-to-use resume builder!
Reconciliation Analyst Resume Examples
John Doe
Reconciliation Analyst
123 Main Street | Anytown, USA 99999 | Phone: (123) 456-7890 | Email: john.doe@email.com
A skilled Reconciliation Analyst with over 6 years of experience in analyzing financial records and reconciling accounts. Proven ability to work with large data sets, detect discrepancies and develop accurate solutions. Possesses a keen eye for detail and well- developed problem solving skills. Experienced in reconciling accounts, preparing financial documents and records, and identifying discrepancies.
Core Skills:
Highly proficient in the use of Microsoft Excel, Access, and other financial software
Strong team player with excellent communication and interpersonal skills
Highly organized with the ability to prioritize tasks
Problem solving and analytical skills
Attention to detail
Professional Experience:
Reconciliation Analyst, ABC Company, 2016 – Present
Examine financial records and documents to ensure accuracy
Identify discrepancies and develop solutions to resolve them
Prepare financial statements and reconciliations
Maintain the accuracy and completeness of financial data
Work with large data sets to identify errors
Prepare documentation of processes and financial reports
Reconciliation Analyst, XYZ Company, 2014 – 2016
Conducted financial reconciliations and account analysis
Identified areas of discrepancy and made necessary corrections
Prepared audit reports and presented findings
Ensured accuracy and timeliness in all reconciliations
Provided support to other departments on financial matters
Education:
Bachelor's Degree in Accounting, ABC University, 2014
Recent college graduate with excellent communication, organizational and problem- solving skills and the ability to quickly learn and adapt to new software applications seeking a Reconciliation Analyst position.
Skills:
Strong technical, analytical and problem solving skills
Excellent communication and interpersonal skills
Ability to use Microsoft Office applications such as Excel and Access
Ability to manage multiple tasks and meet deadlines
Knowledge of accounting principles and standard practices
Ability to work in a team environment
Proficiency in creating reports and managing data
Responsibilities
Examine and review financial records, such as balance sheets and checkbooks
Analyze and reconcile bank statements and other financial documents
Prepare and review journal entries, general ledgers, and other financial documents
Reconcile discrepancies and resolve any errors in financial records
Update and maintain records of financial transactions
Provide assistance to the accounting and finance departments
Assist with the preparation of financial reports and projections
Reconciliation Analyst Resume with 2 Years of Experience
Diligent and highly organized Reconciliation Analyst with two years of experience working in financial services. Proven ability to accurately process and analyze large data sets, identify discrepancies, and develop effective solutions to complex problems. Experienced in working with accounts payable and receivable, customer service, and customer relationship management. Excellent interpersonal and communication skills, able to work effectively both independently and as part of a team.
Core Skills:
Data Processing and Analysis
Accounts Payable/Receivable
Customer Relationship Management
Data Entry and Verification
Research and Problem- Solving
Financial Reconciliations
Customer Service
Interpersonal and Communication
Responsibilities:
Processed and analyzed large data sets to identify discrepancies in financial accounts.
Conducted thorough research to develop solutions to complex financial discrepancies.
Verified data entries and ensured their accuracy to prevent potential discrepancies.
Provided customer service to clients, ensuring customer satisfaction and resolving customer issues.
Managed customer relationships and ensured customer loyalty.
Performed financial reconciliations between multiple accounts.
Developed and implemented new procedures to streamline the reconciliation process.
Maintained accurate documentation and records of all financial transactions.
Reconciliation Analyst Resume with 5 Years of Experience
Dynamic Reconciliation Analyst with 5 years of experience in the banking and financial services industry. Skilled in resolving discrepancies and errors with precision, and able to analyze financial data accurately and thoroughly. Adept at balancing multiple projects and tasks, utilizing organizational skills to prioritize responsibilities and meet deadlines. Proven ability to deliver exceptional customer service and problem solving skills.
Core Skills:
Account Reconciliation
Data Entry
Auditing
Client Relations
Problem Solving
Financial Analysis
Spreadsheet Management
Responsibilities:
Conducted daily reconciliations to ensure accuracy of bank statement accounts
Reviewed financial records and identified discrepancies and errors
Researched and analyzed data to identify any inconsistencies
Prepared journal entries and reconciled accounts to ensure accuracy of financial records
Provided support for internal and external audit requests
Initiated and implemented process improvements to enhance overall efficiency
Maintained relationships with clients and ensured all inquiries were responded to in a timely manner
Ensured compliance with current regulations and policies
Reconciliation Analyst Resume with 7 Years of Experience
Highly organized and motivated Reconciliation Analyst with 7 years of experience in finance and accounting. Adept at performing financial reconciliations, analyzing financial data and developing strategies to ensure accurate financial information. Proven ability to manage time effectively, meet tight deadlines and ensure accuracy in all accounting activities. A focused individual with excellent communication and problem- solving skills.
Core Skills:
Strong knowledge of accounting principles and practices, financial reconciliation, and financial data analysis
Proficient in Microsoft Office, SAP, Oracle and other financial applications
Strong organizational and time management skills
Excellent analytical and problem- solving skills
Able to work under pressure and meet tight deadlines
Able to work independently as well as in a team environment
Excellent communication skills
Responsibilities:
Performed financial reconciliations of various accounts on a periodic basis.
Analyzed financial data to identify anomalies and take appropriate corrective actions.
Developed financial strategies to ensure accuracy of financial information.
Prepared monthly reports and analyzed financial information to identify trends and recommend changes.
Provided support to senior staff and finance department in day- to- day activities.
Assisted in preparing and maintaining financial statements, tax returns, and other financial documents.
Ensured accuracy of financial data and compliance with legal and regulatory obligations.
Reconciliation Analyst Resume with 10 Years of Experience
A highly competent Reconciliation Analyst with 10 years of experience in financial sector of banking, accounting and credit management. Proven track record of successfully reconciling complex financial accounts and providing exceptional accounting services to clients. Committed to providing timely and accurate reconciliation and financial analysis services. Ability to utilize problem- solving skills and work collaboratively within team environment to produce desired results.
Core Skills:
Accounts Reconciliation
Financial Analysis & Reporting
Risk Management
Auditing & Compliance
Credit & Collection Management
Data Entry & Management
Customer Relationship Management
Problem Solving & Decision Making
Responsibilities:
Perform accounts reconciliation on a daily, weekly, monthly and yearly basis.
Analyze data and financial statements to identify discrepancies and trends.
Develop and maintain reconciliation procedures to ensure accuracy and completeness.
Conduct regular reviews of accounts to identify and reconcile discrepancies.
Assist in the implementation of risk management strategies to mitigate financial losses.
Monitor credit and collections activities and ensure compliance with internal policies and procedures.
Evaluate customer accounts to ensure timely payments and maximize collections.
Develop and maintain customer relationships through effective communication and follow- up.
Provide technical support to other departments and personnel to ensure data accuracy.
Reconciliation Analyst Resume with 15 Years of Experience
Reconciliation Analyst with 15 years of experience in financial services, financial analysis and accounting. Highly detail- oriented and organized with a strong understanding of financial systems, processes and reconciliations. Skilled at juggling multiple projects while maintaining accuracy and exceeding deadlines.
Core Skills:
Excellent knowledge of financial systems, processes and reconciliations
Strong analytical and problem- solving skills
Ability to multi- task and prioritize tasks efficiently
Strong written and verbal communication skills
Proficient in MS Office (Word, Excel, Access, PowerPoint)
Strong understanding of accounting principles
Highly organized and attentive to detail
Responsibilities:
Perform monthly reconciliations for accounts and investments
Analyze financial data to identify discrepancies and resolve discrepancies in a timely manner
Set up new accounts and investments, as needed
Analyze bank statements and other financial documents
Audit and review financial records for accuracy and completeness
Prepare reports and analysis of accounts and investments
Collaborate with other departments to ensure accuracy of financial records
Participate in financial audits, as needed
Provide support in implementation of new systems or processes
In addition to this, be sure to check out our resume templates, resume formats, cover letter examples, job description, and career advice pages for more helpful tips and advice.
What should be included in a Reconciliation Analyst resume?
A Reconciliation Analyst resume should include key qualifications and skills that demonstrate an individual's ability to evaluate financial data, identify discrepancies, and make accurate adjustments. A Reconciliation Analyst should also possess strong communication, problem solving, and organizational skills. When creating a resume for a Reconciliation Analyst position, the following should be included:
Detailed knowledge of accounting and financial principles
Experience troubleshooting and resolving problems on the job
Ability to analyze large amounts of data quickly and accurately
Proficient with popular accounting software programs
Excellent written and verbal communication skills
Ability to meet tight deadlines and prioritize tasks
Knowledge of auditing procedures and standards
Strong organizational and problem-solving skills
Proven record of accuracy and attention to detail
What is a good summary for a Reconciliation Analyst resume?
A reconciliation analyst is an important role in the financial industry, and having a well-crafted resume is essential for success. A good summary for a reconciliation analyst resume should highlight the candidate's expertise in financial analysis and problem solving, as well as their ability to quickly identify and correct discrepancies across multiple accounts. Additionally, the summary should emphasize the candidate's knowledge of financial regulations and standards, their attention to detail, and their strong communication skills. A successful reconciliation analyst should also have experience with account reconciliation and have a proven track record of meeting tight deadlines. A good summary for a reconciliation analyst resume should emphasize all of these traits in order to attract the attention of potential employers.
What is a good objective for a Reconciliation Analyst resume?
A Reconciliation Analyst is responsible for monitoring and reconciling financial transactions across multiple accounts, systems, and entities. As such, a good objective for a Reconciliation Analyst resume should include key skills and abilities related to this job such as:
Analyzing financial records and discrepancies
Resolving complex accounting issues
Creating and maintaining accurate records
Utilizing various reconciliation software and tools
Communicating effectively with stakeholders
Monitoring and investigating transactions
Identifying, validating, and mitigating financial risk
Applying accounting principles in the reconciliation process
Enhancing existing reconciliation processes
Maintaining high standards of accuracy and integrity
Meeting tight deadlines and producing high-quality work.
How do you list Reconciliation Analyst skills on a resume?
Reconciliation Analysts are essential to the success of any finance team. They are responsible for ensuring that all transactions are accurately recorded, tracked and reconciled. To make sure you have the right candidate for the job, it's important to list the right skills and qualifications in your job postings and resumes. Here are some of the skills you should list when hiring or writing a resume for a Reconciliation Analyst:
Expertise with financial data, including budgeting, forecasting, reconciliation, and reporting
Ability to analyze and interpret financial data in order to identify errors, trends, and discrepancies
Excellent written and verbal communication skills for effectively communicating results to stakeholders
Advanced knowledge of accounting and finance principles
Proficiency in Microsoft Office and other accounting software
Strong problem-solving, critical thinking, and problem resolution abilities
Detailed-oriented and highly organized
Project management skills
Ability to work independently and as part of a team
Ability to meet tight deadlines and timely completion of tasks
Ability to maintain a high degree of accuracy and organization
Knowledge of Sarbanes-Oxley compliance regulations
Aptitude for finding creative solutions to complex problems
What skills should I put on my resume for Reconciliation Analyst?
When applying for a job as a Reconciliation Analyst, there are some key skills you should include on your resume. Your resume is your chance to show potential employers that you have the knowledge and expertise they're looking for. Here are some essential skills to consider when creating your resume:
Strong Analytical Skills: Reconciliation analysts must be able to analyze data, identify discrepancies, and draw logical conclusions. This requires a thorough understanding of advanced accounting principles and techniques.
Attention to Detail: Reconciliation analysts must be detail-oriented and spot discrepancies in data. This requires a keen eye and excellent time-management abilities.
Problem-Solving: Reconciliation analysts must be able to identify problems and develop creative solutions. This requires the ability to think outside the box and see the bigger picture.
Technical Proficiency: Reconciliation analysts should be proficient in the use of software and data analysis tools. This could include Microsoft Excel, database programs, accounting software, or other computerized solutions.
Teamwork: Reconciliation analysts often need to work with other professionals to achieve their objectives. Good communication and interpersonal skills are essential for this role.
By highlighting these key skills on your resume, you can show potential employers that you have the knowledge and experience they're looking for. With these skills in hand, you'll be well-positioned to land a job as a Reconciliation Analyst.
Key takeaways for an Reconciliation Analyst resume
Having a resume that clearly outlines your qualifications and experience as a Reconciliation Analyst can be extremely beneficial when seeking a new job in this field. Your resume should be tailored to the industry and position you're applying for, while also highlighting the specific skills and knowledge you possess that would make you an ideal candidate. To ensure your resume stands out and puts your best foot forward, here are some key takeaways to consider:
Highlight your technical skills: An effective Reconciliation Analyst resume should demonstrate your technical know-how by prominently showcasing your software, accounting, and data analysis skills. Be sure to include any specific software programs you're proficient in or any special certifications you may have obtained.
Demonstrate your problem-solving skills: A major part of a Reconciliation Analyst's job is solving problems, so it's important to emphasize your ability to do so on your resume. Include any challenges you've faced and how you successfully overcame them.
Showcase your attention to detail: Reconciliation Analysts must be incredibly detail-oriented in order to effectively identify and reconcile discrepancies in data. Make sure your resume includes any examples of your attention to detail and how it has resulted in successful outcomes.
Include applicable certifications: Having a certified background in accounting, data analysis, or other related fields can be beneficial to your resume. Be sure to list any applicable certifications you may have obtained.
Offer evidence of your success: Simply listing your job duties isn't enough to make your resume stand out. Showcase any specific successes you've had in your past roles and the results of your work.
By emphasizing these key takeaways on your resume, you'll be sure to make a great impression on potential employers and demonstrate your ability to excel in the role of a Reconciliation Analyst. Good luck!
Let us help you build
your Resume!
Make your resume more organized and attractive with our Resume Builder