As a payroll supervisor, you need to ensure that all the employees in your organization are paid accurately and on time. A great resume is one of the key components of a successful job search. If you are looking to land the job as a payroll supervisor, it is important that your resume stands out from the competition. This guide provides useful tips on how to write an effective resume for a payroll supervisor position, as well as examples of resumes for various roles. With the right tools, you can create a resume that will get you noticed by employers.
If you didn't find what you were looking for, be sure to check out our complete library of resume examples.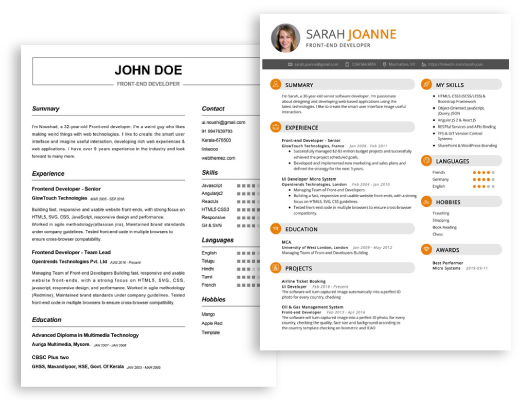 Start building your dream career today!
Create your professional resume in just 5 minutes with our easy-to-use resume builder!
Payroll Supervisor Resume Examples
John Doe
Payroll Supervisor
123 Main Street | Anytown, USA 99999 | Phone: (123) 456-7890 | Email: john.doe@email.com
A motivated and experienced payroll supervisor with over 10 years of experience in handling payrolls for large organizations. Demonstrated skill in creating payrolls accurately and efficiently, and establishing protocols for payroll entry and submission. Experienced in tracking payroll taxes, filing payroll taxes, and managing payroll budgets. Adept at working with stakeholders and communicating effectively with team members to ensure payroll deadlines are met.
Core Skills:
Payroll Management
Time Management
Accounting
Tax Compliance
Payroll Software
Data Entry
Problem Solving
Organizational Skills
Communication
Professional Experience:

Payroll Supervisor, ABC Corporation, Pittsburgh, PA
Managed the payroll process for over 1000 employees, including reviewing payroll tax deductions, filing federal and state taxes, and preparing reports.
Developed and implemented accounting procedures and policies to ensure compliance with state and federal laws.
Processed and tracked payroll deductions, retirement plans, and other applicable taxes.
Performed account reconciliations to ensure accuracy of payroll information.
Initiated and maintained communication with employees to ensure payroll data was up- to- date.
Reviewed employee payroll information for accuracy and completeness.
Payroll Coordinator, XYZ Corporation, Pittsburgh, PA
Created and maintained employee payroll records, ensuring accuracy and compliance with company policies and procedures.
Assisted in the preparation of payroll for over 800 employees, including entering data into the payroll system, calculating wages, and processing employee requests.
Performed audits to ensure accuracy of payroll records and accuracy of federal and state tax payments.
Researched, resolved, and responded to inquiries from employees and managers regarding payroll related issues.
Provided support to other departments in the organization regarding payroll matters.
Education:
Bachelor of Science in Accounting, University of Pittsburgh,
Payroll Supervisor Resume with No Experience
Recent college graduate with a degree in Business Administration and a background in customer service, looking for an opportunity to apply my skills and knowledge in the field of payroll supervision. Results- oriented team player with a desire to learn and grow in a fast- paced environment.
Skills:
Organizational/prioritization skills
Attention to detail
Communication skills
Knowledge of payroll processing
Problem- solving
Team player
Responsibilities:
Developing and coordinating payroll processing
Analyzing and tracking payroll data
Ensuring timely payments to employees
Ensuring compliance with payroll regulations
Preparing reports and payroll summaries
Providing customer service to employees
Managing payroll system and processing upgrades
Assisting with payroll reconciliation and audits.
Payroll Supervisor Resume with 2 Years of Experience
Highly organized and detail- oriented Payroll Supervisor with over 2 years of experience leading teams in the accurate and timely management of payroll processes. Proven success in developing, streamlining, and managing payroll policies and procedures. Demonstrated ability to work effectively with all levels of management, employees, and external vendors.
Core Skills:
Payroll Process Optimization
Staff Management & Training
Payroll Systems Administration
Payroll Account Reconciliation
Tax & Benefit Compliance
Data Analysis & Reporting
Responsibilities:
Maintained accurate and timely payroll record- keeping, ensuring compliance with all applicable laws and regulations.
Coordinated with internal and external stakeholders to ensure accurate and complete employee data transfer.
Implemented new payroll processes and procedures, streamlining operations and optimizing efficiency.
Resolved all payroll discrepancies and discrepancies in a timely manner to ensure correct and timely payroll payments.
Developed and implemented payroll staff training programs to ensure accuracy and compliance with all applicable laws and regulations.
Managed payroll systems, ensuring their accuracy and security.
Performed data analysis and reporting to monitor and optimize payroll performance.
Audited payroll reports and records to ensure accuracy and compliance with company policies and procedures.
Maintained up- to- date knowledge of all payroll related laws and regulations.
Payroll Supervisor Resume with 5 Years of Experience
A results- driven Payroll Supervisor with 5 years of experience in overseeing payroll operations for medium to large- sized organizations. Possessing a deep understanding of payroll systems and processes, including regulations, taxes, and deductions. Responsible for ensuring accurate and timely payroll processing. Committed to maintaining the highest level of accuracy and efficiency. Experienced in developing payroll policies and procedures, as well as leading training sessions on best payroll practices.
Core Skills:
Payroll Administration
Accounting/Bookkeeping
Tax Laws/Regulations
Payroll Processing
Auditing/Reconciliation
Data Analysis
Business Process Analysis
Technical Troubleshooting
Training & Development
Responsibilities:
Managed payroll operations for a medium to large organization with over 1,000 employees
Ensured accurate and timely processing of payroll, including taxes and deductions
Developed and maintained payroll policies and procedures
Identified process improvements and implemented solutions to enhance efficiency
Provided technical support and troubleshooting for payroll systems
Investigated and resolved discrepancies in payroll records
Provided support for employee inquiries related to payroll processing
Assisted with audits and reconciliations of payroll data
Reviewed, analyzed, and reported payroll related metrics
Developed and delivered training sessions on payroll processing and best practices
Payroll Supervisor Resume with 7 Years of Experience
I am an experienced Payroll Supervisor with 7 years experience in managing payroll operations within a corporate environment. I am highly organized, professional and have excellent communication skills. My expertise allows me to effectively manage payroll processes and to ensure the accuracy, timeliness and completeness of the payroll. I am a strong problem solver who is able to quickly and effectively resolve any issues that arise during the payroll process. I am also proficient in utilizing payroll and accounting software, as well as MS Excel and other MS Office programs.
Core Skills:
Payroll Processing
Payroll System Administration
Payroll Reporting
Employee Benefit Administration
Tax Filing
Compliance
Process Improvement
Problem Solving
Excellent Communication Skills
Responsibilities:
Managing and supervising the processing, reporting and filing of payroll.
Monitoring and verifying payroll accuracy and timeliness.
Maintaining employee records and payroll information.
Ensuring employee benefits are correctly administered.
Reconciling employee benefit accounts.
Preparing and filing payroll taxes and reports.
Developing, implementing and maintaining payroll procedures.
Ensuring compliance with laws and regulations related to payroll processing.
Identifying and resolving payroll processing issues and discrepancies.
Training and coaching payroll staff members.
Utilizing payroll and accounting software.
Payroll Supervisor Resume with 10 Years of Experience
Highly experienced Payroll Supervisor with 10 years of experience in the payroll management sector. Proven track record of developing, implementing and maintaining efficient payroll processing systems. Experienced in the management of payroll staff and the development of automated payroll systems. Possess excellent organizational and problem- solving skills, great attention to detail, and a commitment to the successful completion of any project.
Core Skills:
Payroll Management
Process Improvement
Staff Management
Payroll System Development
Data Entry
Accounting
Regulatory Compliance
Auditing
Reporting
Responsibilities:
Managed the payroll process for multiple locations, ensuring payroll was accurate and timely
Developed, implemented and maintained automated payroll systems
Supervised a team of payroll staff, providing coaching and mentoring to ensure core tasks were completed efficiently and effectively
Researched and resolved payroll discrepancies in a timely manner
Prepared and distributed payroll reports
Provided accounting and auditing services
Ensured compliance with applicable regulations such as FLSA
Entered, reviewed and updated employee data
Developed and maintained relationships with other departments, vendors and service providers
Payroll Supervisor Resume with 15 Years of Experience
Dynamic Payroll Supervisor with 15 years of experience in developing, managing, and improving payroll systems and overseeing the payroll process. Excels at building and motivating teams, troubleshooting, and streamlining processes to reduce costs and improve efficiency. Possesses strong business acumen, exceptional problem- solving skills, and expertise in payroll systems, payroll taxes and deductions, and payroll accounting.
Core Skills:
Payroll Expertise
Tax and Deductions Knowledge
Accounting
Team Building and Leadership
Payroll Systems
Process Improvement
Problem- Solving
Business Acumen
Data Management
Responsibilities:
Maintained and managed payroll systems, ensuring accuracy and compliance with all applicable laws, regulations, and company policies.
Ensured the timely and accurate processing of all payrolls, including salary, benefits, and deductions.
Developed processes to streamline and improve the payroll system and optimize efficiency.
Ensured proper tax filing and deposits were made in a timely manner.
Conducted regular audits and internal payroll system reviews to improve accuracy and compliance.
Created and implemented new payroll procedures, ensuring compliance with federal and state regulations.
Prepared and reviewed payroll reports, and ensured accuracy of payroll data.
Assisted with the development of a new payroll system.
Provided training and support to the payroll team.
Managed the payroll department budget and ensured timely and accurate payments of payroll taxes.
Resolved employee payroll issues in a timely and efficient manner.
In addition to this, be sure to check out our resume templates, resume formats, cover letter examples, job description, and career advice pages for more helpful tips and advice.
What should be included in a Payroll Supervisor resume?
When applying for a Payroll Supervisor position, having a well-crafted resume is a must. It is essential to include the right information to make your resume stand out and demonstrate your qualifications, experience, and skills. Here are some tips on what to include in a Payroll Supervisor resume:
Education: List details of the highest degree or qualification you have achieved, including the type of degree and the year it was awarded.
Work Experience: Include a detailed list of your payroll experience and any positions you have held that are relevant to a Payroll Supervisor role. Include the dates you held each position, the company name, and a brief description of your job duties.
Skills: Payroll Supervisors need to have strong technical knowledge and organizational skills. List any skills you have that are related to the job, such as experience with payroll software, knowledge of accounting principles, excellent communication and customer service skills, and a thorough understanding of wage and labor laws.
Accomplishments: List any accomplishments from your past positions that are relevant to the Payroll Supervisor role. This can include awards, projects you completed, or any special initiatives you initiated that had positive results.
References: Include a list of references with contact information. Make sure to include people who can speak positively about your skills and experience.
By including the right information in your resume and showcasing your qualifications, you can make yourself a competitive candidate for any Payroll Supervisor position.
What is a good summary for a Payroll Supervisor resume?
A payroll supervisor is responsible for managing the payroll process for an organization. A well-crafted resume summary for a payroll supervisor should showcase your experience in overseeing payroll processing, implementing payroll systems, and ensuring compliance with government regulations. The summary should also highlight any experience you may have in managing staff and developing payroll policies. Additionally, demonstrate your familiarity with payroll software and best practices. Finally, highlight any certifications or professional development courses you have taken related to payroll. A good summary for a payroll supervisor resume should tell the employer that you have the experience and skills to be successful in this role.
What is a good objective for a Payroll Supervisor resume?
When writing a resume for a Payroll Supervisor position, it's important to include an objective that emphasizes your strengths. Your objective statement should be concise and to-the-point, highlighting your qualifications and experience. Here are a few suggestions for what to include in a Payroll Supervisor objective statement:
To leverage my 5+ years of experience in payroll management and ensure accurate and timely payments to all employees.
To use my strong communication and organizational skills to ensure payroll processes are efficient and compliant with all laws and regulations.
To utilize my knowledge of payroll systems and software to streamline payroll processes and maximize efficiency.
To bring expertise in accounting, budgeting, and data analysis to help make informed decisions on payroll activities.
To utilize my excellent problem-solving and analytical skills to quickly address and resolve any payroll issues.
To utilize my experience in managing payroll operations to ensure an efficient and accurate payroll system.
How do you list Payroll Supervisor skills on a resume?
When crafting a resume for a Payroll Supervisor role, it is important to make sure to highlight the right skills that showcase suitability for the role. Here are some skills to consider listing on a resume for a Payroll Supervisor role:
Payroll Experience: Significant experience with payroll processing and payroll management is essential for a Payroll Supervisor role. It is important to list any relevant payroll experience on the resume.
Knowledge of Payroll Laws & Regulations: Payroll Supervisors need to stay up-to-date on payroll laws and regulations in order to ensure their organization's compliance. Listing any knowledge of federal, state, and local payroll laws and regulations on the resume can make you a more attractive candidate.
Attention to Detail: Payroll Supervisors need to pay close attention to detail in order to ensure accuracy in payroll processing. Listing this skill on the resume can show potential employers that you have the attention to detail necessary for the role.
Problem Solving: Payroll Supervisors are often required to find creative solutions to payroll issues. Listing problem solving as a skill on the resume can demonstrate your ability to think critically.
Supervisory Experience: Payroll Supervisors need to have experience leading and managing payroll staff. Highlighting any supervisory experience on the resume can demonstrate your ability to be a Payroll Supervisor.
Technical Skills: Many payroll systems are automated and require technical skills to operate. Listing any relevant technical skills, such as experience with payroll software, can make you a more attractive candidate.
What skills should I put on my resume for Payroll Supervisor?
A resume for a Payroll Supervisor position should highlight any combination of skills that are relevant to the job position. This includes skills related to payroll management, problem solving, customer service, accuracy and organization.
Essential Skills for a Payroll Supervisor Resume
Payroll Processing: Skilled in the handling of payroll processing for a variety of companies, ensuring accuracy and timely submission of payroll reports.
Knowledge of Laws and Regulations: Understands payroll laws and regulations and is able to ensure payroll operations are in compliance.
Problem Solving: Able to identify and resolve payroll issues quickly and efficiently, minimizing errors and delays.
Customer Service: Possesses excellent customer service skills and is able to effectively answer inquiries and provide solutions for customers.
Accuracy: Possesses great attention to detail and is able to ensure accuracy in payroll records and documents.
Organization: Able to maintain organized payroll files and records and is able to easily recall information when needed.
Key takeaways for an Payroll Supervisor resume
As a Payroll Supervisor, you are responsible for ensuring that a company's payroll is managed accurately and efficiently. Your resume should highlight your ability to handle payroll issues, problem solve and the related software used in payroll. Here are some key takeaways for an effective Payroll Supervisor resume:
Include a summary that emphasizes your payroll experience and qualifications. Tailor your summary to show how you have played a role in successful payroll administration.
Detail your experience: Include a list of your role and responsibilities as a payroll supervisor. Outline the specific tasks you've accomplished, such as managing payroll taxes, updating employee records and ensuring timely payroll processing.
Include information about the software you are proficient with, such as payroll and accounting systems, as well as any software you have designed or developed.
Showcase your problem-solving skills: Payroll Supervisors must be able to quickly identify errors and resolve them in an efficient manner. Explain how you have identified and solved payroll problems in the past.
Highlight any achievements or awards you've earned related to your payroll experience.
Describe any certifications or licenses you have that are relevant to payroll.
By effectively detailing your payroll experience, qualifications, and problem-solving skills, you can create a strong Payroll Supervisor resume that will stand out to potential employers.
Let us help you build
your Resume!
Make your resume more organized and attractive with our Resume Builder