If you're looking for a job as a Payroll Specialist, your resume is one of the most important tools you have to showcase your qualifications and experience. Writing a high-quality payroll specialist resume can be challenging, but don't worry – this guide will show you how to write a resume that will make you stand out among other job candidates and help you land the job you're after. With helpful tips and resume examples, you'll be well on your way to writing a professional resume that will help you take the next step in your career.
If you didn't find what you were looking for, be sure to check out our complete library of resume examples.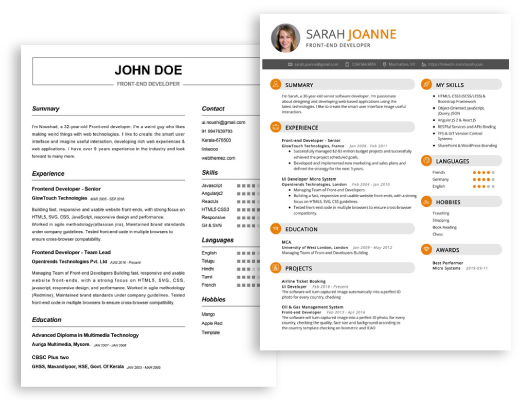 Start building your dream career today!
Create your professional resume in just 5 minutes with our easy-to-use resume builder!
Payroll Specialist Resume Examples
John Doe
Payroll Specialist
123 Main Street | Anytown, USA 99999 | Phone: (123) 456-7890 | Email: john.doe@email.com
I am an experienced payroll specialist with a proven track record of success in managing payroll for over 10 years. I am adept at using different payroll systems such as QuickBooks, Sage and ADP. My ability to ensure accurate payroll processing and to ensure compliance with relevant labor laws has enabled me to work in various industries, including manufacturing, retail and hospitality. My attention to detail, organizational skills and excellent customer service skills have enabled me to build strong relationships with clients and co- workers.
Core Skills:
Highly skilled in payroll processing and compliance
Proficient in QuickBooks, Sage and ADP payroll software
Excellent knowledge of payroll- related labor laws
Strong organizational and problem- solving skills
Excellent communication and customer service skills
Ability to build strong relationships with clients and co- workers
Professional Experience:
Payroll Specialist, ABC Company, July 2017 – Present
Processed payroll for over 400 employees across multiple departments
Managed payroll- related compliance with relevant labor laws
Reconciled payroll accounts on a monthly basis
Resolved payroll discrepancies and issues in a timely manner
Ensured accurate processing of employee deductions and benefits
Provided payroll- related customer service and support
Payroll Administrator, XYZ Corporation, April 2015 – June 2017
Managed the payroll process for over 200 employees
Handled the processing of employee timesheets and vacation requests
Ensured accurate payroll tax filings on a quarterly and annual basis
Researched and resolved payroll issues and discrepancies
Provided customer service and support to employees regarding payroll- related matters
Education:
Bachelor of Science in Business Administration, University of California, Berkeley, 2011
Payroll Specialist Resume with No Experience
Recent college graduate with a degree in Accounting. Seeking a Payroll Specialist role to gain experience in the field and become a valuable member of the team.
Skills:
Knowledge of Payroll systems and procedures
Proficient computer skills
Detail- oriented and organized
Strong communication skills
Ability to work independently and collaboratively
Responsibilities
Process and maintain payroll data
Analyze and process payroll information
Balance and reconcile payroll transactions
Prepare payroll documents and reports
Maintain confidentiality of payroll information
Maintain and update payroll records
Payroll Specialist Resume with 2 Years of Experience
A highly organized and meticulous Payroll Specialist with 2 years of experience in calculating and processing payroll for hundreds of employees. Experienced in using payroll systems to maintain employee information, calculate wages, and process payments. Skilled in managing personal payrolls, updating payroll records, and handling confidential data. Proficient in the use of MS Office, spreadsheet software, and specialized payroll applications.
Core Skills:
Payroll Administration
Data Entry
Payroll Processing
Payroll System Maintenance
Tax Management
Payroll Records
Payroll Reporting
Payroll Compliance
Record- Keeping
MS Office
Spreadsheet Software
Responsibilities:
Calculated employee wages using payroll systems and ensured accuracy of the calculations
Processed employee payments via direct deposit
Updated payroll records after each payroll cycle
Provided employees with payroll information and answered payroll related questions
Prepared and filed payroll taxes and other required reports
Ensured compliance with payroll regulations
Developed and maintained strong relationships with employees
Corrected discrepancies between payroll and employee records
Payroll Specialist Resume with 5 Years of Experience
Payroll Specialist with 5+ years of experience in full- cycle payroll processing. Adept in a wide range of payroll software and systems, data entry, and customer service. Proven record of accuracy and efficiency with an eye for detail and a commitment to customer satisfaction. Eager to join a reputable organization and provide best- in- class payroll services.
Core Skills:
Payroll Processing
Data Entry
Payroll Systems & Software
Compliance & Regulatory Knowledge
Problem- Solving & Troubleshooting
Customer Service
Attention to Detail
Time Management
Organization
Responsibilities:
Processed full- cycle payroll for multiple payrolls each cycle
Entered payroll data including employee hours, bonuses, deductions, and other information into payroll system
Ensured all payrolls were accurate and completed in a timely manner
Responded to customer inquiries and provided customer service
Monitored and updated payroll system with tax and compliance information
Reconciled payroll accounts, resolved discrepancies, and prepared financial reports
Maintained payroll records and files in compliance with federal and state laws
Generated reports and prepared other related documents upon request
Payroll Specialist Resume with 7 Years of Experience
Results- driven and organized Payroll Specialist with 7 years of experience in the payroll department of a large manufacturing company. Proven track record of success in accurately and efficiently completing payroll functions for hundreds of employees, with expertise in payroll processing, compensation and benefits, and data analysis. Experienced in payroll systems such as ADP, SAP, and Oracle, as well as excellent customer service, administrative, and problem- solving skills.
Core Skills:
Payroll Processing
Compensation & Benefits
Data Analysis
Payroll Systems (ADP, SAP, Oracle, etc.)
Excellent Customer Service
Administrative Skills
Problem- Solving
Responsibilities:
Processed payroll for hundreds of employees on a bi- weekly basis.
Assisted in payroll reconciliation and resolution of discrepancies.
Maintained confidential records for employee payroll and related benefits.
Provided excellent customer service to internal and external customers.
Analyzed payroll data to ensure accuracy of figures and compliance with applicable laws and regulations.
Assisted in the development of payroll systems and processes.
Ensured compliance with local, state, and federal regulations regarding payroll operations.
Managed employee benefits, including enrollments, changes, and terminations.
Performed other administrative functions as needed.
Payroll Specialist Resume with 10 Years of Experience
A highly accomplished and detailed- oriented professional with over 10 years of experience in payroll specialist and accounting roles. Proven ability to accurately and quickly process payrolls, maintain records, and ensure compliance with legal regulations and guidelines. Adept at organizing and auditing payroll databases, and assisting with various payroll reconciliation processes. Possesses excellent communication, problem- solving, and customer service skills.
Core Skills:
Payroll Processing
Record Keeping
Legal Regulations Compliance
Database Organization
Auditing
Reconciliation
Communication
Problem- Solving
Customer Service
Responsibilities:
Manage and process payroll for employees in accordance to company policies and legal regulations
Maintain records for payroll transactions and ensure accuracy of data
Reconcile payroll accounts and transactions
Perform regular audits of payroll data to ensure completeness and accuracy of records
Resolve all payroll related issues and respond to payroll enquiries
Prepare and submit all payroll documents accurately
Ensure compliance with all relevant laws and regulations
Assist with the preparation of payroll budgets and forecasts
Monitor and identify areas of improvement in the payroll process
Payroll Specialist Resume with 15 Years of Experience
A highly experienced and detail- oriented Payroll Specialist with 15 years of experience in payroll processing, tax filings, and employee benefits. Well- versed in payroll management systems, payroll processes, employee regulations, and payroll audits. Possesses excellent organizational and problem- solving skills, as well as a deep knowledge of payroll requirements and compliance. Experienced in working with both small and large- scale companies.
Core Skills:
Payroll Processing
Tax Filings
Employee Benefits
Payroll Audits
Payroll Management Systems
Organizational Skills
Problem- Solving
Payroll Compliance
Small & Large- Scale Companies
Responsibilities:
Processed employee paychecks and payroll taxes in an accurate and timely manner.
Ensured compliance with all applicable federal, state, and local payroll laws and regulations.
Maintained accurate employee records and payroll information in accordance with established policies and procedures.
Prepared and filed payroll taxes and other required reports.
Assisted with benefit enrollment and other employee inquiries.
Managed the payroll system and created reports as needed.
Researched and resolved payroll discrepancies.
Reconciled payroll accounts and payroll- related general ledger accounts.
Prepared monthly, quarterly, and annual payroll reports for upper management.
Audited employee time and attendance records.
Generated payroll summaries and reports.
In addition to this, be sure to check out our resume templates, resume formats, cover letter examples, job description, and career advice pages for more helpful tips and advice.
What should be included in a Payroll Specialist resume?
A payroll specialist should include certain aspects of their skills and experience on their resume to make it stand out. Here are a few of the key points to consider when crafting a resume for a payroll specialist position.
A clear job objective: It's important to include a concise job objective that outlines the type of position you are seeking and the skills you bring to the table.
Relevant experience: List your experience in payroll, including any specialized tasks or software you've used.
Technical aptitude: Demonstrate your technical aptitude by stressing your knowledge of payroll systems and software.
Financial acumen: Highlight your understanding of payroll-related financial tasks, such as calculating deductions and filing taxes.
Excellent communication skills: Stress your ability to communicate effectively with stakeholders such as employees, managers and accountants.
Attention to detail: Demonstrate your ability to pay close attention to detail when reviewing and verifying payroll data.
Leadership skills: Showcase any leadership or team management experience you have in the payroll industry.
By including these points in your resume, you'll be able to create an effective profile that stands out to potential employers.
What is a good summary for a Payroll Specialist resume?
A payroll specialist resume should include a summary that highlights the candidate's ability to efficiently process payroll and handle employee-related tasks. The summary should demonstrate their knowledge of payroll software, their attention to detail, and their strong interpersonal skills. It should also include any specialized training or certifications related to payroll management. The summary should be concise and include the candidate's experience in payroll administration, their ability to work with a wide range of stakeholders, and their commitment to ensuring accuracy and timeliness in all payroll processes. The summary should be tailored to the specific position and reflect the individual's unique strengths and qualifications.
What is a good objective for a Payroll Specialist resume?
or other shapes.Blog Section
For many job seekers, the "objective" section of a resume is a critical component of the document, encapsulating the desired position and career goals in a few short sentences. This is especially true for individuals seeking positions as a Payroll Specialist, a job that requires specialized technical knowledge and experience.
When crafting an objective for a Payroll Specialist resume, job seekers should keep the following in mind:
Focus on the specific job you are applying for. Make sure to include the exact title of the position, such as "Payroll Specialist" or "Payroll Specialist/Accounting Clerk".
Highlight your expertise. Mention any relevant experience you possess in accounting, payroll, and/or taxes.
Demonstrate your value. Explain how you can be a valuable asset to the potential employer and how you can contribute to their success.
Show enthusiasm. Convey your enthusiasm for the job and your commitment to excellence.
By including a well-crafted objective in your Payroll Specialist resume, you will be better able to stand out from the competition and show why you are the ideal candidate for the job.
How do you list Payroll Specialist skills on a resume?
bulletWhen applying for a Payroll Specialist role, it is important to showcase your relevant skills in your resume. Payroll Specialists are responsible for a range of duties including: creating and administering payrolls, preparing payroll tax returns, and staying abreast of ever-changing payroll regulations. To be successful in this role, you must have the right combination of technical and interpersonal skills.
When listing your skills on a resume, be sure to include any computer software, payroll systems, and accounting knowledge that you possess. Here are some key skills to consider including in your resume:
Familiarity with payroll software and systems: Payroll Specialists must be knowledgeable of the payroll systems they use. If you have experience with specific software, such as ADP, Ceridian, Sage, or QuickBooks, be sure to include that knowledge in your resume.
Proficiency with accounting fundamentals: A basic understanding of accounting and financial principles is important for a successful Payroll Specialist. You should be knowledgeable of double-entry bookkeeping, accounts payable and receivable, analyzing financial statements, and other accounting processes.
Strong organizational skills: Payroll Specialists must be able to manage multiple tasks at once and stay organized in order to perform their duties efficiently. Your resume should reflect your ability to stay on top of deadlines, prioritize tasks, and follow up on tasks as needed.
Excellent communication skills: Payroll Specialists must interact with other departments and staff members regularly. Be sure to include in your resume your ability to effectively communicate with other individuals both verbally and in writing.
Attention to detail: As Payroll Specialists are responsible for ensuring accuracy in payroll, attention to detail is essential. Include your ability to remain focused, catch errors quickly, and review documents thoroughly in your resume.
By highlighting the skills listed above, you can create a strong resume that will make you stand out from the competition and get you
What skills should I put on my resume for Payroll Specialist?
A payroll specialist is responsible for ensuring that all financial aspects of employee compensation are processed accurately and on time. With this job, employers are looking for candidates with a mastery of accounting principles, payroll processing, tax compliance, and excellent customer service skills. To stand out on your resume, consider including the following skills:
Accounting: Payroll specialists must accurately and timely process wages, withholdings, and deductions. Therefore, a deep understanding of accounting principles is vital in this role.
Payroll Processing: This role requires knowledge of payroll processing software and programs, as well as the ability to process payroll with accuracy and efficiency.
Tax Compliance: Payroll specialists must stay current with tax laws and regulations and be able to ensure the taxes are correctly withheld from employee paychecks and reported to the appropriate agencies.
Customer Service: As payroll involves sensitive financial information, payroll specialists must often interact with employees in order to answer any questions they may have. Therefore, excellent customer service skills are essential.
Organizational Skills: With payroll processing, payroll specialists must be able to keep accurate records and stay organized in order to ensure accuracy and efficiency.
By including these skills on your resume, you can demonstrate to employers that you have the qualifications needed to excel in a payroll specialist role.
Key takeaways for an Payroll Specialist resume
As a payroll specialist, you are responsible for managing the entire payroll process and ensuring that all employees get paid accurately and on time. Having a great resume to showcase your skills and experience can be the difference between getting hired and missing out on a great opportunity. Here are some key takeaways to consider when writing your payroll specialist resume:
Start by listing your professional experience in reverse chronological order. Include the company and the dates you worked, as well as a brief summary of your duties and accomplishments.
Make sure to highlight any technical skills you have related to payroll and accounting, such as proficiency in QuickBooks or ADP, or any specialized software or applications you've used.
Include any payroll certifications or qualifications you possess, such as CPP or FPC.
Highlight any other related experience you have — such as auditing skills, regulatory compliance, or employee record-keeping.
Emphasize the ability to multitask and take on complex tasks, as well as any experience you have with budgeting and forecasting.
Showcase your organizational and communication skills, as well as your ability to work with a variety of stakeholders, such as upper management, HR, and employees.
Demonstrate your problem-solving abilities and your ability to take initiative.
Mention any awards or recognition you received for your work.
By showcasing your skills and experience in a clear and organized way, you'll create an effective resume that will help you stand out from the competition. Good luck!
Let us help you build
your Resume!
Make your resume more organized and attractive with our Resume Builder